This season, we'd like to introduce you to Panthers fans not just around the country, but all around the world. It takes a lot to be a Panthers fan outside of the Carolinas – people make fun of you, you're ostracized at parties, people constantly send you gifs on Twitter of fumbles not being recovered – but The Roaring Riot aims to help alleviate that issue by creating a watch party for your favorite team in every city on the globe.
This week, with the Dirty Birds coming to town, we're highlighting our chapter a few miles down I-85 and speaking to President of the Atlanta Riot, Loretta To! With Loretta traveling to many Panthers games both home and away, she gets a lot of help from her vice presidents Micah Mitchell, Jami' Fennell, and Andrew Lindemann to run their watch parties – if you've ever been to an #ATLTakeover – and you need to go! – you've likely met Loretta as she is one of the most dedicated Panthers fans you'll ever meet!
Who Started Your Chapter and When? 
Harrison Heiman Jr. – now Music City Riot President – started the Atlanta Riot as a separate club before the 2014 season. This was before Roaring Riot formed a national club. Harrison moved to Atlanta in 2013 and was tired of watching games alone so he decided he would start his own club to bring the local Panthers fans together. 2014 was the year we went 7-8-1, including a losing streak in the middle; he was having a hard time getting fans to show up until magically we started winning again and made the playoffs! The first playoff game, we hosted over 100 Panthers fans and that is officially when we became THE spot to catch a Carolina game. In the spring of 2015, Zack Luttrell reached out to Harrison and other clubs across the country to form Roaring Riot's National Fan Club; Kaley McCloskey was also involved as President after Harrison moved to Nashville – and that was the birth of Atlanta Riot. We are proud to be apart of the Original 7!
Where Do You Have Game Watch Parties?
Bucket Shop Cafe, 3475 Lenox Road NE, Atlanta, GA 30326. It's across from Lenox Square Mall in Buckhead. Come join us!
How Hard Was It To Find A Bar To Host You?
It actually fell together pretty quickly. The Bucket Shop Cafe is a well know Auburn bar and a lot of Auburn fans are actually a fan of the Panthers because of Cam. Harrison met with the owner and discussed his intentions of a watch party being hosted there. They were also looking to form an NFL alliance and had agreed to be patient while Harrison grew attendance – overall, it has been a great partnership for the both of us.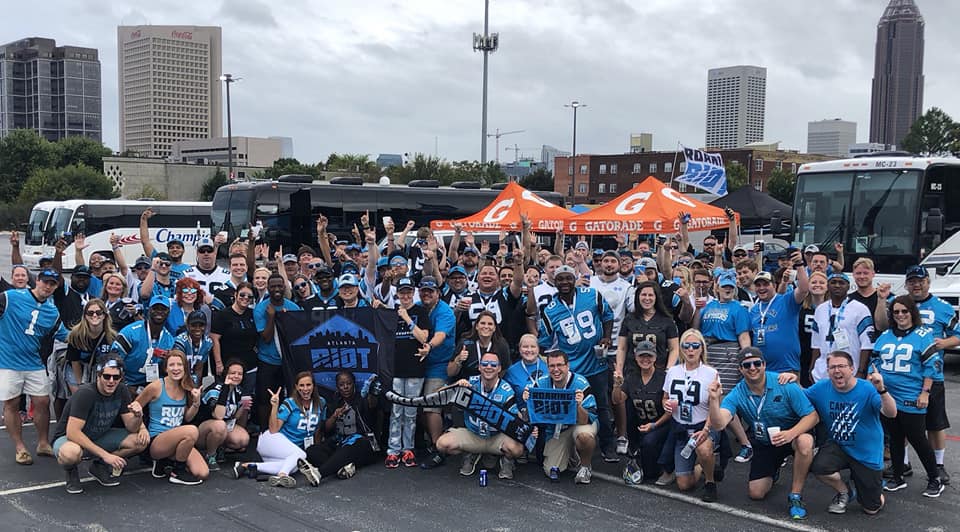 What does a typical gameday look like for you?
Packed inside the bar and on the patio – Everyone cheers so loud that some opposing fans had to leave! Most of us have on Panthers colors and some with Roaring Riot gear.
How Many People Usually Show Up? 
We average about 80-100 if the game isn't being shown on local TV. Primetime games (MNF or TNF) are even harder to get people to come out since it's a work night.
What Traditions (Audio, Cheers, Drinks, Etc.) Does Your Chapter Have?
We play sound clips to bring the stadium experience to our watch parties, including: First down chant with Panther Growl, music clips for Cam, Luke, CMC, DJ Moore, Greg, Mario, Peppers, etc. Sometimes our host bar treats us with a shot of Fireball or Panthers shots!
Is it hard finding Panthers fans?
Believe it or not, we have lots of Panthers fan in the metro Atlanta area. We actively recruit Panthers fans to join us if we spot Panthers paraphernalia on them or on their vehicle. All of our chapter leaders have business cards for the purpose on recruiting and promoting our watch parties. I approached a lady at Culver's and talked to her about our watch parties when I saw her with a Panthers hat and shirt on. I even recruited a coworker when I found out that he's a Panthers fan!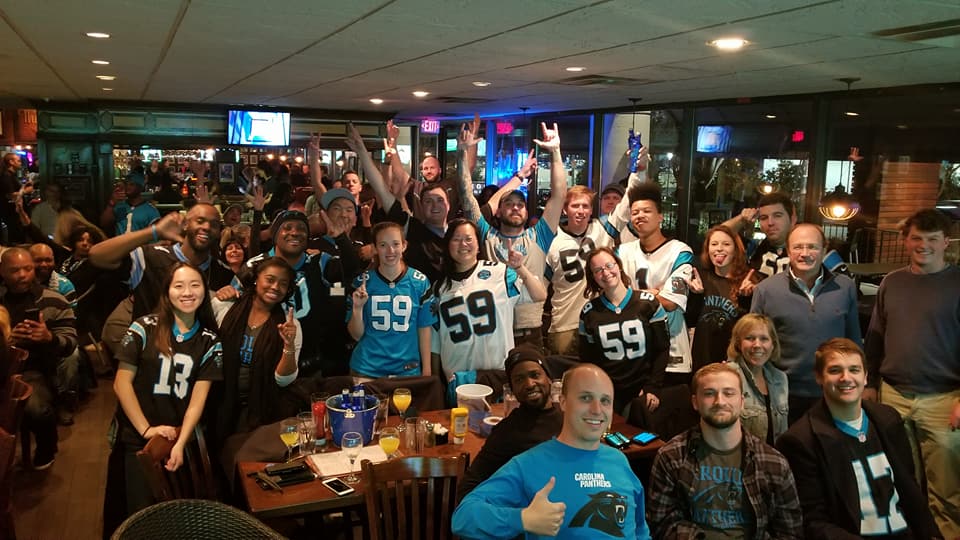 Have you had someone from out of town join your watch party?
People who travel to Atlanta for business or pleasure would find our watch party by doing a Google search and join us at our bar. Or by reading this interview!
Are there particular challenges that your city faces?
We are in enemy territory and we get trash talk all the time but we hold down the fort and give it right back at those Falcons fans.  Metro Atlanta is spread out and most people wouldn't want to drive to our bar. It takes me 40 minutes to drive 25 miles to our bar; however, I have so much fun with the group so I don't mind making this drive once a week.
Any issues with Falcons fans?
They usually leave the bar when they hear our First Down chant with Panther growl sound clip LOL. Most of them can't talk too much trash since their team hasn't been doing well, plus we like to troll them about blowing that lead.
Why Did You Want To Lead A Chapter?
Being able to bring a group of people from all walks of life together and enjoy our Panthers games give me chills. We are like a family, we keep in touch during the off-season and it's amazing!
What Does Being In The Roaring Riot Mean To You?
A sense of belonging, especially for us who live outside of the Carolinas. I've been living in ATL for 18 years but I can never call this "home". I always claim NC as my home state when I moved to Denver, NC 29 years ago. The Roaring Riot helps me stay connected to my football home and football family. In 2013, I found out that there was a group of Panthers fan who travel on a bus to ATL for the game so I made an effort to sort them out and to meet them… that was my first encounter with Zack. His vision of going to all the Panthers away games matches perfectly with my bucket list of watching my Panthers in all the NFL stadiums plus the Super Bowl!
I met up with the group at the 2014 Atlanta Takeover tailgate once again and I really liked the idea of this travelling Panthers fan group! In the Spring of 2015, I went to Fitzgerald's before a Hornets game and met Trish; she told me about this Roaring Riot group… I said "Hey, I met the guy who started this thing!" – they said that they were thinking about national membership but didn't have all the details yet, so if you would consider — and I said "I'm about all things Panthers, plus I've met Zack and I think he's doing something great. Just take my info and my money and worry about the details later." I am so glad that I am a part of this great group!
Once again, staking claim in enemy territory is fantastic! We paint Panthers black and blue in ATL and the suburbs!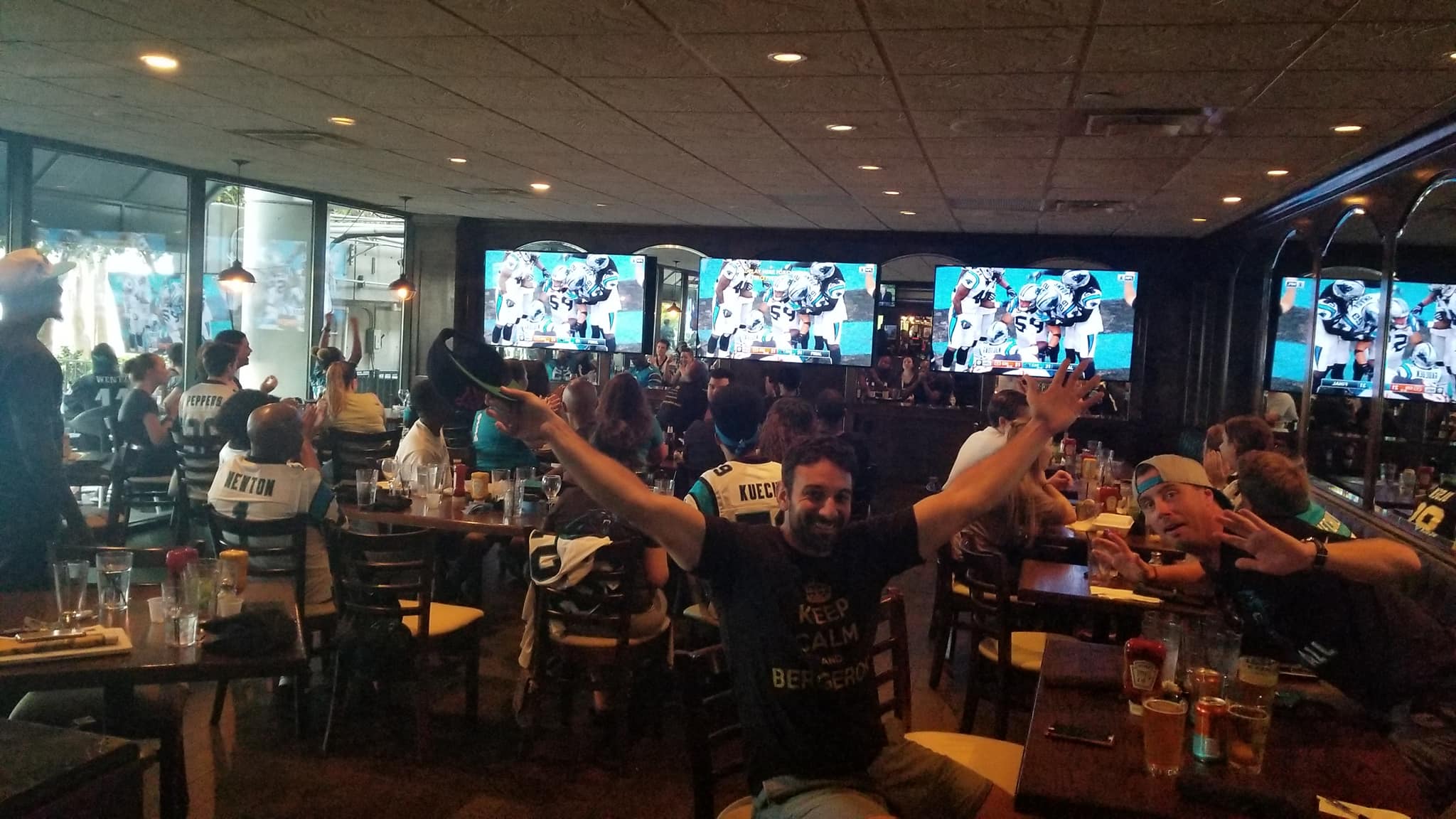 How Excited Are You To Be A Full Chapter of the Roaring Riot?
Staking claim in enemy territory is special! It's exhilarating to see our Black and Blue here!
What One Place Would You Recommend Panthers Fans Eat in ATL? One Activity? One Place To Drink?
Kimball House or The Vortex for good food
Karaoke at Metro Cafe Diner on Peachtree Street
Go to a Braves game and check out The Battery for their many bars
What Was it Like During the 2015 Run/Super Bowl?
Excitement surrounding that season! We had an incredible turnout at our bar weekly and everyone had so much fun and enthusiasm about our season! We packed the house for our playoff games and on Super Bowl Sunday.
For more information on the Roaring Riot, including finding a watch party near you, click this picture of Taylor Heinicke: