This season, we'd like to introduce you to Panthers fans not just around the country, but all around the world. It takes a lot to be a Panthers fan outside of the Carolinas – people make fun of you, you're ostracized at parties, people constantly send you gifs on Twitter of fumbles not being recovered – but The Roaring Riot aims to help alleviate that issue by creating a watch party for your favorite team in every city on the globe.
This week, we're proud to help introduce you to Darren Thompson, who helps to run the Big Apple Riot – he also had some help getting it off the ground with a very handsome gentleman who you'll hear about in a few questions – and helps wrangle the fun and games up in the city that never sleeps.
Who Started Your Chapter and When? 
Darren: We started in 2014 – it was just a collection of folks hanging at Brother Jimmy's and some other places prior to that. We weren't organized, just a group of people who showed up every week and convinced our favorite bartenders to turn on the game, which was never easy when either the Jets or Giants were on.
How Hard Was It To Find A Bar To Host You?
Darren:  It fell in our laps. In 2015, I was connected to a friend Rob Belk who watched UVA games at Amity Hall. Josh Klein (he sounds handsome) and I met with the owner, whose bar didn't support a particular American football team. I didn't expect to get the upstairs with two pull down screens and room for hundreds, let alone fill it but the stars aligned that season – 15-1 record and every week, the place was packed. Josh brought the knowledge from Denver, Rob had the connections from the Carolinas to help spread the word and me – I just never sat down!
Where Do You Have Game Watch Parties?
Darren: Amity Hall, it's on 3rd, right near Washington Square Park in the heart of Greenwich Village. They also have a sister bar on the Upper West Side, but most folks come down to the village!
How Many People Usually Show Up? An Average is Fine.
Darren: 50-75, but for big games, we can pack that place out at over 400 people!
Is it hard getting New Yorkers to embrace the Panthers?
Darren: Not at all – it's the only place to consistently watch with sound and so many people here have connections back to the Carolinas – growing up or going to school that it's like a mini-reunion every week. It's not unusual to run into people you know from high school or college in the area – I know Josh ran into a buddy from high school during the 2015 NFC Championship game!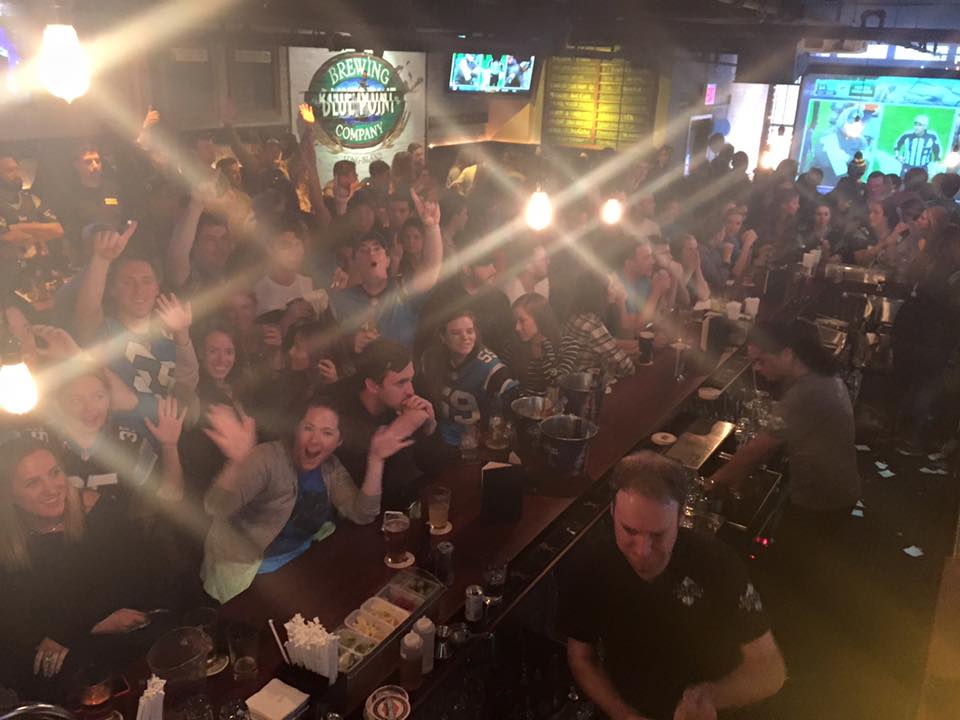 Have you ever spotted a Panthers fan on the streets/in the subway and invited them to Amity Hall?
Darren: Yes, and I've dragged my fair share with me to the bar – got to get those New Yorkers out of their apartments somehow!
Any issues with Jets/Giants fans?
Darren: None – plenty of places for them to watch in the city. Although, I'd imagine we'll take some razzing on the subway on our way to Amity Hall this weekend!
What's the most popular Panthers gear at Amity Hall?
Darren: Jerseys – Luke & Cam are popular, but so are some "former" players… we need to update our swag!
Why Did You Want To Lead A Chapter?
Darren: Funnily enough, I really didn't when we first got started, I just wanted to make sure I could watch the game somewhere with the sound!. It's funny though, if you want to get back to the Carolinas, just work with me as co-leader of the Big Apple Riot… each year since inception, anyone I've worked with has moved the following year… is it me!?!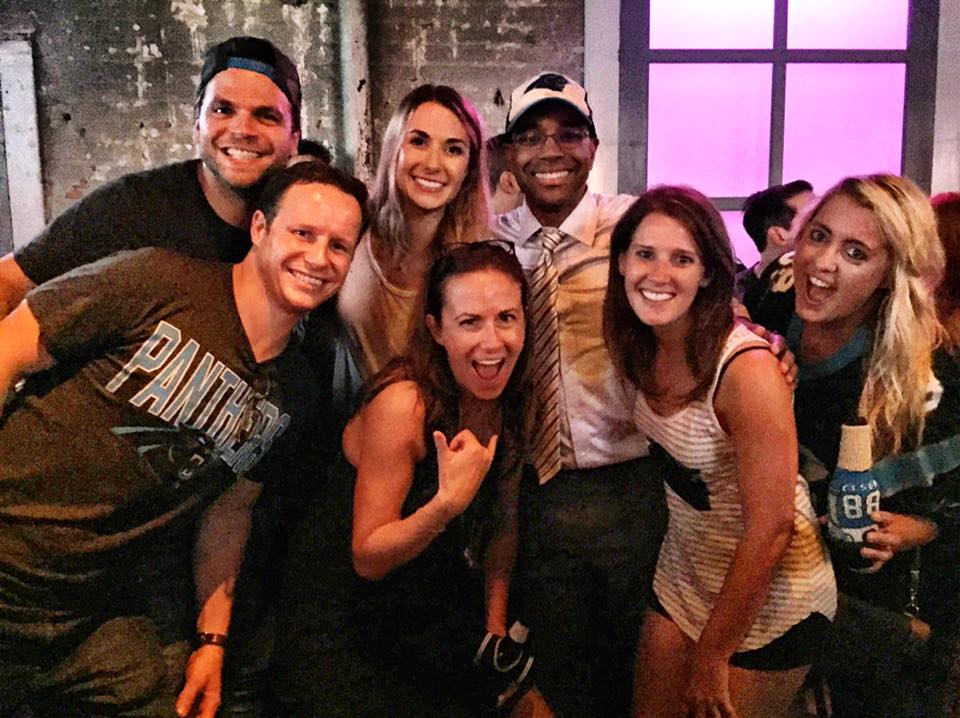 What Does Being In The Roaring Riot Mean To You?
Darren: Just being a part of a global family of like minded fans, it's fun and I look forward to games every week and reconnecting with friends both old and new.
What One Place Would You Recommend Panthers Fans Eat in New York? One Activity? One Place To Drink?
Darren: You can't pick one… but if you do, try anything off the beaten path, don't just stick with the "recommendations" – stay away from Times Square; if you've seen it once or in a movie, you don't need to revisit it. Tell a New Yorker what you like to do, we'll give you a great experience.
What Was it Like During the 2015 Run/Super Bowl?
Darren: Incredible, every week was standing room only. I only missed 2 games at Amity – @Atlanta (watched with Capital City Riot at Lucky Bar in DC) and @ the Super Bowl..obviously, I should have stayed in NYC!
What's Your Score Prediction For This Sunday's Panthers/Giants game?
Darren: 27-16 #KeepPounding
To join the thousands of other Panthers fans in the Roaring Riot and check out your local chapter, click this picture of Mimosa Towers From Amity Hall: