This season, we'd like to introduce you to Panthers fans not just around the country, but all around the world. It takes a lot to be a Panthers fan outside of the Carolinas – people make fun of you, you're ostracized at parties, people constantly send you gifs on Twitter of fumbles not being recovered – but The Roaring Riot aims to help alleviate that issue by creating a watch party for your favorite team in every city on the globe.
This week, we're chatting with Kent Cunningham, who is from one of our most recent full chapters of the Roaring Riot where the stars at night shine big and bright – deep in the heart of Cowboys country! The D-Town Riot in Dallas, TX became a full chapter just a scant few months ago and we're excited to welcome them to the Riot Family!
Who Started Your Chapter and When?
Kent: Shawn and Shelly Wells started our chapter initially in 2013. We began watching the Carolina Panther games at their house; it consisted of maybe five people at the time from the Carolinas.
How Hard Was It To Find A Bar To Host You?
Kent: It was very hard to find a bar in the Dallas Metroplex area because many of the football fans are obsessed with one team (Dallas Cowboys). Even though many other fans have set themselves up by having bars where the owners are from the same city as them (New England Patriots, Philadelphia Eagles, Kansas City Chiefs); there was no one from the Carolinas with a bar that we could go to and watch the games.
Where Do You Have Game Watch Parties?
Kent: Eventually we found Frankie's Downtown Dallas Sports Bar.
What does a typical gameday look like for you?
Kent: We have made sure that we make our presence known. So we will decorate the section of the restaurant allotted to us with balloons, streamers, and our D-Town Riot poster. We also have a banner with the 'Panther Nation' sign hanging so people from out of town know where we are!!
How Many People Usually Show Up? 
Kent: An average of about 20-30 people show up each week.
What Traditions (Audio, Cheers, Drinks, Etc.) Does Your Chapter Have?
Kent: During commercial breaks we play "Panther Trivia". Random questions about Carolina Panthers history and such, for guessing the correct answer, contestants are awarded with a "Cam-A-Kazee" shot! We also do raffles and door prizes; during halftime, we all get together to take a picture with the Panther Nation banner!
Is it hard finding Panthers fans?
Kent: It's funny because Panther fans let themselves be known – T-Bone decked out in his Carolina gear while he is at work as a hot dog vendor! We have accumulated many fans from just passing by on the street and them having a Panthers hat or shirt on, on any social media outlets, etc. Dallas is a huge American Airlines hub, so we see a lot of out-of-towners.
Have you ever spotted a Panthers fan on the streets and invited them to watch with you?
Kent: Yes, all the time. Panthers fans are everywhere in Dallas, especially traveling.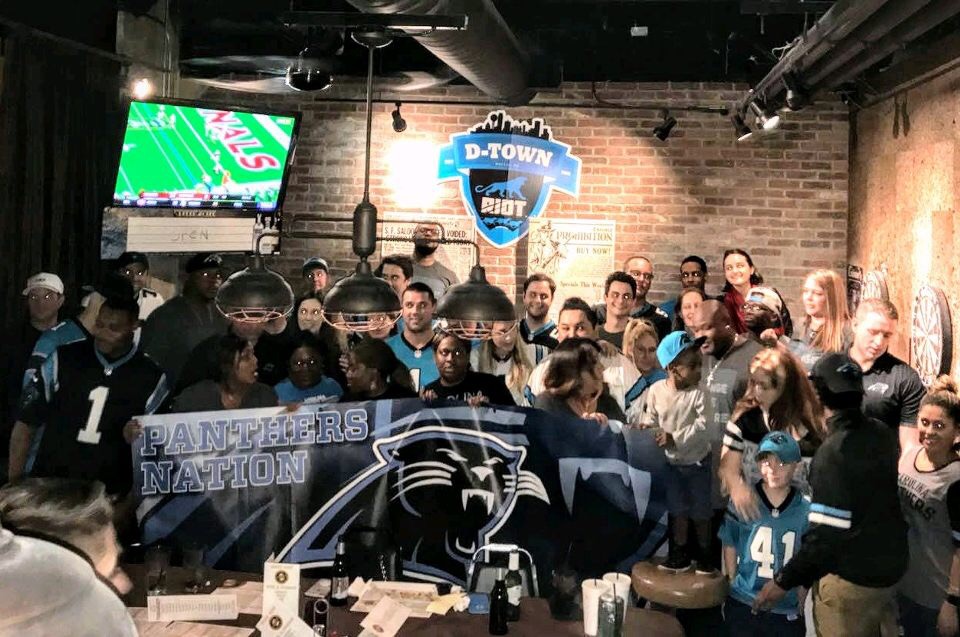 Are there particular challenges that your city faces (i.e. too spread out, lots of neighborhoods, apathy, lack of transit options, etc)?
Kent: The biggest barrier or challenge that we face is how spread out everything is in Dallas. However, having the watch parties downtown is pretty much a centralized location for everyone.
Any issues with Cowboys fans?
Kent: No issues with Cowboys fans – except if you're talking about Week 1!
Why Did You Want To Lead A Chapter?
Kent: We had a good amount of people that began moving to Dallas, and in having common interest of the watching the Panthers. It only made sense to start a Roaring Riot chapter here in Dallas.
What Does Being In The Roaring Riot Mean To You?
Kent: Being in the Roaring Riot gives me a sense of belonging to an elite and exclusive team. When I have on my Riot shirt and wear it around, people constantly ask what does 'Change the Culture' mean? Well, to me, it means change the mindset that the Panthers don't belong and that we are underrated – that we will fight, claw, and scratch our way back into any position to win. The best part is for people from out of town who live in Charlotte, to tell us at the watch parties that they see our chapter on the Roaring Riot page!!!
What One Place Would You Recommend Panthers Fans Eat in Dallas? One Activity? One Place To Drink?
Kent: One place to eat in Dallas: Wingfields Burgers in Oakcliff; one place to drink in Dallas: Frankie's Downtown; one activity to do in Dallas: Visit the JFK Memorial and 6 Story building downtown.
What Was it Like During the 2015 Run/Super Bowl?
Kent: There will never be a better feeling of winning 14 straight games, and being able to know that week to week, your team was better than any other team in the league. During the playoffs, we got our revenge on the Seahawks and Cardinals. Even though we lost in the Super Bowl, we definitely put the Panthers name on the map and that we would continue to be in the playoff conversation.
To Find Your Local Roaring Riot Chapter and watch Panthers games with friends anywhere in the country, click this picture of the happiest fan in the world after Cam's most recent Sunday giveaway: