This season, we'd like to introduce you to Panthers fans not just around the country, but all around the world. It takes a lot to be a Panthers fan outside of the Carolinas – people make fun of you, you're ostracized at parties, people constantly send you gifs on Twitter of fumbles not being recovered – but The Roaring Riot aims to help alleviate that issue by creating a watch party for your favorite team in every city on the globe.
This week, with the Seahawks on the horizon, we wanted to know what it was like to be a Panthers fan in enemy territory, so we're chatting with Aaron Harmer, who is one of the co-founders of the Rain City Riot, the Roaring Riot's Seattle chapter! If you're a Panthers fan living in Seattle or even traveling through the Pacific Northwest on a Sunday, be sure to check out Art Marble 21, the official Panthers bar in Seattle!
Who started your chapter and when?
Aaron: Rain City Riot began as a collaboration between Bryan Palmese and I during the 2015 season. One late afternoon I walked into a Buffalo Wild Wings to watch the Panthers play and to my surprise, there was another Panther fan. Slowly but surely, I had hit the jackpot with a couple of more Panthers fans arriving. After living in the Seattle area for about eight years it was refreshing to enjoy a game with fellow fans – this was the kind of thing my life was lacking.
That night I decided to start a Facebook group for all Panther fans within the Seattle area. On the flip side, Bryan had also started a Facebook page – after me of course. He contacted me later in the season about combining pages and hosting one big Super Bowl party. We finished out the 2015 season with a rooftop Super Bowl party. It was after this season that the Rain City Riot was born and the rest is history. Bryan has since moved on by moving to Hawaii. Speaking of which – Bryan, we are awaiting for Aloha Riot? Shout out to some OG members Jeremy Jackson, David Muresan, David Burton, and George Wagonblast (we miss you).
How hard was it to find a bar to Host you? Where do you have game watch parties?
Aaron: Bryan did most of the work for the first season – finding a bar is challenging in the Seattle area. Seattle loves them some Seahawks. Finally he honed in on a spot in Capitol Hill for the 2016 season. While it wasn't the ideal spot for football, it was pretty much the only bar that would guarantee us the sound every Sunday. This season, I switched up bars and to be honest we found the jackpot. Art Marble 21 is the new home of the Rain City Riot. They have good food and the brew is flowing here – great football atmosphere for any fan!
What does a typical gameday look like for you? How many people usually show up?
Aaron: A Typical gameday here in Seattle looks like we all just rolled out of bed considering majority of games are at 10a! On average we have between 10-25 people on any given Sunday.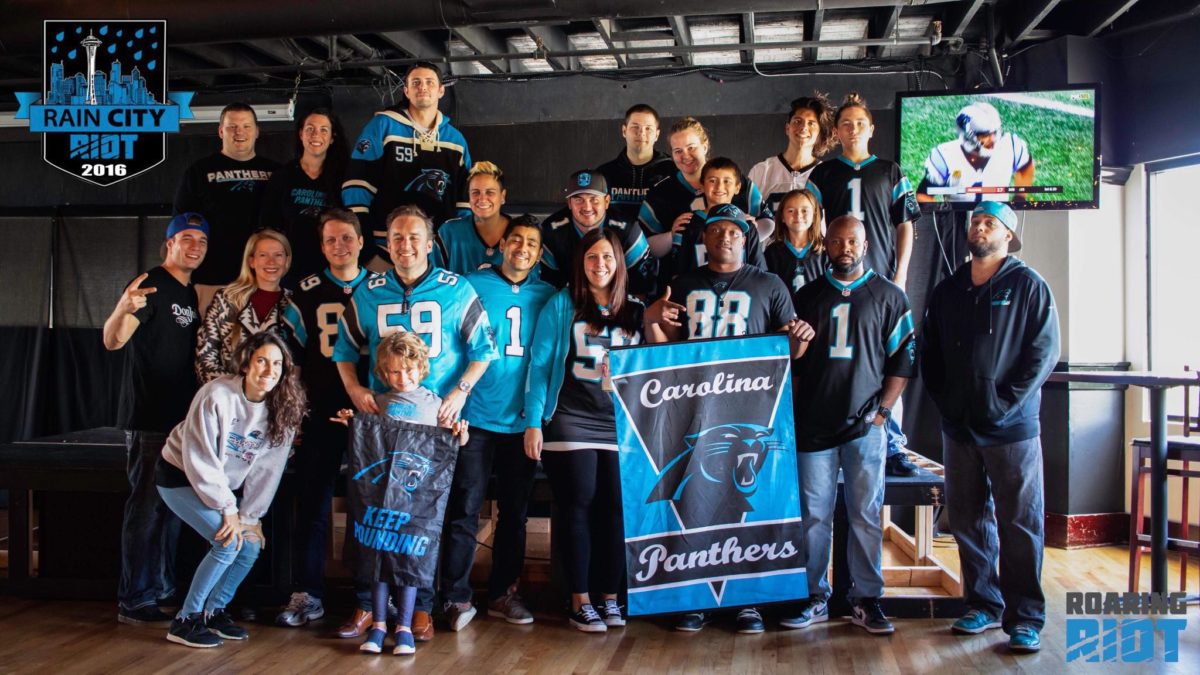 Have you ever spotted a Panthers fan on the streets and invited them to watch with you?
Aaron: Yes, I tend to spot them a lot. I have stopped people at the gas stations, malls, and walking down the sidewalk. I simply let them know who, when, and where we watch the games. It makes watching the games that much better with people who share the same common interest – the more people the better.
Are there any particular challenges that Seattle faces?
Aaron: The biggest challenge we face how much the area is spread out. We have people driving 30+ miles to come to the watch party. With that said, Seattle itself is central to the surrounding areas to the north or south. The other challenge is the timing of the games – the morning games come early and after a hard night out, 10a doesn't do anybody any favors. Not to mention that is right in the middle of second service at church. Nonetheless, the game goes on and so do we.
What is the most popular Panthers gear at your watch party?
Aaron: This is a no-brainer it's our Roaring Riot Rain City Riot T-Shirt! Just kidding – in all honesty, Greg Olsen takes home the prize on this one. There is a lot of love for him.
Any issues with Seahawks fans?
Aaron: Major Issues! Like I said, Seattle loves them some Seahawks. It has been interesting watching these two teams over the past couple years. It has turned into a sort of rivalry. Seahawks fans hate – I mean hate – Cam (just cause he isn't on their team). I would say about half the fans are great and half are terrible; they like to talk trash and I just simply remind them of that one interception and they go silent. They are a proud fan base which I cannot blame them – for us in Seattle, this is the game we must win or we are doomed to never hear the end of it.
Why did you want to lead a chapter? What does being in the Roaring Riot mean to you.?
Aaron: This goes back to the beginning. I wanted to have a place to go every Sunday where us fans could meet up and watch the game. There is nothing better than a bunch of fans cheering, crying, yelling, eating and drinking for the same common purpose. Being a part of the Roaring Riot means being a part of something bigger than myself. I love how involved the Riot is with the Panthers – supporting the charities, our hometown and our Team in ways that set the example for the rest of the league and NFL fan base. It is so exciting to be a chapter and to know there are other chapters around the country and world.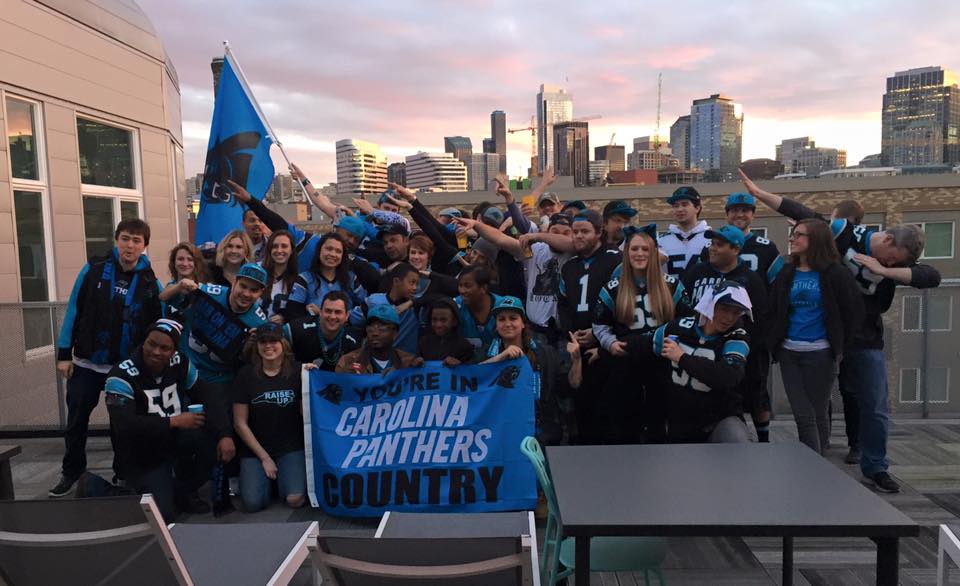 What one place would you recommend to Panthers fans eat in Seattle?
Aaron: Seattle is so diverse there are so many good places. Picking one place is nearly impossible. I will just name a few places to eat: Dick's Burger, The Pink Door, and The Crab Pot.
One Activity?
Aaron: Since I love the outdoors, Mount Rainier and the Olympics are awesome! In Seattle – the new and improved Space Needle. Just hit me up if you need a tour guide.
When was the last time I went to a game in Charlotte?
Aaron: The last game I went to was the Saints game last year – a disappointment for sure. A fun fact – this will be the second time watching the 'Hawks in Bank of America Stadium this coming Sunday. Come say hi to me at the tailgate!
What was it like during the 2015 Super Bowl Run?
Aaron: Words can not describe that year. My favorite part was beating the Seahawks in the playoffs – Amazing! While I don't advocate for fights, there were some nasty Seattle fans that night looking for one.