Everybody likes to win, that goes without saying, but what can sometimes get lost in the mix is what winning football can achieve. Not just in terms of rings, trophies or parades but things that go beyond being on the right side of the win-loss column. As the Panthers have become a pillar of their community, their most successful teams have stoked the imaginations of all who call the Carolinas home – especially the greater Charlotte area – and left an impact that has extended well past the confines of Bank of America Stadium.
The 2003 Carolina Panthers, who went to Super Bowl XXXVIII and will forever be one of the great teams in franchise history, are a testament to that: The Cardiac Cats' rise to glory was a rising tide that lifted many ships, particularly for those who deal directly with the children of the Charlotte area: In 2019, Dan Duggan of The Athletic recalled that the fall of 2004 saw a spike in youth football participation in the Charlotte area, which was a direct result of the Panthers' Super Bowl run.
Now, nearly two full decades later, the Panthers will stare just what their success as a team can do right in the face: For this week, the opposing quarterback is none other than a child whose NFL career was sparked by the zeitgeist of a Super Bowl run.
New York Giants quarterback Daniel Jones, a Charlotte native and a Panthers fan growing up, began his football journey as part of that boost for youth football, which saw him sign up to play with the South Park Youth Association's Falcons. As Jones set on a path that led him to become the No. 6-overall pick in the 2019 NFL Draft and the heir to legendary Giants quarterback Eli Manning, the adventures of his heroes who played in uptown were enormously influential on him and other children in the area.
Reading the New York Post this morning and what else do I see but a photo of Daniel Jones in a Julius Peppers jersey.

Can't get away from none of y'all, I swear. #TogetherBlue #KeepPounding pic.twitter.com/OBkycZujro

— Steven Taranto (@STaranto92) September 11, 2021
"I think it had a huge impact on us," Jones told reporters in Charlotte. "I was pretty young at the time they went to the Super Bowl, but I think that team and that kind of core group of guys that played during that time and then on the next five or six years – Jake Delhomme, Muhsin Muhammad, Steve Smith, Julius Peppers, Mike Rucker – all those kind of guys, I think they had a big influence on me and just falling in love with the game, watching football every Sunday. And then I know people like my brother and other kids our age who were into football, I think they had a big part of that."
The impact those Panthers teams had on Jones is just one prominent illustration of their impact on Charlotte youth football as a whole: For the South Park Youth Association, which has been a part of the community since the 1960s, the 2000s marked a booming period for participation in their football program.
At one point, South Park's program boasted over a dozen teams for kids to play, a number which has fallen to just four. Parental concerns about safety have been a major factor in that decline, as has the impact of COVID more recently. But despite that, Charlotte children have still been compelled to get their parents to sign them up – And the Panthers are a spark that tilts the scales in a way that helps South Park.
South Park football commissioner Thomas Hancock spoke to The Riot Report the impact that the Panthers have on youth football in the area.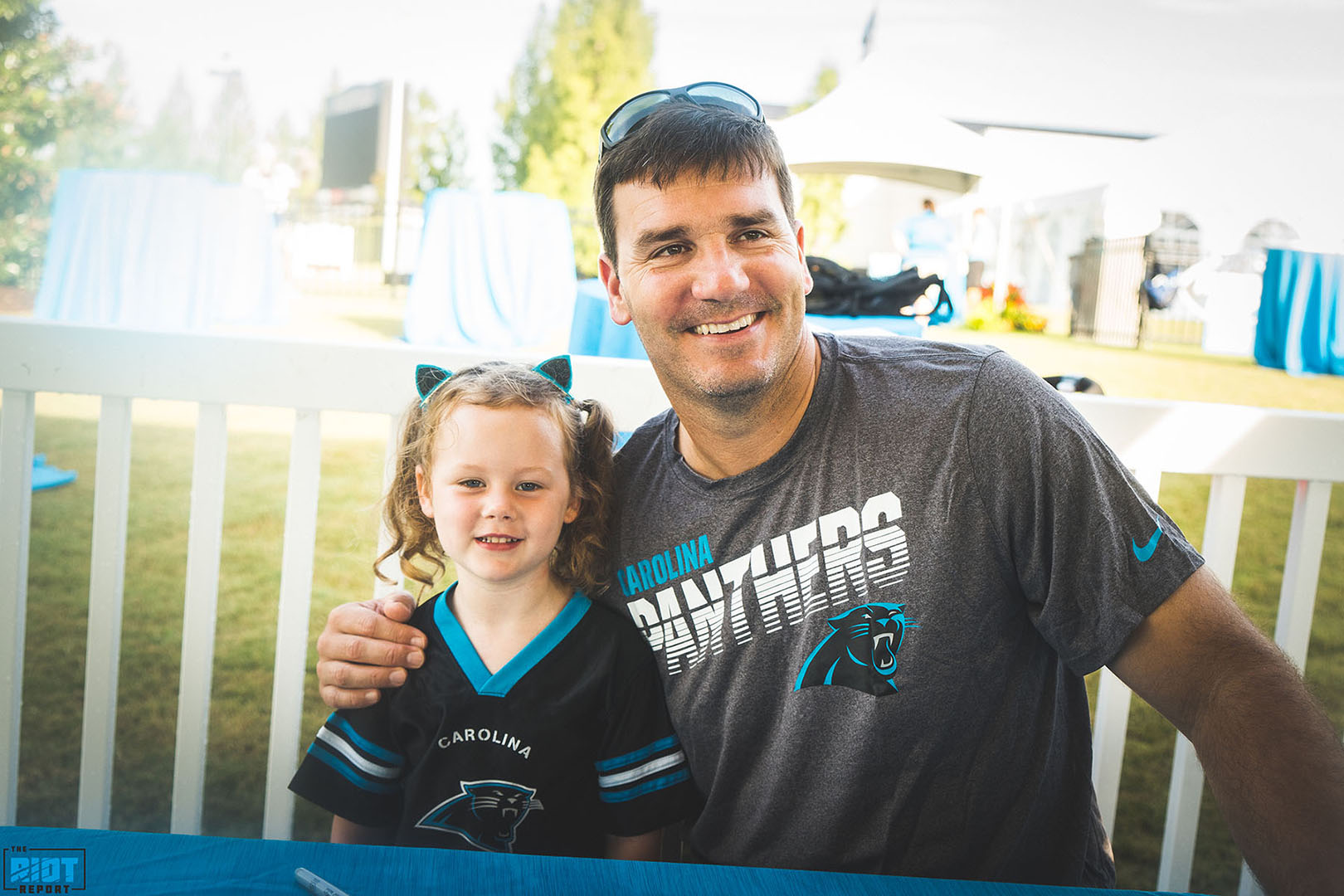 "With the Panthers here, football is right in our face," said Hancock. "Before the Panthers, you were a Falcons fan or you were a (Washington) fan, and the Panthers really brought it home and added a ton of excitement in the community. And the players have been great about being involved in the programs. They're out in the community saying the right things, doing the right things. They're in the grocery stores, you see them on the sidelines for various teams in the league.
"That, I think, turns the tide a little bit where parents that might have been on the fence say 'Hey, this is part of the community, the kid really wants to play, and I've seen that it's safe and a good place for them to be."
Like any head coach in the National Football League, Matt Rhule understands just what trickle-down effect the Panthers can have. And there's no trickle-down effect quite like the one that's created by the sort of winning program that Rhule is trying to build: Speaking to the media, Rhule called it "vital" for the Panthers to serve their area by bring the sense of community that a great football team produces as well as passing a love of the game on to new generations.
"It's kind of cool when you walk around and see kids wearing all different jerseys. They look up to Jeremy Chinn and they look up to Shaq Thompson and Christian McCaffrey and D.J. Moore and all those different things, and then they want to go play the game," said Rhule. "There's sometimes a lot of questions about should kids play football, should kids not play football – I think football's one of the greatest gifts you can give your children. Because it's tough and it's hard, and at the same time you get to be part of a team. I think it's a great learning experience for me in my life.
"We want to win, and we will win. And we want the entire community to feel really good about what we're doing."
Although it's become more difficult to forecast exactly what this 2021 Panthers team is and will be – the optimism surrounding a 3-0 start has been tempered by a three-game losing streak – the influence of Rhule's team is already beginning to be felt: As a new bunch of kids now join the program, the Panthers' defense is directly informing how South Park is teaching their students to play.
"I think one of the things that we keep focusing on as coaches is they play team defense," said Hancock. "Usually when kids come into the program, they want to be a quarterback, they want to be a receiver. But everybody has a role, there's 22 players on the field at all times. The best teams have a great defense, and they play as a team. They have gap assignments, they focus on their assignment first, their team second, and then they can go be a hero if the play breaks.
"But they really learn about team defense, and I think the Panthers show that. I mean, their defense is phenomenal, and they play as a team. There's stars on there, but a little less so than in previous years where you'd have that one or two key players on defense. Everybody's making tackles, everybody's making big plays, and they're doing it off assignments. And that's something we really try to trickle down into the kids with the program."
As the greater Charlotte area has become a sports hotbed, Jones is just one of several prominent athletes to have been involved with South Park: NBA superstar Steph Curry, the son of Charlotte Hornets great Dell Curry, also played at South Park. Former NASCAR driver Coy Gibbs is a coach for the program. His father – Pro Football Hall of Fame head coach Joe Gibbs – has been known to roam the sidelines as well.
In Jones, though, the Panthers are faced with a player who exhibits some of the very qualities that great Panthers of the past showed. Like Delhomme, he can stand tall and sling it in the most pressure-packed situations. Like Smith, he exhibits toughness and will in trying to guide his team downfield. Like his heroes, he is perfectly able and willing to dish out physical punishment on anyone in his way – Just ask Atlanta Falcons All-Pro defensive tackle Grady Jarrett, who Jones trucked through on his way to the endzone in Week 3.
DJ powers it in for 2 👏

📺: @NFLonFOX & Giants App pic.twitter.com/ILWpo8izFv

— New York Giants (@Giants) September 26, 2021
While he has a tradition and standard all his own to uphold – the standard set by Giants quarterbacks like Charlie Conerly, Phil Simms, and Eli Manning – Jones is in some ways a product of the very team that inspired him to play football. Which, surely, is going to become more and more commonplace for a Panthers franchise that has seen the Charlotte-area children who grew up alongside it now become NFL players themselves.
Perhaps in the not-so-distant future, another will come along who talks of picking up a football after watching Cam Newton and Luke Kuechly lead their own respective team to a Super Bowl appearance. One day, some other quarterback the Panthers face may talk of idolizing Christian McCaffrey just as he was learning the game.
The quickest and best way to inspire the youth of Charlotte to get excited about and play football, though, is for the Panthers to put together their next great team. For organizations like South Park, that will no doubt lead to more young football players, more youth football teams, and an even greater ability to influence them through the values of the game.
And perhaps, one of the parents who signs on the dotted line will be signing their child up for something that leads to them one day playing their hometown team on the greatest of stages. As one hometown kid will this Sunday.
"We think it's just a huge launch pad for kids to play a very physical team sport. Most of them go on to play middle school, not all of them play high school … And then there's some where it's just a launch pad," said Hancock. "They really start to understand the program, and we tailor the coaching based on the kid and their intensity level and their understanding of the game."