Greg Olsen has done this a million times before. It's the same basic procedure, win or lose.
Shower up, put on his postgame outfit – usually the same shirt and pants in which he arrived at the stadium – secure his trademark beanie and turn around to face the assembled media, who are gathered in a scrum around his locker. Sometimes it's to talk about close wins, of which Olsen has seen his share after 126 games in a Panthers uniform. Sometimes it's to talk about tough losses, of which Olsen is certainly no stranger; sometimes it's to talk about milestones like three consecutive 1,000-yard seasons, others it's been tough conversations about a lost season or a fired coach or a foot that just won't cooperate – and the beanie that the 34-year old tight end has become synonymous with is complemented by crutches.
It's usually followed by some sort of declaration – Alright. What's up guys. Let's do this.
But Sunday, after the Panthers eighth straight loss – this one a 42-10 debacle at the hands of the Saints – when he turned around, there was no declaration – and the questions weren't necessarily about what happened on the field. It was whether or not we'd seen Olsen playing his last game – because if it wasn't, it sure felt like it. The 13-year veteran, who ranks fifth among tight ends all-time in both receptions and receiving yards, made sure to wave to the 25-30 family members in the crowd after being introduced out of the tunnel and spent the final few minutes of the game embracing coaches and teammates on the sidelines as he sat out most of the second half.
"I'm not sure what the future holds for me," said Olsen. "What happens down the road is hard to predict right now. I'm walking out of this locker room remembering a lot of great accomplishments, remembering a lot of great times, a lot of wins, a lot of losses, but overall, there's just a really special group of people affiliated with this team and I was just proud to do my part for the past nine years."
"I just think sometimes the writing is on the wall, there hasn't been anything officially, but I wanted to make sure that if that was my last time, that I told the people that I needed to how much they meant to my career and how much I enjoyed playing with these guys and playing with these coaches. The trainers, the staff, we've got unbelievable groups of people here that allow us everyday to do this and I just wanted to make sure I didn't have any regrets about how this year ended, in the event that that was the last time I play or see a lot of these people. I wanted to make sure they understood how much they meant to me and my career."
"I just didn't want any regrets. You never get that opportunity back."
Olsen wasn't willing to call it a career – he also wasn't willing to rule out playing elsewhere – but while the past few seasons have been tough, with Olsen missing 18 games over the past three seasons after starting every one for five straight, and the Panthers missing the playoffs over the past two years, not to mention the quarterback he's had so much success with, Cam Newton, missing almost all of 2019, Olsen won't let it tarnish his memories of being in a Panthers uniform.
"If that is my last one, I'm not going to let these past weeks ruin what's been an amazing nine-year experience," said Olsen."The guys I've gotten to play with, the people I've gotten to work with, the fanbase, the community, from day one, have embraced me, embraced my family and I couldn't be more thankful for these past nine years here. Just a great place to play, I'm proud of the things we've been able to accomplish."
The best asset received in a trade in Panthers franchise history, GM Marty Hurney reached out to the Bears and plucked a former first-round pick that was 'the odd man out' in Chicago for only a third-round pick in the same offseason that the Panthers brought in Newton, Ron Rivera and tight ends coach Pete Hoener.
It was Hoener that Olsen sought out to hug before heading onto the field at Bank of America Stadium – the only one of the triumvirate remaining on the sidelines left to embrace.
"This team took a shot on me, trading for me and Pete's been my coach everyday since I've been here," said Olsen. "We've had an unbelievable time, he's been unbelievable for my development. Believed in me, gave me a chance when I was kind of on the fence about whether I was going to be that next breakout guy or just another first-round bust, so to speak, and obviously, my career took on another level since I've gotten here."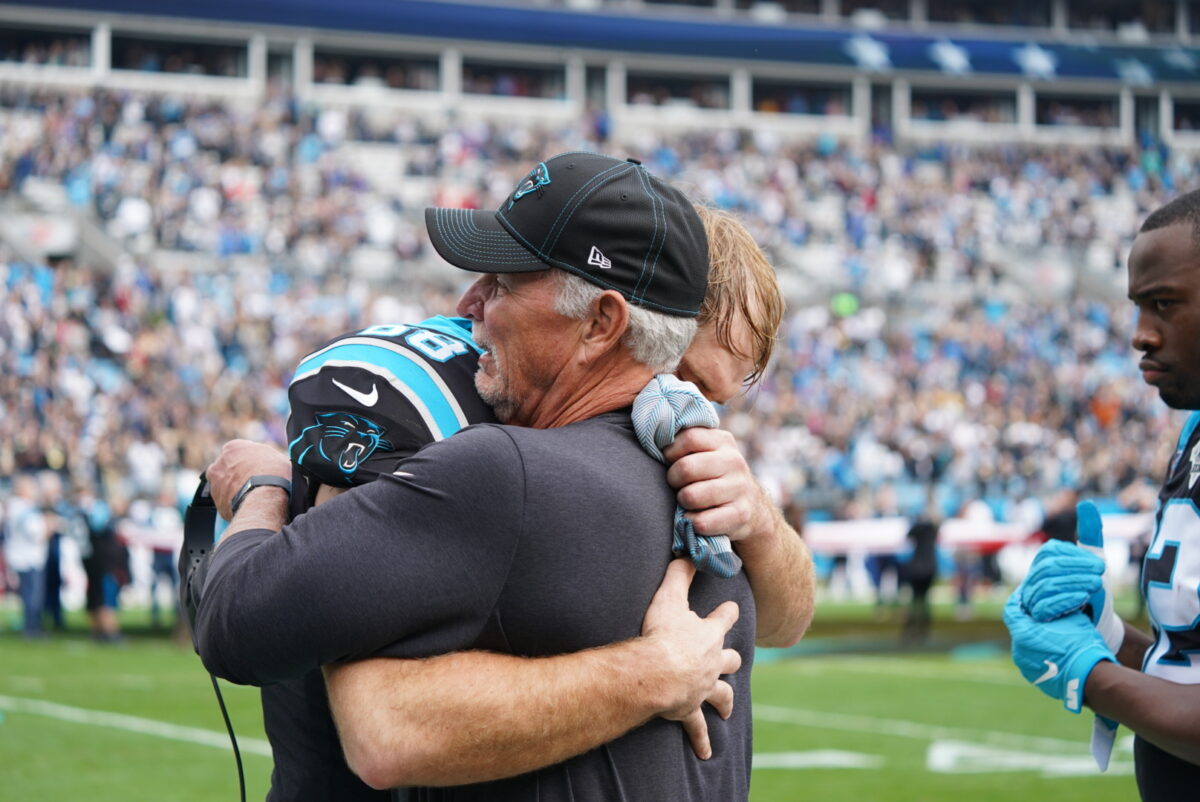 Less than 30 minutes before the screen at Bank of America Stadium flashed a shot of a clearly emotional Olsen along with his career stats as he stood on the sidelines, he watched his de facto offspring complete an incredible feat among the wreckage of 2019.
While jokes have been circulating about McCaffrey and Olsen being father and son since McCaffrey's rookie season – a season that started with a selfie from Olsen and fellow Panthers stalwart Ryan Kalil expressing their joy at their new teammate after McCaffrey was drafted eighth overall in 2017 – the Panthers running back continued his 'dad's' penchant for breaking the 1,000-yard milestone as he became only the third player in NFL history to have more than 1,000 yards both rushing and receiving in the same season.

McCaffrey tallied 72 receiving yards on seven receptions as the team desperately tried to break him into the 1,000/1,000 Club even as the Panthers were down by 30 and other captains like Olsen and Luke Kuechly had already been removed. He finished the season with 1,005 yards receiving and 1,387 rushing yards; McCaffrey ended 2019 with 2,392 scrimmage yards, third-most in NFL history in one season and his final tally of 116 receptions is the new NFL record for most catches by a running back in one season, besting his own record of 107 that he set last season.
The Panthers running back wrote down a list of goals for himself before the season, both individual and for his team – Sunday, he was able to cross at least one of them off the list.
"That was one of them, so it's cool when you accomplish one of your goals that you write down, but obviously, I can't reiterate this enough, the most important statistic is winning," said McCaffrey after the game. "Taking the goods and bads and somehow, if you can, enjoy the ride and learn from everything."
"The individual statistics, obviously, they're great and cool and stuff you can look back on and be proud of yourself, but we would love to get this thing fixed and fixed quick."
As dozens of media members gathered around Olsen's locker, McCaffrey silently received hugs and congratulations from teammates, staffers and coaches – instead of the normal crush around his locker, the running back who had made both franchise and NFL history over the course of the year would do his postgame media availability at a podium. As the Panthers move into the next era – one with a new coach and perhaps a new quarterback, McCaffrey will be looked upon to take up the mantel of leadership that Olsen has held for the past nine seasons.
"You can't replace a guy like Greg Olsen," said Christian McCaffrey. "Obviously, there's a lot of people that have impacted me and he's right up there with the best and I can't speak enough good words about him to do it justice – about the impact that he's had on this team, the impact he's had on this community and the impact he's had in the Carolinas and in this is entire football league."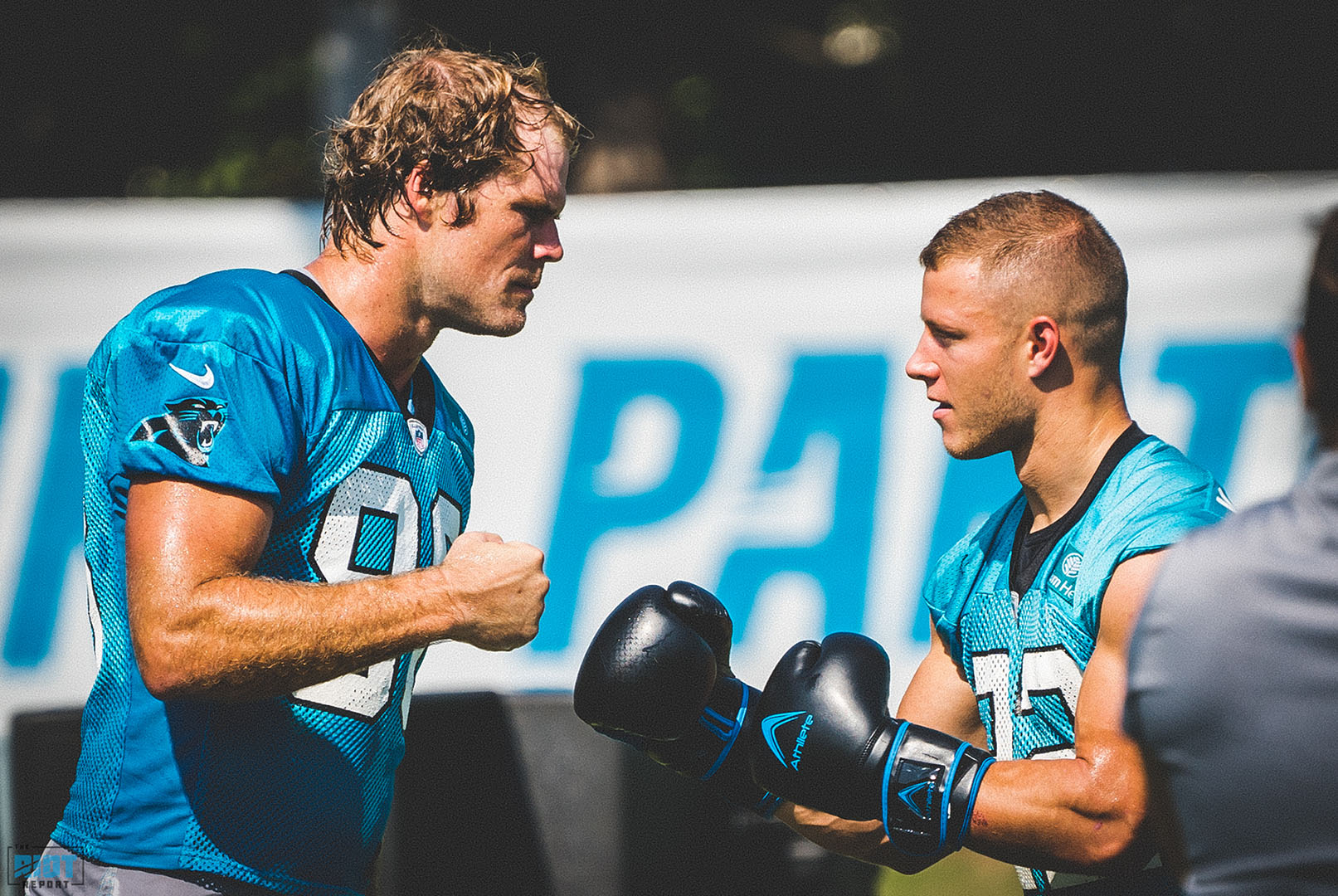 Nestled just about halfway between the lockers of McCaffrey and Olsen is that of blocking tight end Chris Manhertz, who is often displaced from being able to change while reporters gather around the superstars on either side of him – but being in the middle of two players whose names will likely adorn the Panthers' Hall of Honor for the entirety of Manhertz's time in Carolina isn't something that's lost on him.
So occasionally, he's willing to wait a couple of minutes to change.
"It's definitely humbling, inspiring and motivating at the same time when you're surrounded with guys of that character," said Manhertz. "Sometimes, at some point, it's not going to be this. So these are the things that you remember. These are moments I definitely don't take for granted and especially knowing Greg and the type of player he is – not for one day have I taken that for granted. Ever since I came into this organization, he's been one to take me under his wing and although we might have different roles, the amount of insight and knowledge that he has – you can't compare."
He glances around when it's pointed out where his locker sits and shakes his head with a smile.
"A lot of greatness around me."