As the Panthers prepare to enter an offseason filled with uncertainty and transition from the Ron Rivera Era into the next chapter of Panthers football, questions swirl around most veterans on the roster – with 34-year old Greg Olsen set to have the second-highest cap hit among tight ends in 2020 and Sunday's home finale perhaps being the final chapter in his 13-year career in which he's become only the fifth tight end in NFL history to rack up 700 receptions and 8,000 receiving yards, Olsen took a few minutes to talk to reporters and reflect on his career, whether or not Sunday will be his final game and how he'll remember his time in Carolina if Sunday really is his final ride:
Have you made a decision about next year?
I haven't. Right now, my focus is on trying to enjoy and make the most of what's left of this year, which has obviously been a struggle – but we've got one more shot, one more game here at home and if it my last one here, obviously, I have a ton of great memories and [I'll] try to go out with as good of a memory as possible, considering the circumstances, but sometimes a lot of that is out of your control and in a lot of other people's hands.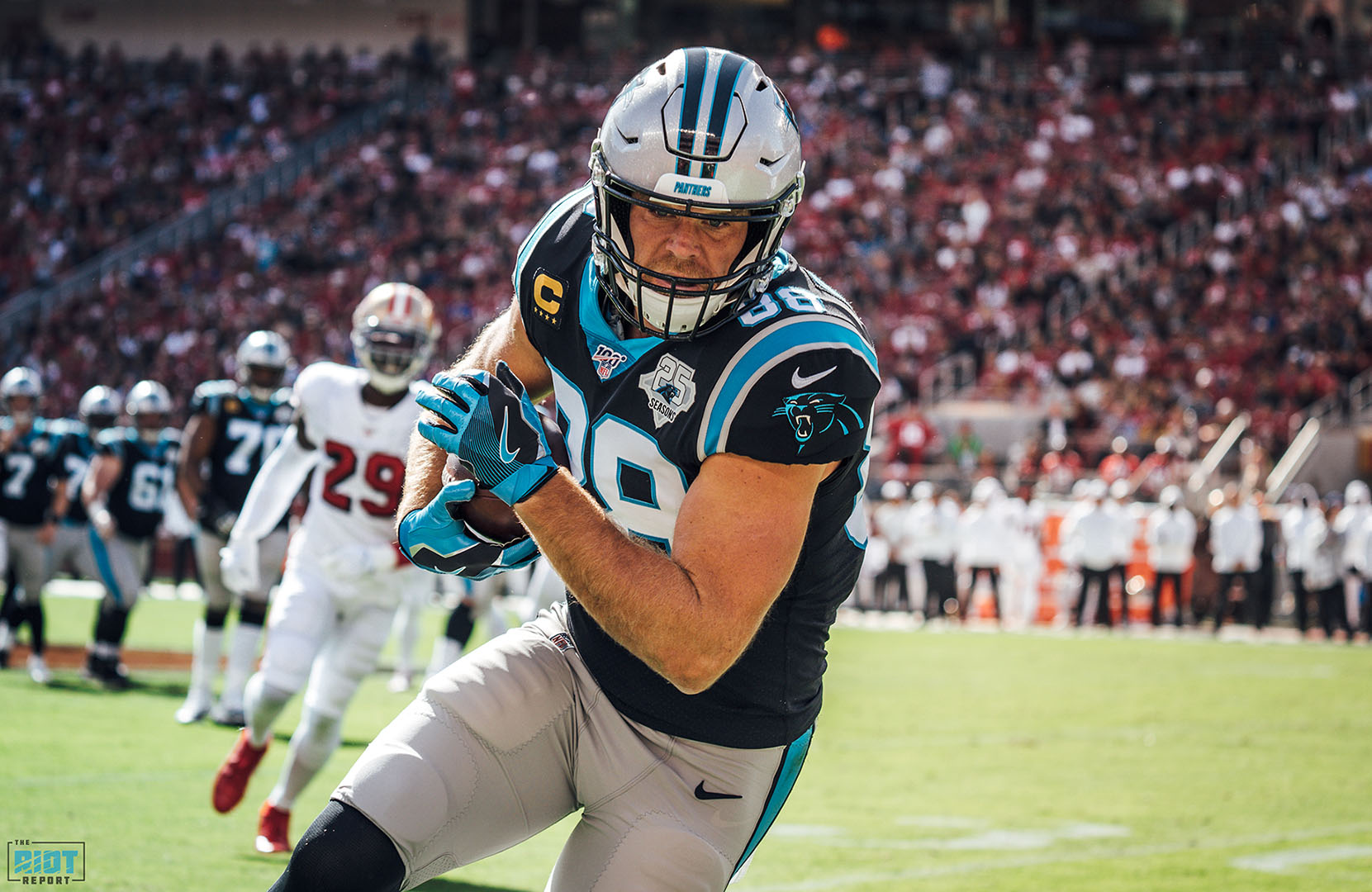 But it could be in your control….
Yeah, it could. Again, you take a look at all the circumstances, take a look at what's going on here, where we stand, how they view my future here – obviously that's a big part of it – I've been fortunate to play a long time, so the idea of just having to play under all circumstances isn't necessarily the case, so as much as I'd love playing and I'd love to come back and play here, that may or not be in the cards for everybody – me, them. I just think right now, with the speculation of everything going on, it's just really hard to get any kind of definitive feel, just because there's obviously – we have a lot of new people in place that are going to have a lot of say in those decisions. 
Would you want to be like Tony Gonzalez and play until you're 39-40?
I don't know if I can make it that long – I don't think I'll be playing until I'm 39, that's for damn sure. These last couple of years have been tough, physically and this year's been tough, but I don't ever shut the door on anything – I haven't made up my mind on anything outside of just trying to enjoy what's left of this year and make the most of what's left and enjoy playing with these guys, enjoy playing for the organization – there's been some awesome, awesome times – I've been very fortunate to have some great memories, both with the guys and with some teams and individual stuff. It's been an awesome run and what the future holds, I think, is hard to say.
What do you think Cam's future holds here?
I don't know, I think a lot of it, again, is speculation. I think you all know how we all feel about Cam and how I personally feel about Cam – it's been pretty well-stated over the years. He, first and foremost, obviously has to get healthy and I get that, that can be very frustrating. But a lot of these decisions are going to be in the hands of people that may not even be a part of the organization right now.
Would you play out one more year or would you be looking for an extension?
Nah. I don't think there'd be an extension – I think if there was, I've got one year under contract, I don't think extending that makes sense for anybody. For me, for the team. I have no false realities that I'm a candidate to be extended – there's not a lot of 35-year old tight ends getting extended; I don't live in dream land.
Will you pay attention to the coaching search?
Yeah! Listen, I want the Carolina Panthers to be successful; hopefully, I'm a part of it – if not, I want them to hire a great coach, I want them to build this team back to what we were able to build over the years. I live here, my kids are fans of this team, I want this organization to be successful long after I'm gone and I think that's what's been the most frustrating part is just knowing how this season ended for a lot of guys who were part of that build, Ron being at the top of that list [and] countless guys in that locker room, so many assistant coaches – just knowing that we weren't good enough, collectively – that was my comments after the game that all of us partook in this whole organization, this whole 2019 season, we all didn't do a good enough job and for that, the reality is that a lot of guys that were part of building this thing aren't going to be here. And that's tough, it's a tough way to end it. But that's the way it goes.
Are you doing anything anything different on Sunday in case this is it?
I've got a lot of people in town – they're here mostly because it's Christmas, I don't know if I'm that important. I've got a ton of people here in town, we'll have 25-30 people at the game and I think we're all approaching it like if it is, let's enjoy it. Let's make the most of it, let's think back on the amazing opportunities and times that we've been able to have here my whole career. I've been playing football a long time and a lot of these people – our circle of people that have been involved in my football career is pretty large and to be able to share that with my parents, my wife, my brothers and my kids, if it is the end, that's fine and I have a lot of things to look back and feel proud about. But if it's not, we'll do it again. So that's kind of the approach.
Does the prospect of Cam being here next year, would that weigh heavily into your decision?
There's just so much uncertainty with so many things that it's just hard to nail it all down, that's why you have to really look at it through your lens. Obviously, Cam and I have had a lot of success together; it wasn't until I got hurt and then he got hurt, that — the years when we rolled together, when we played every game together, there wasn't anybody better than us. That's just the reality of it. That seven-year run was as good as anybody and he's been great for my career, I've been on record for that. If he came back, I think that'd be awesome, that'd be great for the organization. How that impacts me? I don't know how all those things line up, so we'll cross that bridge when we get there.