There's a picture.
You know the one.
The Panthers' 2015 captains striding out to midfield, taken sometime in the midst of the best season in franchise history, not only the most confident team in the league but the best – or maybe the one you're picturing is from ahead of the team's only Super Bowl appearance in the past two decades as they strode out for the coin toss favored to win by more than five points.
There are lots of them out there – the common thread are the six faces they share.
But the NFL is a fast-moving business, especially when you're trying to change directions. Only five years later, five of the six 2015 captains won't be in a Panthers uniform in 2020 – Luke Kuechly and Charles Johnson have retired, Ryan Kalil retired for a moment before joining the New York Jets in 2019, Thomas Davis is in Los Angeles and Thursday afternoon, the team announced that Greg Olsen and the Panthers have agreed to mutually part ways after the tight end spent the last nine years as 'Mr. Reliable' in Carolina.
"I will forever be grateful for the past nine years," Olsen said in a statement issued via social media. "I became the father, husband, son, brother and athlete that I am now, thanks to the Carolina community.
Charlotte is our home. I hope you remember my time here as fondly as I do. I gave my team my all and in return, you did too. Regardless of what path we choose, I will always be a Carolina Panther."
Olsen is the franchise's all-time leading tight end in terms of receiving yards (6,463), receptions (524) and 100-yard receiving games (10) and ranks third all-time in receiving yards and receptions behind Steve Smith and Muhsin Muhammad – since he joined the team in 2011, he has the most receptions, receiving yards and receiving touchdowns among all Panthers.
"Greg's meant so much to this organization and we have a tremendous amount of respect for him," GM Marty Hurney said via the team website. "He earned a reputation as one of the best tight ends in the league and served as a great leader and team captain. As special as he was for us on the field, his impact on the community is just as impressive. We are proud that he wore a Panthers uniform."
As the Panthers move from the previous era into a new one led by a new owner, a new coach and new stars, Olsen, who had played in every game from 2011-2016 and was the primary target for the best seasons of Cam Newton – whom no one is sure will be back in 2020 – and was the first tight end in NFL history to have three consecutive 1,000-yard seasons, will pursue opportunities elsewhere.
After missing most of 2017 and 2018 with foot injuries, he returned to form and played 14 of 16 games in 2019 and still believes he can play football, with Olsen's agent Drew Rosenhaus saying that the 34-year old tight end "is still interested in playing and [Rosenhaus] will be in communication with other teams after the Super Bowl."
Olsen, who has spent time in the broadcast booth over the past few years, would also be a hot commodity on the television market should he choose to retire.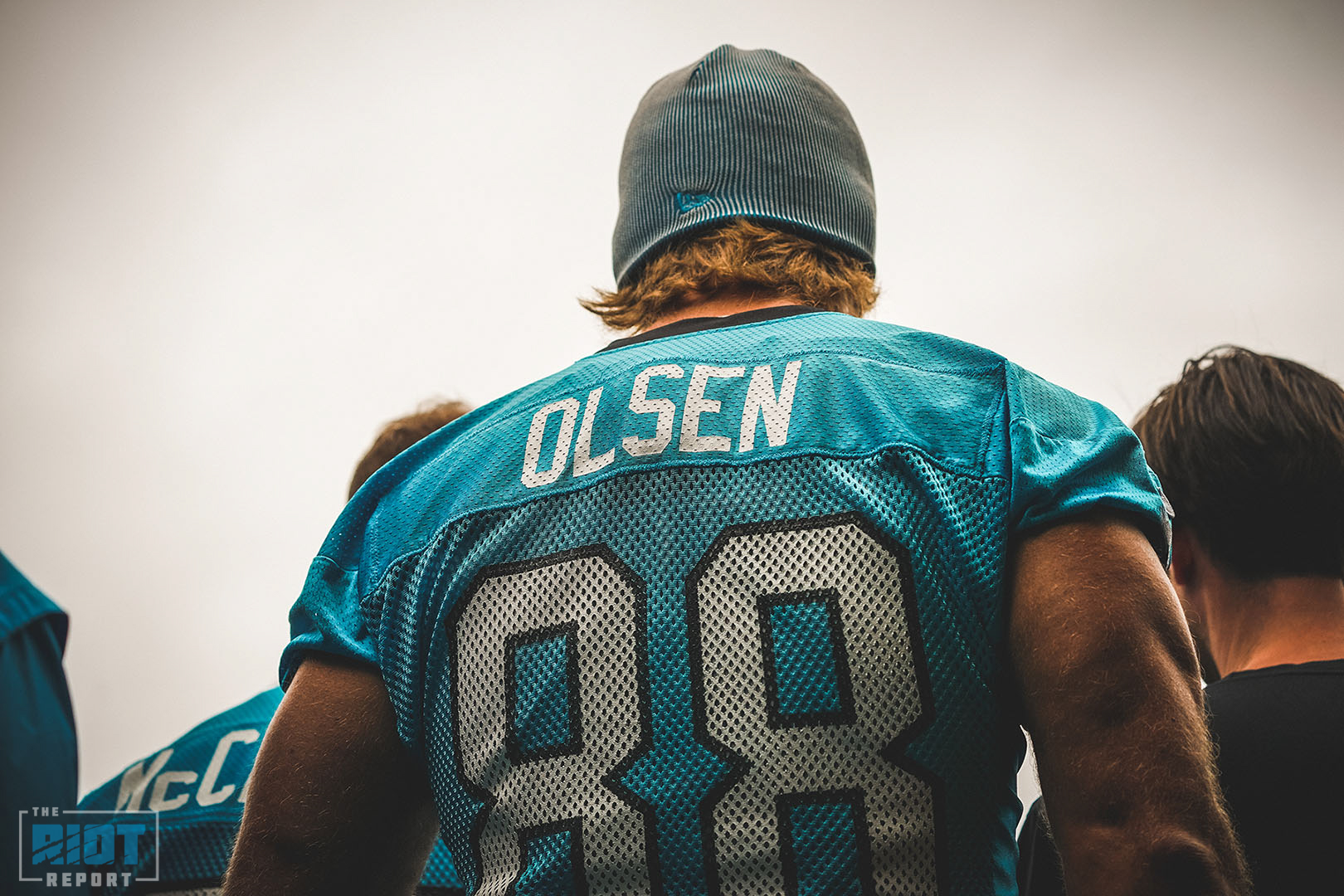 Olsen's impact on the field in Carolina was only matched by his impact off of it, as he was extremely active in the Charlotte area – Olsen was twice named a finalist for Walter Payton NFL Man of the Year. He and his wife established the HEARTest Yard Program after their son T.J. was born with a severe congenital heart defect. In May of 2019, they provided Levine Children's Hospital with a $2.5 million gift to help build a next-generation pediatric cardiovascular and congenital heart outpatient clinic.
The HEARTest Yard Pediatric Cardiac Center is scheduled to open in 2021.
"Off the field is where my family felt the warmest embrace," said Olsen in his statement. "In 2012, upon the news breaking regarding the challenges our son would face, the entire Carolina community wrapped their arms around us in support. My wife Kara and I will be forever grateful for the love and prayers shared with us since that time."
With the Panthers in a transition period – besides the new coach and the old guard moving on, either into the sunset or into a new uniform, questions continue to swirl around Cam Newton after his December Lisfranc surgery – Olsen said before the season let out that he wouldn't necessarily be interested in a rebuild in Carolina, should that be the road the Panthers take.
"I've been fortunate to play a long time, so the idea of just having to play under all circumstances isn't necessarily the case," Olsen said before Week 17. "So as much as I'd love playing and I'd love to come back and play here, that may or not be in the cards for everybody – me, them. I just think right now, with the speculation of everything going on, it's just really hard to get any kind of definitive feel, just because there's obviously – we have a lot of new people in place that are going to have a lot of say in those decisions."
The Panthers will save just under $8m against the 2020 salary cap by releasing Olsen with a $3.7m dead cap hit next season – he signed a two-year extension ahead of the 2018 season.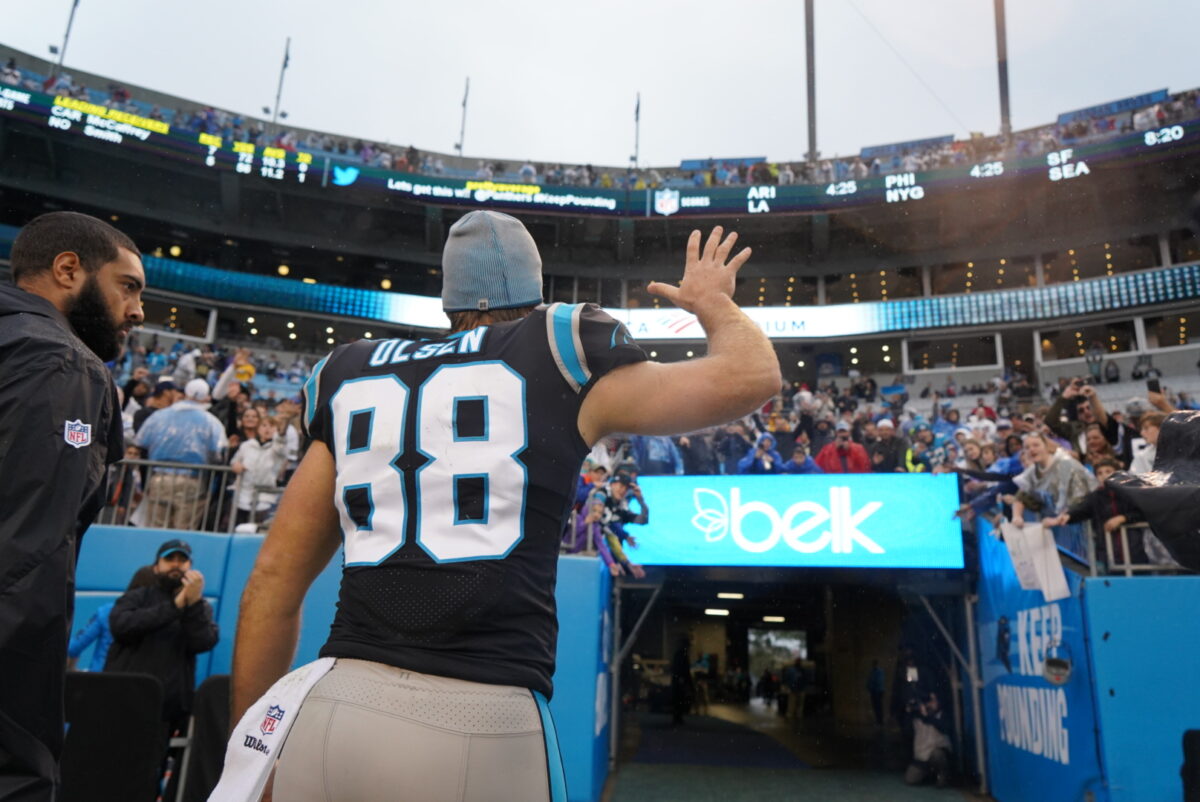 Olsen had almost three dozen family and friends in the stands during the Panthers home finale in December and raised his hands to the crowd when his career statistics were shown on the video board. What felt like a goodbye to the fans has now been made official.
"I'm walking out of this locker room remembering a lot of great accomplishments," said Olsen after what turned out to be his final game in a Panthers uniform. "Remembering a lot of great times, a lot of wins, a lot of losses, but overall, there's just a really special group of people affiliated with this team and I was just proud to do my part for the past nine years."