Sports is a strange thing.
It's like love. If you give your heart away once, you do it forever and if not, you're doing it wrong. The heart goes with an athlete, with a team or a sport itself. And once it's gone, it's hard to get back.
No matter the distance.
You don't have to tell that to the group who gather in Piccoli's Roadhouse in Hannover, most wearing their 2019 Roaring Riot membership shirts, on this warm Saturday afternoon. There are several Hanovers in the U.S. but this one, the original one, is in Germany, lying two hours south of Hamburg, it's famous port and infamous Reeperbahn.
4,400 miles away from Charlotte or the Carolinas – and yet you feel the passion for the Black and Blue here. Everyone has its own story to tell how he or she got in touch with the Panthers. And fell in love, sooner or later.
Two dozen Panthers fans have come together for the first ever meetup of the newly born German Riot – the latest international chapter of the Roaring Riot – in mid July. They flew in from bigger cities like Berlin or Cologne, drove down the Autobahn from Hamburg, came in by the high speed train or took the Greyhound-style long distance bus to get here. While the Roaring Riot chapters in the States are limited to cities or counties, the German Riot features fans from a whole country.
A country that's the size of both Carolinas – plus Louisiana.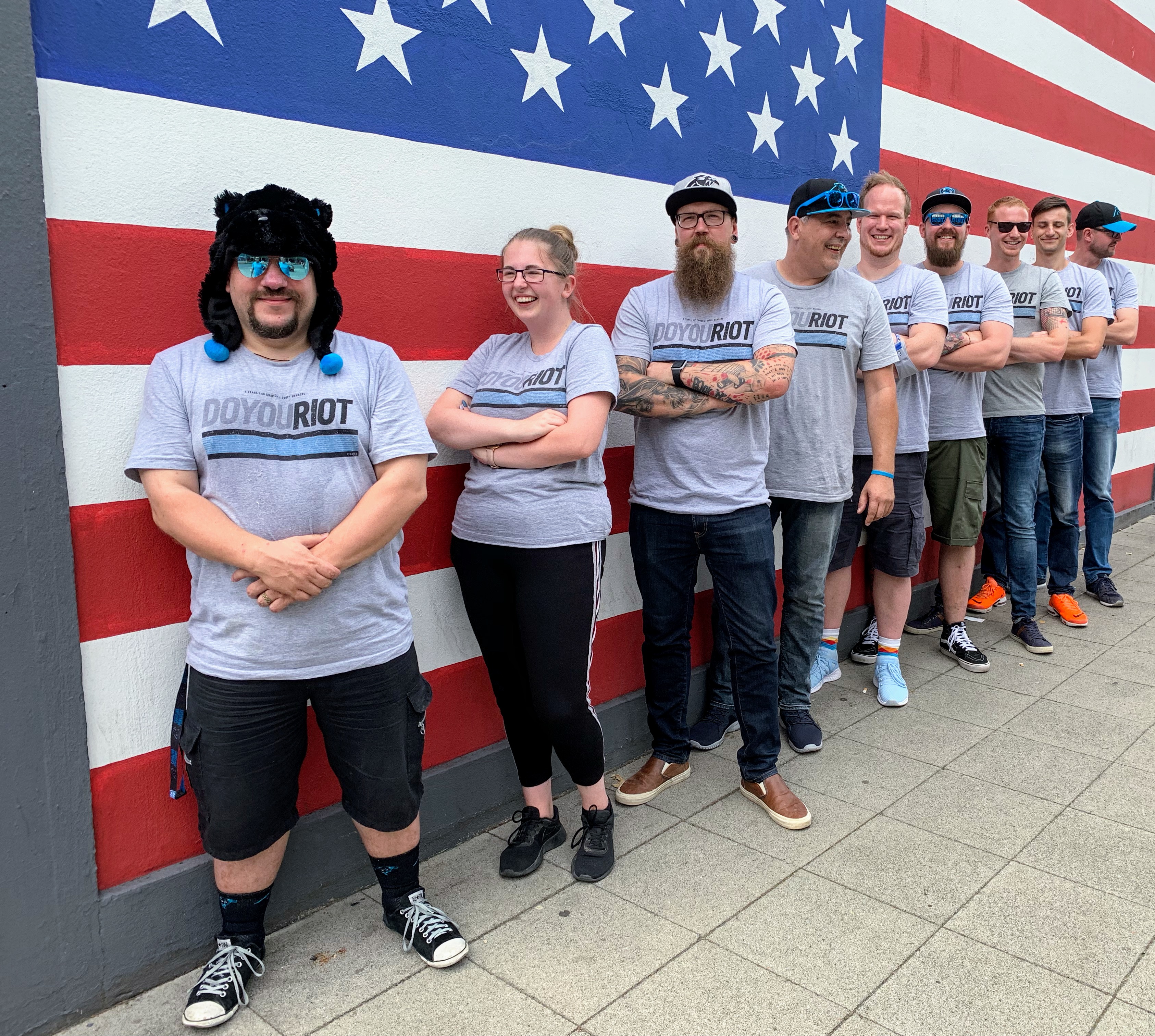 The German fans got together in a large and active Facebook group with more than 800 members before they decided to join the Roaring Riot with an official chapter earlier this year. Although they founded it just three months ago, they have already had 70 members sign up, making it one of the top international chapters in the entirety of the Roaring Riot.
Being a Panthers fan over here is not an easy task; American football might be more present on German TV than it used to be 10 years ago, but it's still far from mainstream. Some teams are more popular than others come Sunday evening in Central Europe. More popular than the Panthers, to be honest.
But then there's Speedy – he used to play running back as an amateur athlete in the German Football League back in the day. He became a diehard Panthers fan back in 1995 simply because he liked Carolina blue. And he loved Kevin Greene.
Or meet Kai, another Panthers fan from day one that calls Steve Smith his all time favorite player. Both Speedy and Kai have watched hundreds of Panthers games since they fell in love with the team, yet still have not traveled to Charlotte to see their favorite team in person – but both will be there when the Panthers take on the Buccaneers on October 13th in London's Tottenham Hotspur Stadium.
"This game in London gives us the opportunity to finally rejoin at a game as a group", says Martin Krauskopf from Berlin, leader of the German Riot.
He's planning another meetup for all the German fans who travel to U.K.'s capital – they're thrilled to meet their American counterparts there and party with them. They also hope to be featured on German TV while in London, having already reached out to local television stations. Sat. 1 in Germany, one of the bigger stations in the country, is focusing more and more on football instead of what is, and always has been by far, Germany's most popular sport: soccer.
"I used to be a soccer fan, too", says Jan, 35, a native from Hannover and raised fan of the local Bundesliga club Hannover 96. Jan turned a Panthers supporter during the inspiring 2015 season and his heart twisted since.
"Now I own more merchandise from the Panthers than from 96!"
Mario from Eastern Germany not only turned his wife into a Panthers fan, but also his two teenage daughters. "I sat down with my dad to watch the games and it just hit me," says Louisa, 17, who calls Christian McCaffrey her favorite player.
Meanwhile Nadine, a Panthers diehard since last season, wins a Luke Kuechly shirt in the first ever German Riot raffle. As the group parts ways after an afternoon with American football and German beer, there's no doubt that all of the participants will soon meet again.
"My dream is that the German Riot will travel together to Charlotte to see a home game," says Tobias Dorf, co-leader of the group and a Panthers fan since 2014. "We have put our heart and soul into the success of the German Riot."
The success continues to grow.