By now, anyone who has followed my Carolina Panthers writing over the last several seasons is used to the fact that I generally try not to use a first-person tone. While I always try to make my writing a reflection of my own thoughts, my preference has been to try and present my writing as the product of research and reasoning rather than my personal thoughts – Especially if I'm trying to make a point.
Well, I'm going to do something a little different this week. With the Panthers now 3-0 following their Thursday Night victory over the Houston Texans, I want to share a little bit of my experience in seeing this franchise – and its fans – roar to life once more as a firm player in the picture of this early NFL season.
Seeing as my main job is in Nashville, I don't typically travel with the Panthers or make my way to the stadium each day to cover practices or press conferences, even as I've written about the team professionally in some capacity each season since 2018. Although that isn't always the most convenient thing, it does allow me to do some different things a normal beat reporter might not be able to do: Such as go mingle with fans at the Music City Riot here in Nashville.
Getting set for TNF. Great to be back watching a game with Music City Riot in Nashville.

Let's get it @roaringriot ! pic.twitter.com/W5rS6IreCl

— Steven Taranto (@STaranto92) September 24, 2021
I first became acquainted with Music City Riot when I was covering the Panthers for 247Sports, especially with the 2019 NFL Draft being held in Nashville. It was nice to see some familiar faces as well as some I hadn't met before, all creating an atmosphere of great anticipation and optimism for what the night was going to be like: Namely, that the Panthers would take care of business against a team they should beat and improve to 3-0 for just the fifth time in franchise history and the first since 2015.
All of this was a far cry from the last time it was possible for us to gather for a Thursday night game.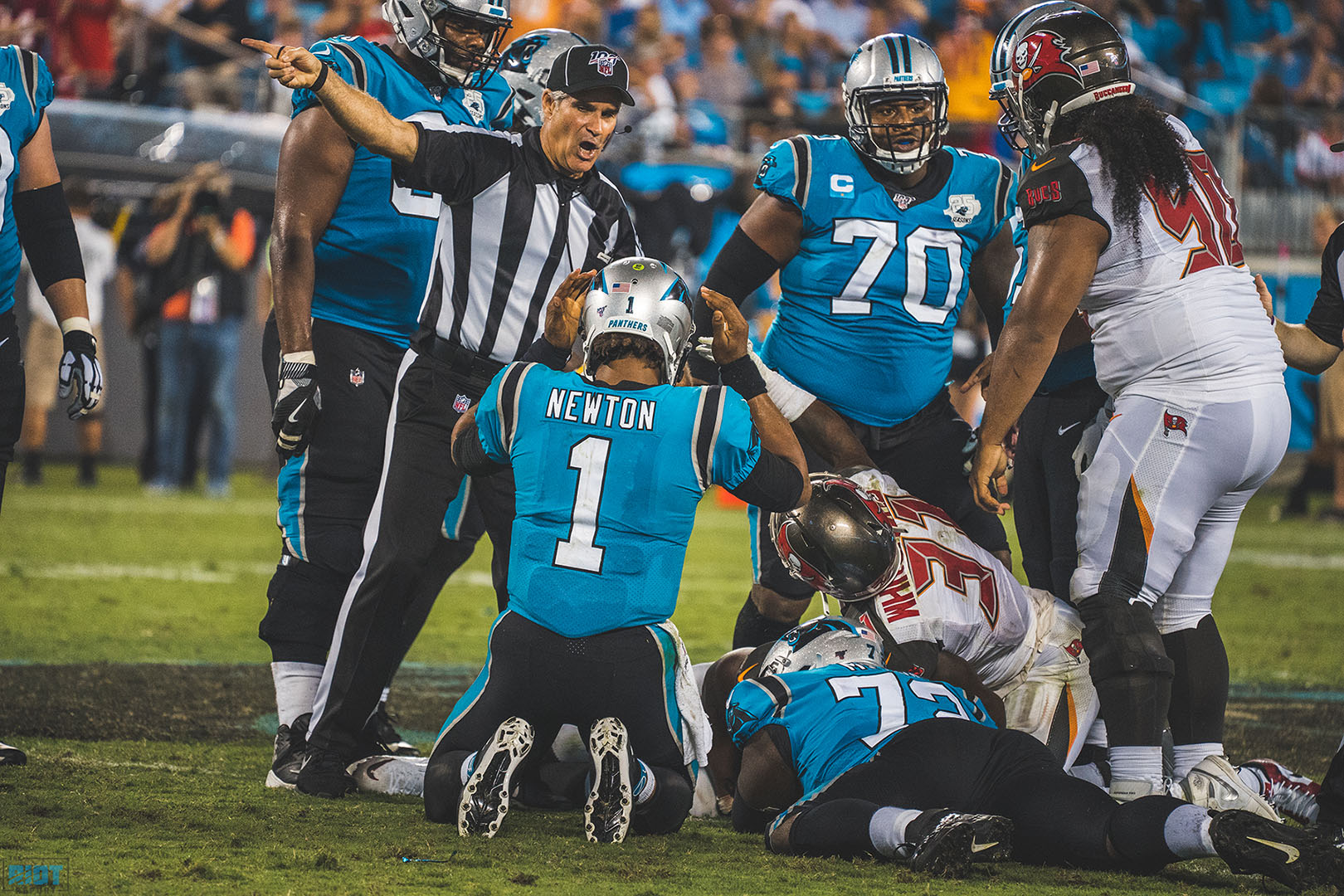 Two years ago, I joined the Music City Riot for the Panthers' Week 2 game against the Tampa Bay Buccaneers. Although the Panthers had been coming off of a loss to the Los Angeles Rams days beforehand, there was still a residual feeling of optimism from an offseason chock full of it.
Cam Newton's arm was going to be back to what it was before his shoulder injury, and a pedestrian Week One performance was just the product of rust and maybe some tentativeness after a preseason foot injury. Offseason efforts to improve the defense both through personnel additions and schematic changes would pay off. A loss to a team fresh off a Super Bowl appearance was no big deal, and everything would be made right by Carolina beating up on the lowly Tampa Bay Buccaneers – just like they always did.
Only, it wasn't to be: Instead, that game would be the last that Cam Newton ever played in a Panthers uniform. A slow burn of a match with every stalled offensive drive, missed opportunity on defense, and hit taken by an ailing and largely immobile Newton contributing to a sense of restlessness and dread.
Save for a few moments – the sort of deep shot from Newton to Curtis Samuel that had been hyped all offseason, Brian Burns' very first sack – it was a tense and unpleasant atmosphere. I remember one fan losing his temper for a second, angrily yelling "Figure it out!" before he calmed down. Later in the game, some young 20-something in the bar area – probably some dumb frat boy – started chirping about how Cam Newton sucked.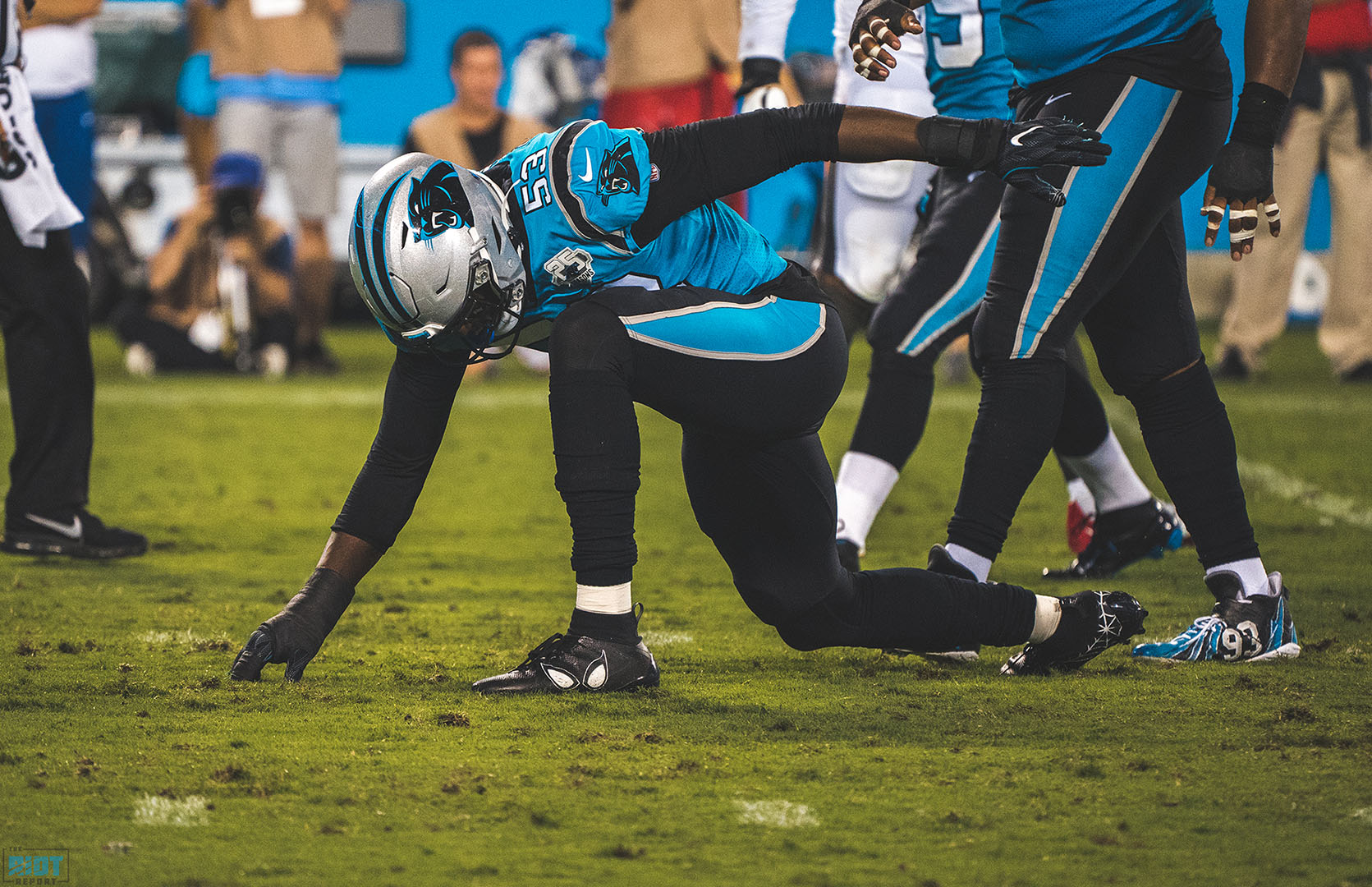 I still remember his poor friend trying to apologize for his behavior and defuse things, and I can also remember getting the sense that a few people were perfectly willing to fight that kid if he said anything more.
By night's end, contributing to the enormous sense of despair and impending doom I felt for a Panthers team I had loved was just how uncomfortable I had felt watching and witnessing that game with fans. It was difficult, in real time, to watch so much hope and optimism be destroyed and for what should have been a fun experience to turn into a frustrating and volatile one.
Which leads us to this Thursday Night two years later: A sweeter, better, and a happier time.
— Steven Taranto (@STaranto92) September 24, 2021
Throughout the night, I was able to experience for myself the renewed energy around Panthers football, with plenty of exclamations of "And that's a Panthers first down!" thanks to a productive offense while there were lots of high fives to go around after touchdowns, sacks, and stops on defense.
Of course, not everything went perfectly, the Texans' defense put up enough resistance to make the game uncomfortably close into the third quarter, and injuries to Christian McCaffrey, Jaycee Horn and Juston Burris could have a lingering effect for the remainder of the season.
However, most all games, and most all seasons, feature some sort of storm. And by the fourth quarter, that storm dissipated: Leading to a much-enjoyed opportunity to revel in the sounds of "Sweet Caroline" at game's end.
— Steven Taranto (@STaranto92) September 24, 2021
In my adult life since I moved to North Carolina for college 10 years ago, I've been able to see first-hand just how good a fanbase the Panthers have developed. Although the franchise has only been around about a quarter century, Panthers fans have developed a passion, lore, and bond with their team that is as good as some teams that have been around for nearly a century.
Though I've seen my own team (the Giants) win two Super Bowls in my lifetime, the explosion of energy and jubilance I saw from Panthers fans in 2015 – especially that January night in the NFC Championship Game – was unlike anything I've ever seen.
When the Panthers stopped winning midway through 2018, a lot of that energy dissipated. Which is a big part of the reason why this fast start out of the gate has been such a great thing to see. All that Panthers fans have had to endure, especially at the end of 2019 and the beginning of 2020, has given them full license to enjoy their early success this season. And around the country, I'm certain there were plenty of other fans enjoying the night just as much as Music City Riot was.
It's still early to crown this particular Panthers team: Admittedly, they have had a soft schedule with two of the worst teams in football last year and a dramatically different Saints team as their opponents. There are plenty of September streaks that, later in the season under more scrutiny, turn out to be mere mirages. Surely, Carolina will have to navigate through some storm to prove their worthiness as an NFL contender.
But, for the time being, the Panthers are 3-0 and have a full 10 days to bask in being the toast of the NFL town. I hope Panthers fans enjoy every bit of it as, while I've learned not to root for the team I cover, it's hard not to look at what Panthers fans have been through over the past couple of years and not think they've earned a little time in the sun.
Overall, I think it was very fitting that my 2021 experience watching a game with the Roaring Riot was a very different one than my 2019 experience. Seeing fans down makes seeing them up that much sweeter and feeling their frustrations and anxieties as my own allowed me to be even happier with the outcome of Week 3's game.
Not a perfect night by any means but they all count the same. Great win for the Panthers with a lot of time to bask in being 3-0.

Thanks to Harrison and everyone at Music City Riot for some fun Thursday Night Football! #KeepPounding pic.twitter.com/iU1rhzt8mG

— Steven Taranto (@STaranto92) September 24, 2021
However long it lasts, I hope Panthers fans take pride and enjoyment in every bit of their team's early success this season. There are certain feelings in football that are particularly precious and should be cherished, and the feeling of winning again after hard times is most certainly one of them.