In Kyle Allen's first start in the NFL in the Panthers season finale against the Saints, he threw for 228 yards and two touchdowns. On Sunday, in his second start, Allen doubled that touchdown total against the Arizona Cardinals.
Allen put together a fantastic performance starting for the injured Cam Newton as he finished 19-for-26 and threw for 261 yards and four touchdowns to lead the Panthers over the Arizona Cardinals 38-20 for the team's first victory of the 2019 season. His 144.4 passer rating against the Cardinals was the second-best for a Panthers' starting quarterback in franchise history, only behind Cam Newton's 153.3 passer rating against the Atlanta Falcons in 2015.
Allen is just the fourth quarterback in Panthers history to throw for four touchdowns and zero interceptions in a game and joins Patrick Mahomes of the Chiefs and Marcus Mariota of the Titans as the only quarterbacks with four touchdown passes in one of their first two career games.
Sunday's game was a homecoming for Allen as he played high school football at Desert Mountain High School in nearby Scottsdale. While it was fun for Allen to be back at home and have his friends and family in the crowd, he was focused on the game against the Cardinals.
"For me, it's just football man," Allen said. "It's cool to have all my family and friends here and I went out to dinner with everyone last night and stuff, but at the end of the day, it's just have a plan when you come to the line of scrimmage every play and don't make it more difficult than it needs to be. So, one play at a time, and it's a long game – I kept preaching that to everybody."
"I think as a quarterback, you can look at the clock, you can look at what happened before, you can look in the future and your mind is just going different ways. For me, I literally talk out loud and I tell myself – 'Have a plan. Have a plan. Have a plan.' You don't need to make it more difficult than it needs to be. Play within the play – Norv and Scott and the whole offensive staff are going to draw up great plays throughout the week and they're going to tell you what to do."
"So just execute it."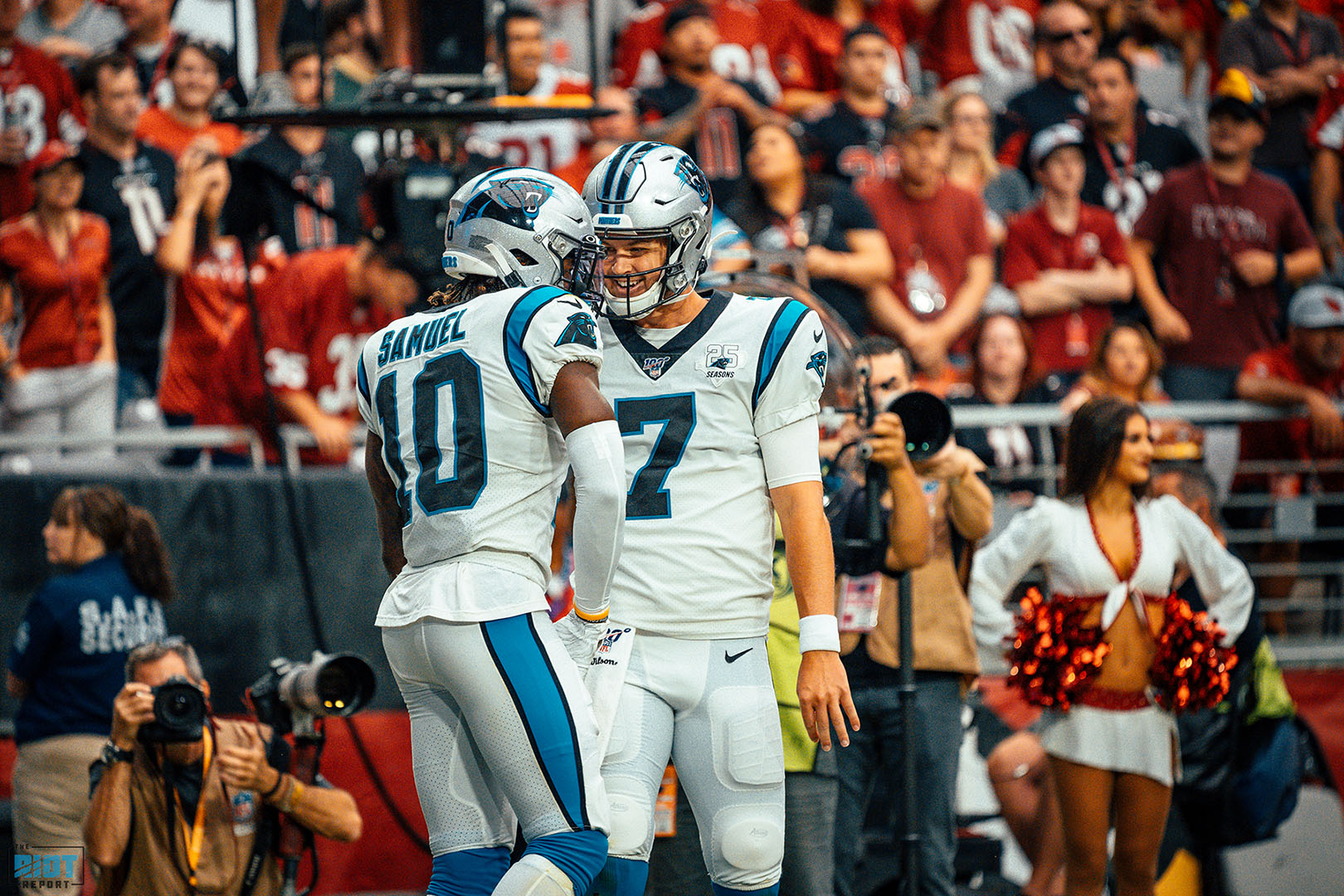 Throughout the day, Allen spread the ball around – his first touchdown pass was a short five-yard pass to Curtis Samuel in the second quarter as Samuel beat cornerback Byron Murphy to the corner of the end zone.
"When coaches call the plays, I'm just thinking about winning the one-on-one matchup. Whoever is out there in front of me, just win and give the quarterback the opportunity to throw me a great ball and give me space," Samuel said after the game.
In the third quarter, down 17-14, Allen found the veteran Greg Olsen for a three-yard touchdown pass – Allen's final touchdown was also to Olsen for three yards to extend the Panthers lead to 35-20 in the fourth quarter. Despite knowing how good Allen is, even Olsen wasn't quite expecting Allen to have the performance that he did against the Cardinals.
"As good as we think he is, and much as we anticipated him playing well – I mean to throw four touchdowns, I don't think anyone expects to come out and throw four touchdowns in a game. It's hard to do in this league," Olsen said about Allen. "I don't want to say I was surprised – but that's a lot of production for any quarterback. So hats off, credit to him. He has had a great year and a half since he has joined us, just preparing himself for days like today and it paid off."
"Kyle had us fired up," Donte Jackson, who had two interceptions on the day, added. "Kyle answered the call. He was ready. He said earlier this week 'If my number gets called, I'll be ready' and he was. We have a lot of trust and respect him – and we know he can get the job done – and we were just trying to get him on the field."
Allen spread the ball to four different touchdown scorers, three through the air with Christian McCaffrey adding the longest touchdown run (76 yards) in franchise history. In Allen's previous start against the Saints last season, four different players also reached the end zone.
It's just one game, but Allen showed on Sunday that he is more than capable of holding down the starting quarterback spot until Newton recovers from his injury. Yes, Allen has played in just a total of three NFL games, but the Panthers offense responded to him being behind center.
McCaffrey said he wasn't surprised to see the Panthers offense feed off of Allen's energy on the field.
"That's how he practices, so nothing is shocking when he gets out there in the game and does that," McCaffrey said. "He has a great sense of urgency, and he is a heck of a quarterback."
Carolina obviously needed Sunday's win to avoid an 0-3 start, which would have severally damaged their playoff hopes. Dating back to 1980, there have been only six teams that have made the playoffs after starting the season 0-3. The Houston Texans were the last team to do it as they finished 11-5 after beginning the 2018 season with an 0-3 mark.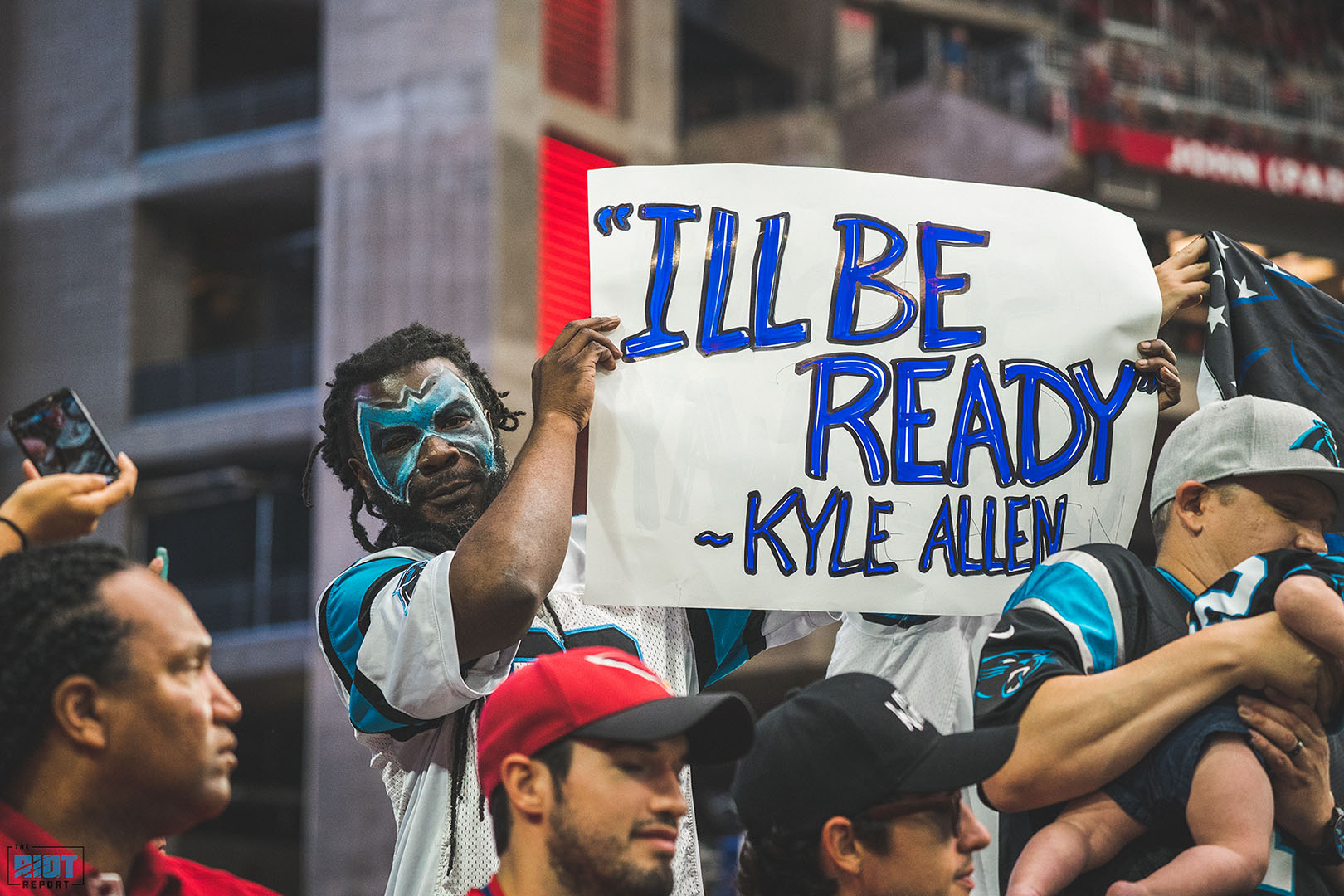 After Sunday's win, the Panthers are just one game behind the New Orleans Saints in the NFC South standings after three games and the question is – how long will Allen be the Panthers starting quarterback? Rivera said Cam Newton was listed as day-to-day leading up to the Panthers game, but a foot injury to a dual-threat quarterback like Newton can linger. Carolina will be on the road for the second consecutive week as they will take on the Houston Texans and it's no guarantee Newton will be back – it might even serve Newton well to sit out another week and get completely healthy. Rivera says Newton will be the Panthers starting quarterback once he is healthy and ready to return – whenever that is.
"[Cam's] our quarterback and he's who we rely on," said Rivera. "But for now we're going to stick with Kyle and we'll keep rolling and see how things unfold as we go forward."
But while Newton recovers, the Panthers feel confident with Allen under center – now it's just up to the rest of the league to notice.
"If they didn't know anything before, they definitely know now," said DJ Moore, whose only catch went for 52 yards and a touchdown just before halftime. "He can throw the ball and make plays out there."