Tuesday afternoon, Ron Rivera was answering questions about reports that his team had been interested in acquiring veteran wide receiver Emmanuel Sanders. 24 hours later, Rivera was being asked how to defend that same receiver – turns out the team who had been interested in acquiring pass-catching help ahead of the trade deadline wasn't the Panthers – it was this week's opponent, the undefeated San Francisco 49ers.
Sometimes the NFL is a small world.
While the questions may have changed, the Panthers defensive scheme won't when they head across the country to take on the only undefeated team in the NFC. The 49ers may have acquired a dynamic new pass-catcher, but it won't change the way the Panthers approach the 49ers, a team that has an explosive running game – they average over 170 yards per game – and is ranked 25th in terms of passing yardage.
Ron Rivera learned in his playing days under coach Buddy Ryan that if you prepare for the plays instead of the players, you're likely have success on Sunday.
"The truth of the matter is that we know who Sanders is, we know how good of a football player he is, but you still prepare for what they do – that's the biggest thing," said Rivera. "They [may] have special players that do special things, but you always prepare for what they do."
Sanders, who has 7,391 yards and 39 touchdowns over his ten-year career, has 30 catches and zero drops this season with 367 yards and two scores over five games in Denver, where he's played almost a third of the snaps this season in the slot.
The 49ers wanted to add a pass-catcher to Kyle Shanahan's offense, inquiring about Atlanta wide receiver Mohammed Sanu before eventually pulling the trigger on the 5-11 Sanders, who has been voted to the Pro Bowl twice in his career – thus far this season, 49ers quarterback Jimmy Garoppolo has relied on tight end George Kittle as his number one pass catcher thus far this season.
Kittle has 34 catches and 376 yards through six games this season and is a headache to defend on his own as Pro Football Focus' #1 rated tight end through seven weeks.
"He aligns everywhere," defensive coordinator Eric Washington. "They feature him as a single receiver – he aligns in the core. They move him around frequently on first and second downs, so he's a moving target and he has exceptional receiving skills. He'll be a tough matchup for us, we just have to be aware of where he is as it pertains to part of their game plan where he's featured and just execute our scheme."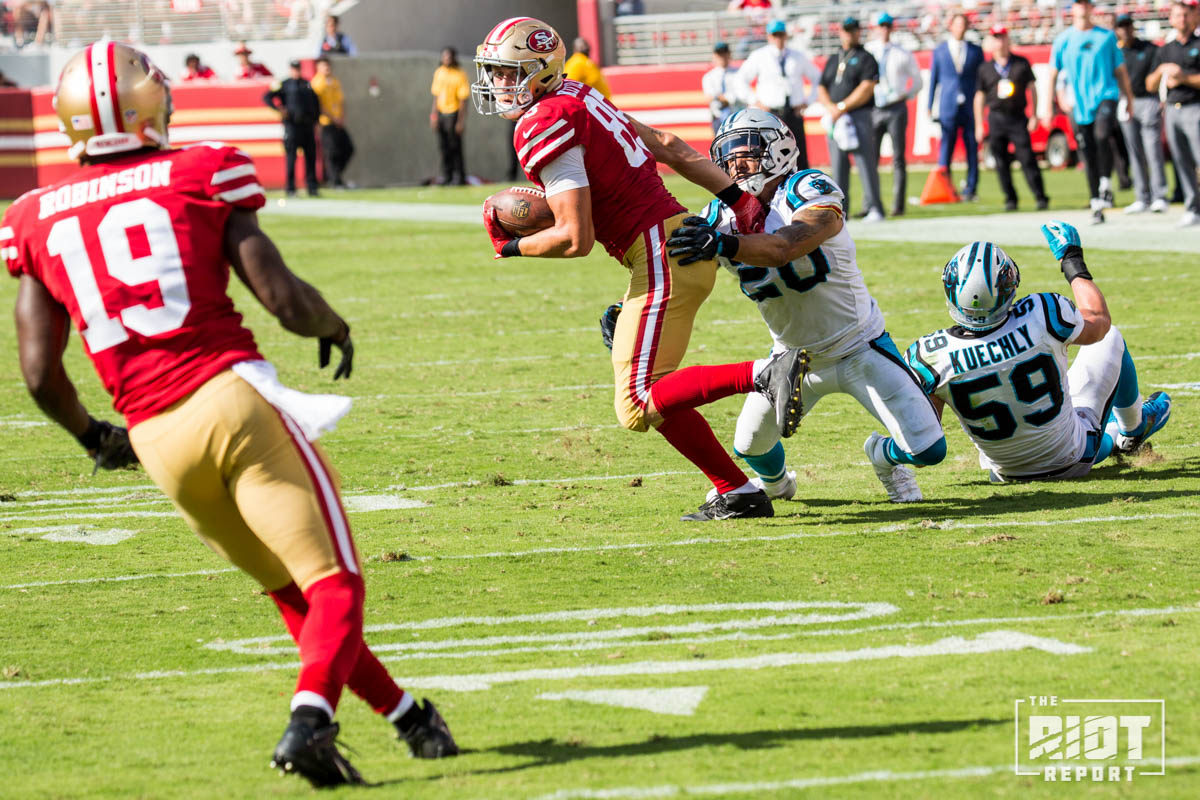 Now they'll have to defend both as Kittle and Sanders both line up all over the formation, but the new addition from Denver, where the offense is run by Rich Scangarello, the former 49ers quarterbacks coach who worked under Shanahan, is expecting a smooth transition to San Francisco's offense – the 49ers coach said Wednesday that the plan was for Sanders to "definitely" play after arriving in the bay area late Tuesday night.
"We kind of run a similar offense," Sanders told Michael Spencer of CBS Denver on Tuesday. "Just talking to Rich and he was telling me it's the same offense. Different concepts. But I'll be able to pick it up easy. I'm waiting for [San Francisco] to call me right now to see when I'm going to get out there and get my physical and get acclimated with the system."
Sanders expects to pick up the offense quickly – the Panthers are expecting the same. But that won't change the way the Panthers deploy their secondary, who allow the second-fewest yards per game through the air in the NFC and are coming off a game where they intercepted Jameis Winston seven times.
"As far as scheme and stuff, they're still going to run the same routes, they're going to still be in the same formations, they're just going to place a new guy in there," said James Bradberry. "I know they're definitely going to use him."