After the Panthers were blown out by 38 points in San Francisco last week, Greg Olsen stood in front of his locker room and told his teammates that this loss wasn't going to ruin their season like it did last year, when they let one bad loss – a 31-point loss on national TV in Pittsburgh – spiral into seven consecutive, taking them from challenging for their division to wondering what was next.
This was a different team, a different locker room – and the next week, instead of following a Week 10 blowout with a Week 11 heartbreaker that saw a two-point conversion in the waning moments fall incomplete, the Panthers played the way they knew they could, bouncing back with a 30-20 win over the Tennessee Titans at home to keep their chances at a playoff berth alive halfway through the season.
"Sometimes the truth needs to be said," said Olsen after he had three catches for 40 yards in the win over the Titans. "Whoever it comes from, it comes from. I've seen a lot of different things in this league, I've been on the good side and the bad side of it and I think sometimes it's your obligation as an older guy to not let history repeat itself."
It wasn't just the embarrassing loss at the hands of the 49ers in which they were outclassed in almost every phase of the game and sense of the word – distractions are swirling outside the gates of Bank of America Stadium, with the news of Cam Newton's injury, playing status and murky future with the franchise around every corner, in every Twitter notification from the team and report from around the country – Ron Rivera answered as many questions about a quarterback that hadn't played since Week 2 as the one who'd gone 5-1 and just thrown two scores.
But none of the answers about Newton provided any clarity – even with his team 5-3 in his absence, the biggest story in Carolina ends up being Newton, even as his team remains only a game out of the final Wild Card spot in the NFC.
"I think it's about the team, moreso than anything else," said Rivera. "Cam has been an integral part of who we are, [but] we have a lot of good football players. Now we have a young man [in Allen] that has come in and did some things for us last year; he's showing that he can do it again this year. I really do think it is about the team more than it is about the individual."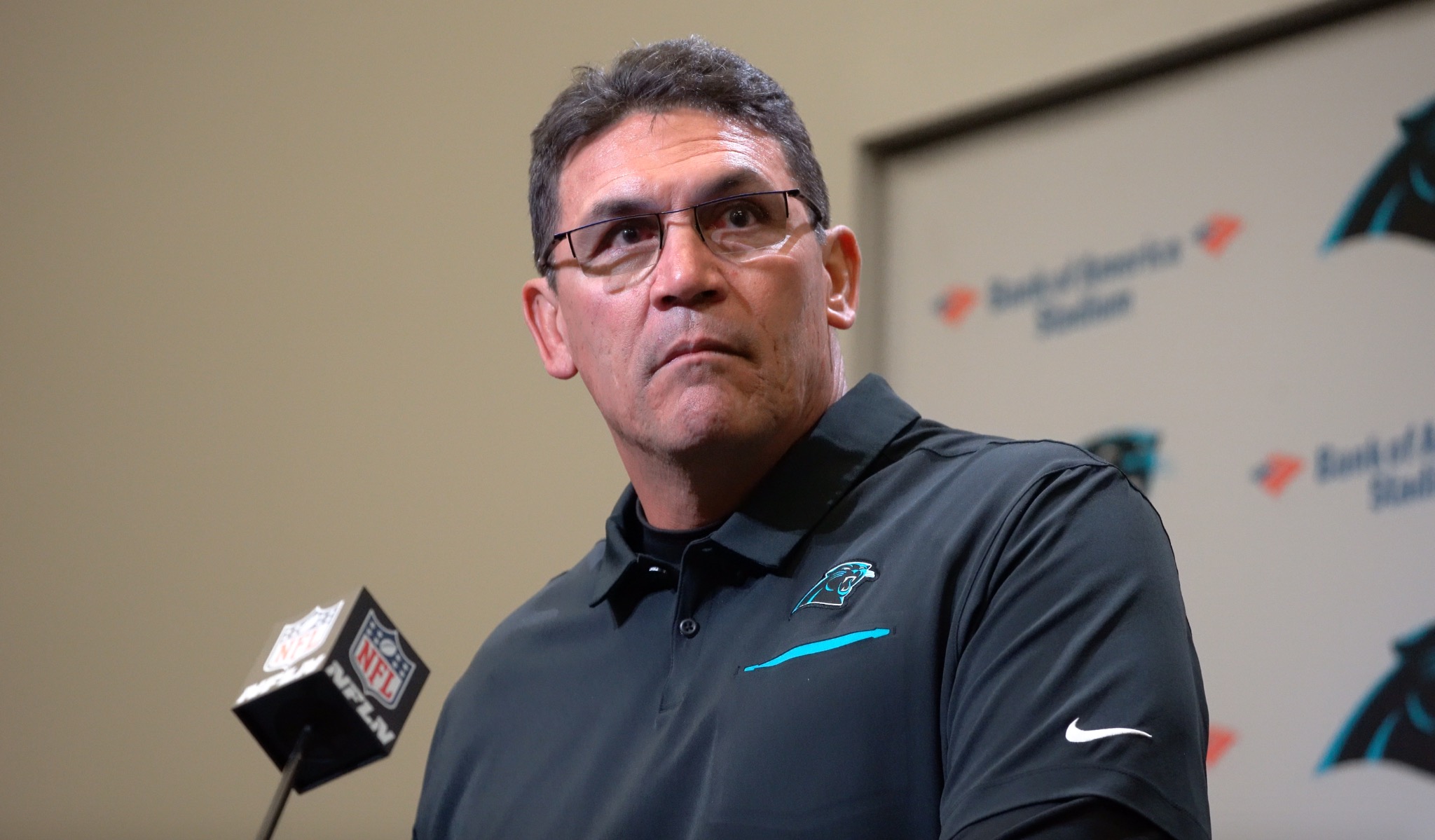 And the team that is on the field week in and week out has continued to win behind a recipe for success that likely applies to any team in the league – force turnovers and harass the pass rusher on defense, don't make mistakes on offense and continue to put the ball in the hands of your all-world running back. All of those things didn't happen last week.
But as long as the team keeps winning, it blocks out a lot of the noise; it certainly helps alleviate concerns that there will be a backslide – or a losing streak – that will not only sink your season but sap the camaraderie from the locker room.
"You've got to acknowledge it, you've got to be able to look yourself in the face and know what we have to do after this – because last year we didn't do that," said Donte Jackson, who had four interceptions during the 6-2 first half of the season and zero in the 1-7 second half. "We didn't look each other in the face, we didn't have that accountability to just start over; we can say it, but nobody really took action to it. I think this year it hit a little bit different."
"One thing about this league, from the fans to the players to the coaches to upstairs, everybody has short-term memory loss, you know what I'm saying? So you get a win and you make people forget about what happened."
This time, the Panthers didn't let it linger.
"That taste was wiped away on Wednesday," said Gerald McCoy. "We moved on a long time ago."