Unless you're currently renting property under a rock, you'll be aware that quite a lot has changed for the Panthers since Sunday's game. And, with Steve Wilks in and Matt Rhule out, rumors abound that the Panthers could be keen to move on from a number of players in order to accrue draft capital for a potential rebuild.
While this is definitely not a foolish plan, they'll need to make sure they keep key cornerstone pieces in the meantime. These include second-year corner Jaycee Horn who is in the middle of a breakout campaign. After only playing three games in his rookie season thanks to a broken foot, Horn has managed to stay healthy for five games, already establishing himself as one of Carolina's best players.
Lockdown play mostly fluctuates, but a lockdown corner is one of the league's most important positions. If it's of any indication, Pro Football Focus currently has Horn down with the lowest passer rating of any cornerback so far this season, while Pro Football Reference has Horn lower than guys such as James Bradberry (sounds familiar), but still well inside the top 10. Add to that the fact that he is still yet to allow a touchdown, and you have the resume of one of the game's best.
So, what does Horn do that makes him so effective?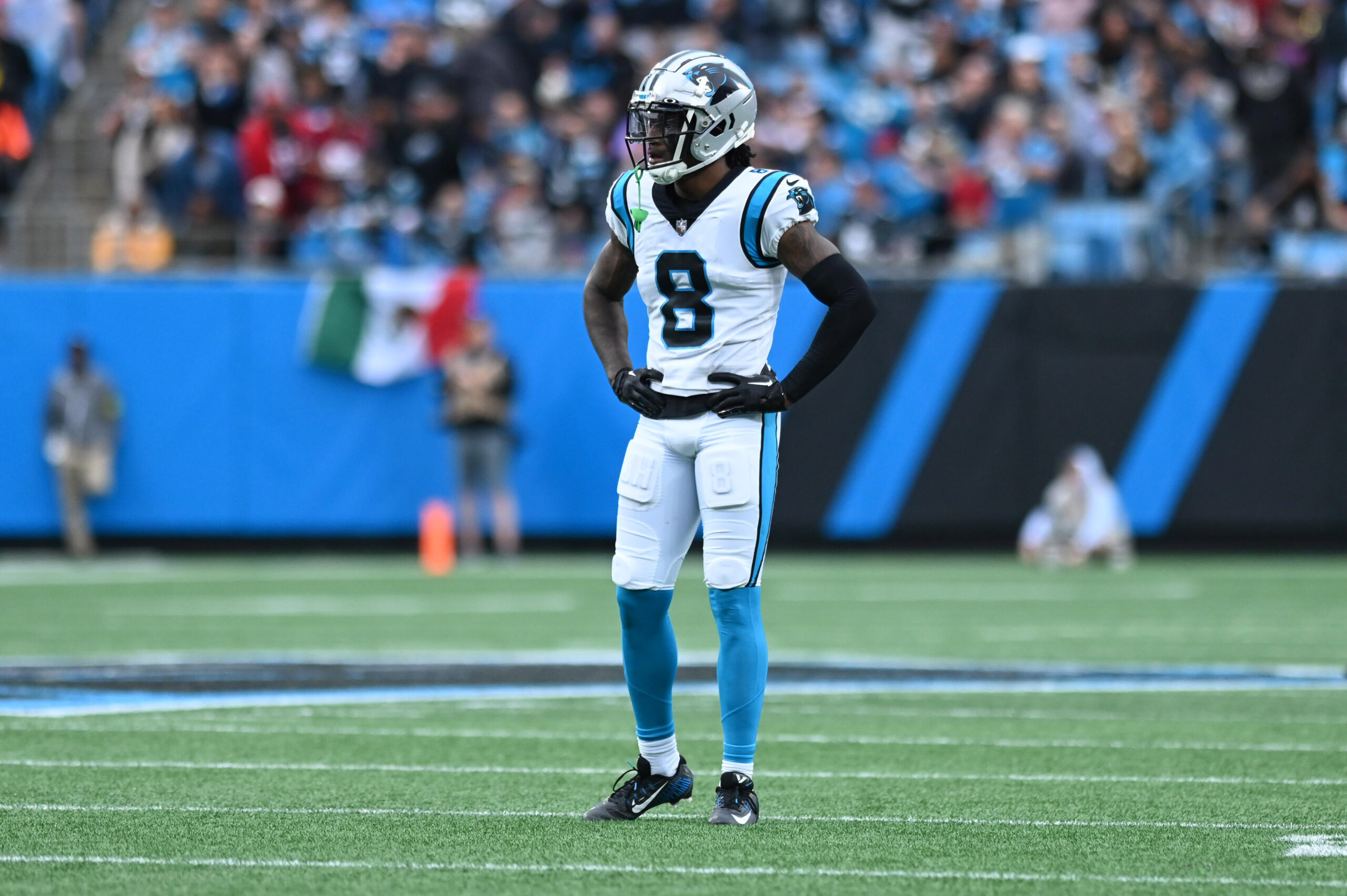 On this first play, Horn does benefit a bit from the pass being thrown inside, but that's not the point I want to discuss. Take a look at the quickness he uses from his acceleration: He's instantly pushing off his foot and gassing into coverage, also using some impressive range to break up this pass.
However, as with James Bradberry before him, he'll need to continue working with the jugs machine so he can snag those interceptions.
Against the Cardinals, Horn only shadowed Marquise Brown for 10 snaps, but made up for that by allowing zero catches on two targets. Here's one of said two.
After communicating to Donte Jackson that he has the motioned receiver, Horn steps into action. Brown cuts out and tries to execute a wipe move, but Horn uses his outside hand (he's under five yards beyond the line of scrimmage) to keep the receiver at bay. The throw from Kyler Murray floats incomplete, and Horn was likely close enough where he could break this up. All in all, great footwork combined with great technique against the wipe.
Now let's focus on last week. The blowout loss cost Carolina's head coach his job, but Horn had another great performance. Superstar jack of all trades Deebo Samuel caught a touchdown, but was held to two catches and 20 yards. Horn was a big reason for that.
Despite being solely responsible for guarding the one-of-a-kind player, Horn's 4.40 speed is more than enough to make himself a nuisance for Samuel. He does get away with some contact at the end, but not enough where it's anything but subtle. It is enough where Horn disrupts Samuel's timing, resulting in the pass bobbling through his hands.
Despite how good he is in man, Horn is most often used as a zone corner, which is where he's at on this snap against speedy rookie Danny Gray. Gray ran a 4.33 40-time and had 16.4 yards per reception in his last year at SMU, so he has the ability to separate with the blazing speed that's a staple in the Kyle Shanahan offense.
Horn plays well off Gray, tracking the ball perfectly by hesitating and then cutting atop Gray's route. Horn beats him to the punch, nearly racking up his second interception of the season on a terrific read and terrific ball tracking.
Perhaps the 49ers knew Horn was going to shadow Samuel, as the receiver was rarely targeted in that matchup. Horn was able to jam the All-Pro for the majority of the day, even though that didn't end up being reflected in the score.
Jaycee Horn has played eight games in his young NFL career, so while he is technically up to pro speed, there are a few (re: few) hitches that have suggested rookie pains.
He'll need to work on his balance and does bite on a route here and there, but these honestly seem like nitpicks.
Overall, Horn has been fantastic in his sophomoric season. He's rarely targeted, but that's a good thing, and he uses great hand technique, flashy footwork, and a combination of expertise in man and zone coverage that allows him to deliver the goods and has established himself as one of the game's young lockdown corners.
The Panthers are going to have to make hard choices in the coming weeks, but in Horn and a few others they have some really exciting young talent that should form the basis of a contending team if the Panthers are able to address some remaining areas of need.