There are going to be some ongoing questions following the hiring of Matt Rhule – while some of them will begin to get answered as he starts putting together his staff and we get a better idea of exactly what the scheme and style of this team is going to be going forward, it is likely to take a season or more to really be able to asses Rhule as an NFL head coach. While it might become clear quickly if he is exceptional or awful, if, like most NFL coaches past and present he falls somewhere in between, given the adjustment period he is likely to experience transitioning from a college game, it's more likely that this move signals the start of a more lengthy rebuild that might have been suggested by a more experienced hire.
In practice, this means that the Panthers might not be amazing in 2020 and unless they strike gold either in the draft or with a particular assistant coach, this is likely to be a process that takes a year or two to begin to take shape. In order to judge Rhule as we move forward, we will likely need to move beyond simple wins and losses and judge him against the process of getting this team back to one that can compete on a consistent basis. This means creating a sensible set of expectations of what can be managed and changed, and how quickly those changes should take to materialize.
So then, how can Matt Rhule fix the Panthers, and what exactly will that look like?
Work With What You Have, Not What You Want To Have
This sounds really quite simple, and in reality it is, but ultimately nobody is ever going to have the perfect roster – while there are likely to be a series of ongoing personnel changes in the coming seasons, Rhule needs to show the ability to be flexible and build his team around his major assets, rather than trying to force players into pre-determined roles based on an ideal set of players.
On offense, this means Christian McCaffrey, and it would frankly be a shock if any head coach had taken over and didn't look to feature McCaffrey heavily. However, this is more than just a matter of snap counts and touches, but rather about how you use those assets, not just how much. McCaffrey is a very well rounded player, but he does do some things better than others, and how Rhule distributes these touches will be a key theme to watch.
McCaffrey is at his best when operating in a bit of space or when running downhill at speed with the ability to pick and manipulate rushing lanes. Where he is not so good is in short yardage situations where his lack of mass ultimately makes him easier to stop than a larger back. Additionally, when used as a more conventional downhill inside runner, McCaffrey is still good, but here the gains are extremely marginal and so even if this isn't a matter of hiding a weakness, any coach would be wise to try and cut his carries here rather than in the passing game.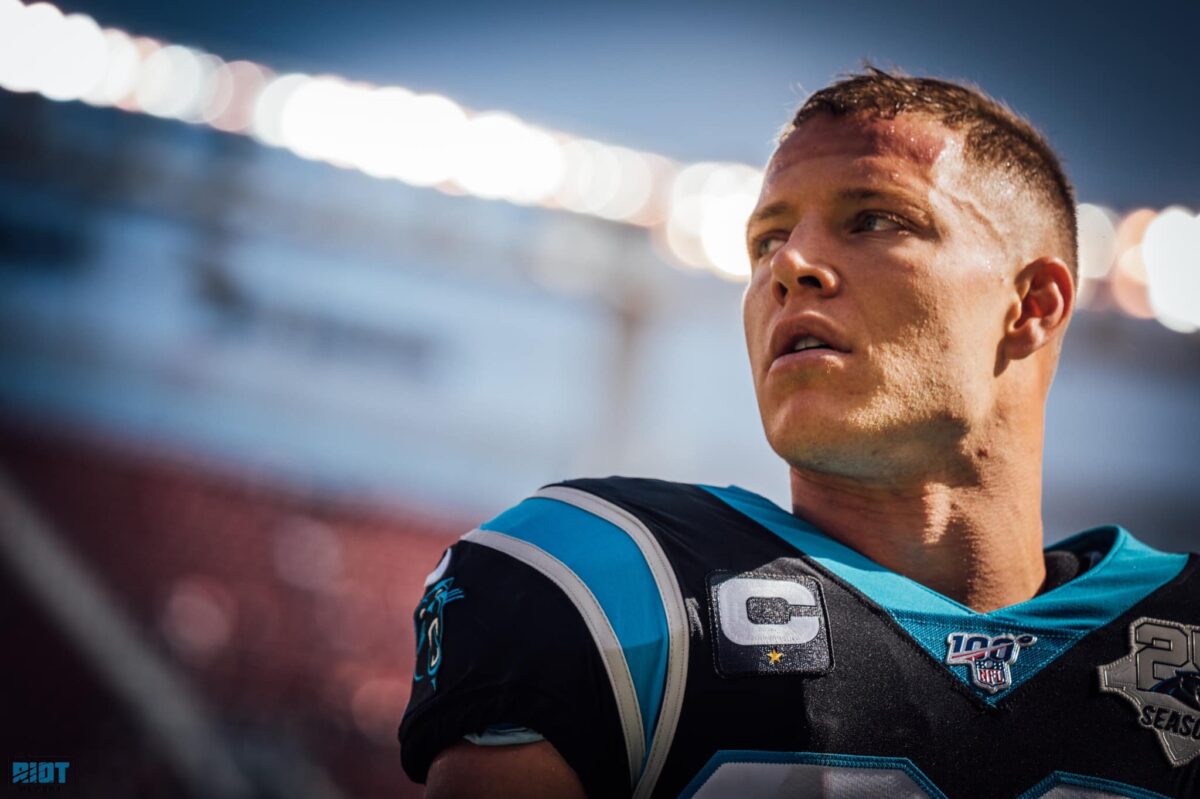 In practice, if Rhule looks to accentuate McCaffrey's value as a route runner coming out of the backfield and his ability to get vertical quickly and pick up chunk plays in the ground game while distributing the more chain-moving carries among other players, that would be a good sign. If McCaffrey spends a lot of time in pass protection, that would be a bad sign.
On defense, this is always going to come back to the front the Panthers play, and the balance of coverages they use. The Panthers really struggled in the 3-4 front in terms of stopping the run this year, and while that wasn't helped by injury and another year of recruitment towards this end would certainly come in useful, ultimately this is not where the likes of Short and Kuechly are most valuable – while a true hybrid defense which looks to run a more conventional 4-3 on most downs but which can switch out to a completely different look in clear passing situations, might be effective, if they continue to pow on with the 3-4 without much success that would indicate a triumph of principles over pragmatism.
Of course, Rhule isn't going to suddenly develop the perfect scheme to suit the entire roster and the defensive look will have a lot to do with the coordinator, but it is about general themes and key details at this point. This team looks to have a set of young skill positions players who are great after the catch, but the offensive line is still a work in progress.
It doesn't take a genius to work out that getting the ball out more quickly might be a good idea.
Growth and Nurturing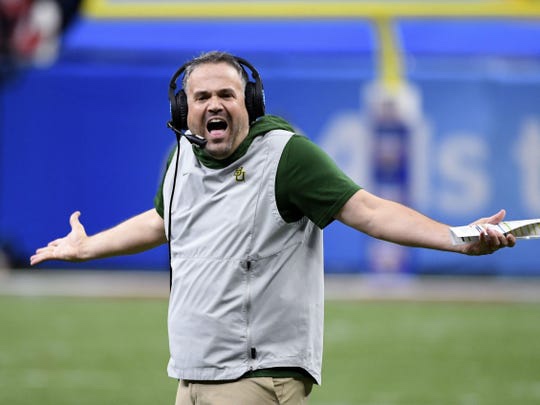 If the Panthers are indeed facing something of a rebuild, there is likely to be something of an exodus of veteran players who will likely look to go elsewhere in order to chase rings. While the Panthers would be wise to still keep around a few key players in order to ease the transition and to provide a certain level of leadership, they are more than likely to be one of the youngest teams in the NFL over the next two to three seasons.
The key when this is the situation becomes the development of young talent rather than the refinement and organization of existing veteran starters. This, in turn, places a huge amount of importance on hiring the right position coaches in order to develop and nurture the talent the Panthers do have – which is quite considerable – in order to build a depth of core talent with which to build around as they move forward.
Now this can be very much a gradual process and it would be foolish for the Panthers to expect their 2019 rookie class to come back next season looking like superstars just from a few months of a different position coach. However, the Panthers would do well to keep an eye on how they have fared at developing different position groups under Rivera, where they have done well – and to keep those coaches around if they at all can – and where they need to go in a new direction as Rhule has stated that he will have control over building his staff.
WATCH: Former #Baylor Head Coach Matt Rhule talks about how tough this decision was to leave for the @Panthers pic.twitter.com/TS8LY1eACZ

— Nick Canizales (@NickCanizales) January 7, 2020

Of course, the big question hanging over all of this is that there is still a lot of uncertainty surrounding Cam Newton – should he not be part of the Panthers' long-term plans, not only does Rhule have the length of contract to suggest that the Panthers are expecting him to be here for that transition. The development of that new young quarterback – should that be the direction the Panthers take – will be the biggest medium-term task for Rhule and his staff. This is still very much up in the air, but the fact that the Panthers might be in for a long-term rebuild absolutely necessitates the ability to develop young players.
The advantage of hiring somebody like Rhule coming from the college game is that his job has always been focused heavily on the development of young players – not only will he possibly have a greater appreciation of this than somebody who has spent their career entirely in the NFL, but he will also have a far greater knowledge of the different position coaches around college football and who has and hasn't done a good job of developing talent over the years.
WATCH: #Baylor Head Coach Matt Rhule discusses the importance of the 2018 recruiting class. pic.twitter.com/VwXMdqCljp

— Nick Canizales (@NickCanizales) November 21, 2017

While Rhule will likely hire a mixture of college and NFL coaches in order to aid the transition to the NFL, he would do well to find a handful of position coaches around college football who he thinks have done a good job of teaching players over the years and seeing how they fare in the NFL. The Panthers have admittedly seen both sides of this over the years, as Eric Washington and Jake Peetz have both joined them directly from the college game and done well, whereas Brady Hoke was something quite different…
Like with everything, the key here is to have realistic expectations, and in this case that means players like Burns, Little and Moore continuing to build upon the promise they have shown thus far, rather than expecting somebody like Jordan Scarlett – who ultimately is still a near-complete unknown at the NFL level – to suddenly emerge as a star, though of course it would be nice if he did.
Core Competence
The Panthers ultimately didn't do horrendously under Rivera; while it's fair to say that they failed to perform to their talent level on the whole, the 15-1 season is a testament to just how good they were at times. However, even in what is one of the most successful non-Super Bowl seasons in NFL history, there was always a sense of fragility.
That needs to go.
The Panthers were excellent that season, they ran the ball well, had one of the best deep passing attacks in recent memory and a defense that was then able to turn the offense's ability to pile pressure on teams to generate turnovers and hand the offense back good field position. However, even then, there were games where they just didn't show up, and stretches of games where things just didn't come together on offense.
There are several factors as to why this was the case, but ultimately the Panthers didn't do a good job of having core structures in place for them to fall back on when things weren't going well. At their best over the past decade, the Patriots have been a super high scoring, free-flowing deep passing offense who can put 50 points on most teams by halftime if all goes to plan. However, the reason why they have been as successful as they have is not because of how they played at their best, but how they were able to win even when they weren't very good.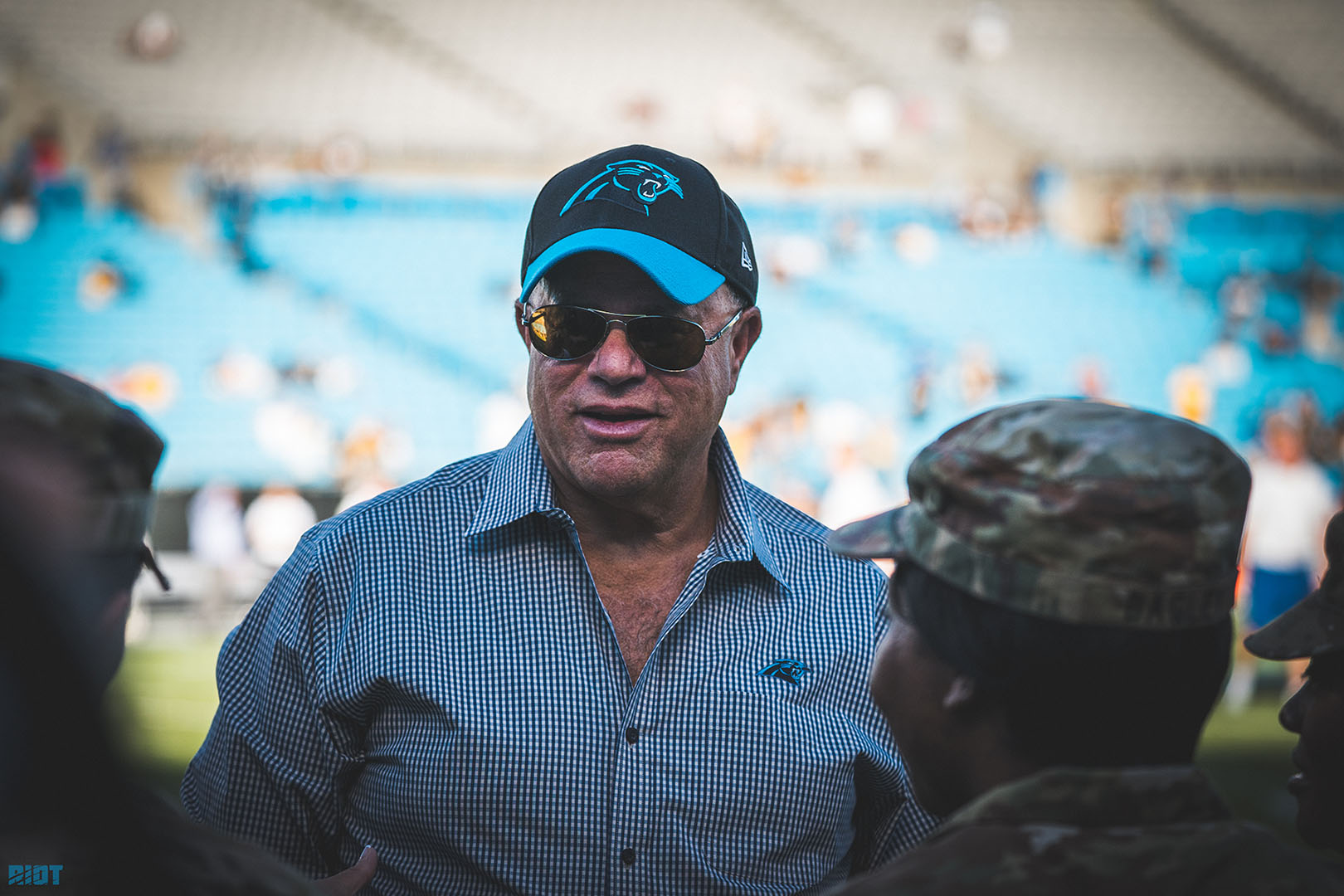 The history of the Panthers' offense under Rivera, for the most part, is that if Cam Newton plays well, they win – sometimes by a lot. But the entire offense was built upon him in a way that meant he had to be good for the offense to work; the Patriots have never done that with Brady. Of course, aspiring to be the new Patriots is nice and all, but even to reach the far more reasonable target of consecutive winning seasons, the Panthers need to base their team around a core of competency and repeatable structure.
In terms of what this might look like on the field, it can take many forms. For Alabama over the years ,it has been the ability to run the ball, just put a hat on a hat and get a few yards. For the Patriots, it has been the quick passing game, that they will spread you out and pick you apart without giving you time to get to Brady. When the Patriots went down big (28-3 I believe it was) against the Falcons, out came the quick passing game, with the running backs out of the backfield in particular, being a key part.
"There has to be a degree of patience to build sustained excellence. I'm going to say that again, sustained excellence. You say five years? Listen, you want to wait five years for sustained excellence? You think people will wait five years for sustained excellence? For 20 years of winning seasons?"

-David Tepper
Matt Rhule has a ton of interesting potential as an NFL Head Coach – he has coached on both sides of the ball in college, which is not something that is hugely common and which should give him a wider understanding of what is going well and badly for his team that coaches like Rivera – for whom the offense was entirely in the offensive coordinator's hands – have ever been capable of.
There will be teething troubles, of course there will – but there should also be a sense of optimism around this move.
It might go horribly wrong, and there isn't a ton of evidence that Rhule is going to be an amazing NFL coach, but he had had success with multiple programs in difficult situations in college and to this point, there is no evidence to conclude that he will do badly or that this is a foolish hire. It's a risk – but sometimes risks pay off.
And the Panthers might not have a ton to lose right now.