Like the 31 other teams in the NFL, the Carolina Panthers offseason program has been quite different this spring.
Instead of having a rookie minicamp after the draft, organized team activities (OTAs) and mandatory minicamp in person to get to know new free agent acquisitions, the Panthers have been conducting their offseason program virtually as the NFL closed all facilities in late March due to the COVID-19 pandemic. This has put the Panthers in a unique situation because of all of the turnover to not only their roster, but to its coaching staff.
Matt Rhule became the Panthers head coach in January, and he has changed over almost the entire staff from last season. However, Rhule hasn't been able to meet with many of the Panthers players due to the shutdown of facilities – Rhule hasn't even been able to have a single practice with any of his players, hasn't seen his players in uniform.
He hasn't even met three quarters of the team in person – his introductory message as a head coach to his new team was via a message on his phone, recorded vertically.
"There's no playbook for this time," Rhule said on a virtual conference call Wednesday. "It isn't like you can call up the other NFL head coaches and commiserate and say 'hey, how are you guys handling this.' You kind of have to figure it out on your own. So, that has obviously been challenging. As you guys have probably heard me say, I have probably met like 20 of the 90 players on our team."
"As we've gone through the draft, even as we've gone through roster decisions now, it is really hard to make an informed decision when you haven't even met the player. You haven't even seen where they are. So, those things are all hard. But I do think every development has two sides, players have heard me say that a thousand times – I think this is an opportunity for me as a person, one of the things I can be better at, and it has made us all better as coaches and teachers."
With the way things are going, the NFL won't allow any on-field activities until the start of training camp, which is currently scheduled to be on July 28th. Panthers rookies, who are at a disadvantage because of the lack of on the fieldwork, will likely report about a week before that.
Because Rhule hasn't met a lot of his players, he hasn't been able to evaluate them to see if they're a possible fit for a position change or deserve a spot higher on the depth chart. But according to Rhule, a lot of the players on his roster have done a good job with virtual learning.
"A lot of these guys are growing up with a lot of technology in their hands at a young age," Rhule said. "Getting different apps in their hands to teach is how they communicate. As coaches, coach Snow has adapted to this – so maybe we are becoming better teachers. A lot of experienced NFL head coaches, they have a formula for success that they've been doing for a long time."
"This has sort of changed their paradigm as well. So all of us, we are on an even playing field in terms of trying to figure out how to manage this."
The roster turnover has been widespread – of the 90-man roster, less than half of those players were on the Panthers last season. As he is a first-time head coach along with the players trying to learn a new system, Rhule understands that it can be quite difficult for players to get everything down during this virtual offseason.
"We want our guys to master the system when we do get together, and the physical part starts," Rhule said. "We don't have to spend a lot of time learning the system. Instead, we can go out and perfect our craft."
Also, because of COVID-19, the Panthers and other NFL teams that usually travel to different locations for their training camp practice will not be able to this summer. This means the Panthers will hold training camp at their Charlotte headquarters for the first time in franchise history instead of Wofford College in Spartanburg – the team is hopeful they will be able to hold camp in South Carolina in 2021 before the completion of their new headquarters in 2022.
Rhule says he is currently putting together plans to make training camp work under the COVID-19 conditions.
"Do we meet at certain different parts of the stadium?" Rhule asked. "The practice is one thing, but the meetings, the locker rooms are a whole another. We are just in the process of trying to make all of those things work. In terms of practices, as we get close as with anything, more information will come out. Maybe the NFL will give us some guidelines. I think my job is to be the most flexible head coach."
While the NFL has given permission to coaches to do their work at the stadium beginning Friday morning, the Panthers are reportedly not heading back to Bank of America Stadium quite yet – it's unclear when they'll return to the stadium to work together in person as a coaching staff – for players, the return is even less clear.
And when it comes to fans, the picture gets a lot more murky.
"I do believe we'll have a season," Panthers linebacker Andre Smith said Thursday. "I think it just depends if we have fans or not. But honestly, I feel like everyone's gonna be like, "Look at everyone out there protesting all close. We can have fans in the stadium." But that's different. I think we'll have a season."
"We'll get together training camp, late July. I'm ready to go right now. I'm locked and loaded."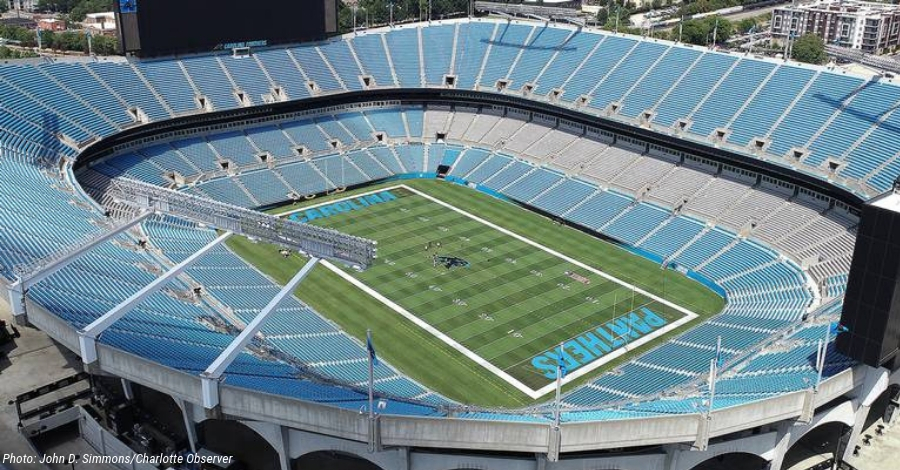 One player who has been through an unconventional offseason in the past is Panthers tackle Russell Okung. In his second season in league with the Seattle Seahawks back in 2011, Okung and other players weren't able to begin workouts until late July because of the NFL lockout.
Rhule says Okung and others in the organization have given him advice on how to handle an offseason without much on-field work.
"He brought it up to me," Rhule said. "Marty was around during that time. Kent Johnston, who is our Director of Wellness, who was a strength coach for 25 years, so he has a lot of experience at that time. Rod Marinelli, who is with a different team [Las Vegas Raiders defensive line coach], I've talked with him in the past about that. There's a lot of experience on our staff about this. We've built our wellness and performance team. We've always had some great outside consultants who are some of the best of the best in the country."
"I've tried to utilize our staff to make sure we are getting as much information as possible."
Rhule has also had to navigate the process of getting his family settled down and moving from Waco, Texas, to Charlotte. Having an owner like David Tepper has definitely been a benefit to Rhule.
"One of the great things about Mr. Tepper is that is unbelievably accessible," Rhule said. "If I need him, I can just text or call him, and he is right there on the phone. He's great, he lets me do my job and calls me when he has something for me and I call him. The most important thing is I can go to him with anything and I can be frank when I talk to him."
(Top Photo Via @Panthers)