Everyone loves a great underdog story.
During his time as a professional football player, P.J. Walker has had several ups and downs throughout his career – from the Colts' practice squad to the main roster and back again a countless number of times to becoming the breakout star of an upstart football league. But even as he was waived and re-signed for over two years in Indianapolis, the Panthers quarterback never lost his confidence.
"Just knowing what I'm capable of and knowing what I'm capable of doing on the football field," Walker said to reporters on a Zoom conference call Monday. "That's the only thing that gets me up every day to get back out there. I gotta love the chip on my shoulder, wanting to go out there and be the best. So I just go out there, and I work. And I compete. And I make sure [to] try to get the guys around me to be at that level as well."
Coming out of Temple, Walker went undrafted, despite becoming the school leader pass attempts (1,458), completions (830), passing yards (10,668), TD passes (74), and total offense (11,439). In his final season, Walker also helped the Owls to their first conference championship since 1967.
The Colts took a chance on Walker during the 2017 offseason as a UDFA – but he spent the next two years bouncing between waivers and their practice squad before Walker and the Colts parted ways for good in 2019 when Walker got the opportunity to land a starting gig in the newly re-formed XFL with the Houston Roughnecks.

Before the league was shut down due to COVID-19, Walker became the star of the league – he passed for 1,338 yards, 15 touchdowns and four interceptions in four games with a 65% completion rate and wowed viewers with Mahomes-esque sidearm passes as he consistently made plays with his legs as well as his arm.
Having that opportunity to play in the XFL wasn't just about showing his skillset – it's helped him as he tries to adjust to the speed of the NFL, which he says he's still doing as training camp wears on. Consider it another stepping stone from Temple to the practice squad to the active roster.
"Just me being at Indy on the practice squad for two years, and getting the opportunity to go out there at the XFL and playing live football games," said Walker. "The speed of the game changes from college….I played in [only] preseason games when I was with the Colts. But just going out there and just adjusting to everything and the amount I was getting in games was much needed for me."
While Teddy Bridgwater will be the Panthers Week 1 starting quarterback, the team's backup role is still yet to be determined. Walker is currently competing with second-year player Will Grier for their backup quarterback position.
While the competition sometimes changes by the practice, Walker has a regimen that he sticks to try and continue improving gradually every single day, keep diligent notes and filling up notebooks with his thoughts on the offense.
"For me, it has been about taking a lot of notes, writing down each play the night before," Walker said. "I will write down the scripts and all of that to help me prepare for practice the next day, so I can be on top of what I got going on that next day in practice. For me, it is just rewriting everything, rewriting my notes, just making sure I get to study every night."
Panthers head coach Matt Rhule, who was Walker's coach at Temple, says the quarterback still has one important hill to climb to make the Panthers' roster.
"I think the biggest think that you've seen from P.J., and it is probably from playing in the run and shoot in the XFL, is how much of a playmaker he is being right now," Rhule said. "When plays are off schedule, he is stepping up in the pocket — finding guys that are open being, being explosive. So he has done a lot of great things in that regard."
"I think the biggest thing that he has to do is protect the football. We will win if we protect the ball. Sometimes when you're aggressive, you can get over-aggressive. So for him, it is just continuing to find that good balance of, 'hey, I'm going to be aggressive, but I'm also going to protect the football.' That's a hard one for quarterbacks – because you don't want guys who are afraid to make plays because they're always protecting it [but] you don't want guys that are careless with it."
Walker has already learned a lot from Bridgewater during his short time with the Panthers, including how to be a backup – while this is Bridgewater's team now, last season in New Orleans, he wasn't ready when his number was called. And that's a cardinal sin for a backup.
After replacing Drew Brees after a thumb injury in the first quarterback of a Week 2 contest against the Los Angeles Rams, Bridgewater thought he'd done enough to prepare. During the 27-9 loss against the Rams, Bridgewater passed for only 165 yards and had more turnovers than touchdowns. He embarrassed himself – and he wants to make sure that doesn't happen to whomever wins the backup job this year.
"Just always stay ready," Bridgewater said last week. "I shared a message with those guys a couple of days ago about how when my opportunity came last year against the Rams, I wasn't prepared. I had my mind made up that I was behind Drew Brees, the previous year he never missed a game. 'Man, I'm never going to play.' That was my mindset."
"When I had my opportunity, I didn't deliver, and I was truly embarrassed."
Will Grier had the same experience, something Walker will have to avoid if he wins the backup job.
"I mean, [I was] straight up was bad at being a backup [last season]," Grier said Saturday. "That was the biggest adjustment for me last year was just learning how to handle day-in and day-out, again, me against me. That was something that I failed miserably at last year, but I think that's where you make the biggest jumps is learning from your failures and I failed last year at that."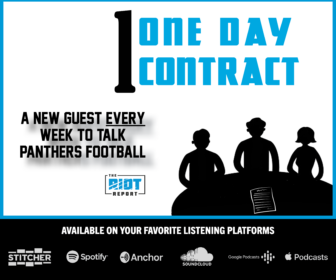 Always being ready is just one of the lessons he's learned from Bridgewater already during training camp.
"Who he is as a player and a person," Walker said. "He's a guy I love to be around as a player. He's always ready to go. His energy, his smile, it brightens up the room. The energy that he brings to the team is just amazing. Especially when we are out on the football field, he always has positive energy. He always wants to do the best thing for the group. He's always prepared."
"So he told us that story about a week ago, and for us, it was just learning how that situation affected him when he went out there and had that mindset of never having that feeling again. For us, it was just getting to that level of being prepared and be ready for the opportunity if it presents itself."
That would be quite the next chapter in Walker's story.
(Top Photo Via Brandon Todd/Carolina Panthers)