Six days from today, there will probably be a half-dozen head coaches fired around the league in what has become the NFL's grimmest tradition – Black Monday.
The Panthers already had their Black Tuesday when they moved on from Ron Rivera 20 days ago – yes, it feels like it's been forever, but it's been less than three weeks since the Panthers moved on from the man that had headed up the franchise for the past nine seasons. And Black Monday will likely lead to a house cleaning of sorts anyway; even if the Panthers had performed well under interim head coach Perry Fewell – and they haven't – a new head coach would likely want to bring in his own regime and that was before the Panthers had a historically bad run defense, allowed three punt return scores in the past three weeks and didn't score a touchdown Week 16 in Indianapolis.
David Tepper said one of the reasons for getting rid of Rivera with four weeks left in the season was to start negotiating with coaches, but there are some that won't be available for a few weeks yet.
"Why I can't wait till the end of the season? I don't want to be at a competitive disadvantage," Tepper said after making the move to fire Rivera. "If I wanted to go out and talk to other people and do it behind Ron's back, I won't do that. Full stop."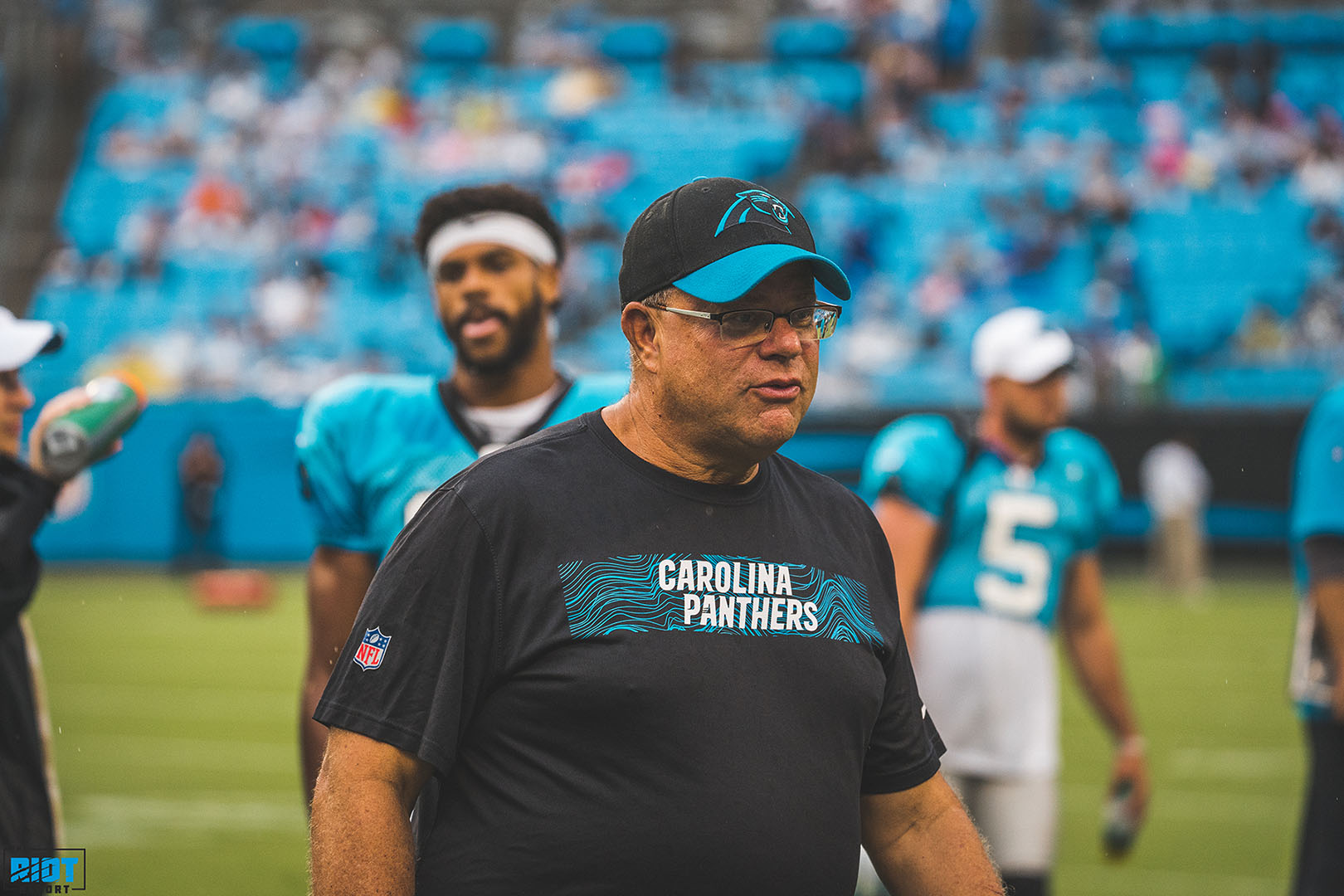 "In the modern NFL, I think there is a preference for offensive coordinators. I think there are reasons for that. That does not mean that if you find somebody fantastic on the defensive side, I won't consider it. If he has old-school discipline and modern and innovative processes. The question is if you can have a defensive guy that has that too."
So, we know what Tepper wants and we know changes are coming for Carolina; but once the Panthers have cleaned house, how – and more importantly, when – will that house start to fill back up?
Let's take a look at some options for the Panthers, David Tepper and his internal search committee and when they can start to bring them in for interviews – or maybe they already have.
College Coaches
When They Can Interview: While there's no rules about when pro teams can speak to college coaches, the rule of thumb is that most organizations tend to wait until after the coach's season has concluded; the Panthers may be interested in kicking the tires and interviewing coaches like Matt Rhule (Baylor plays January 1st), Lincoln Riley (Oklahoma plays on December 28th – and maybe again later) or a host of other coaches, which probably includes Stanford's David Shaw; if Tepper was being truthful in that he wanted to get a jump on interviewing coaches, it would have been for coaches not currently employed by an NFL team. That would certainly include those in the college realm and while he will he probably interview them, it seems as if he's more inclined to hire someone with NFL experience.
What Tepper's Saying: "I'm open to different possibilities. I do understand the difficulty of the transition, though. That doesn't mean I'm closing it off, but you've got to understand, anybody who's been around football understands the difficulty of that transition from the college game to here and different demands here."
Former NFL Coaches
When They Can Interview: They already have. Adam Schefter reported that the Panthers interviewed McCarthy after their loss to Indianapolis in Week 16.
While there are obviously a lot of former NFL coaches out there – including one that's the interim head coach currently in Carolina – the name that jumps to the top of the list is former Packers coach Mike McCarthy, who has been making it very obvious through the media car wash that not only is he available to interview, but he has learned from his pervious mistakes and is adopting the advantages that analytics provide. If Tepper is truly looking for a coach with old-school toughness and discipline who uses modern processes, that seems to be the description McCarthy is aiming to attach to himself, not to mention that he had a 125-77-2 record and nine playoff berths in 13 years with the Packers, including a Super Bowl victory.
If Tepper felt like he had to move on from Rivera because other teams were already starting their search and McCarthy was available for interviews but college coaches and current assistants weren't……
What McCarthy's Saying: "As a play-caller, you've got to stress the defense," McCarthy told Peter King. "And one of the things watching all these teams has shown us is how good some teams are at challenging the eye discipline of the defense. Makes 'em think at the snap of the ball, which is huge. This bullet-motion sweep, this jet motion, at different tempos, different speeds. I just really like what it does to a defense. We call those things 'nuisances' for the defense."
Assistant Coaches For Current NFL Teams
When They Can Interview: This gets a little bit complicated, so stay with me. Assistant coaches not in the playoffs can interview as soon as their season is over, which means coaches like Colts offensive coordinator Nick Sirianni, Rams defensive coordinator Wade Phillips or Giants offensive coordinator Mike Shula – just kidding, wanted to see if you were paying attention – might be talking to David Tepper as soon as next Monday. Teams would have to request permission if a coach is under contract with another team and teams could block a candidate from interviewing for a position that would be a lateral move, but can't stop assistant coaches from interviewing for a position that is a promotion – AKA a head coaching move for an assistant.
But who wants a coach whose team didn't make the playoffs?
For coaches like San Fran DC Robert Saleh or Ravens OC Greg Roman, the Panthers may also be able to bring them in next week, as teams are also allowed to interview assistant coaches who have a first-round bye in the playoffs during their bye. Obviously, candidates can choose to decline the interview to focus on preparing their current team for the next round; while Roman's team has already clinched a bye, there are others – like the Pats' Josh McDaniels, Kansas City's Eric Bienemy, or Minnesota's Kevin Stefanski – that won't be available until later.
That's because candidates can interview with any team that goes through the proper channels to secure an interview if their team loses in the first round; but if the assistant coach's team wins, teams need approval for an interview, which has to take place before the second round. And if you miss your window, no interviews will be granted from any from the four teams vying for a conference championship after the second round.
"When you say someone's not going to have five years to turn things around, do you think I can promise to anybody that things are going to be great in one year? Do you believe in the tooth fairy? Santa Claus? Which guy do you like? If you don't think I have to build something long term, if you don't think it takes time to build something great, if you think something great gets built in one second, then that's wrong. You shouldn't expect it, fans shouldn't expect it. I'm not talking about one year, I'm talking of a standard that will be built and sustained, OK? Built and sustained. If the fans are expecting something to be miraculous next year, listen, it could happen. Maybe, you know, it's that good – but you can't count on that. There has to be a degree of patience to build sustained excellence. I'm going to say that again, sustained excellence. You say five years? Listen, you want to wait five years for sustained excellence? You think people will wait five years for sustained excellence? For 20 years of winning seasons? They better, if they want that. You're not going to get things, immediate gratification. It may come, it may not come, will see how fast it can do. Listen, I'm not going to sit here and BS people. It's a building process. You heard about Rome, right?"

-David Tepper
Oh, and if the Panthers have already interviewed someone and his team makes the Super Bowl, they can request a second interview during the week after the conference championship – but before the team arrives in Miami to play in the big game.
What this means in practice is that the Panthers can interview former NFL coaches and college coaches this week, coaches not in the playoffs and those with a bye next week, and then teams that lose in the first round after that. But there's no guarantee that this coaching search won't stretch until after the Super Bowl, especially if the man David Tepper is eyeballing is helping to lead his team to the Lombardi Trophy.
So strap in. It's going to be a long winter.