The Rams offense in 2018 was good – really good, in fact – and while the Panthers have added significant talent to their defense over the offseason, in order to hold their own against the Rams' offense they will likely need to do more than just putting their best eleven on the field and hoping the talent alone gets the job done. So, from a schematic point of view, what can the Panthers do in order to help keep the Rams' offense in check?
Stay In Your Lane, No Matter What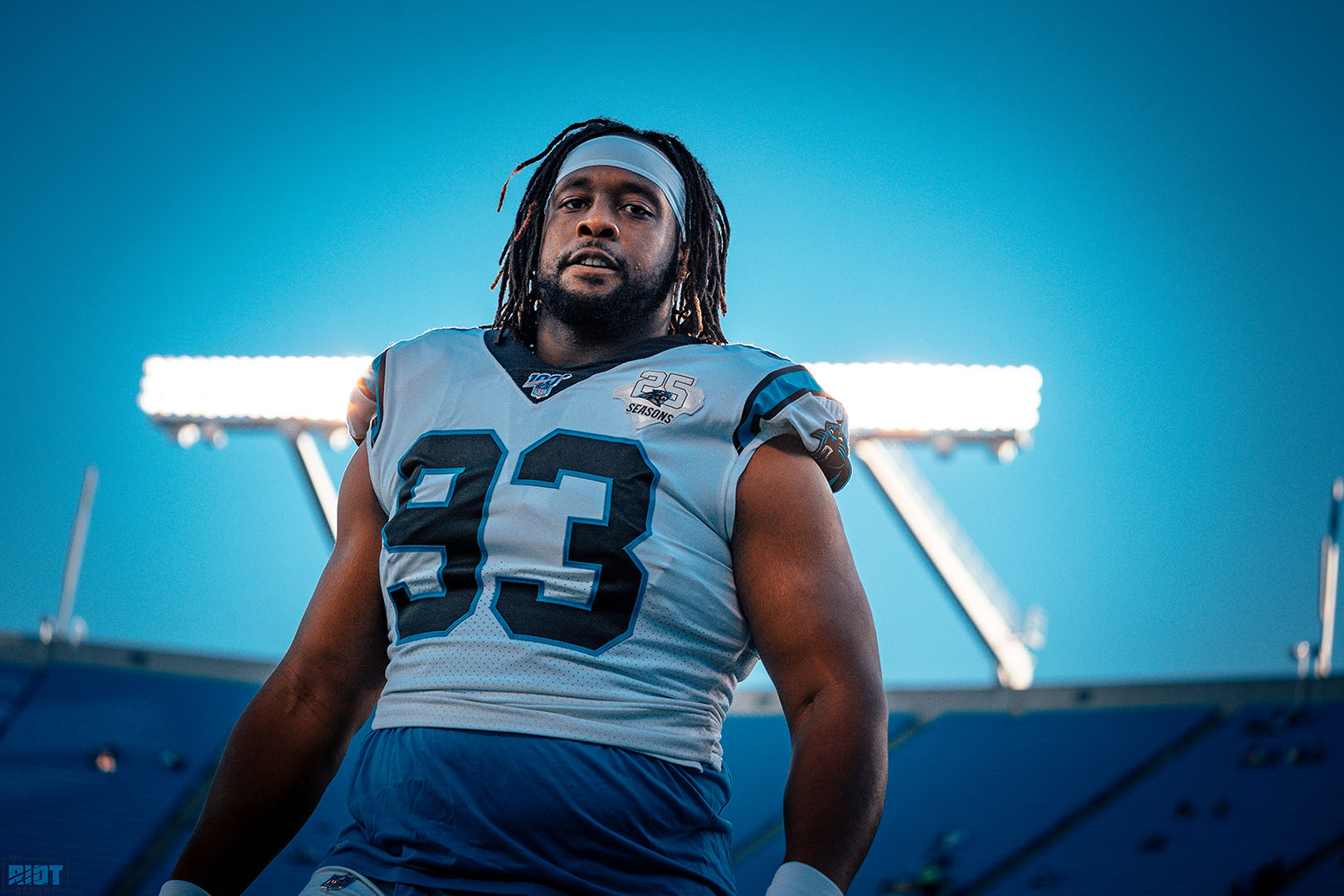 The Rams had arguably the best rushing attack in the NFL last season, averaging 4.9 yards per carry (3rd) and 139.4 yards per game (1st) – even more than that, a huge amount of their passing game is built off the run via hard play action. Unusually for a team that runs the ball a lot, the Rams run an awful lot to the outside and a lot of outside zone in particular. This has some issues, as it required a very high level of offensive line play in order to produce consistent yardage and will lead to a higher number of TFLs than most inside running schemes, but it also has some significant advantages, most notably that it tends to produce a higher number of long runs – when it works, it tends to work very well and it also makes it easier to run play action off of, as it forces the defense to work side-to-side rather than being able to penetrate. But how do you stop it?
Well, the simplest way to stop this style of rushing attack is for everybody to stay in their gaps and trust your players to be able to make the tackles when they have to. The issue with doing this against the Rams is that they pair their outside runs with a lot of motion pre-snap to try and make it harder for defenders to hit their gap assignments – that, and they have an excellent offensive line. The first will really test the Panthers' familiarity with their new defensive scheme, as while the defensive front will likely have a pretty direct battle up front, the linebackers, cornerbacks and safeties will be the ones who have to adjust to the motions in order to make sure every gap is filled.
The other aspect of this is the Rams tendency to use a lot of reach blocks, as they consistently look to create outside running lanes by getting their tackles to work around the edge defender to create an outside seam. It is therefore essential that the Panthers are able to consistently set the edge against the run and force the Rams to rely on finding inside room by cutting the ball back, where Luke Kuechly, Shaq Thompson and Eric Reid will be waiting for them.
As with any zone scheme, the aim of the Rams rushing attack is to get a space between two blockers without any defenders in it, and in Todd Gurley, they have the perfect running back to find those lanes and make the most out of them. While it would be easy to get lost in trying to find a way to approach Gurley himself as a ball carrier – as was shown in his second season, if you can close down his rushing lanes early and force him to hesitate behind the line, you have a chance to limit his impact. The easiest way to do that is to gap fit effectively and win your individual battles upfront.
Sounds easy when you put it like that.
Up Next: Make Goff Beat You