Baker Mayfield's debut against his former team didn't end in the way Panthers fans envisioned but, after a very slow start, Mayfield did help to put them in a position to win the game late as they erased a 20-7 fourth quarter deficit. Mayfield was seeking revenge against a Browns team that had sent him off to Carolina in the offseason. But the early struggles and officiating controversy were too much to overcome, as Cleveland stole victory right back and captured their first opening week win in 18 years.
Considering that the Panthers were going up against a potent Browns defense, Mayfield's stats looked respectable. He completed 16 of 27 passes for 235 yards, a touchdown, an interception, and came through with an additional rushing score. However, prior to the fourth quarter the offense just couldn't click. Via ESPN, Carolina had the third worst pass block win rate of any offensive line in Week 1 (43%), a testament to the speed on the Browns pass rush proving superior to the largely inexperienced, new look pass protection from the Panthers.
So, were Mayfield's early struggles merely the result of poor pass protection or does he deserve some of the blame for the Panthers' poor first half? We've had a look at the tape to find out.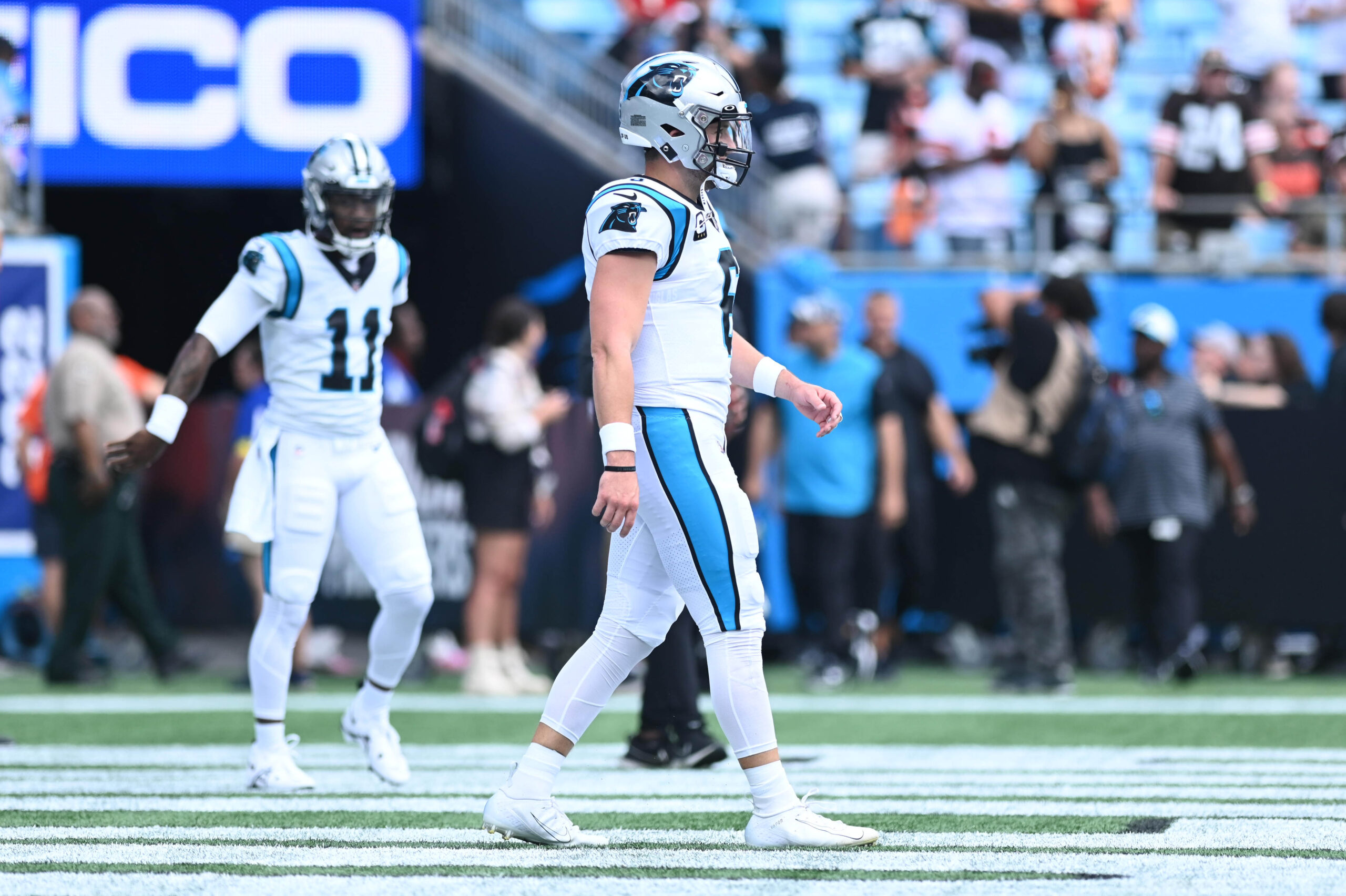 The short answer is no, it wasn't just the offensive line giving Carolian problems. Mayfield himself experienced the typical new quarterback struggles, having trouble looking comfortable in the pocket or finding a rhythm.
Four of Mayfield's first half passes were tipped at the line of scrimmage: At 6'1 Mayfield is among the shorter starting QBs in the league, and that alone is often seen as an explanation for such. In Mayfield's defense, the first tip comes from Jadeveon Clowney being too quick for the normally reliable Taylor Moton.
The second falls more on the level Mayfield is throwing from: Again Clowney (red arrow) is chasing him off the QB bootleg, and D.J. Moore (light blue arrow) is crossing the middle of the field, with complete separation. Unfortunately, Mayfield's pass is not tall enough to launch over the robotic arms of Clowney, resulting in an incomplete pass and a potential first down left on the field.
Four tipped passes clearly isn't good, but it's hard to know from one game if this is an aberration or if this is going to be a consistent issue for Mayfield, but it's certainly something to keep an eye on moving forwards. On a positive note, this is something that appeared to get better as the game went on so there is a chance that this was the result of early-season rust.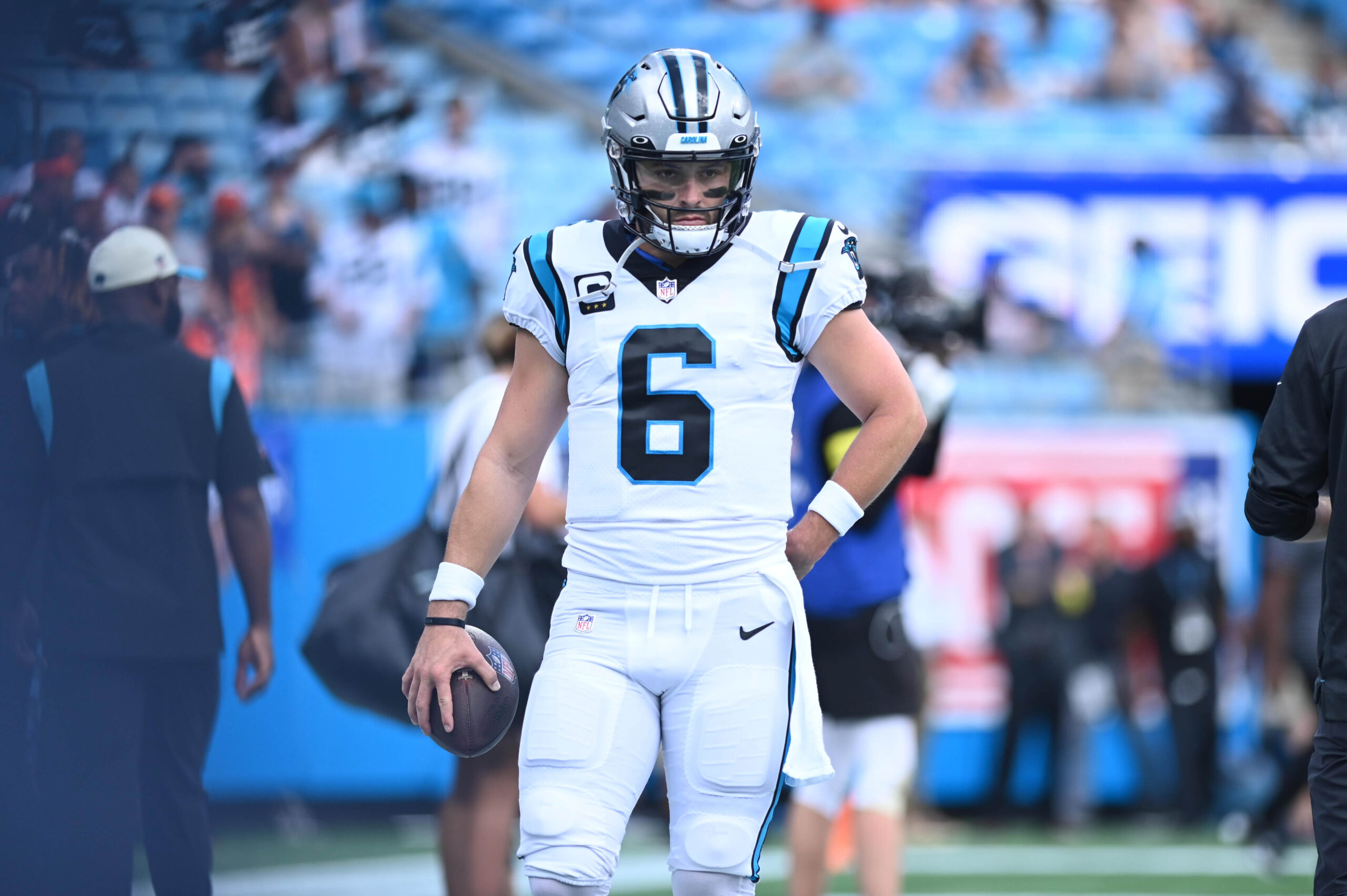 Mayfield's early struggles seemed to reach a peak with his first-half interception. He makes the correct read on this play, it's just a poor throw.
Shi Smith (yellow) runs a well-executed shallow crossing route, baiting linebacker Jacob Phillips into covering the right flat (his right). The problem is the throw from Mayfield completely sails over his head and into the arms of safety Grant Delpit.
Continuing to look at Mayfield's adventures in the pocket, a play like this shows how he has a tendency to drift away from the pocket even when he doesn't need to. This was a common criticism of the Browns faithful during his time in Cleveland and, on this play, it leads to him walking into the pressure.
As Mayfield navigates the pocket like a slip and slide, Ian Thomas is breaking open in the flat. I can't fault No. 6 for looking for the bigger play, as you often have to take a huge risk to get a huge reward. But because he drifts right, he's not able to locate Thomas in time, and eventually he slips to the turf for a loss of about 9.
Further into the game, Mayfield was slowly showing signs of comfort, as seen on this play. As expected, Ikem Ekwonu struggled to contain Myles Garrett in his rookie debut, as blind side pressure was a frequent inconvenience for the Panthers. Joining Garrett is linebacker Anthony Walker (No. 5) on the B-gap blitz.
Fortunately, Mayfield recognizes this in time, braces for the hits, and fires this on time to Moore across the field for a big gain.
It's not a spectacular play by any means, but it's an instance where Mayfield is willing to take a hit for the play's sake.
To me, this next play is one where you can assign blame to both Ekwonu and Mayfield. Ekwonu will have better days down the road when he's not facing an All-Pro EDGE rusher, and obviously he currently is not up to the NFL speed Garrett presents.
Mayfield is not without fault on this play either. Off the snap he locks into the right side of the field, a cardinal sin for quarterbacks aplenty. Pressure from the left side is a monumental challenge for any right-handed passer, but the stare down buys Garrett the time he needs to take Mayfield down.
Mayfield would've been pressured here anyway, but the stare down prevents him from sensing it and stepping up in the pocket. It's tough to do so right away with his fifth head coach in as many years, but it's something I'd like to see him progress on as the season moves along.
It's understandable if it seems like I'm nitpicking here, but with the edge pressure swarming him all game, you could make a case that Mayfield's footwork is slower than it should be. Faster mechanics would allow him to get this off in time to Moore on the curl, but once again Garrett moves past Ekwonu to prevent that from happening. The quarterback's arm is moving forward as he gets it, so it falls incomplete.
Now clearly Mayfield's intent is to get this ball off as soon as he can, and it's easier said than done when your rookie left tackle is going up against arguably the league's finest EDGE rusher. Conveniently enough, things got a bit easier transitioning to the fourth quarter, and that's when Mayfield found some type of groove.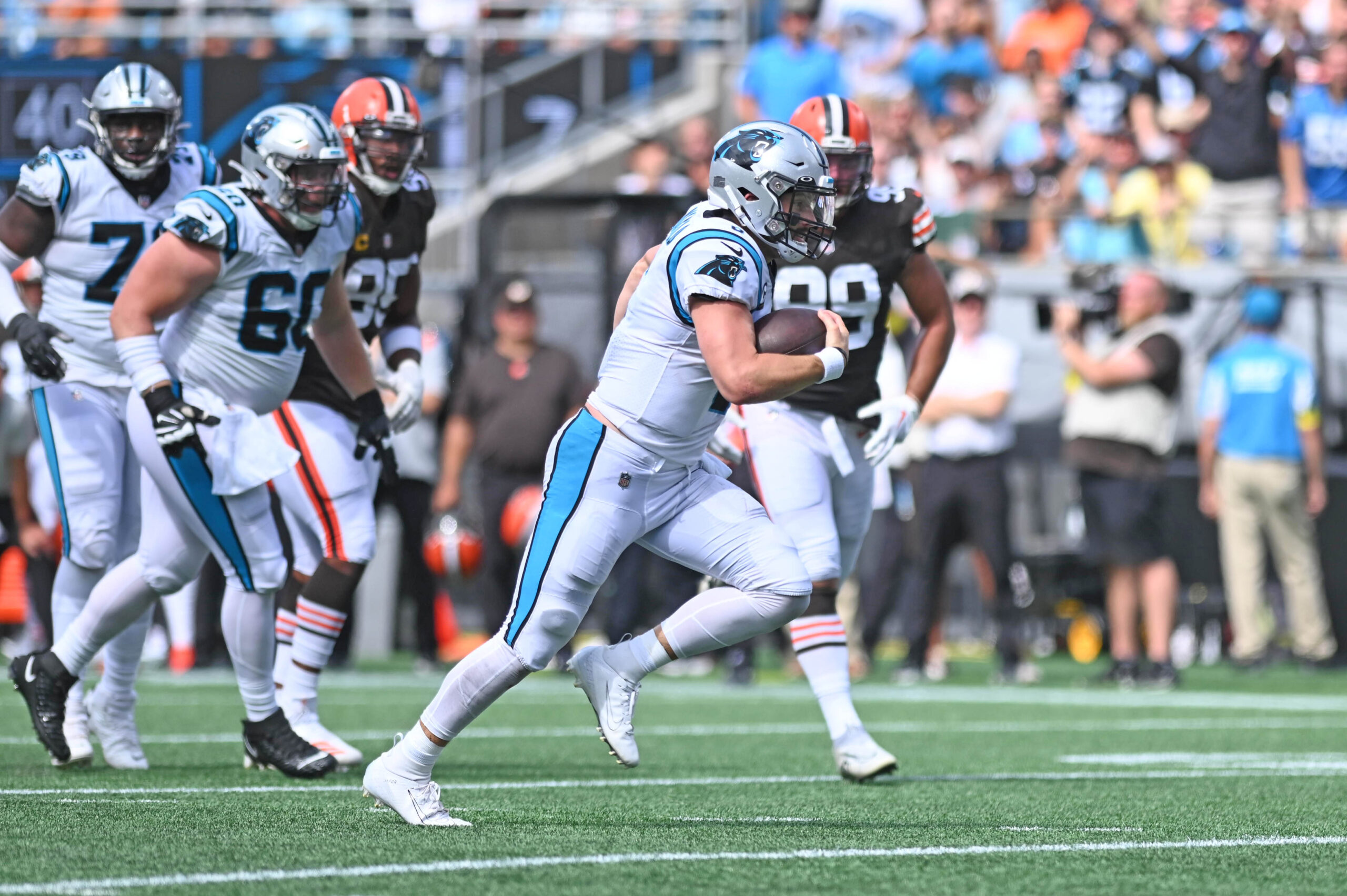 Shi Smith was begging Mayfield to give him the ball on the slant route, and here he did look open enough. However, this is offset when Mayfield's patience allows the middle of the field to be completely uncovered, and he takes advantage of that by running on a red carpet to the end zone for his first touchdown as a Panther.
Passing over open receivers in the endzone is not something that Mayfield will be able to get away with consistently, but if he can use his feet on a more consistent basis than he showed on Sunday then that should help to keep defenses off-balance.
What will certainly help is if Mayfield can make more plays like the one from the very next play for the Panthers' offense.
The corner guarding Robbie Anderson suddenly stops in his tracks, appearing to expect help over the top. Miscommunication or not, this is a bust in coverage, one the former Brown takes advantage of.
Mayfield launches this low fastball with plenty of velocity so that it doesn't hang in the air for too long. I've seen many dismiss this as an easy play, and it's not being thrown in the windows someone like Justin Herbert would explore, but the lower trajectory makes it easier for Anderson to haul this touchdown in.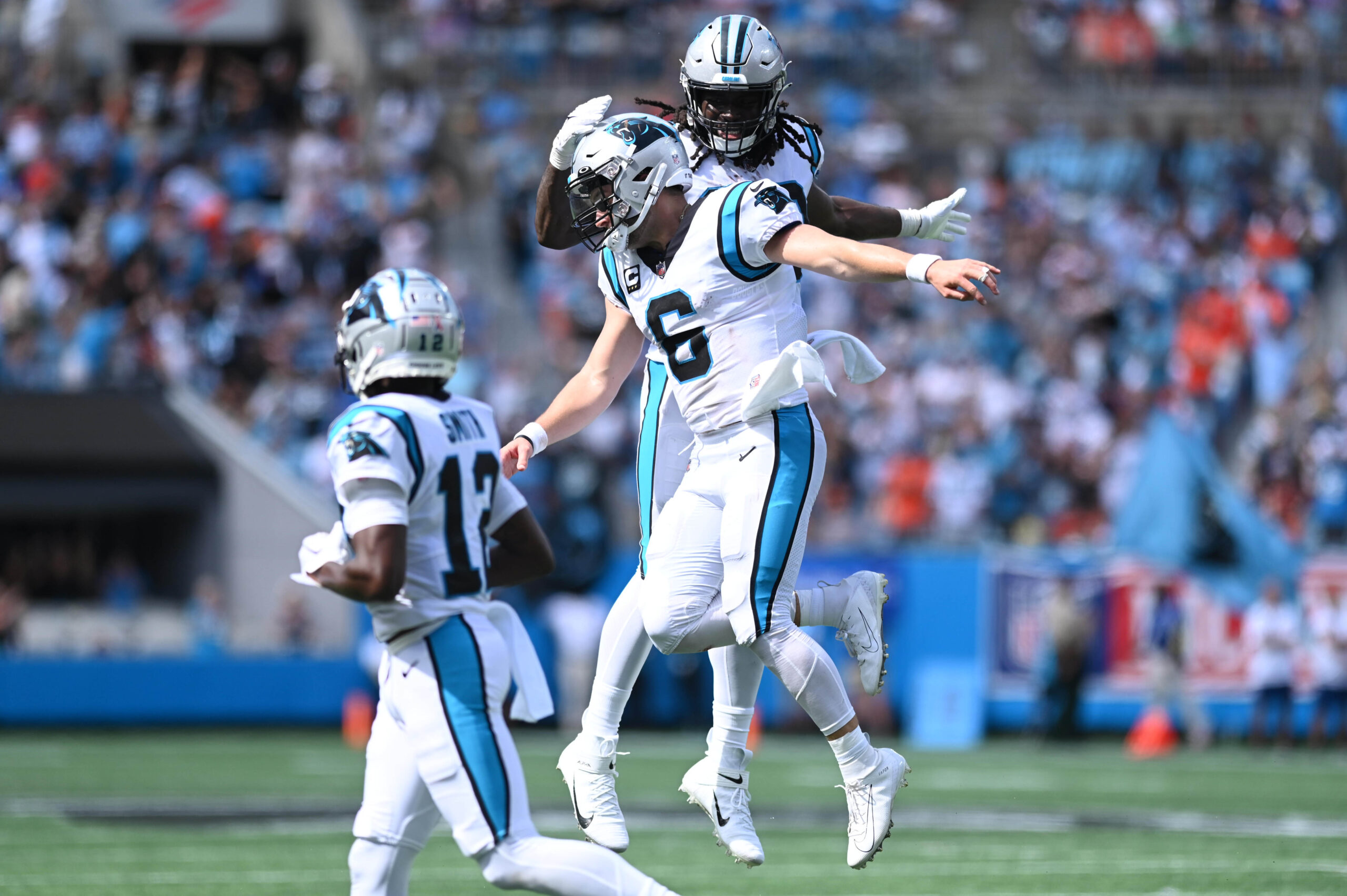 There are also signs of Mayfield being able to work effectively inside the structure, with This play late on the go-ahead drive looking like it belonged in Kevin Stefanski's schemes. Stefanski tailored the offense around quick, play action-oriented passing, giving Mayfield a chance to have the ball out of his hands as soon as it entered.
The option of the hand-off baits the second level of the Browns defense, leaving a hole in the middle of the field for Moore on the quick slant.
Lastly, let's talk about Baker's last play from scrimmage (excluding the lateral fest at the tail end of the game). Via the coaching staff, this was an RPO, and an interesting one at that. Mayfield elects to let Christian McCaffrey keep the ball, but as he does this it appears Moore has a step beyond corner Denzel Ward. It's difficult to say if Moore would still have a favorable look if the ball stayed in Mayfield's hands, but I would've liked his chances here.
It's the difference between a go-ahead field goal and a go-ahead touchdown.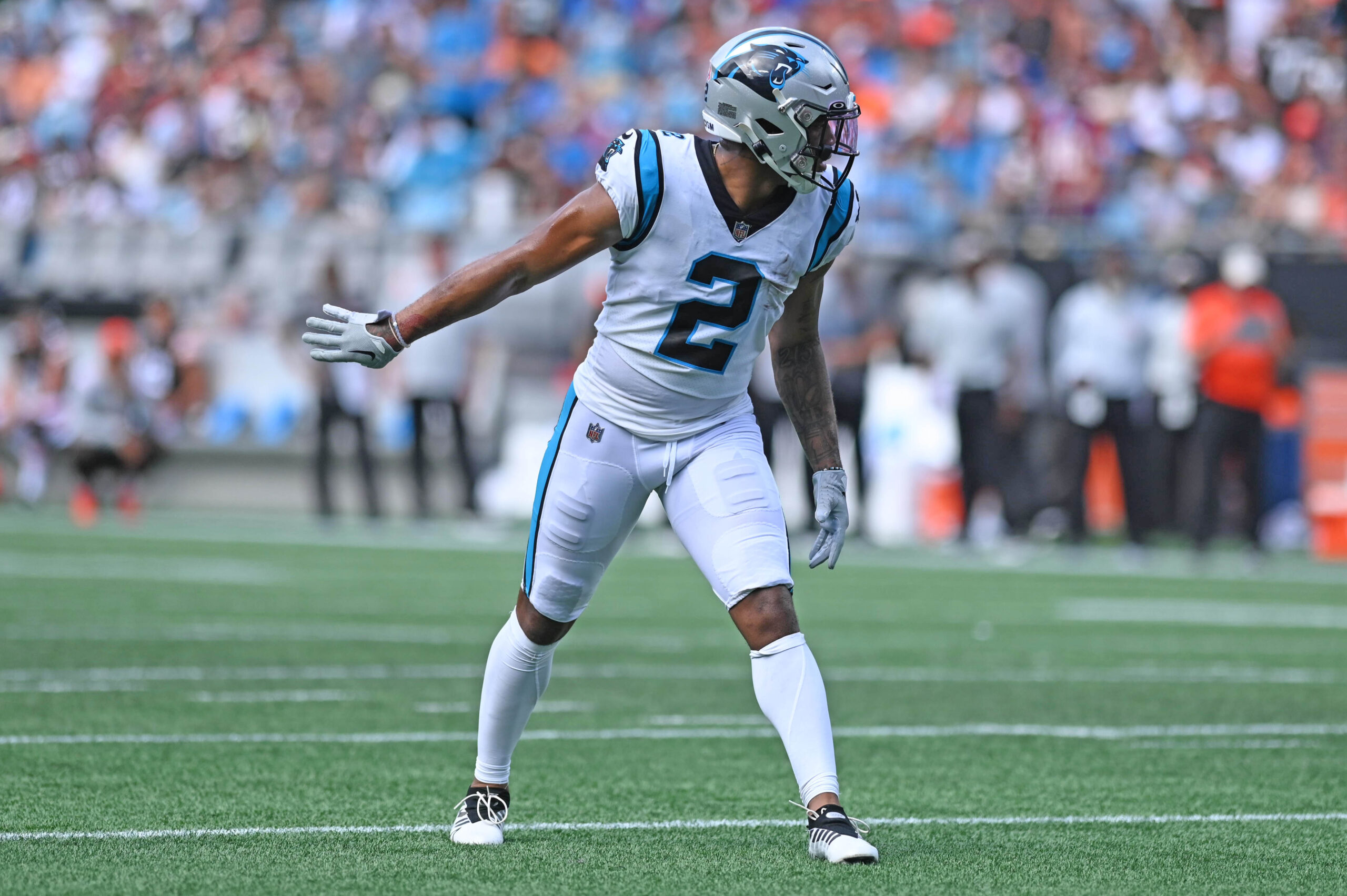 Overall, Baker Mayfield played well in the fourth quarter once the urgency set-in for Panthers' offense. He'll need to consistently show that kind of ability in the first three quarters as well, because he looked sluggish through the first 45 minutes of the game. His pocket movement and presence looked shaky, and frequently he found himself rolling right even when the situation didn't call for that.
Still, he was at least able to drive the Panthers into field goal range at the very end. Maybe if he hangs onto the RPO at the very end we'll be singing a different tune about his Panthers debut. But in between the good, there's a lot of growing pains Mayfield will need to overcome if he intends to be the franchise guy in Carolina.