The Panthers are arguably the worst team in the NFL right now and, with a new Head Coach coming in the offseason, it would be easy to expect that a complete roster overhaul is coming. However, while there are almost certainly going to be a number of changes this offseason, the Panthers do have a number of players they can try to build around moving forwards.
One such player is defensive tackle Derrick Brown, who has taken a significant step in year three to become one of the better young interior defenders in the NFL. Though there were flashes of his potential during his first two seasons, it's only this season that the former 7th-overall pick has shown the consistency needed to be a cornerstone piece at any NFL position.
Via ESPN, he has the 7th highest run stop win rate among defensive tackles at 43%, a major factor in the Panthers being ESPN's 4th best run defense via run stop win rate (34%). Crucilly, while Brown has always shown incredible flashes as a run defender, now he's starting to mold into a quality pass rusher as well.
So, what has Brown done to take his game to a new level in 2022?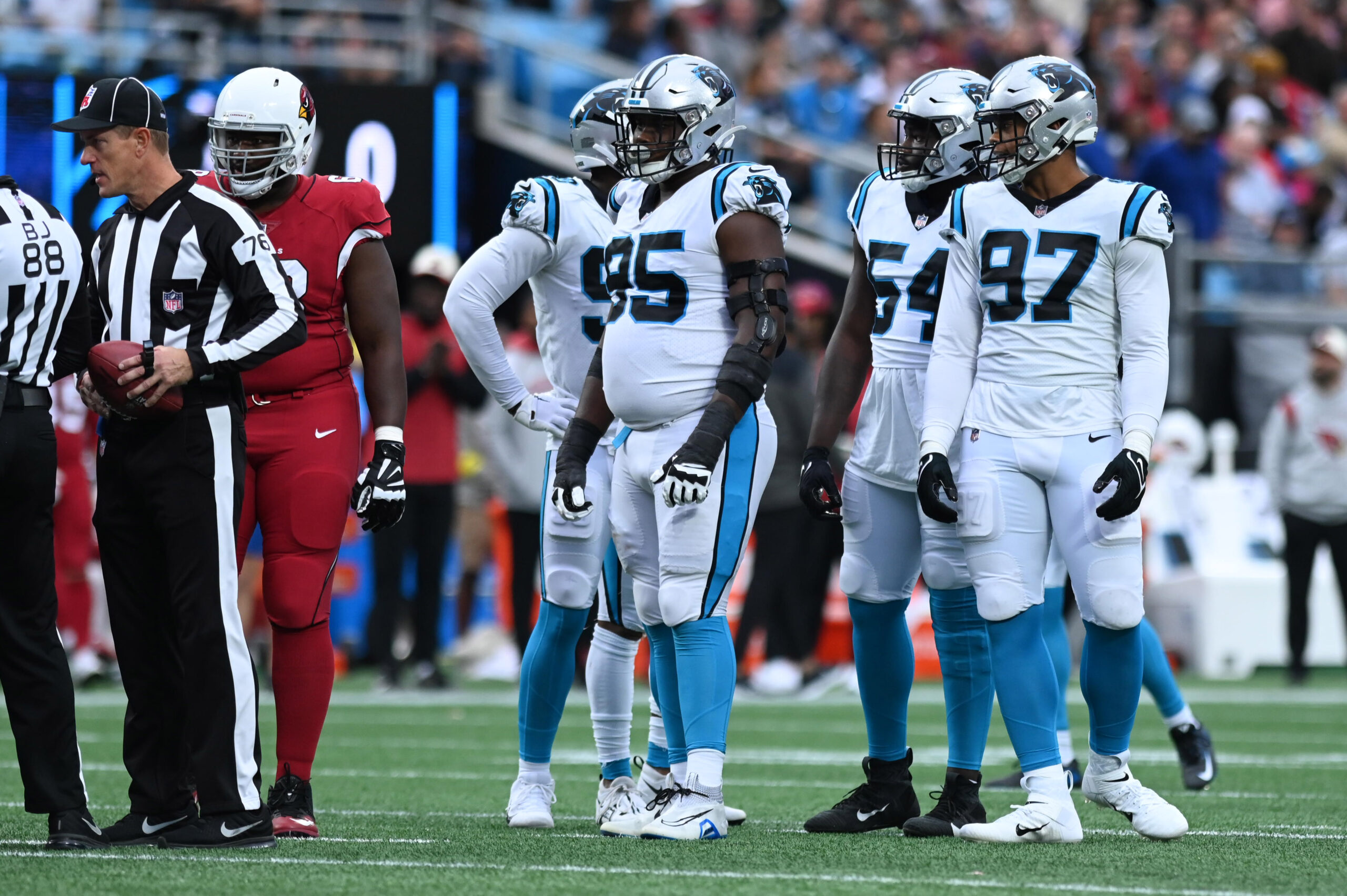 Let's watch this rep in the 3-tech. Brown gets a nice, instant burst off the line as the Rams call a run right up the middle. Using his upper strength, he bends his body so that he's able to create leverage against the right guard and prevent his inner hand from getting contained.
Though Brown's outside hand is trapped, he is more than powerful enough to churn along and uses his inside hand to bring down Darrell Henderson for the run stuff.
Let's switch opponents for a sec, staying in the division and the state of California. This time, Brown is lined up as a 1-tech, just barely to the side of the center. For the sake of this clip, his right hand is his outer hand. Keep an eye on that hand, as he prevents the center from holding it in place by putting it on the 49ers left guard.
Brown times the play action handoff perfectly, waiting until the ball is in Jeff Wilson Jr.'s mitts before executing a swim move. The center is caught off guard by the jerky move, and the threat of a play is thwarted as No. 95 gets another run stop.
Though injuries have impacted the 49ers' run game, Football Outsiders have them as the seventh least efficient rushing attack by DVOA, that doesn't make Brown's dominance on these run plays less impressive.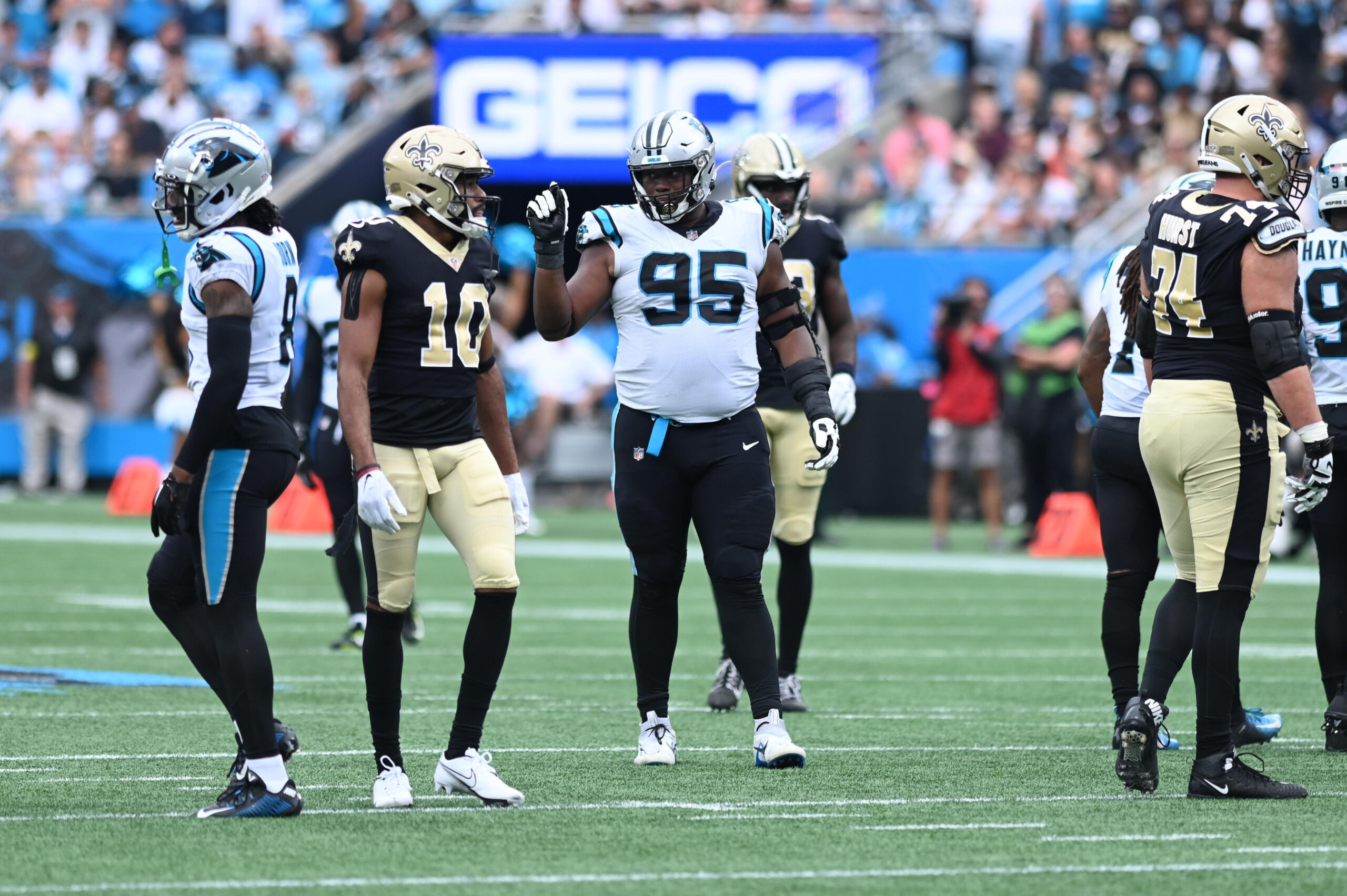 Brown's ascension into one of the game's top run defending linemen has allowed him to eat and toss aside interior blockers and, slowly but surely, he's learning the ways of a pass rusher as well. This is more of a coverage sack, but what Browns does well is recognize where Matthew Stafford is running with the football: Stafford moves inside, so Brown rips and sheds the center, creating energy by planting his inner foot to the ground.
On this next play, Brown's presence affects the timing and accuracy of Stafford's pass. By now you've probably noticed the number of snaps he has as a 1-tech, and that's because the coaching staff (wisely) trusts his sheer will to make plays happen in this area.
Brown speeds out on this play like a cannonball. As a result, a frantic Stafford is forced to get rid of this pass earlier than anticipated, slightly missing a completely uncovered Brandon Powell.
Finally, let's move the spotlight back on the 49ers game. Back at the 3-tech, watch Brown's active, furious hands. He's able to get his outer hand out of the left guard's grasp, putting it in the form of a fly swatting deflection. Jimmy Garoppolo doesn't anticipate it, and falls for Brown's bait, resulting in the pass disruption.
This was important because a possible completion to George Kittle was arising off the crosser.
Overall, Derrick Brown is having a terrific 2022 campaign, and these last two games in particular have allowed him to evolve into a run stopping giant and a deadly foe on the pass rush. He can play extremely well as a 3-tech but is especially dominant as a 1-tech. More than ever Brown is shedding off blocks and increasing the number of techniques in his toolbox.
In the meantime, that just means more toys for the defensive tackle to break, but in the long term it gives the Panthers a valuable interior disruptor who can be at the center of what they do defensively moving forwards.
(Top photo via Carolina Panthers)