Shaq Thompson has seen too much of this by now.
He's seen losing streaks of seven, eight, and now five games the past three years. He's seen too many blowout losses, too many of the consequences, and too many old teammates and coaches either leave or be shown the door. Anger can shape you – because of that, he's quickly gone from a young and emerging player to one of the last links to the Carolina Panthers' Super Bowl 50 team. And he's only been in the league for six years.
That experience is part of what gives Shaq Thompson the right to talk, and the right to verbalize the exact feeling the Panthers are – and should be – feeling after an disconcerting 46-23 loss to the Tampa Bay Buccaneers at Bank of America Stadium that Matt Rhule called "unacceptable".
"Wouldn't you be embarrassed with what happened? At home?" Thompson quizzed the media on Monday. "We're a damn good football team – but we've got to play as a football team."
After the Panthers got run out of their own building in the second half of their Week 10 tilt against the Tampa Bay Buccaneers, word began to get out that Thompson took his own teammates to task in the post-game locker room, delivering a fire and brimstone message articulated with little regard for delicate ears.
"I'm not going to curse every other word on the media, but he said some things," said cornerback Rasul Douglas. "He basically told everybody to look in the mirror. Like the coaches have been preaching all week – details, leverage, assignment and winning your one-on-ones and none of us did any of that. The whole team, we all did bad."
"He basically cursed everybody out and said we didn't fight hard enough, we didn't want it more."
Thompson delivered his message in the locker room because he had not been heard on the field.
After the Panthers pinned the Buccaneers at their own two-yard line, Thompson had been the one alerting his teammates as to what play Tampa Bay was about to run: a duo play in the run game, one which the Panthers had already been burned by in Week 2.
When Carolina had seen that look earlier in the year, they ended up surrendering a 46-yard touchdown run to ice the game. This time, the end result was even worse – Ronald Jones took advantage of a failed attempt at a line stunt and missed tackles to run 98 yards unabated to the end zone for the single longest touchdown in Bucs franchise history.
"We knew what play they were running. Shaq only screamed it to us 30 times while we were in the huddle," Douglas said bitterly after the game.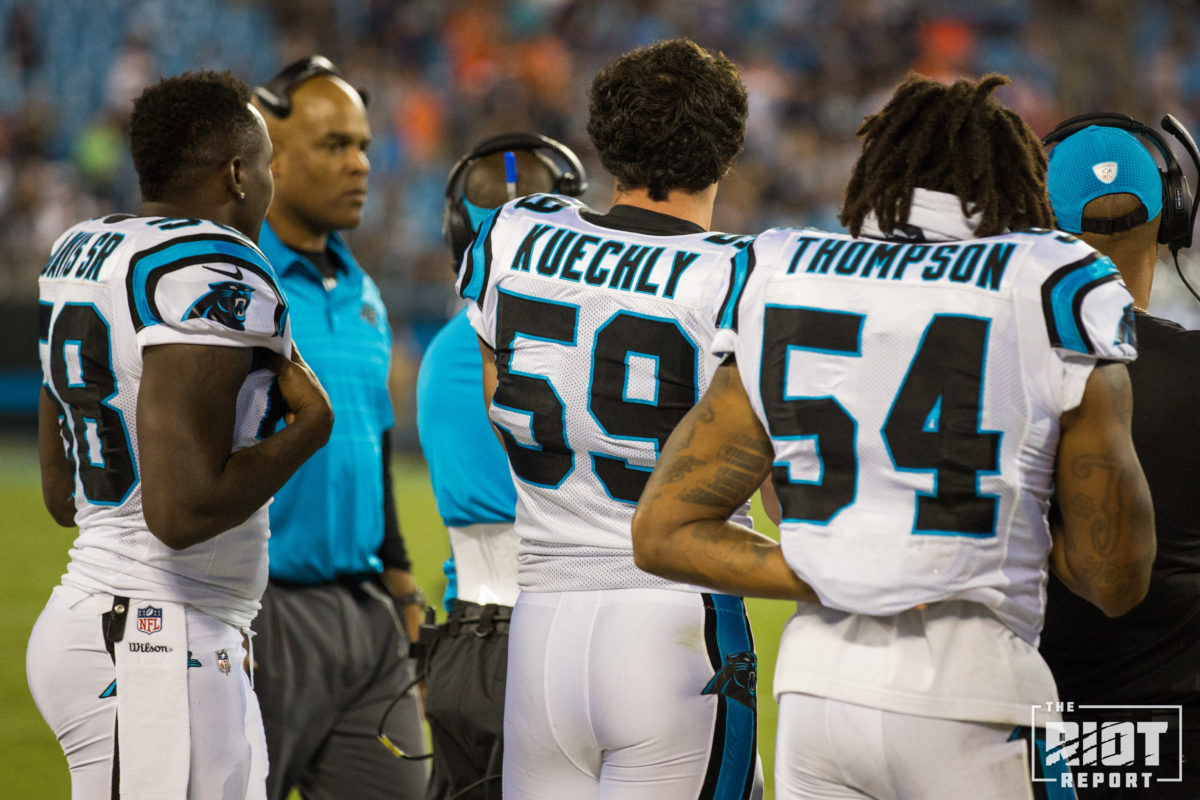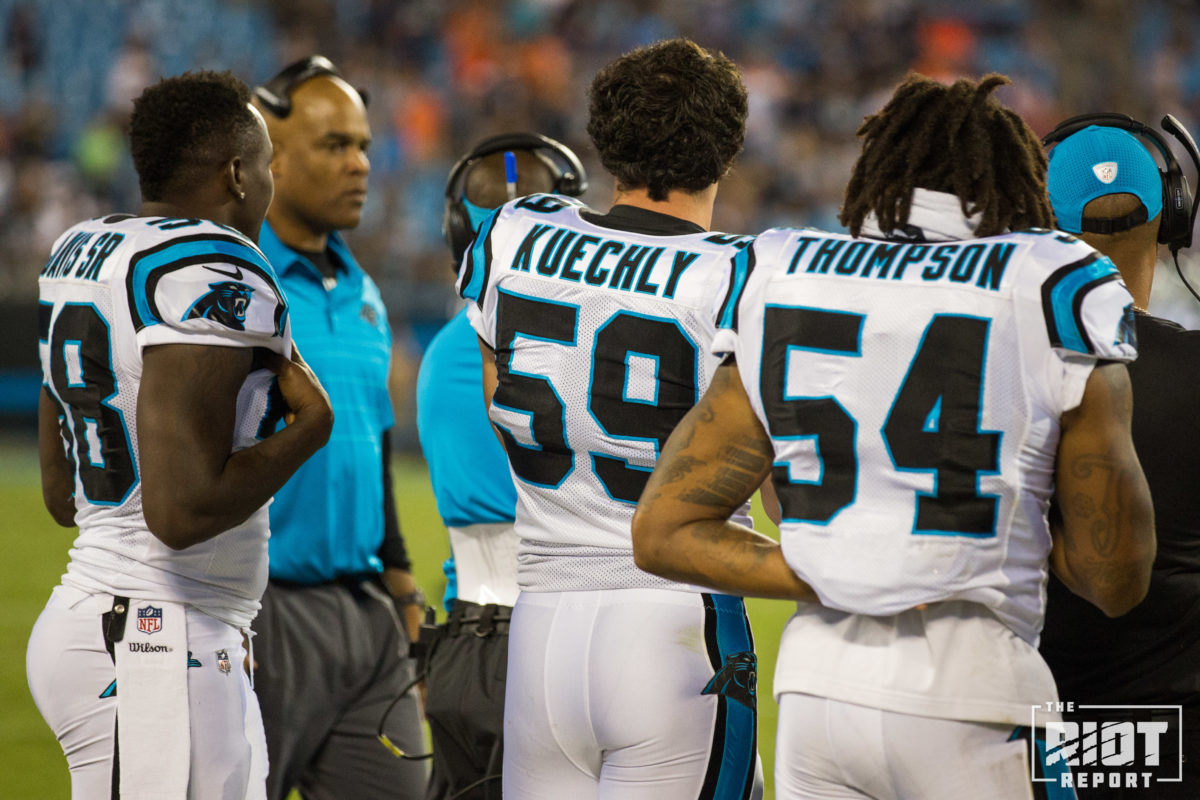 When Shaq Thompson first arrived in Carolina, that sort of lapse would never have been allowed to happen. A first-round draft pick in 2015, Thompson was brought in to be the protege and eventual replacement for legendary Panthers linebacker Thomas Davis, a paragon of on-field and locker room leadership who made up just one piece of a strong veteran core.
That core is now gone, as are most of the players that once served as examples for Thompson to follow. Which has left him having to remember their lessons and carry on the standard they set.
"I learned pretty much everything from [Thomas Davis] – not even just from him," said Thompson. "From Luke [Kuechly], all the older vets, Charles Johnson, Cam – even people on the offensive side. Just on how to carry yourself and how people look up to you when things are not going as good."
"I'm just trying to keep that positive energy on the sideline regardless of if we're losing or winning. I just want guys to know, 'I'm gonna be here with y'all fighting 'till the end. I want y'all to be here fighting with me.'"
At the end of Sunday's game, the energy Thompson was emitting was anything but. After playing 94% of the Panthers' snaps, Thompson was pulled by his coaches on the last drive with the game already decided. But instead of accepting it and clocking out, Thompson was angry, begging his coaches to go back in and finish the game.
Thompson's background on the Panthers – Being a part of the Super Bowl 50 team, knowing what success looks like – is a great part of his value to the team. But in head coach Matt Rhule's eyes, it's things like what Thompson did Sunday that really give him the right to be a leader.
"I think Shaq's credibility to the team comes from what he's doing right now," said Rhule. "I think all the players always evaluate – yeah, they respect guys who have been in the league for awhile – but they evaluate what you're doing. Because they see way more than I see, and you see a guy like Shaq going out there, he played 84 plays (sic), whatever he played. And then we pulled him out on the last drive, and he was angry. "
"He was like, 'I want to go back in there and play. I want to finish the game.' That, to me, is what gives you the right to say something: It's what you're doing right now, not what you've done."
On the stat sheet, what Thompson is doing right now is as good as anything he's ever done: His 80 tackles through 10 games leads the Panthers, and he has four tackles for loss, four passes defensed, two forced fumbles and a fumble recovery to go with them. In the eyes of his coach, the message Thompson sent locker room was "warranted", "normal", and "well-said."
"I think Shaq's development is really accelerating right now as a leader. As he sees himself in the room, he's the veteran. But most importantly, he does things as right as he can do them," said Rhule. "And that, to me, is what gives him a lot of credibility."
Sunday, the echoes of his old coach were present in Thompson's words: With the Panthers now experiencing yet another losing streak, that phrase – "we refuse to accept it" – was part of Thompson's message to his team.
Refusing to accept it entails doing the things that win football games: putting opponents behind the chains on first and second down. Getting them off the field on third down. Winning the one-on-one matchups in a way that makes all of that possible.
Do that, Shaq Thompson says, "then things will start changing and we're gonna start winning." But it all begins with the ultimate message that the Panthers' new old guard tried to convey – one he trusts that his allies in the trenches understood.
"I know my teammates will show up Wednesday. That's my message – and I know they're gonna show up," said Thompson. "That's gonna be their response to my message. They're gonna show up Wednesday, and they're gonna be ready to go."
(Top Photo Via Brandon Todd/Carolina Panthers)