Over the past month, almost every time they line up in team drills, the first two Panthers selected in the 2019 draft face off against each other.
Sometimes Brian Burns, the blazingly fast edge rusher the Panthers selected 16th overall, blows around the edge and stops short of the redshirted quarterback he's not allowed to touch during offseason workouts. Other reps, Greg Little, the technically sound left tackle the Panthers traded up to draft in the second round, gets his hands into Burns and either directs the pass rusher harmlessly around the pocket or Little uses his 60 pound weight advantage to turn Burns away.
Sometimes it's a strict speed rush around the edge – when Little seems to expect that, Burns counters with an inside move. When Little expects the inside move, Burns adjusts again – on and on it goes, with Burns trying to use the get-off and bend that made him such a valuable commodity on draft night and the player drafted 21 picks after him doing his job to protect the quarterback.
A chess match that lasts only five seconds.
"It's been back and forth – competing everyday and trying to make each other better," said Little about the daily battles between the two rookies. "Iron sharpens iron, it's great to go against somebody talented everyday – that's how we get better."
They've been doing this all month – back and forth, one man sharpening another….but it's actually been going on for much longer – the first time Burns and Little went one-on-one was in 2015 in Beaverton, Oregon.
I ask Little about those reps four years ago and he grins.
"He was a lot skinnier back then."
"It's a True Competition to Get There – You Give Everyone a Level Playing Field"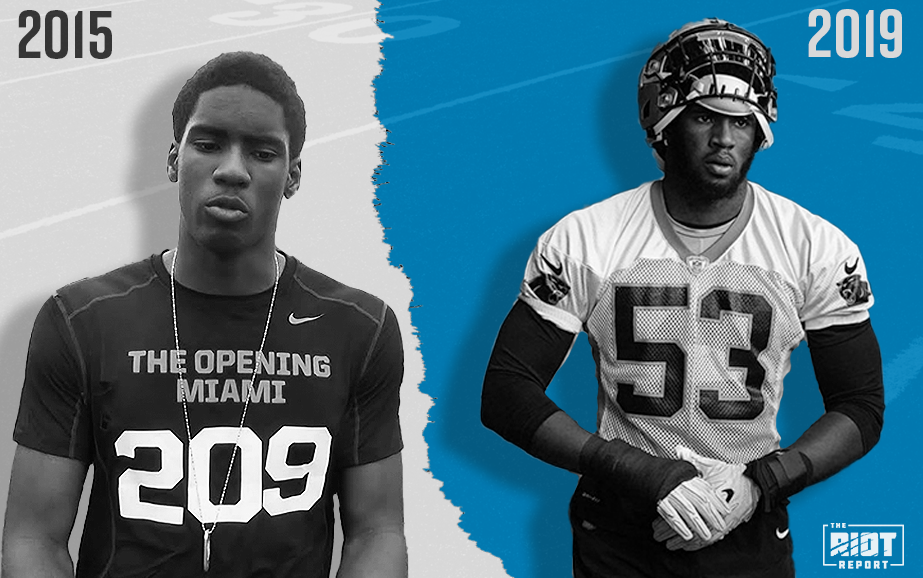 2015 marked the 19th iteration of The Opening Regionals, one of the premier national camps and an opportunity for high school football players to show how they stacked up against players of the same caliber – every one of the 130 Division I FBS college football programs currently has an alum from The Opening Regionals on their roster, which had a dozen regional camps around the country in 2015. Players attend the free program and are taught position-specific and athletic performance drills designed by some of the top NFL football players and sports performance specialists in America.
Two of those players in 2015 were Little, who was the top-ranked tackle in the country at the time, and Burns, who was listed at 6-5 and 217 pounds – Little would attend the Dallas Regional, while Burns stayed on his home turf as the event came to American Heritage High School in Miami.
"It's a true competition to get there – you give everyone a level playing field," said Todd Huber, who worked for Student Sports, the organization that helps to put on The Opening, from 2012 to 2017. "You're going to have kids like Greg, that were well-regarded and well-scouted – everyone knew Greg. Brian was pretty highly regarded but was a little bit more of a sleeper at that point. You'll have kids that kind of come out of nowhere; maybe one kid's from Allen [High School] and one kid's from a smaller high school."
"You give them a level playing field and a shot to compete and you see what rises to the top."
Coaches at American Heritage told the staff at Student Sports about Burns while they were setting up the event.
"Brian was around the training room and it was like, 'who's that?' He looked like a basketball player at that point," said Huber. "I knew the name because i had watched his tape but I hadn't put it together at that point."
Burns, deemed "simply unstoppable", won defensive line MVP and was invited to The Opening Finals, to be held on Nike's campus in Beaverton, Oregon.
Two weeks later, the Opening Regionals traveled to Dallas, where they encountered the #1 tackle in the country – Little, who had already been offered scholarships to multiple schools, began his career at Allen High School as a tight end before being shifted over to tackle.
If Allen High School sounds familiar, it should – they play in an 18,000-seat, $60m stadium and Little's quarterback for two seasons was Kyler Murray; besides the #1 pick in the 2019 draft and Heisman trophy winner Murray, the player Little replaced at left tackle as a high school sophomore, Bobby Evans, was selected 97th overall by the Los Angeles Rams in the 2019 draft – it's not often that the same high school produces three selections in the top 100.
"We moved [Little] to tackle as a sophomore and kind of watched him grow," recollected former coach Tom Westerberg, who won four state titles over 12 years at Allen. "We watched him hone in on his craft at being a tackle. Kids as big as he is, they tend to develop a little later sometimes as far as muscle strength, but he just went to work throughout high school and he just got better every year."
The Allen Eagles won state championships in 2013 and 2014.
Little was named offensive line MVP of the Dallas Regional and when the event finished up, he was one of the first to be invited to the Finals in Oregon.
"
When You Get to Oregon, That's When You Really See A Lot Of The True Talent"
After narrowing down 23,000 athletes to 163, the best athletes selected by Student Sports traveled to Nike's campus in Beaverton, Oregon for four days of the most high-profile high school football event in the country – while future NFL draft picks like AJ Brown, Mecole Hardman, D.K. Metcalf, and Dwayne Haskins were competing in 7-on-7 drills, the top linemen in the country went one-on-one with each other – and that included Burns and Little.
The Opening Finals is covered on a yearly basis by ESPN, Bleacher Report and most national sports publications.
"You've got Greg, who was super polished and already built like an NFL offensive lineman and moves like an NFL offensive lineman," said Huber about the matchup. "And then you have Brian, who was so twitchy; I don't know how much he weighed back then, but even though he's still skinny, he was kind of a beanpole for a defensive end."
"He was so slippery and he was 6-5, but he could bend – he was so quick that he made it tough for guys even like Greg to keep up."
"That's the true testament, to match your skills up against the best and really see what's out there [instead of] just going against the guys locally; you get to see what's in different states and how different guys play," said Burns about his time at The Opening.  "When you get to Oregon, that's when you really see a lot of the true talent – that's why a lot of the guys that went in the first round were at The Opening in Oregon – that's when you see the true talent."
Not just in 2019 – Jonathan Stewart, Ryan Kalil, Gerald McCoy, Shaq Thompson and even Cam Newton all attended past iterations of The Opening.
Most players that attend The Opening don't become NFL first-round picks, so while that's certainly the dream and goal for every athlete competing, it's not always the reality. Sometimes it's the friendships, the lessons learned and the free Nike swag – each high schooler can walk away with up to $1,000 worth of Nike gear – that make trips like this all the more memorable.
"It was one of the best experiences of my life so far. Besides actual games, nothing football-related comes close to it," said Dolphins running back Kenyan Drake, who attended The Opening in 2011. "The competition was top-tier and I met guys from across the country that I still talk to today."
"Just Being on The Field, I've Been Dreaming of This Since I Was a Kid."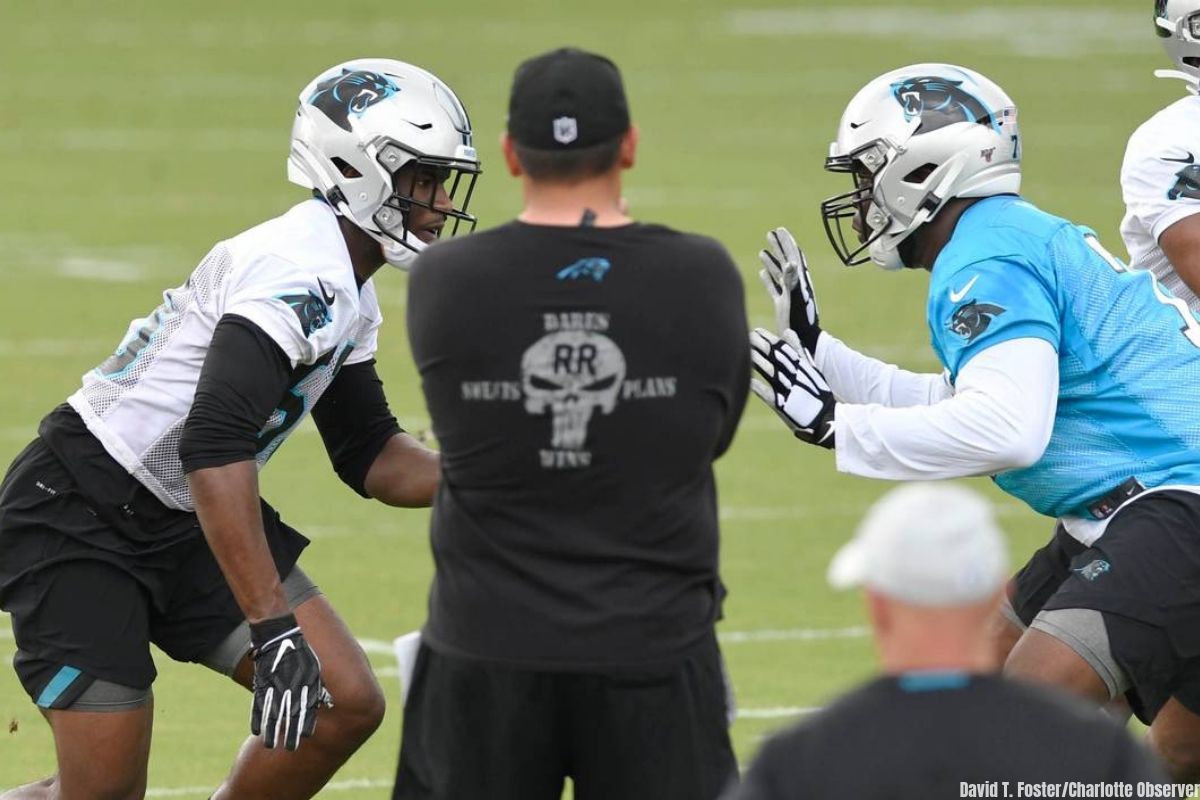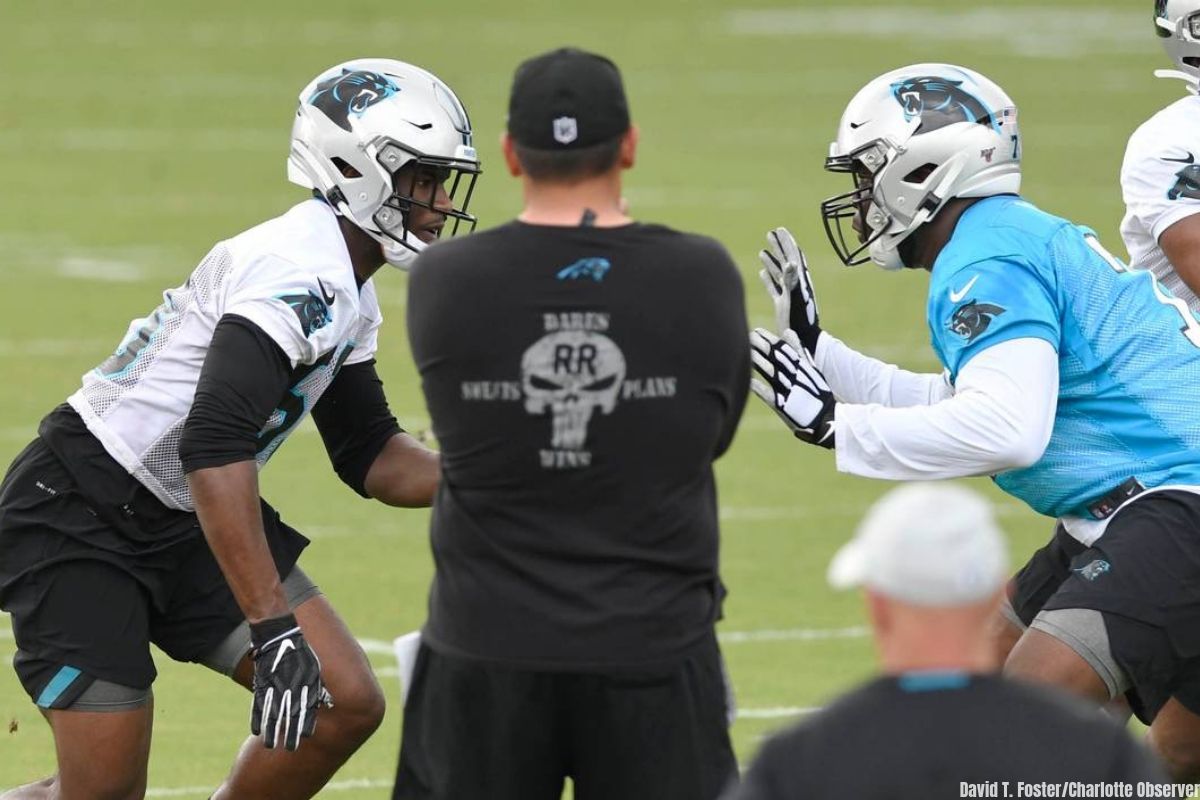 Fast forward through the preseason All-SEC and All-ACC nods of college and Burns and Little are back on the field competing against each other during Panthers practice. Burns calls being able to learn from each other and have a chess match during every drill a great situation – and Ron Rivera hopes that the two 21-year olds will be lining up against each other in practice for years to come.
"They will compete against each other a lot – they're going to grow together. Anytime you take guys in the first or second round, you hope that they're together for a while," Rivera said about the daily battles between the two rookies. "I think that's one of the nice things – they both have unique abilities and talents. Brian's got arguably the best get-off coming out of the draft [and] Greg Little's one of the more athletic left tackles in this league. So it's kind of interesting watching those guys compete and play against each other."
"I've seen a lot of good and a lot of bad on both sides – they're getting the best of each other."
Both will be expected to contribute right away for the Panthers. While Burns has veterans like Bruce Irvin and Mario Addison to teach him new counters and how to tighten his angles to the quarterback – something that he's been working on thus far in the offseason – going up against someone like Little on a daily basis has been incredibly helpful. The daily chess match of trying to not only think about what he'll be doing as a pass rusher, but what the offensive tackle will be doing to counter that action, has been invaluable for the rookie.
And those chess matches have gotten a lot more intense than they were in Oregon.
"You've got to stay a step above and try to outthink him. Try to find out what he thinks you might do and then try to switch it – that's the main thing that goes [on in] my head," said Burns. "We both took our game to a whole new level. Like he said, [we're] playing chess, playing mind games with each other, trying to beat each other and stay ahead of each other – playing games with each other trying to make each other better."
It's a lot of expectations to come in as a rookie and be expected to compete to start at left tackle, but that's exactly what Little's been doing – the Panthers haven't had him taking reps anywhere else this spring.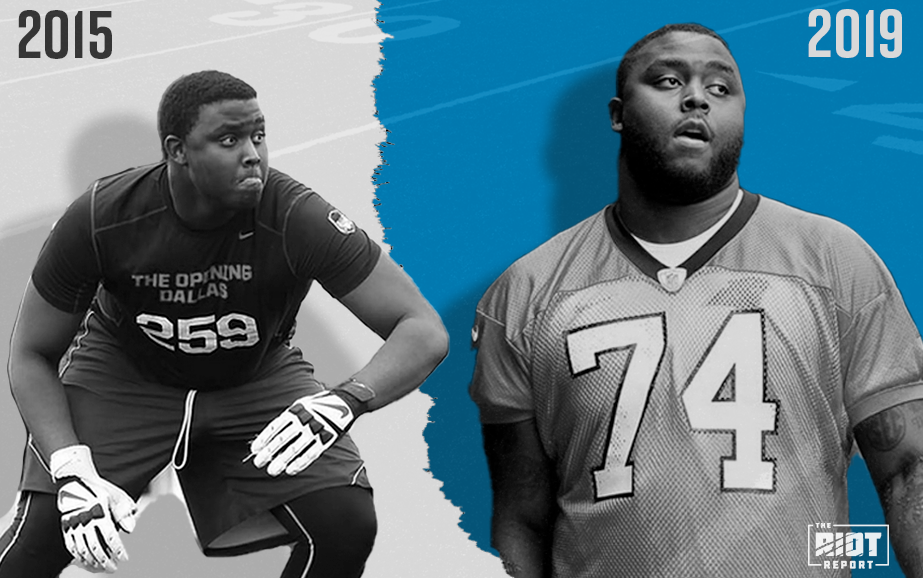 "I think I'm a true franchise left tackle and I can do it for a long time," said Little after the Panthers traded up ten spots to draft him. "I take pride in pass [protection], in keeping people safe. I'm going to keep [Cam] safe, that's my job – and open up holes, that's my job, man. It kind of irks me even losing a rep in pass [protection], because that's what I do, that's my best trait."
"Just being on the field, I've been dreaming of this since I was a kid, so to finally get to this point – I'm trying to just keep working and keep growing," said Little after minicamp wrapped last week. "Time flies – it's kind of weird, I've known him since high school, to be on the same team is a really cool experience."
Little, who signed his rookie contract this week, has certainly won reps in pass protection thus far, but he's also lost some to Burns – something that didn't happen too often in 2015 to Little.
"We both took our game to a whole new level," said Burns. "It really shows you how much you can improve from that level to this level – and now to meet up again on the same team, it's just phenomenal."
I ask Burns what he remembers about going up against Little in 2015 – and it's the defensive end's turn to grin.
"It was tough as hell to get around him."