David Tepper is the new owner of the Carolina Panthers, purchasing the team for a reported $2.275B, the team announced today. The sale will be finalized with a vote at next week's Spring League Meeting, of which Tepper needs to be approved by three-fourths of the owners; this is expected to be a formality as Tepper is currently a minority owner of the Pittsburgh Steelers and has already been vetted by the league. Tepper will need to sell his stake in the Steelers before the deal is done, which is expected to be in July of this year.
"David Tepper has been a good partner in the Pittsburgh Steelers ownership group since 2009," Steelers President Art Rooney II said in a statement today. "Though I am sorry he will be leaving us, I am excited for David to become the new owner of the Carolina Panthers. I wish David all the best as he completes the process to finalize the transaction and assumes the leadership of the Panthers' organization."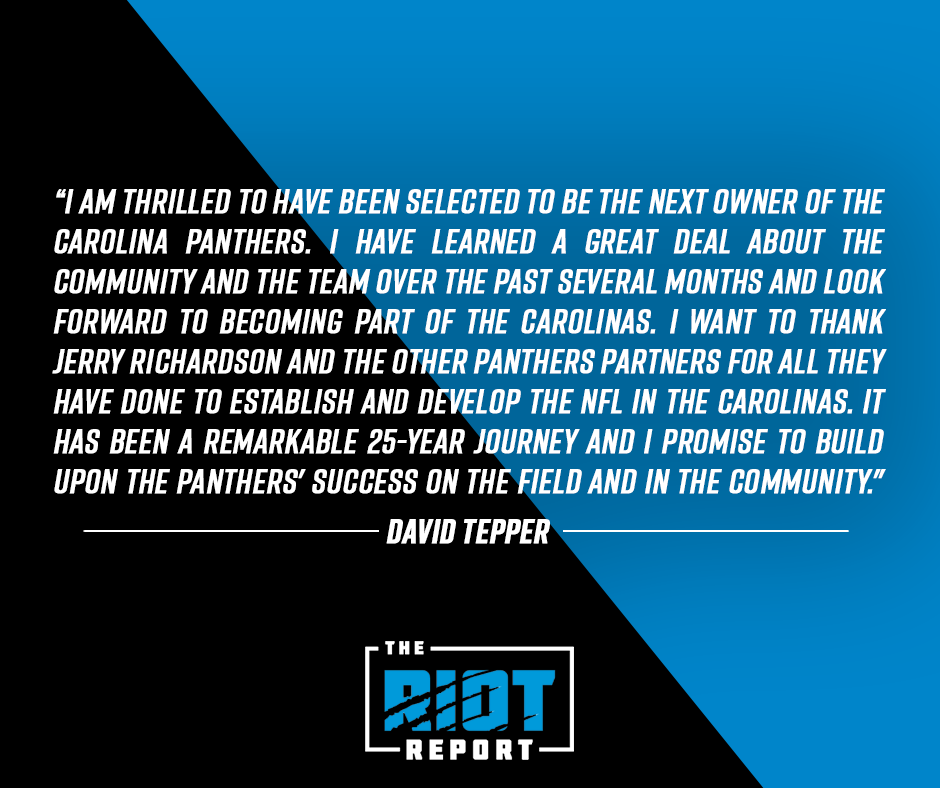 Tepper will take over as the second owner of the Panthers after founder Jerry Richardson placed the team up for sale after the 2018 season; the 81-year old announced that he would be selling the team the same day the NFL announced an investigation into workplace misconduct after an explosive Sports Illustrated report that detailed alleged sexual and racial misconduct by Richardson, who turned over day-to-day operations of the team to COO Tina Becker.
"Bringing the Panthers and the NFL to the Carolinas in 1993 was enormously fulfilling for Rosalind and me and all of our partners," Richardson said on the team website today. "We are deeply grateful for the outpouring of support over the last 25 years. You have taken the Panthers into your hearts and made them part of this warm and supportive community.  We want to thank all of our past and present players, coaches and staff for their hard work in making the Panthers a great success both on the field and in the community. The personal relationships we have enjoyed have been very meaningful to us.
"I look forward to turning the stewardship of the Panthers over to David Tepper. I have enjoyed getting to know him in this process and am confident that he will provide the organization with great leadership in both its football and community initiatives. I wish David and his family the very best as they enter this exciting new phase of their lives."