At about the 30-yard line of Bank of America Stadium, as Kendrick Lamar blared over the stereo and the crowd – a large number of which was wearing blue and red and would never truly fill the seats – still filing in, Cam Newton and Luke Kuechly playfully wrestled as the rest of the Panthers warmed up around them.
That would be the most contact the quarterback on either side of the ball would have all night.
After sitting the entirety of their starting lineup in Chicago, the Panthers decided not to put Cam Newton, Luke Kuechly, Christian McCaffrey or Greg Olsen in danger by subjecting them to reps when the stats and the wins and losses don't matter.
Although Kuechly – who said last week that he relishes the opportunity to play in the preseason and get two tackles – one inside and one in space – to get a feel for the game again because he's "a guy that feels like I need to practice during the week and during the preseason," wanted to play, his coaches didn't feel the same way.
"Luke had two really good days, [so] we didn't want to expose him," said Ron Rivera after the game. "The biggest thing that's happening is that these guys are coming in in tremendous shape, so what you don't want to do is overexpose guys that you don't have enough of. We don't have enough Christian McCaffreys, we don't have enough Luke Kuechlys, so what we have to do is we have to be smart and judicious about how we play these guys and when we play these guys."
"We decided if we had two really good days with those guys that I mentioned then we weren't going to play them. And that's what happened."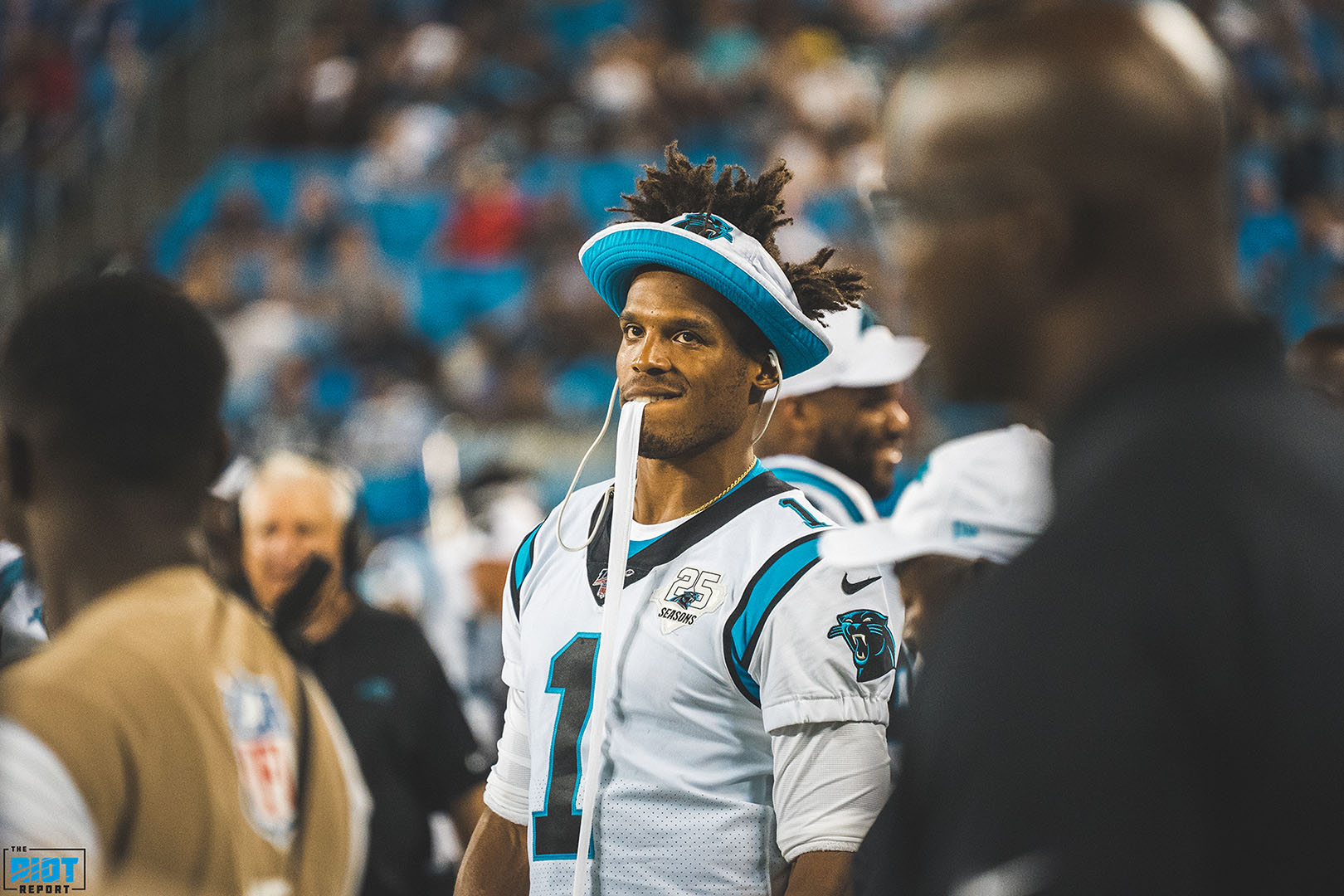 The two really good days Rivera is speaking of were Tuesday and Wednesday when the Panthers held joint practices with the Buffalo Bills in Spartanburg as part of their training camp – coaches around the league are starting to lean towards players getting their reps during joint practices instead of preseason games for a multitude of reasons, from being able to control the tempo to the opposing defense not being allowed to hit the quarterback. That's something that's particularly important to the Carolina Panthers as Cam Newton comes off his second shoulder procedure in two years and they try to limit the number of hits he takes.
Newton has started either game one or game two – or both – of the preseason every year of his career except 2017 when he was coming off of his first shoulder surgery. This year, he spent both on the sidelines, his custom bucket hat the only highlight he has to show for his night at Bank of America Stadium last night.
Actions by coaches and players are what makes the league take notice, albeit slowly. In the NBA, the term "load management" hit critical mass when Lebron James sat out a nationally televised game against the Golden State Warriors in February – this offseason, Adam Silver is talking about how the league is pondering playing fewer games.
The process is moving, albeit slowly – Roger Goodell said in June that four preseason games may not be the right number. Then again, he had a similar edict two years ago. And shortening the preseason schedule may be a wooden horse that actually contains more regular season games – so for now, it's up to the coaches to do what's best for their teams, whether it's vocally speaking out against preseason games or, like more and more teams around the league, turning to joint practices.
Over half of the team's leagues held joint practices at some point in 2019, indicating that perhaps it's the wave of the future as training camps where players would work themselves into shape and preseason games were necessary to remember how to play football after a long summer become things of the past.
"A lot of these guys come in and they're already in shape," Ron Rivera said after his team had finished up two days of battling the Bills. "Training camp used to be where you had to bring everybody and get them into shape – now it's about managing. That's why you hear a lot about cries of people wanting to lessen how many games are played in the preseason."
"I'm not sure if playing as many games is as important as it used to be, but things like [joint practices] are invaluable as far as coaching tools….I would do a mix of them – I really would, if I could. I think if you can get two teams to come together and focus on working and developing, I think you can help each other out a lot."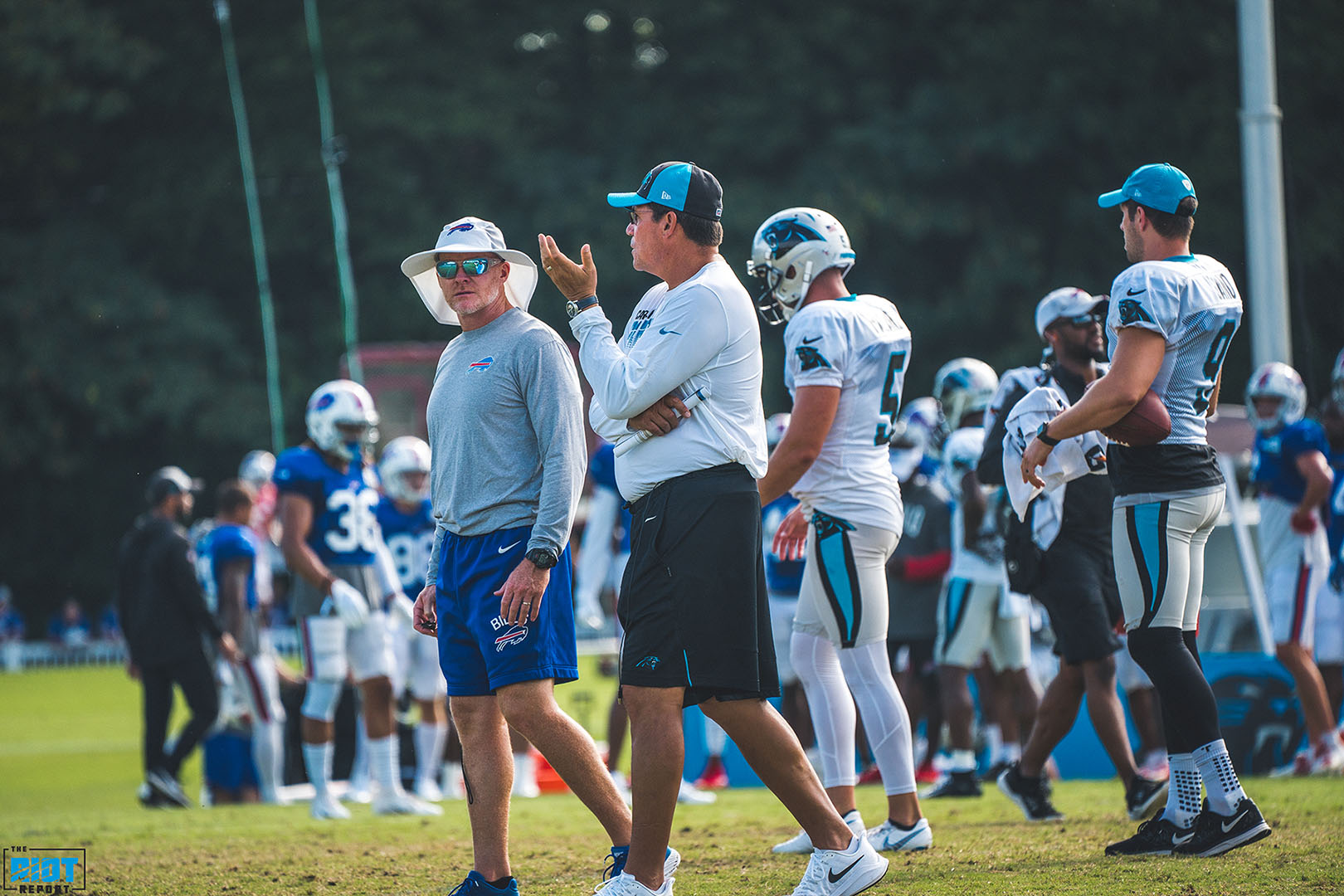 "I don't think you need four," said Gerald McCoy, who played 14 snaps last night against Buffalo. "I think you need a few, just to kind of get a quick gauge of where you're at, but that's where a lot of teams are doing joint practices. [If] we get away from more preseason games, the first few weeks of training camp would be more joint practices."
"That'd be your test to see where you're at."
While coaches and veterans may be leaning more towards joint practices, young players scratching for a chance to make the roster might disagree – there are both sides to every coin.
Reggie Bonnafon, who is battling veteran Cameron Artis-Payne and rookies Elijah Holyfield and Jordan Scarlett for a roster spot, needs these preseason games to show a spark and prove that he can make it in the NFL and perhaps a joint practice doesn't present those opportunities – the starters play more during joint practices, which means less time for dark horse candidates like the former quarterback and wide receiver from Louisville. Bonnafon's Week 4 performance in last year's preseason – six catches, 56 yards and a two-yard rushing touchdown – may have fueled the decision to put him on the practice squad last year.
"Each and every opportunity you get to play this game, especially at this level, you've just got to take it for what it is," said Reggie Bonnafon, who signed as an undrafted free agent after last year's draft. This season, he's trying to use his performance in the preseason to show coaches he's deserving of a roster spot. "For a guy in my situation, it's a great opportunity. Obviously, in this league, guys have different viewpoints on different things…but right now there are four games and four opportunities to perform, so that's what I'm going to do."
The game looks different than it did even 25 years ago. Instant replay, still a controversial topic even today, became a permanent fixture in the NFL in 2007. In 2008, teams got the option to defer the ball until the second half, which seems to be the preferred choice across the league. The overtime rules have changed multiple times – most recently two years ago when the extra period was shaved by five minutes to help promote player safety. The two-point conversion, now a staple of the game, was added in 1994.
It seems hard to imagine a game without two-point conversions or instant replay or deferring the ball.
Perhaps, in ten years, that will be how we think of a month-long preseason schedule.