Over the past decade, the left tackle spot has been anything but stable. Since the retirement of Ring of Honor member Jordan Gross following the 2013 season the Panthers have had a different starter at the position each and every season. The list of players who have taken a shot at becoming the Panthers' next franchise left tackle is not only extremely long but also highly diverse, including blockbuster free agents (Matt Kalil), high draft picks (Greg Little), and even players signed from their couches to the role mid-season (Chris Clark).
In short, since the retirement of Gross, the Panthers' left tackle spot has been the closest thing to the cursed Defense Against the Dark Arts post at Hogwarts that exists in the real world.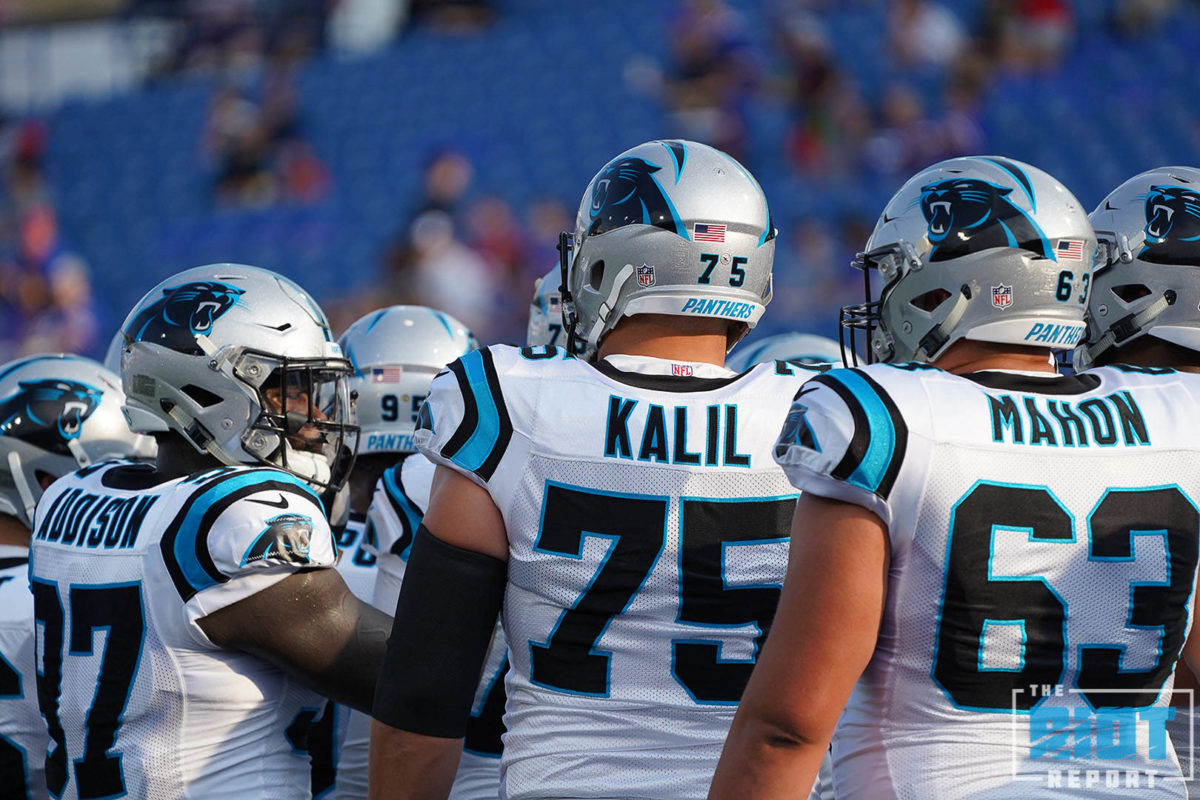 The latest player signed to try and fill this role is veteran journeyman Cam Erving. The No. 19-overall pick in the 2015 NFL Draft, Erving was selected by the Cleveland Browns after starring at left tackle at Florida State, where he was a member of the school's 2014 National Championship-winning team and was both a First-Team All-American and First-Team All-ACC. There was no way Erving was playing left tackle in Cleveland early on – That job indisputably belonged to future Pro Football Hall of Famer Joe Thomas – And so began a career where Erving's role has never been completely clear.
Erving started at left guard as a rookie, then moved to center the next season before being moved to right tackle. The Browns ultimately gave up on him and traded him to Kansas City where Erving became the starting left guard and also started at left tackle in place of an injured Eric Fisher. One Super Bowl ring later, Erving played all across the Dallas Cowboys offensive line in 2020, ultimately ending up at left tackle due to multiple injuries.
After such a tumultuous start to his NFL career different teams are unsurprisingly going to have very different views on where he fits into their offensive line picture, if at all, but in the Panthers, Erving has found a team that is giving him the opportunity to focus on playing left tackle and providing competition to rookie Brady Christensen and third-year pro Greg Little.
"It's definitely good to know what they want me to do here, how they see me," said Erving. "My whole career I've kind of been labeled as a jack of all trades. Now, I'm getting the opportunity to go out there and play a position that I feel like I can excel at."
No one can accuse Erving of having had it easy in the NFL. He has endured organizational and locker room chaos as well as a two year stretch that saw his team go 1-31, Erving said that there was "always a disconnect" while he was in Cleveland before he was able to get a fresh start in Kansas City. However, his success with Kansas City served as only brief respite, as he was cast right back into the thorns when his tenure in Dallas went far from as planned.
When he originally signed with the Cowboys, Erving was brought to The Star in order to compete for a job at swing tackle. But a season-ending injury to La'el Collins in training camp forced him into a right tackle. competition with Terence Steele which he ultimately lost before missing significant time after spraining his MCL in the season opener while blocking for the field goal unit.
When Erving returned to the lineup in Dallas, he was put in at left tackle in place of an injured Brandon Knight, who was already subbing for Tyron Smith on an injury-ravaged Cowboys team. He started five games at left tackle on a Cowboys team that eventually went 6-10 before another knee sprain ended his season. Looking back on what many would have considered difficult circumstances, Erving acknowledged that his 2020 season was a worthwhile experience where he was forced to grow as a player and as an example.
"I was definitely able to grow as a player, because I was taken a little out of my comfort zone in different areas. I was able to grow and actually help affect younger guys," said Erving. "There was a lot of injuries in Dallas last year, but … I was able to grow from the experience in Dallas more so because of just the season we were having. We took a lot of losses, and we lost a lot of good players. Lot of veterans, lot of great leaders on that team.
"It was definitely a trying year, but it was a big stepping-stone for me personally because I was able to step out of the guy who was everywhere, was thrown around a little bit everywhere."
With his 2020 odyssey adding to what is already a wealth of experience, Erving presents head coach Matt Rhule and offensive line coach Pat Meyer with a seasoned, league-wise option as they try and determine the best five for their offensive line. On Tuesday, Rhule stated that the process of determining their starting O-Line would likely extend into training camp – and that they are waiting on Erving, who has missed much of the spring activities with an injury, to return to the field before it begins.
Whether or not Cameron Erving becomes the latest starting left tackle for Carolina depends on his efforts in training camp, and almost nothing is guaranteed at this stage. His career as an NFL player has typecast him as a journeyman, and he also has the advance of time to contend with as he turns 29 in August. At the very least, Erving is getting his wish to play the tackle position, which he has remained the most passionate towards even after playing all across NFL offensive lines. With that comes the chance to become at least one more Panthers' left tackle in the post-Jordan Gross era with an interesting story to tell.
"Nothing's given, everybody on this team is competing for everything. But left tackle is where they told me I'm gonna play. It's been a revolving door, but it's been a lot for me as well," said Erving. "So just personally just looking forward to getting out there and actually competing."
(Top photo via Brandon Todd/Carolina Panthers)