The most popular guy on any team, especially one whose offense is statistically the worst in the league by far, is the backup quarterback.
That's why in the second half of the Panthers Week 6 matchup against the LA Rams, with third-string signal caller and starting QB PJ Walker having completed only 8 passes in three quarters and the offense looking even worse than it had during the first month of the season when it had produced the worst statistics in the league, Panthers fans were clamoring for Jacob Eason.
The devil they hadn't seen throw inaccurately had to have been better than the one they'd seen all day.
And when Eason was thrust into the game with less than five minutes to go after Walker tweaked his neck, the fans were rewarded with a 49-yard pass from the 6-6 quarterback to Christian McCaffrey – although the now-former Panther did most of the work; the running back took Eason's first attempt at the line of scrimmage and turned it upfield for the Panthers' longest offensive play since Week 3.
Even though Eason hadn't taken snaps during team drills before the week of the Rams game and had only seen NFL action once in his three years in the NFL, the life of a backup quarterback – even one who went from practice squad to backup in a matter of days – is to always be ready.
"He was as cool as a cucumber, you know," said offensive coordinator Ben McAdoo about the second-year QB from Washington. "For someone to jump in the game and really get his first snaps in this offense and to go out there and go in that situation and to execute the way he executed…we've got to take care of the ball and he understands that but he showed some good things out there."
"The game is not too big for him. We all know he has the arm talent to go out there and do those things."
With both Baker Mayfield and Sam Darnold still unable to suit up at home against the Bucs in Week 7, the Panthers have once again elevated Eason from the practice squad to the active roster to act as Walker's backup – as the team looks to the future in a post-McCaffrey world, the fans may once again clamor for Eason Season. The Riot Report caught up with the former fourth-round pick after the second NFL action of his career and talked how he prepares when he's scout team vs. the backup QB, what he sees in the quarterback room and who pays for breakfast on Saturdays.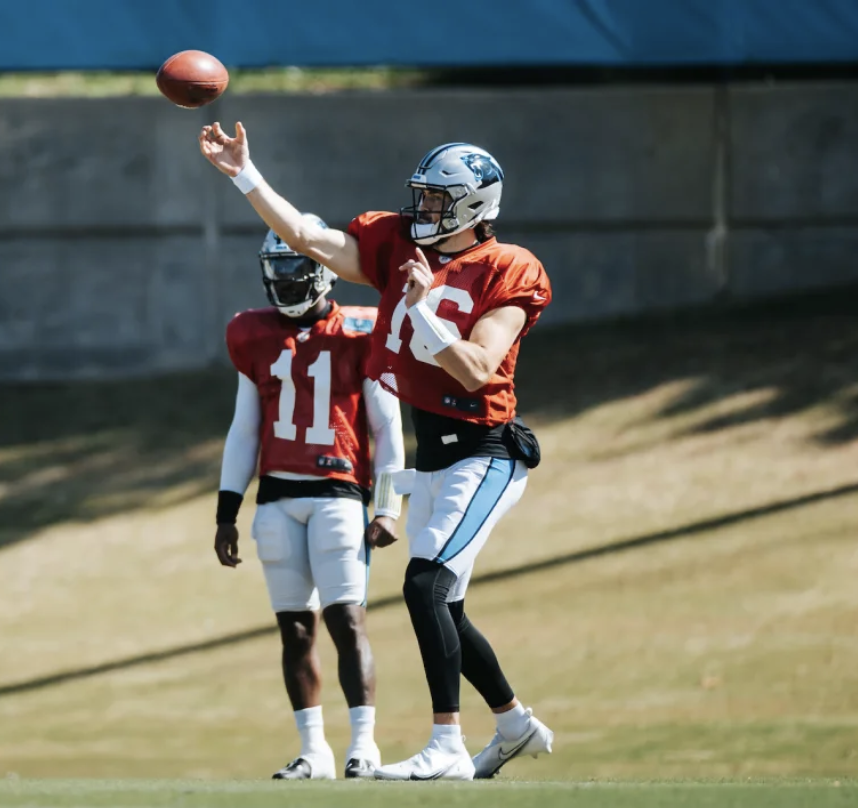 Photo Credit: Carolina Panthers
A couple of plays before PJ got hurt and you went in the game, it looked like you were already warming up….
That's just kind of me staying loose. I've got the headset on, getting the call from Ben McAdoo and just staying in the game. I've got an earpiece but I prefer to wear the helmet. I just stay loose because [as a backup] you never know when it's going to happen or if it's going to happen. So that way I can just step in and operate.
What's going through your mind when it's actually happening and you get the word that you're going in the game?
Obviously, I'm trying to figure out exactly what's going on – is PJ in or out? Then, it's getting the call and the situation from Ben McAdoo and [QB Coach] Sean Ryan on the sideline – and then, just go in and try to execute and score some points.
What's the difference in mindset when you're the backup vs. when you've got a couple of guys in front of you and you're less likely to get in the game?
You don't want the mindset to really change, but obviously when you're on p-squad, you're trying to compete for a spot but when you're in the backup role, you've got to prepare like PJ's prepping – preparing to be the starter. So that's knowing the gameplan in and out, knowing the checks in the run game, what they like to do on defense and how we like to protect. It's all encompassing in getting us ready for Sunday. Regardless of what the role is, knowing the system is huge – being able to operate and lead, I think that helps with job longevity in general.
How do you keep out all the noise from outside? The trade rumors around the team, the coaching changes? Do you, in the locker room, even hear that stuff?
If it's brought to me, I hear it, but if it's not, I try to just stay in my own lane. Obviously, there are a million things in the media and on social media, but I don't really have an opinion on that stuff; at the end of the day, I've got a job and we've all got a job to do – we're just trying to put our best foot forward and go win a game. Blocking out the outside noise, coming to work and really grinding and diving in to what we've got ahead of us is what I've been doing. In terms of the outside noise, I just try to shut it out and operate in my own mind.
How do you operate in your own mind before a game? What's your pregame playlist?
I kind of switch it up – I can go anywhere from country to rap to Christian music to Mozart and classical stuff. Just depends on how I'm feeling that day. On Sunday before the Rams game I had a little bit of gospel mixed with some Guns N Roses and some Scorpion – I was all over the place.
What's the QB room like with the four of you guys in there?
It's been awesome. Those are four great dudes – not only that, but they're great competitors. That's evident in that room. We've got our competitions on Fridays in the bubble and I think overall, we've got a lot of good camaraderie, we're bouncing ideas off of each other – I don't have any reservations with any of them so I can ask any of them a question on any given play if I have one. Same with them for me – I think it's a great dynamic. The coaches add a different dynamic and I love the room – we're all just competitors who will do anything we can to help us win.
A competition on Fridays?
That's our QB competition we do every Friday – movement drill then throwing to a target, throwing a fade ball, throwing a post shot and then at the back end line. We kind of tally up our score and whoever hits the most targets wins the comp and has to pay for breakfast on Saturday.
Who won last week?
That's off the record – it was just me and PJ last week – but I'm excited for this week when we've got all four of us throwing and ready to roll.