A few weeks ago at the NFL Combine, Head Coach Ron Rivera said that it would be "kind of cool" to find a veteran like Jerricho Cotchery to help guide the young wide receivers like Devin Funchess, Curtis Samuel and Damiere Byrd in the Carolina Panthers wideout room where Byrd was considered the elder statesman at 25 years old. Many thought that role would be filled by Torrey Smith, acquired via trade from the Philadelphia Eagles in the week before free agency opened, but the real '2017 Jerricho Cotchery' may have just come to the Panthers in free agency via the Minnesota Vikings.
Meet new Carolina Panthers slot receiver Jarius Wright.
While Wright may not have been the splashy wide receiver signing some Panthers fans had hoped for, he brings a specific set of skills to the Panthers' wide receivers, specifically a penchant for making the big catch when it counts; his seven-year career in the NFL may not have produced eye-popping statistics, but the catches he made were important, with over 40% of his career catches and yardage coming on third down. In fact, 72% of his 18 catches in 2017 produced either first downs or scores; he knows how to make the most of his few opportunities.
"I know if I get in my own head, I won't be ready to catch those," Wright said yesterday in an introduction to the Charlotte media. "If I get five passes, I won't be ready to catch those if I stay in my own head and complain and pout about not playing or not getting the balls that I deserve. I don't spend too much time on things like that; I continue to work on the future and getting my job done. That's just kind of my personality, who I've been my whole life. I've always been able to take full advantage of every opportunity."
"Being in the NFL, you understand that at any time your number can be called, and if you're not ready to play, you will look bad."
Third-down conversion percentage, which Wright should help the Panthers with, is an easy barometer of success; the Panthers ranked sixth and seventh in the NFL when converting third downs during 2015 & 2017, their two most recent winning seasons. The 2016 season in between where they went 6-10? 22nd in the league.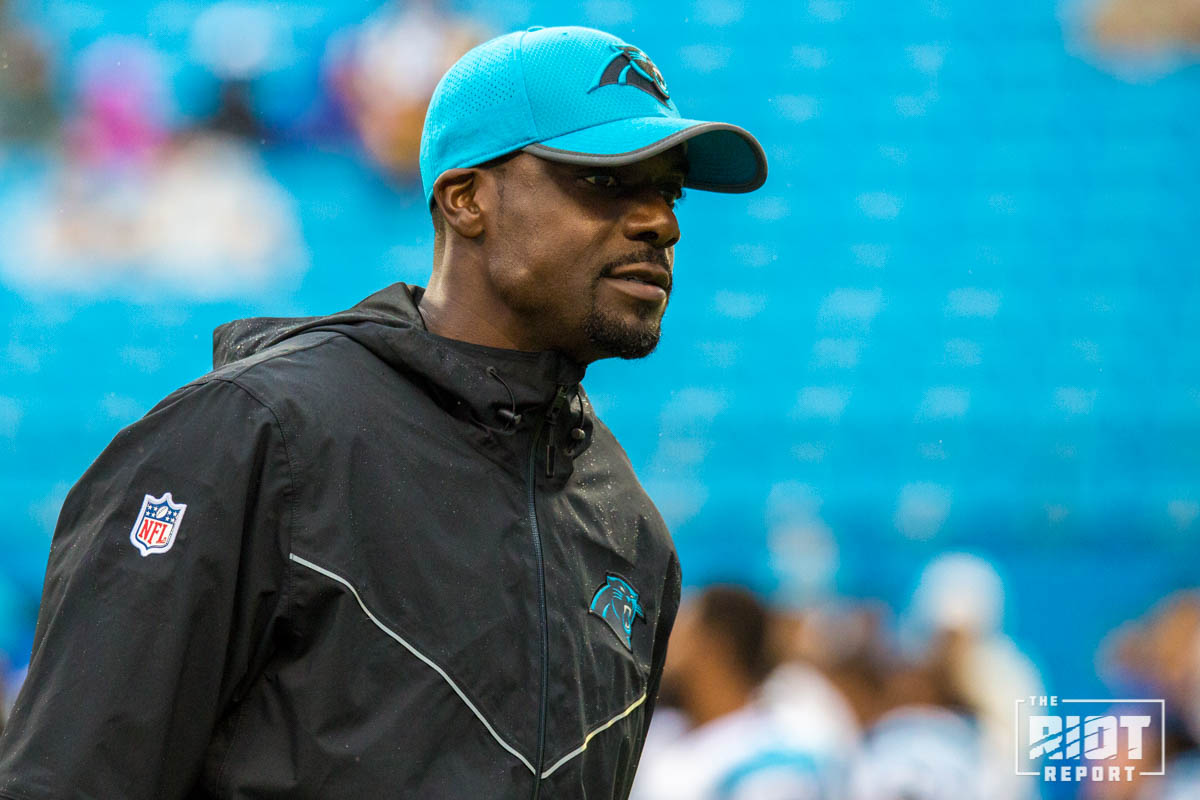 Cotchery had a similar role on the 2015 Panthers team that went 15-1 en route to a Super Bowl appearance, only seeing the field for 38% of the snaps and garnering 54 targets over the 16 game season; he hauled in 72% of those catches and over 70% of his catches either went for first downs or touchdowns, similar to the role Wright played for Minnesota and especially for Norv Turner, who was the offensive coordinator for the Vikings during Wright's most successful years, the 2014 and 2015 seasons when Wright picked up 76 catches for 1,030 yards as the Vikings' weapon out of the slot.
"Just playing for Norv and knowing all the experience that Norv has in this league," Wright said about his reunion with Turner. "He's been able to get it done as offensive coordinator pretty much anywhere he's gone. That's one thing that persuaded me. The other thing is that Norv also knows me; Norv knows what to expect from me. Us getting together and us teaming up, you definitely have a player and a coach that know each other. He has a lot of different routes, a lot of different ways to get receivers the ball – reverses, screens, down-the-field things. Having Cam and his strong arm, I know he can get the ball downfield, and that's what Norv likes to do."
The success on third down is something that Wright attributes to his 'FBI – Football Intelligence', saying that knowing the right place to be and the right timing of when to be there is something that comes with time and experience in the league, something that he and eight-year veteran Smith bring to the table. They also bring much-needed depth to a wide receiver group that ended the 2017 season decimated by injuries and relying on players like Brenton Bersin and Kaelin Clay, who were both free agent pickups in the middle of the season.
When Wright was in Minnesota, teammates had many nicknames for him, all beginning with 'Mr.' – 'Mr. Clutch'; 'Mr. Efficient'; 'Mr. Third Down' – all nicknames that sound extremely similar to those assigned to 2015 Cotchery – 'Clutchery' or 'Uncle Jerricho Clutchery' – although he's known as 'OG Clutch' or 'Coachery' in his current role as assistant wide receivers coach for the Panthers. His boss, wide receivers coach Lance Taylor, calls Cotchery the 'Wideout Whisperer' because of his soft-spoken nature in coaching.
"Once you understand your role, you embrace it, and from there you just try to perfect it in every way," Cotchery told the Charlotte Observer after his game-winning touchdown catch to beat the Saints 41-38 in 2015. "You make sure when you come into the game, it's go time."
When you come into the game, it's go time. One would assume he'll be whispering that same sentiment to Wright.