Much was made about the addition of safety Tre Boston to the secondary and his ability to turn quarterback pressures into turnovers – but in the past week, there has been a different turnover machine in the secondary during Panthers practice – and it's probably not a name you're expecting.
In just a couple of months, Javien Elliott has fought his way to the top of the depth chart at nickel cornerback – and his play on the field in Spartanburg is revealing why he's up there.
"He's a proven nickel in this league," Ron Rivera said last week. "He's played nickel and has had some serious snaps. I think the more and more comfortable he gets with what we do and how we do it, I think you'll see his skillset show."
The 26-year old cornerback that the Panthers signed the day after signing Gerald McCoy went undrafted in 2016 and spent the first three seasons of his career with Tampa Bay, playing in 36 games and recording 39 tackles, one interception and two passes defensed. But he has been battling for a spot for the entirety of his football career, from getting zero scholarship offers out of high school, attending community college for a year and not playing football before walking on at Florida State and using two years on the scout team to secure a scholarship his senior year – where he would start the final six games of his career and have 37 tackles in the single season. Elliott followed that by going undrafted and being signed and waived three separate times by the Bucs – starting 39 games along the way – before finally landing in Carolina.
Once you know his history, it's not a surprise to see Elliott excelling when given the chance.
"It's one of those situations where I want to make plays no matter where I'm at and I want to get on the field as quickly as I can, so it just so happens that it's [at] nickel. I take pride in doing whatever I do – working hard, making plays and getting the attention of the coaches," said Elliott. "I think it means that I put in a lot of hard work and I study and come out here everyday willing to get better….I just come out here working hard everyday."
While many expected Corn Elder or Cole Luke to be the starting nickel, it's been Elliott standing next to Donte Jackson or James Bradberry when the coaches call for the nickel package. And whether it's been breaking up a pass to Jarius Wright in a spectacular fashion or picking off Cam Newton – the second of two consecutive days with interceptions last week – at the goalline, Elliott has been catching the eyes of the coaches.
And that wasn't the first time he's picked off Newton – that came during Week 13 of 2018 in Tampa Bay when Elliott – playing at the nickel – jumped in front of a pass intended for DJ Moore and returned it 50 yards; the interception was the highlight of the young corner's career to be sure, but he has been jumping off the tape for a while.
Javien Elliott after seeing Andrew Adams earlier: "THIS one is mine" …probably. pic.twitter.com/MbdUtKfTjQ

— Tampa Bay Buccaneers (@Buccaneers) December 2, 2018

"I always knew he was a dog, especially watching the film," said fellow FSU product Brian Burns, who didn't attend school at the same time as Elliott, but said that the corner was utilized as the example in clips from the past. "He always showed up in the standard clips that we used to watch and now, watching him out here, he's making a huge impact at the nickel position."
Elliott has been trying to acclimate himself into the defense since signing in Carolina in early June, and the guys in the locker room have absolutely helped with that – even though he's been competing with players like Corn Elder and Cole Luke for the nickelback position, they've all worked together to get better as a unit.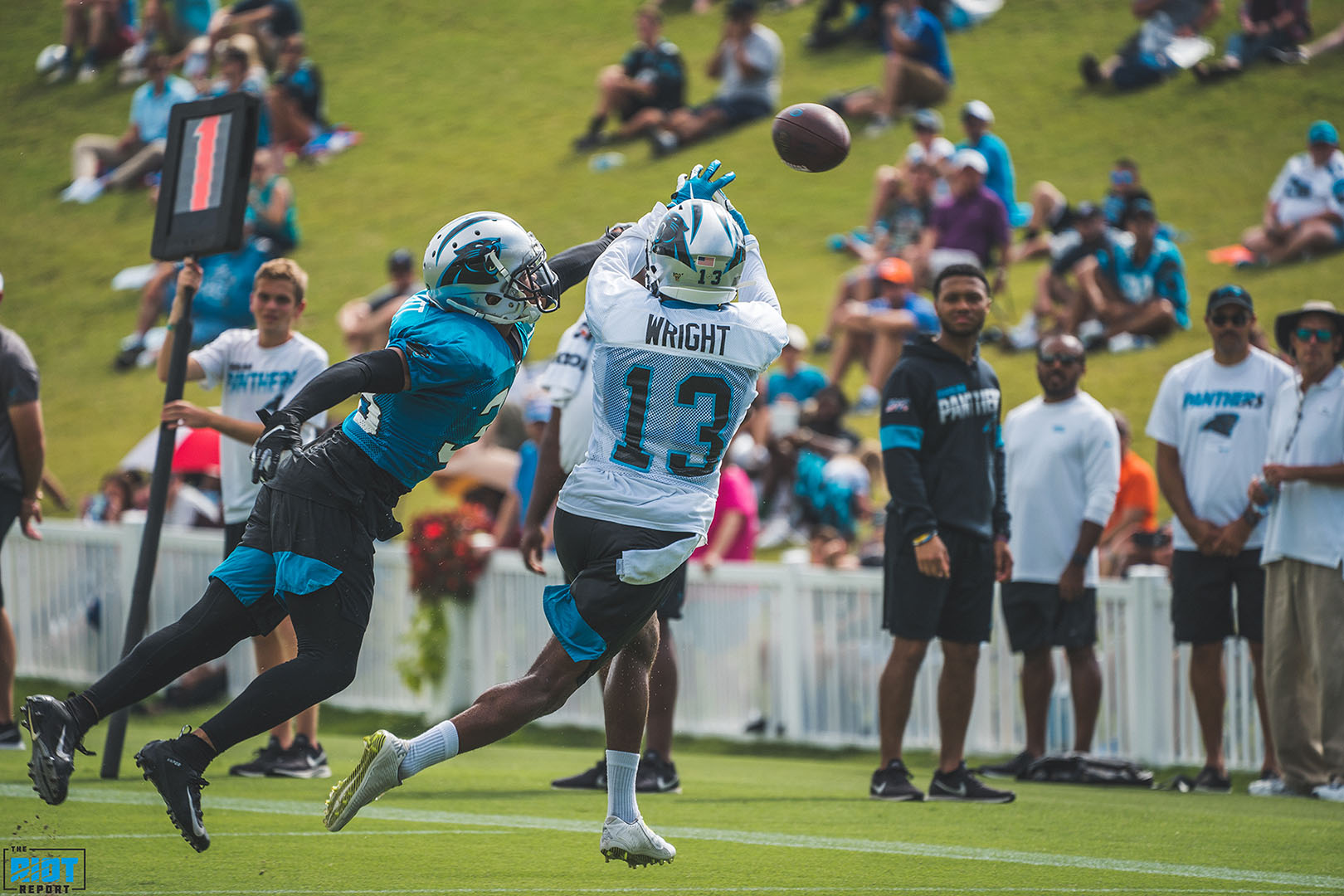 "These guys, they welcomed me with open arms when I came in, it's tight-knit [and] close like a family, I'm definitely glad to be here," said Elliott. "No matter who it is, we're all trying to learn [and] grow together, so if I see something, I'll let Corn and Cole know – if they see something, they'll let me know. No matter what, we're in this locker room together. It's a competition, but it's not personal; if they make a play, I'm celebrating, I'm the first one to celebrate. If I make a play, it's vice versa."
"Really, I'm just trying to make sure I'm on the same page in the playbook – as far as football goes, we're all learning. I never feel like I know too much, so I always have more to learn, no matter [who it is] – it doesn't have to be from a veteran player, someone else sees something, we're a team so we've all got to communicate and that's one of the things I really like about this group."
"It's friendly competition."
In a secondary that still has a hole to fill before the Rams come to town September 8th, that competition is starting to heat up.