On a midsummer's night in Western New York three years ago, the city of Buffalo came to its feet and loudly welcomed their new hero to the NFL: In the Bills' preseason opener against the Carolina Panthers, rookie quarterback Josh Allen took to the field for the first time for his first opportunity to show Orchard Park that they once again had a quarterback to believe in. Allen would develop into just that, leading the Bills to the AFC Championship Game and finishing second in NFL MVP voting for 2020. But on this night, Allen's star out be vastly outshone by a player lined-up opposite him.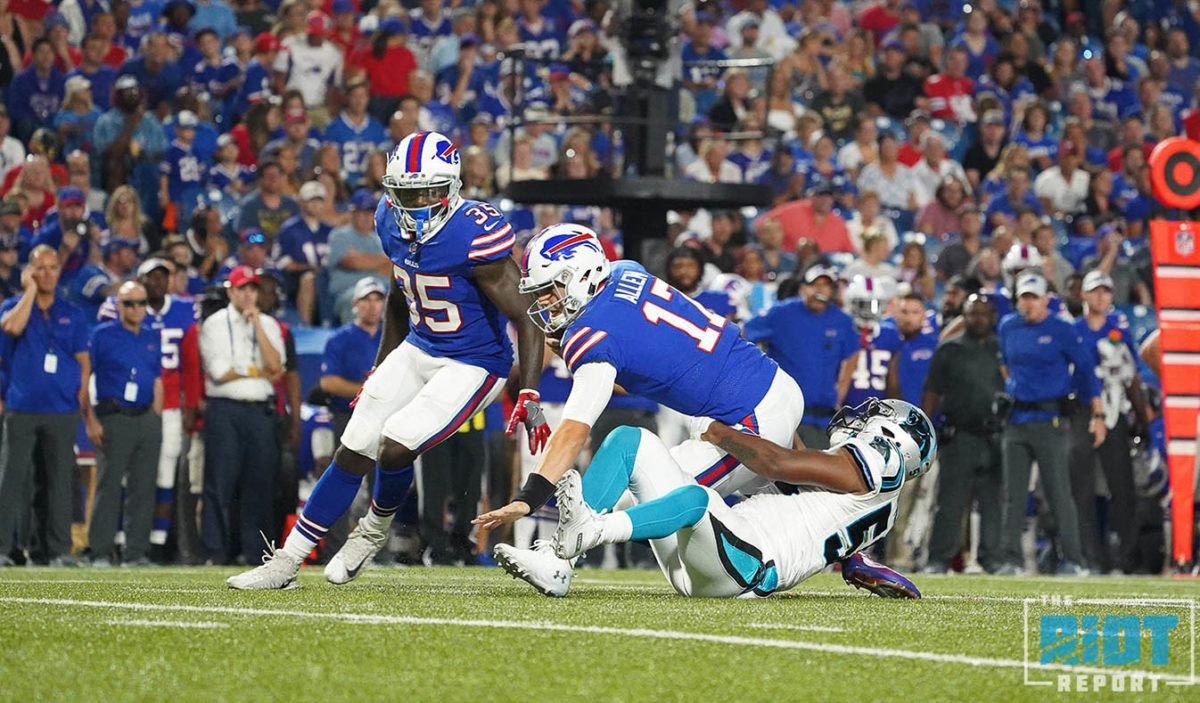 Also making his NFL preseason debut that night was Panthers' linebacker Jermaine Carter, a fifth-round pick out of the University of Maryland, who proceeded to terrorize Allen – sacking the No. 7-overall pick, pressuring him multiple times, and making three tackles.
"You know he was a high draft pick, highly-touted quarterback coming out in the Draft. So I knew all those things coming in, and I just looked forward to the challenge," Carter told Riot Report. "I wanted to show my teammates that I was capable of being in the NFL. Not only did I get the sack and the pressure, I made a couple tackles and I made like the first tackle on special teams. That's what I probably remember the most from that game."
That game set the tone for what Jermaine Carter's career with the Panthers so far.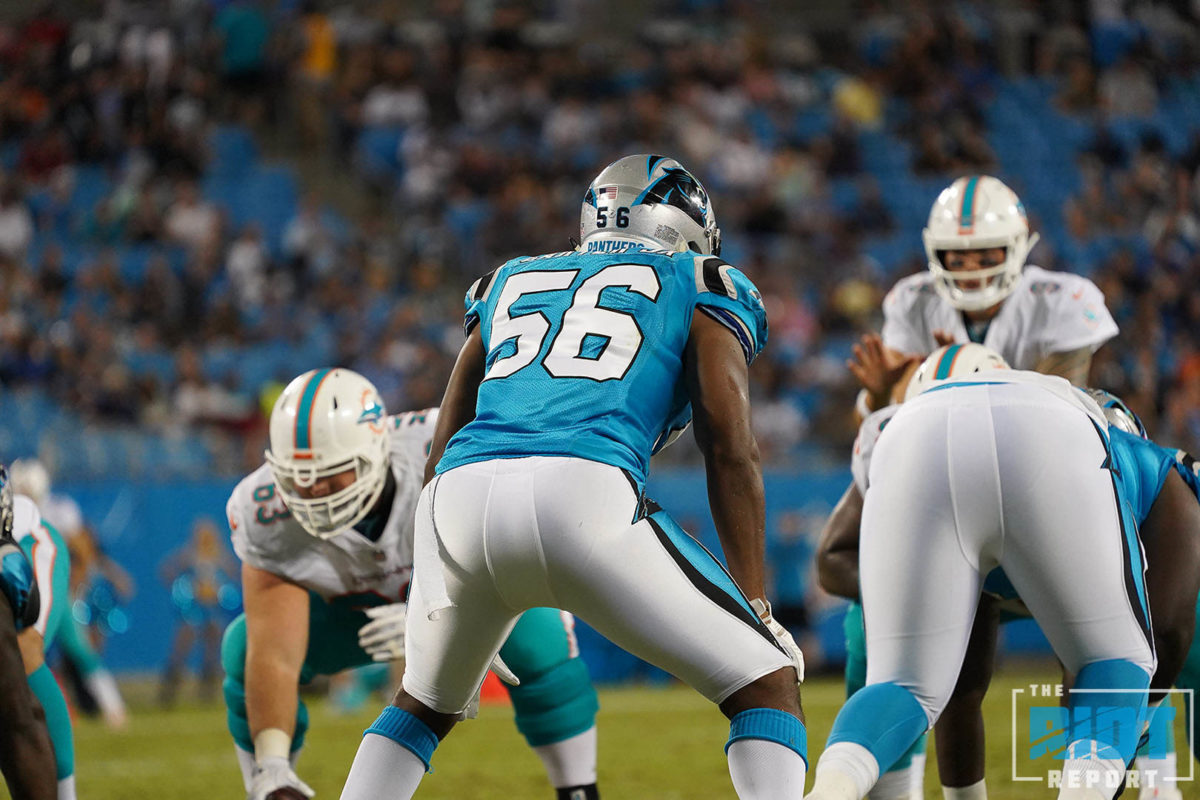 Throughout the first three years of his career, Carter has been a willing participant with playmaking ability when called upon. After serving in the reserves for most of his rookie year, Carter made his first start in Week 16 of that year, subbing for an injured Shaq Thompson. Carter then made five starts in his second season, while affirming himself as an impact player on special teams. And in a Week 13 game against Washington, Carter's football ethos led to him making the last great play of the Ron Rivera era of Panthers football.
After giving up 29 unanswered points to lowly Washington, the Panthers were drifting aimlessly towards a listless loss, with most believing a touchdown with 1:51 left to play amounted to little more than a garbage time score. But at 29-21, the Panthers were down by only one score – And as long as they could recover an onside punt, there was still a chance.
That's exactly what Jermaine Carter did, bringing the Panthers roaring back to life when many had already moved on.
Jermaine Carter
Jr. making a difference on special teams with an acrobatic onside kick
recovery #HeATerp.pic.twitter.com/eDZVd0zZWH

—
Testudo Times (@testudotimes) December
1, 2019
"It's just a testament to what type of person that I am in general. I go hard at everything I do no matter how much time is on the clock," said Carter. "It's just in my nature to always just go hard no matter what. Just always try to give my team the best chance to win. Because like I said, I take pride in everything I do.
"Growing up my dad always had a saying: Carters don't quit, and Carters got pride. That's always stuck with me. Throughout my whole life, throughout my whole career, that's kind of what I pride myself on. Just never give up – Every coach will appreciate that."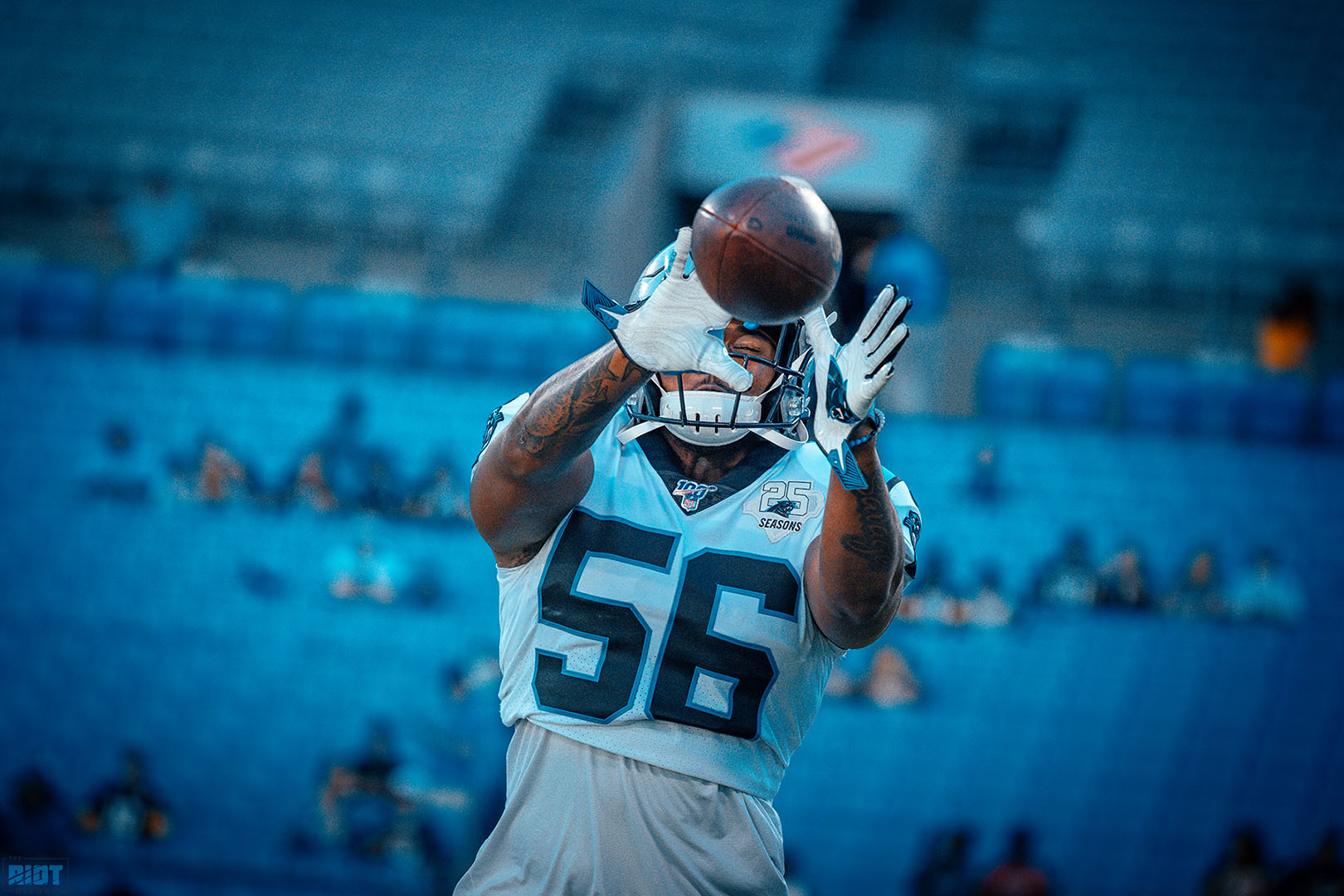 Try as Carter might to change the outcome, that loss to Washington led to a changing of the guard in Carolina, with Rivera making his exit and Matt Rhule assuming head coaching duties for 2020. Assuming the helm of a team with young talent to work with, one of Rhule's first responsibilities was to connect with his players, get them to buy in, and establish ever-important ties of mutual trust.
Initially, however, Carter was a player that Rhule and his coaches had a hard time reaching. Speaking to the media last year, Rhule had stated that he and Carter's relationship did not get off to a good start, with Carolina's first-year head coach feeling that the third-year linebacker was struggling to buy in. The disconnect that existed was not an example of a player rebelling against a new coach but rather that a combination of personality and circumstance led to a misunderstanding between the two parties as to his commitment to the program.
"I'm not the most social person. Those guys, they didn't really know me too well and I didn't know them too well. So I'm not the most talkative person, they probably felt like I was distant," explained Carter. "I've had some conversations with my coach that I probably was a little too distant. And that probably hurt me in the long run. But not having OTAs also last year probably definitely didn't help my case – Having a new coaching staff, not being able to show them what I can do.
"I think it was just a big miscommunication. Because I never was going against the coaches are anything like that. I've never been a player to go against the grain. I do what I'm asked and I try to do it at the highest level I can."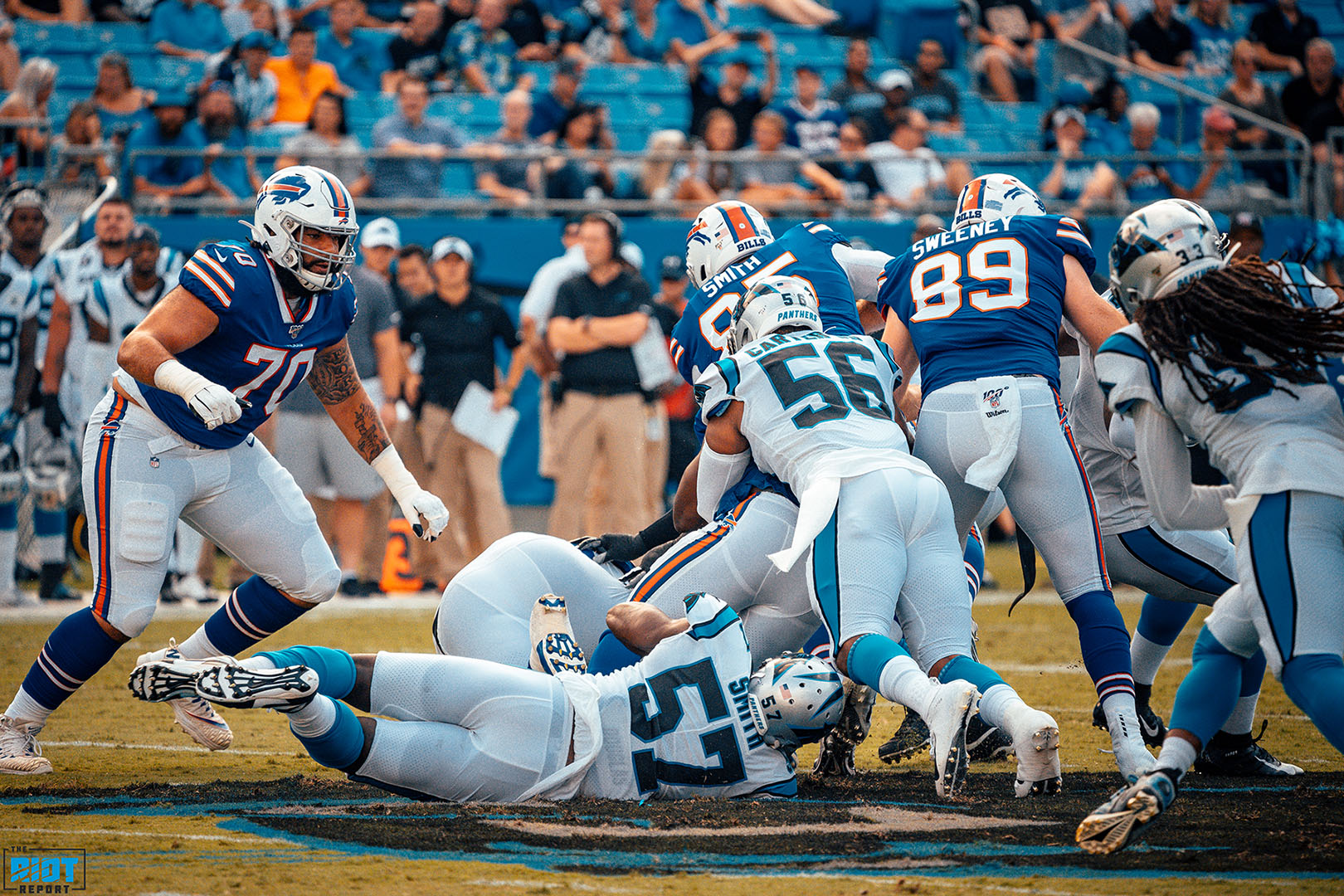 In order to prove that he was on the same page as his coaches Carter had to prove himself on the practice field by bringing a game-time mentality to preparation during the week. Gradually, Carter began to earn more and more reps thanks to his practice performances, using lessons learned from adversity experienced in his early days with the Maryland Terrapins.
"I kind of looked at last year like my redshirt year at Maryland, because I had a similar situation," said Carter. "A linebacker got hurt in front of me, and I was the next to go in. And my coach – it was my turn to go in – and he was like 'Nah, we don't want you to go in, we want to redshirt you.' So it kind of made me mad in some type of way.
"That's when I started to treat practice as a game, and I just started practicing hard every day. And I just took my anger out on practice. And that's kind of what I did last year – Just show them what I can do and show them that I can play. That's just my mentality."
By midseason, Carter became the Panthers' starting middle linebacker, and his play after that point worked both to shore up his position in the Panthers' depth chart and to help the defense make continued strides as a unit while making 34 combined tackles with a tackle for loss, a pass deflected, and a 19-yard fumble recovery.
Playing MIKE linebacker continued a theme in Carter's career, as he has shown to be a versatile player that can be used all across the linebacking corps in addition to playing special teams. Carter attributes his position flexibility to playing multiple positions growing up – Carter was originally an offensive lineman – as well as mental aspects of the game instilled in him by his head coach in high school, Aazaar Abdul-Rahim.
"He would put us on the board and make us draw up the whole defense. And ever since then – Like I said, I'm very passionate about football – so that kind of stuck with me, and it would force me to learn every position on the field. I've played every position on the football field except for quarterback and probably center, growing up my whole life. So I've kind of been all over the place.
"… I'm just a versatile football player. I don't want to just be stuck in one box, just seen as a MIKE linebacker. I can play SAM linebacker, I can play MIKE linebacker, and I can also be the WILL linebacker. That's just how I like to be able to be versatile, and that's just what I do."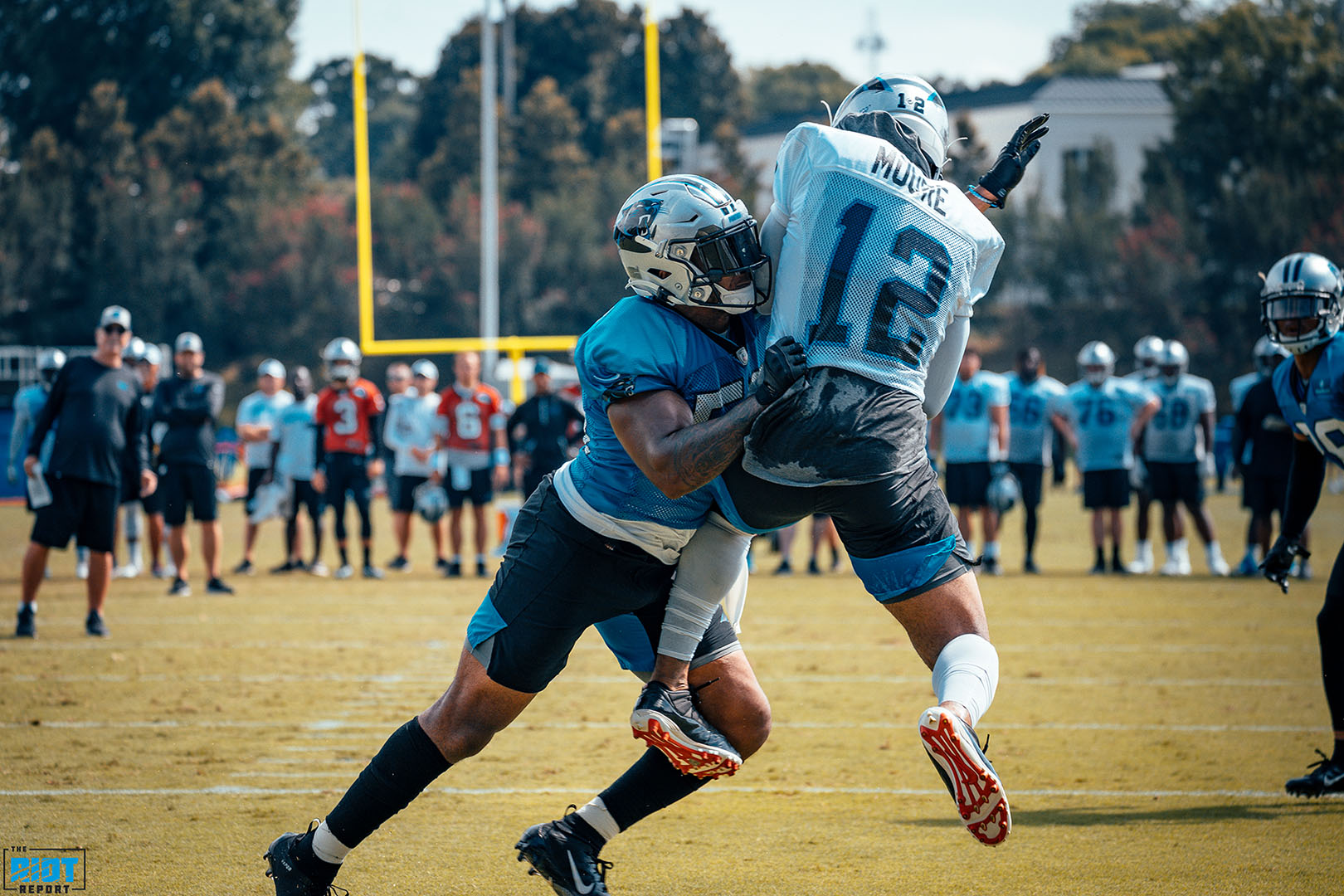 Now entering his fourth season, Carter is not only a preeminent part of the Panthers' projected linebacking corps, but also represents the way Carolina's defense has changed over the last several years. As a rookie in 2018, Carter was a young player on a veteran-heavy defense, with franchise greats like Luke Kuechly, Thomas Davis, and Julius Peppers all sharing a locker room with him. Now, Carter has become a veteran himself, and with that has come the responsibility of guiding a defense filled with young players and instilling Carolina's standards into them.
For over 25 years, great linebacker play has been a constant for Carolina. And Carter believes that the best way for the Panthers' current linebackers to be true to that tradition is to draw from the examples it presents.
"I think we've just got to be ourselves. We've got to take what we learned from those guys in the past, because I've learned so much from Luke and TD and even Shaq. They've taught me so much since I've been in the league," said Carter. "… I'm the type of guy that I'm gonna soak everything in that I can. I'm gonna take as much knowledge as I can, and I'm gonna try to run with it. And I think that's what all of my teammates can do, because as everyone knows, we're a young team. We can take all the knowledge that we can and just grow from there."
It's very much in Jermaine Carter's interests that the Panthers excel on defense in 2021: Entering the last year of his rookie contract, the opportunity for Carter to earn a second contract is at hand. Such a contract would not only ensure financial security for Carter and his young family, but also affirm his continued career as an NFL player – far from a given for a former fifth-round pick.
A second contract is, indeed, something that Carter is keeping in mind entering this season. But more than his own individual interests, Carter is motivated by unfinished business from his rookie season and an opportunity that he and his fellow draft classmates – D.J. Moore, Donte Jackson, and Marquis Haynes – have yet to seize.
"Since I've been a Carolina Panther, we haven't been to the playoffs yet. So that's my main goal," said Carter. "I want to help the team, and I want to keep earning the coaches' trust that they can put me out there and be a starter. And I just want to help the team make the playoffs.
"Because like I said, we haven't been to the playoffs since me, Donte, DJ – Since we all have been here, since we got drafted, we haven't been to the playoffs. Our rookie year we started off 6-2, and we were all happy and thinking that we were gonna keep winning. And then we went on a seven-game (losing) streak. That just shows how tough it is to win the NFL. We've just got to be better, and we've just got to continue to grow."
Since that night in Buffalo back in 2018, Jermaine Carter has withstood all the highs and lows the Carolina Panthers have experienced in order to reach this decisive point in his career. In doing so, he has given himself a chance to secure his place as a starter of an up-and-coming defense, as well as the sort of check that comes with such a position. It's remarkable what you can achieve when you don't quit, and you have pride.