Joe Brady has been preparing for this seemingly forever. Since he was a five-year old placing toys in the pistol formation around in the grass or putting together a halfback option for Buzz Lightyear around the right side – growing up the son of a football coach in Pembroke Pines, Florida, Brady has been drawing up plays in the dirt for as long as he could remember.
But right now, in 2020, less than 24 hours after being named the youngest offensive coordinator in the NFL and only five days removed from helping lead the LSU Tigers to 42 points and the National Championship Monday night in New Orleans, he's just trying to find his office.
"I think it's somewhere upstairs, I'm still trying to find my way around," joked Brady, who looked the part of the youngest coordinator in the league in glasses and a Panthers pullover at his opening press conference. "I've opened a couple of doors that are not my office just yet, but I'll figure it out pretty shortly and I'm ready to get to work."
But back to that quarter-century of prep work for a second – not everyone wants to be an offensive coordinator. Most football kids want to actually get on the field.
"When you've got some time in the classroom at elementary school or whatever, you're probably drawing up some plays – and then it becomes real when you go to college and realize that you're not a very good football player and you've got to realize that you're probably not going to play in the NFL, so let's try to make coaching your career."
"Since my early ages, I've always been a big fan of creating plays [and] drawing plays — and I'm excited to implement what we have here."
Brady's rise has been nothing less than meteoric – less than a decade ago, he was still making the painful discovery that he wouldn't be playing in the NFL, despite being chosen to the 2012 CAA Academic All-Conference team as a wide receiver at William & Mary while still listed as Joey Brady on the team website.
The wide receiver had three receptions in 23 games – he actually had more tackles than receptions in his college career….so coaching was probably the right path.
Seven years removed from helming the linebackers in his first coaching gig, he'll be drawing up plays for Christian McCaffrey – after two years as linebackers coach at his alma mater, he spent a couple as a graduate assistant at Penn State before parylaying two years as an offensive assistant with the Saints into a larger role at LSU.
And now, after turning Joe Burrow from a late round pick at best into the likely #1 pick in April's draft, Brady is the offensive coordinator of the Carolina Panthers.
But to Brady, age doesn't matter – and when he's looking to put together an offensive coaching staff, it's not necessarily about experience, but about attitude and willingness to adapt.
"I don't believe that your age determines how good of a coach that you are," said Brady. "I feel like the players that I'm going to work for and work with, the coaching staff, they're going to see my approach, they're going to see my work ethic, they're going to see how I'm willing to do whatever [I] can to win…..regardless of my age, regardless of my experience, if they understand that, they're going to want to play for me and they're going to respect me and we're going to be able to have success."
"Coach Rhule, he knows what he wants on his staff. I'll do anything that I can to help put together that staff. At the end of the day, we're looking for a staff that's going to do everything they can to win; there's no egos."
"I think it doesn't matter the experience, the levels or the time. I think if you can bring value to our room and you can bring value to the staff and to this team, regardless of your experience and where it is, I think that there's merit to that. I'm excited about the staff that we're going to put together here."
"This isn't Joe Brady's system, this isn't my system – this is going to be our system."
What does that system look like?
Brady's not willing to nail himself down quite yet, but you can bet that it will take advantage of playmakers on the roster like DJ Moore, Curtis Samuel, Christian McCaffrey and – with caveats of both location and health heavily implied – Cam Newton. While he was careful not to use specific players as examples of what he can do, the mind behind the greatest offensive season in FBS history, points-wise, must be licking his chops at the thought of how best to use players with skillsets like the players on the Panthers current roster.
"It's hard to label an offense these days," said Brady when asked about whether his 'spread' offense would translate to the NFL. "You talk about a west coast system, you talk about a spread system, everybody has kind of put their own stamp on who they are and what they are…to be able to talk about our system – our system is going to be what our players do best. I think that changes year to year, I think that changes based upon what you have. At the end of the day, it's all about a vision that you have for your players; each person on your roster and on your offense, you should have a vision for, they should play a role. When you can find guys that fit the vision and understand their role, I think that's when you have success, so regardless of labeling what system it is, I think you have to put together a system for what [you're] looking for."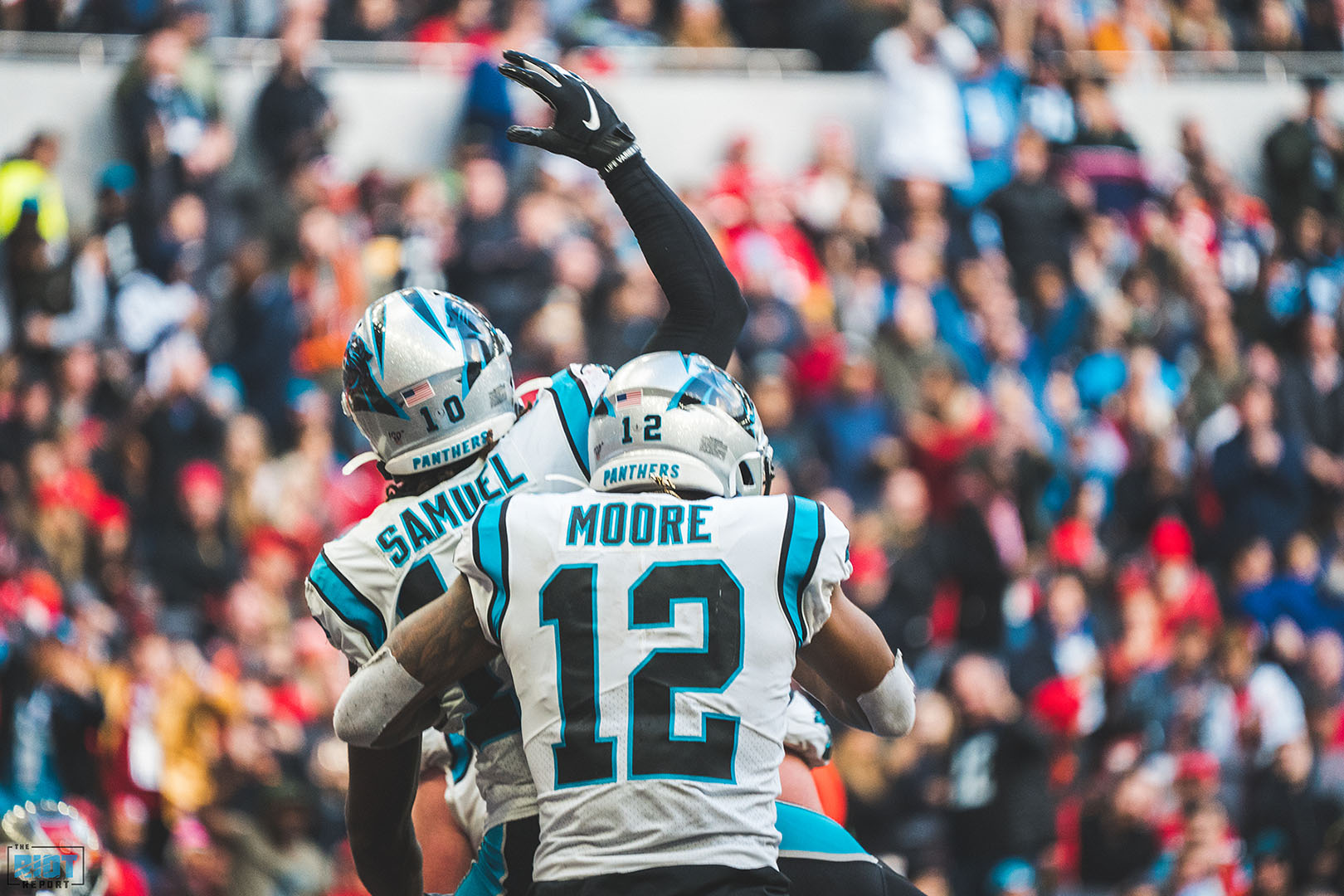 "We have to find what our guys do well and we have to put them in the best position to have success. Find out what they do well and let's do what they do well. If we're not doing that, then we're not doing a great job as a coach."
Call it spread. Call it high-octane. Call it the opposite of what Panthers fans have seen from mundane and predictable offenses over the past two decades. Call it whatever you want, but one thing you know it will be is different – and exciting.
"I think it's important to be innovative and stay on top of it – there's no such thing as a bad idea right now. Let's work towards creating a system that we feel proud of. "
Now somebody show Brady where that office is and let him get to work.