A season ago, the Carolina Panthers offense had its struggles under the father-son duo of Norv and Scott Turner, finishing 19th in total offense (341.8 yards per game), 20th in passing yards per game (228.1) and points per game (21.3). Among the many changes to the team this offseason was the addition of highly-touted offensive coordinator Joe Brady, who was coming off a national championship at LSU.
As with every other NFL team, Brady hasn't had the offseason he had hoped for, with the COVID-19 pandemic forcing teams to meet virtually instead of having minicamps and OTAs. But one thing that has made it easier for Brady to install a unique offense is the Panthers having a veteran quarterback under center who knows his system.
Carolina signed Teddy Bridgewater back in March after he spent the last two seasons with the New Orleans Saints. Bridgewater and Brady worked together in 2018 in New Orleans when Brady was an offensive assistant – in fact, it was Brady who was tasked with bringing Bridgewater up to speed when he joined the Saints just before the 2018 season began and he knows exactly what the 27-year old brings to the table.
"For everyone that has met Teddy Bridgewater, he makes everyone better," Brady said. "He lights up the room, he's intelligent. His football IQ is through the roof. We had a day where we had Teddy running the meetings. I think that's critical – having a guy that understands a good amount of the system and what we are doing, but also has an idea of football and being able to explain it and teach it to others."
"I think from a quarterback standpoint, when you're able to install a play, you're able to communicate terminology even if it's different than what you did in the past, it shows how valuable you are. Working with Teddy, it has been great.
"I had a great relationship with him in New Orleans, and we are very fortunate to have him on the football team."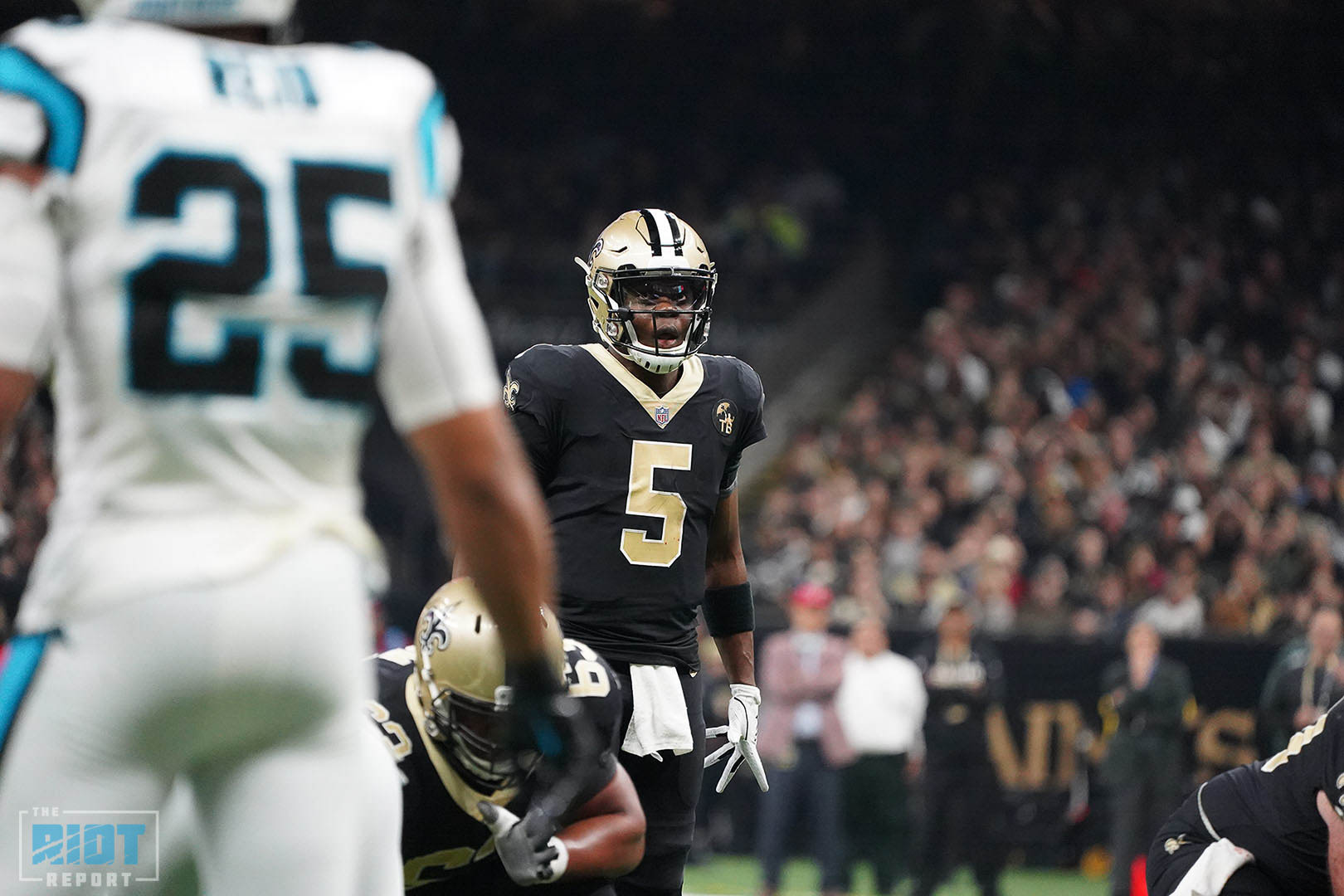 Brady's bond with Bridgewater when the two were in New Orleans – especially that early period – appears to be one of the determining factors as to why the team signed the quarterback. It was also a period of growth for the coach as he learned from a veteran quarterback..
"I know for myself as a coach, that was a huge development for me, getting an opportunity to learn Teddy and understand how he thinks – that was huge. At the end of the day, our job as coaches and our job in the personnel department is to put together a vision for each player, and that's what we did, and Marty [Hurney] and Coach Rhule. they made that final decision what to do from there. I knew what we had in Teddy Bridgewater, I know the type of winning football that he has and he is going to play."
Another benefit for Brady is having a weapon at his disposal like running back Christian McCaffrey. Last season, McCaffrey became only the third player in NFL history (Roger Craig and Marshall Faulk) to rush for at least 1,000 yards and have over 1,000 receiving yards in the same season. McCaffrey in total finished third in the league in rushing with 1,387 yards and 15 touchdowns while catching 116 receptions for 1,005 yards and four receiving touchdowns.
Brady knows the prime opportunity he has with McCaffrey in the huddle.
"You walk into this job, and you get to coach Christian McCaffrey, I don't know how many coaches have that type of opportunity to coach a player of his caliber," Brady said. "To me, he is a running back and he can do everything, but to label him strictly a running back is an injustice to him. So I think a guy like Christian McCaffrey, he can play literary any position on the football field. I think it is going to be to our advantage to be able to do that."
"The critical element of this offense is not allowing people to know where players are going to be at all times and trying to utilize different formations and different tempos and personnel groupings to create the mismatches that you want. Christian is one of the pieces that's definitely going to be the driving force for our offense."

McCaffrey was on the field for 93.4% of the Panthers snaps in 2019. There have been questions on whether McCaffrey will see his snaps decrease, but Brady said he still plans to get the ball into his best playmaker's hands – a lot.
"I think Christian had 420 touches last year, and that's a lot. But if there's one person that can take it and takes care of his body the way that he does, it is Christian McCaffrey. I can't sit here and tell you guys, the number is 400, the number is 350, I can't. I think every single game, it will be different. But I think a lot of it will come down to the rest of the personnel on our team and figuring out how they're going to be utilized. But there's an expectation of Mike Davis and Reggie Bonnafon and Jordan Scarlett and Rodney Smith to elevate their game as well. So depending on how that running back room, wide receiver room, the tight end room goes, that will factor into Christian McCaffrey's touches.'
"But Christian McCaffrey will get his touches. If we weren't getting the ball to Christian McCaffrey, then I wouldn't be doing my job."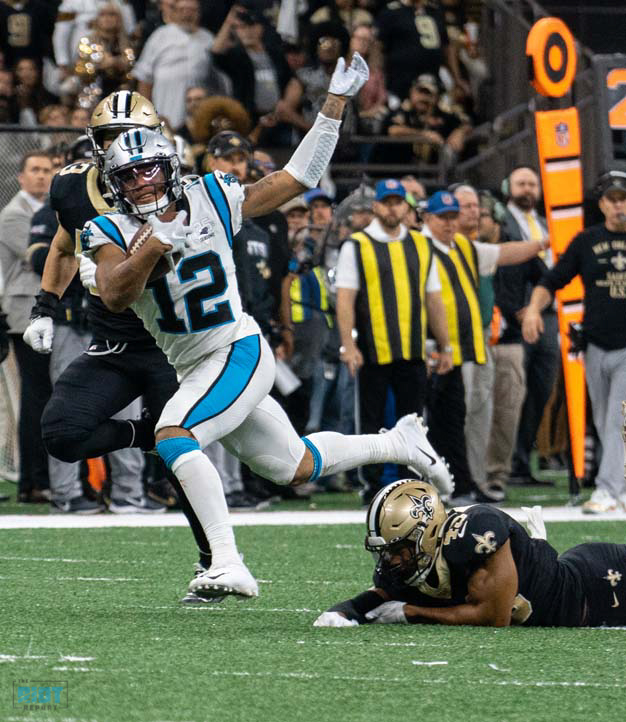 The Panthers offense is not short on weapons – third-year wideout DJ Moore was second on the team in receptions a year ago with 87 of them for 1,175 yards and four touchdowns. Brady called Moore a "dynamic receiver."
"I'm excited to see this year for him," said Brady. "To establish himself and that is just challenging him that he doesn't need, but I have high expectations for DJ and the type of football player that he is, and he has shown that on the football field. I'm excited to see him develop and I'm excited to take his game to the next level."
"I'm sure he has his own goals, but I have a clear vision on how to utilize DJ in our offense."
To help open up room underneath for Moore and their offense, the Panthers signed Robby Anderson in free agency, who has the speed to stretch the defense, something the team wasn't necessarily able to do a season ago – although a lot of that may have come down to Kyle Allen's inability to accurately throw the deep ball. But Brady says there is more to Anderson than just his speed.
"The first thing Robby obviously brings is speed. But the biggest thing people forget, but he is not just a speed wide receiver – Robby has incredible hands, he is able to make big plays on the ball, go up for the football and he is dynamic when it is in his hands. I'm excited about the acquisitions we made in the wide receiving room in addition to the receivers we already had on this football team. When you're an offensive coordinator, and you're trying to utilize personnel and trying to find mismatches, and you look around your roster, you feel confident in the type of guys that you have on your team."

The forgotten player in the Panthers offense might be Curtis Samuel, who has shown tons of potential during his first three seasons in the league but hasn't been able to break out – he's been dynamic with the ball in his hands, scoring a touchdown at a ridiculous rate, almost 10% of his touches. Last season, in his first year playing all 16 games, Samuel had 73 touches for 757 yards and seven scores, but Brady believes Samuel has only begun to scrape the surface of what he can do on the field.
"Curtis, I can't wait to see what he does best," Brady says. "I think Curtis is a playmaker. He fits the mold on what we are looking for in this offense, a guy we can utilize all around the field. If we get the ball in his hands, good things happen. You saw things last year – that he can be a big-play wide receiver, down the field, getting the ball in space. I'm excited for him to take the next leap and I know that he wants that."
"Curtis is going to be critical to our success."