My first football memory is Scott Norwood pushing the game winner wide right in Super Bowl XXV as my father and his friends went crazy in our basement-turned-TV-room in upstate New Jersey. I remember jumping around with them, even though I was not particularly invested in the outcome, being that I was only nine years old and much more invested in the Bud Bowl, in which Bud Dry would lead Bud Light to an upset victory; looking back, this may explain my penchant for drinking my weight in beers every Sunday.
When we moved to Charlotte shortly after the Giants victory, we remained Giants fans, but only for a short period of time, as watching NFL teams outside your market proved extremely frustrating in the early nineties. If I remember correctly, The Scoreboard on Independence (now a car dealership) and Kristopher's in downtown Matthews (somehow still open!) were our only options for displaced fans of Jeff Hostetler's mustache. Soon enough, Jerry Richardson would change our lives forever by bringing The Queen City a team of our very own, and bolstered by my impeccable tween judgements, I dumped the Giants for the local flavor, jumping full force into Panther fandom.
My father did the same, developing Panther Fever quickly and snagging highly coveted PSLs and season tickets, making the weekly ninety minute pilgrimage to Death Valley with his extremely excited son and slightly less excited wife to cheer on the new team. Yes, if you care to look, and I'd imagine many of you don't, you'll see all three of our names on the Panther statue outside the East Gate. Snap a pic of them and tweet it at me, I'm extremely narcissistic and love seeing my own name.
Fast forward twelve years in this Panthers Backstory, and you'll find a dumb kid in his twenties, leaving the safe heaven of Chapel Hill for the unknown of the Mile High City. You'll be fast forwarding past Chad Cota intercepting his way to the top of my "Favorite Panthers of All Time" list; past lying on my buddy Fat Dave's floor in front of the television with my head in my hands as John Kasay put the kickoff out of bounds, knowing the terrible final outcome before it happened; past dozens of ill-advised jersey purchases: I've worn Weinke, Biakabutuka, Gilbert, and Testaverde on my back, among many others. The time during the 1-15 season my buddy Barrett and I bought seven upper deck tickets, only to trade them for front row seats in the endzone to watch Jerry Rice catch a score directly in front of us. The Monday Night game where Brad Hoover hung 117 yards and a score on the Packers. The glorious few seasons where I rocked a throwback Ragin' Cajuns Jake Delhomme jersey. You'd be fast forwarding past hundreds of other black and blue memories that I will always treasure. The Carolina Panthers were part of my history, so imagine my surprise when the first Sunday of football season came in Denver, and I couldn't find a spot to watch my team.
As I'm sure many of you know, being a fan of an away team is tough. After bouncing from venue to venue that first season, being stuck with the small TV behind the bar and never once hearing the dulcet tones of Daryl Johnston talking about Jakey Jakey and his Big Mistakeys, I had had enough. A friend and I went from bar to bar, begging them to tag themselves a "Panthers Bar", finally finding luck in a place called Pub on Penn, in which we only managed to procure the precious 'game sound' by promising to drink at least $100 worth of Coors Light each Sunday (which we did). The next year we relocated our burgeoning group (which really consisted of only two true Panther fans and our group of friends, most of whom we would clothe in Panthers jerseys we had collected over the years. "You're Panthers fans today!" we would shout with glee as we drowned our Matt-Moore-induced sorrows in Jameson and Coors Lights) to Shelby's, who embraced our crew with open arms. I convinced them to make us blue jell-o shots each time the Panthers scored, with the rationale being that the previous years team had only scored 16 times. During the first quarter of the next season, our rookie QB threw a long score to Steve Smith, Shelby's passed out jell-o shots, and the Mile High Cats were born.
My job took me around the country over the next few years, but I never left the Panthers behind. I've attended too many games to count, been an away fan in stadiums from Oakland to New Orleans, watched the Panthers on an iPad in Zimbabwe, spent a glorious 15-1 season amongst Big Apple Rioters in New York City; hell, I planned my honeymoon activities around being able to watch a meaningless contest against the Cardinals in which no touchdowns were scored. The greater events of my life are measured by "What happened that Panthers season?"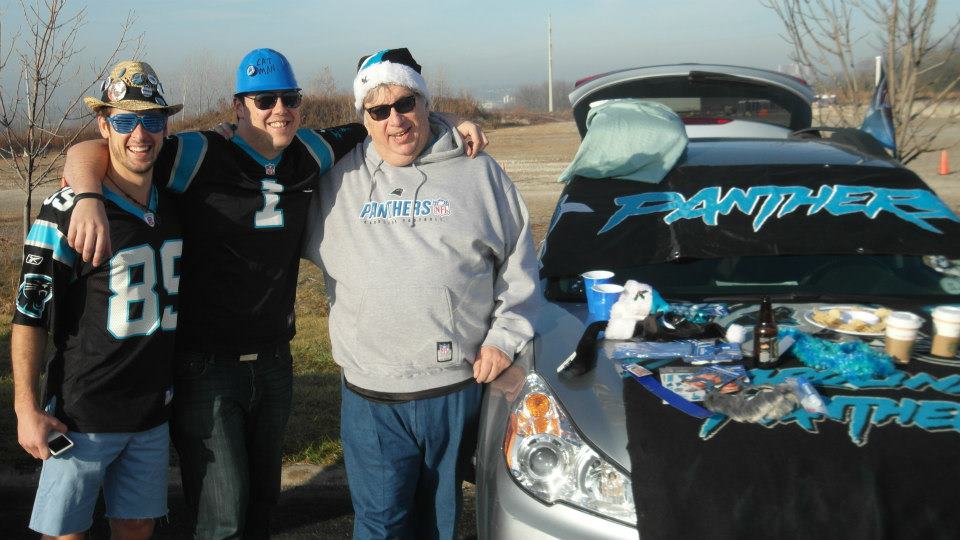 Oh, and in the immortal words of Humpty Hump, I also like to write. I've written for Grantland, Fansided, RotoViz, The Daily Dot, and others. I take my writing very seriously, as you'll be able to tell by liberal use of CAPS LOCK throughout the season. We at The Riot Report have been extremely fortunate to build a small but dedicated and talented team to serve you with the absolute best in Panthers content every day. If we don't write it, we'll link to it. We aim to be the first site you check in the morning before you grab your coffee, and the last article you read before you begrudgingly click off your iPad and go to sleep, dreams of Bojangles' Biscuits and Crazy Legs Beuerleins running QB Draws to beat the Packers bouncing through your head. Your friends may think it's weird that's what you're dreaming about, but we don't. We understand.