With the devastation that Hurricane Florence left when it swept through eastern North and South Carolina, many people have stepped in to offer donations of both their time and their resources; last week, Panthers owner David Tepper pledged an initial package to help aid disaster relief efforts in that area that include $1m dollars to the American Red Cross, $450k to regional food banks in the form of 25,000 emergency food packs and aid to high school athletic programs affected in the area. The team has joined in the efforts with Panthers staff and players engaging in direct service projects to help the area along with donation collection points around Bank of America Stadium; they'll also be selling #CAREolinas t-shirts and donating 100% of the proceeds to the North Carolina Disaster Relief Fund and One SC Fund.
And now their eldest player has joined the fight to help those affected by the Hurricane as defensive end Julius Peppers has pledged $100k to partner with the Foundation For The Carolinas and establish the "Julius Peppers Hurricane Relief Fund" – the native of Bailey, NC has encouraged his teammates, fans and community to help do anything they can – but he's especially leaning on his teammates.
"Obviously, some of my teammates are able to do more than others," said Peppers. "I think it would be a great statement if we had 100% participation, to be honest with you – I think that would say a lot to these fans and to this community; we rely on their support every week to come to the games and to buy our jerseys and things like that, so I think it's only right that we show the same support back to them and help them in their time of need."
"Those of us that sit in these shoes and are more fortunate than others, we need to do what we can to help."
Today I'm starting a Hurricane Florence relief fund and encouraging my teammates, players around the league and people in the community to join in. #KeepPounding pic.twitter.com/juaKipcB9d

— Julius Peppers (@juliuspeppers_) September 21, 2018
Peppers said the biggest concern is people that don't have the bare necessities – food, shelter, clothing and water – and while sometimes we take that stuff for granted, the 38-year old says it has been on his mind since last week while the storm ravaged the eastern part of North and South Carolina as the players watched the weather from Charlotte; Peppers hasn't visited the area where he grew up yet, but plans to put 'boots on the ground' soon.
For more information on donating, please visit the Foundation For The Carolinas website.
While Peppers spoke mostly about his relief efforts, he did talk some football – Peppers said he was fine with getting more snaps after Eric Washington and Ron Rivera both said this week that the oldest defensive player in the league needs to be on the field more – the defensive end has played only 34% of the snaps through two weeks after 50% in 2017. He echoed Rivera's sentiments that he is still in the process of getting his legs under him before taking on a full load, but said that the shoulder is fully healed after offseason shoulder surgery.
"It's a process," said Peppers, who wouldn't go so far as to say that he needed a bigger role. "We've got to get there – we know I didn't play any in the preseason and just started practicing four or five weeks ago, so it's a process – we'll get there. I don't want to get into things that the coaches should be handling, that's for them to determine – what a player's role is and how much a player plays. That's things for them to talk about and whenever I'm called, I'll be ready."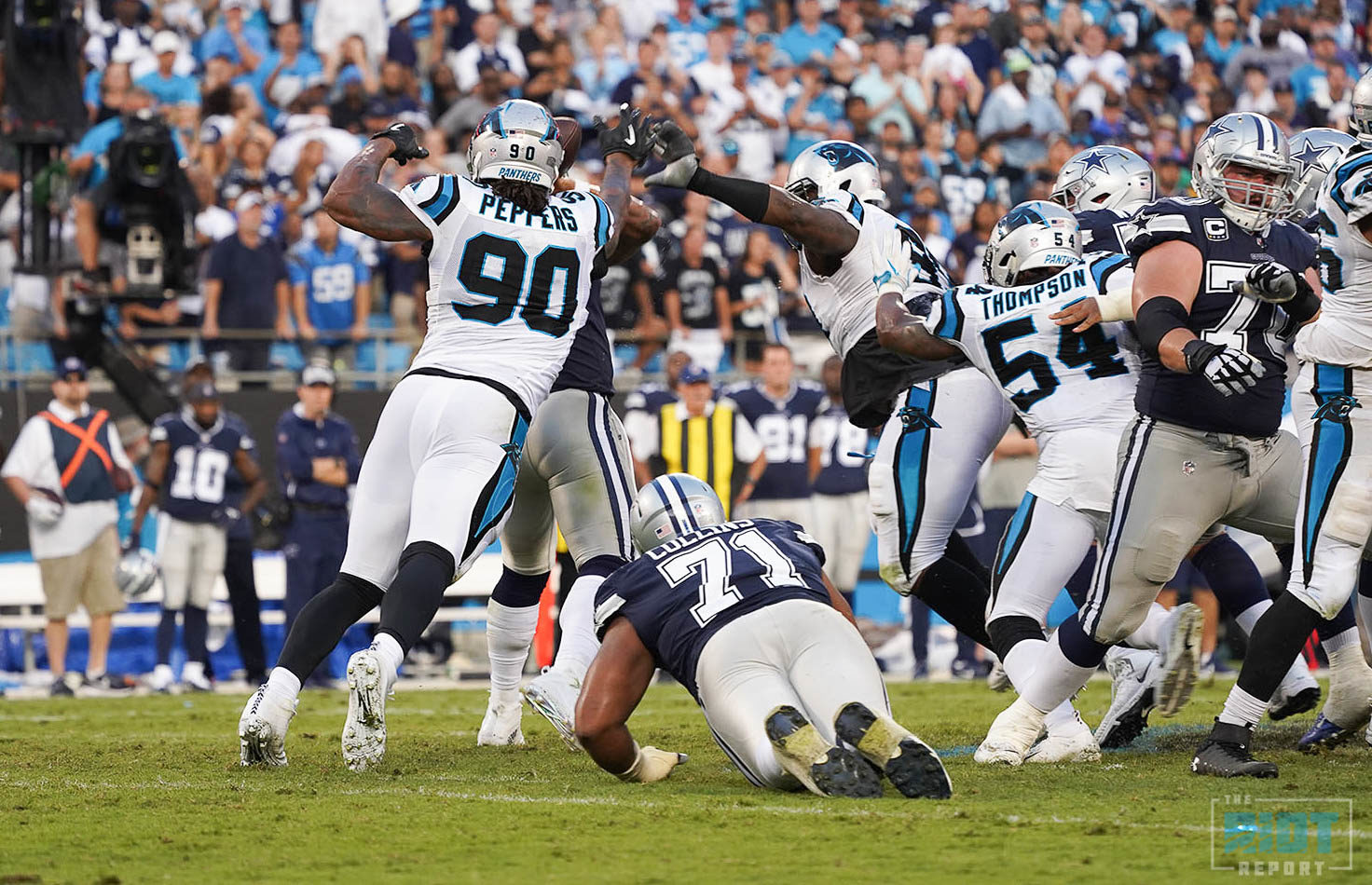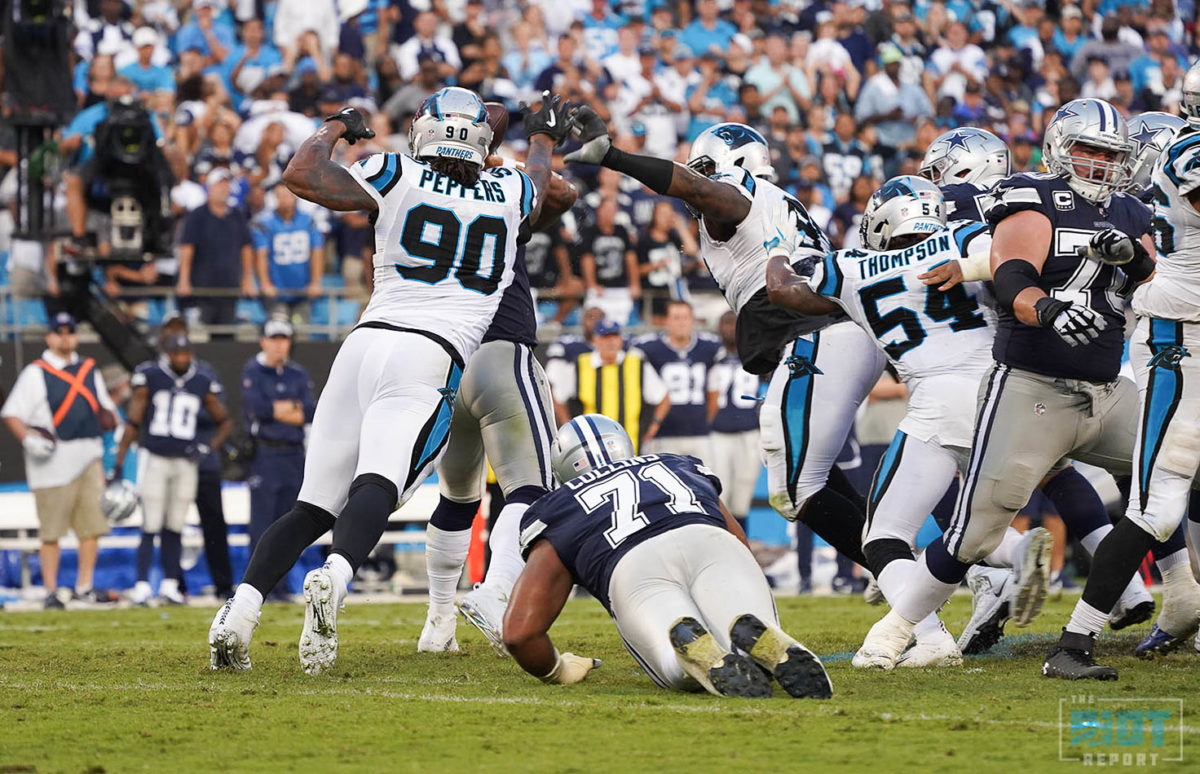 He also said he's not concerned about when the sacks will come – they come in bunches, the first one is the hardest to get, he's focused on getting a win over the Bengals – all the cliches apply to the player who sits fourth on the all-time sacks leaders list with 154.5 in his career; he needs 5.5 to pass Kevin Greene for third.
The seventeen-year vet said that he considered retirement after every season for the past five seasons – there will come a time when he needs to prepare for that post-football life, asking for a confirmation if it was actually true that he was the oldest defensive player still active in the NFL now that Terence Newman has retired, which drew a chuckle from those in attendance; he wears that designation like a badge of honor.
"I'm fortunate to be standing here after 17 years; I feel like I have more to offer and I still enjoy playing – the relationships that I have with [Eric] and the relationships with my teammates and things like that, it makes it hard to leave sometimes."
So would he come back for another year after 2018?
"We'll see when we get there – we'll see about that. I don't know yet."