Most Panthers fans would say Christian McCaffrey doesn't have much to improve upon as an NFL running back.
But just when you thought he couldn't get better, the third-year player has been working on another aspect of his game early in training camp.
McCaffrey, along with the other running backs on the Panthers roster, have been working on their pass blocking with new running backs coach Jake Peetz. After Wednesday's practice, McCaffery said improving his blocking has been a point of emphasis this offseason for him.
"You've got so many guys nowadays in the league that are so good at rushing the passer," McCaffrey said. "That's the first thing a lot of things coaches look at. I know it's a main point of emphasis with coach Peetz, with Norv [Turner], coach Rivera, so it is something we strive to get better at every day."
"Coach Peetz has an array of drills that are really good. We're always working on our points, setting our hips. I think the best thing is working in 1-on-1 pass drills with linebackers – because it is one of the tougher drills you can do."
"And having really good players on your defense really helps."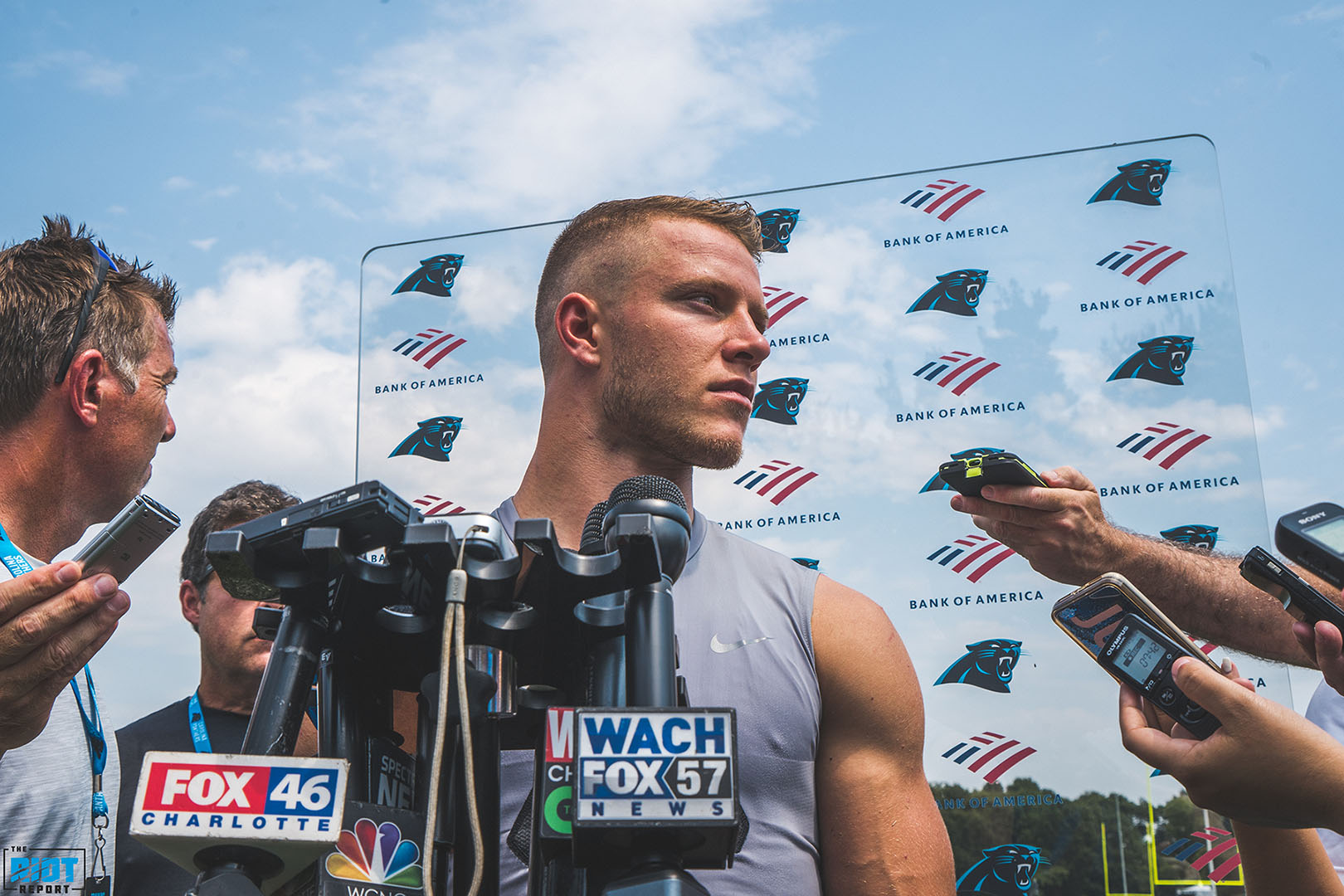 While McCaffrey thinks he still has room to get better, the entire league knows how great McCaffrey was last season. Recently, he was ranked 42nd on the 2019 NFL Top 100, a list voted on by players around the NFL.
In 2018, McCaffrey rushed for 1,098 yards and seven touchdowns and caught 107 passes for 867 yards and six touchdowns as McCaffrey broke the NFL record for most receptions by a running back in a season. He was also on the field for 91.3% of the Panthers snaps last season, far and away the highest number for a running back; while the Panthers don't necessarily plan on adjusting McCaffrey's touches – he had 326 combined touches last season, third most in the NFL – they do plan on getting him off the field on unnecessary plays.
"The goal is to cut down on his plays," said Ron Rivera – correcting a misnomer by Norv Turner that seemed to indicate the opposite notion yesterday. "But we're not going to take away his touches. We want the ball in Christian's hands when he's on the field. There's no reason for him to be a decoy or be a swing guy."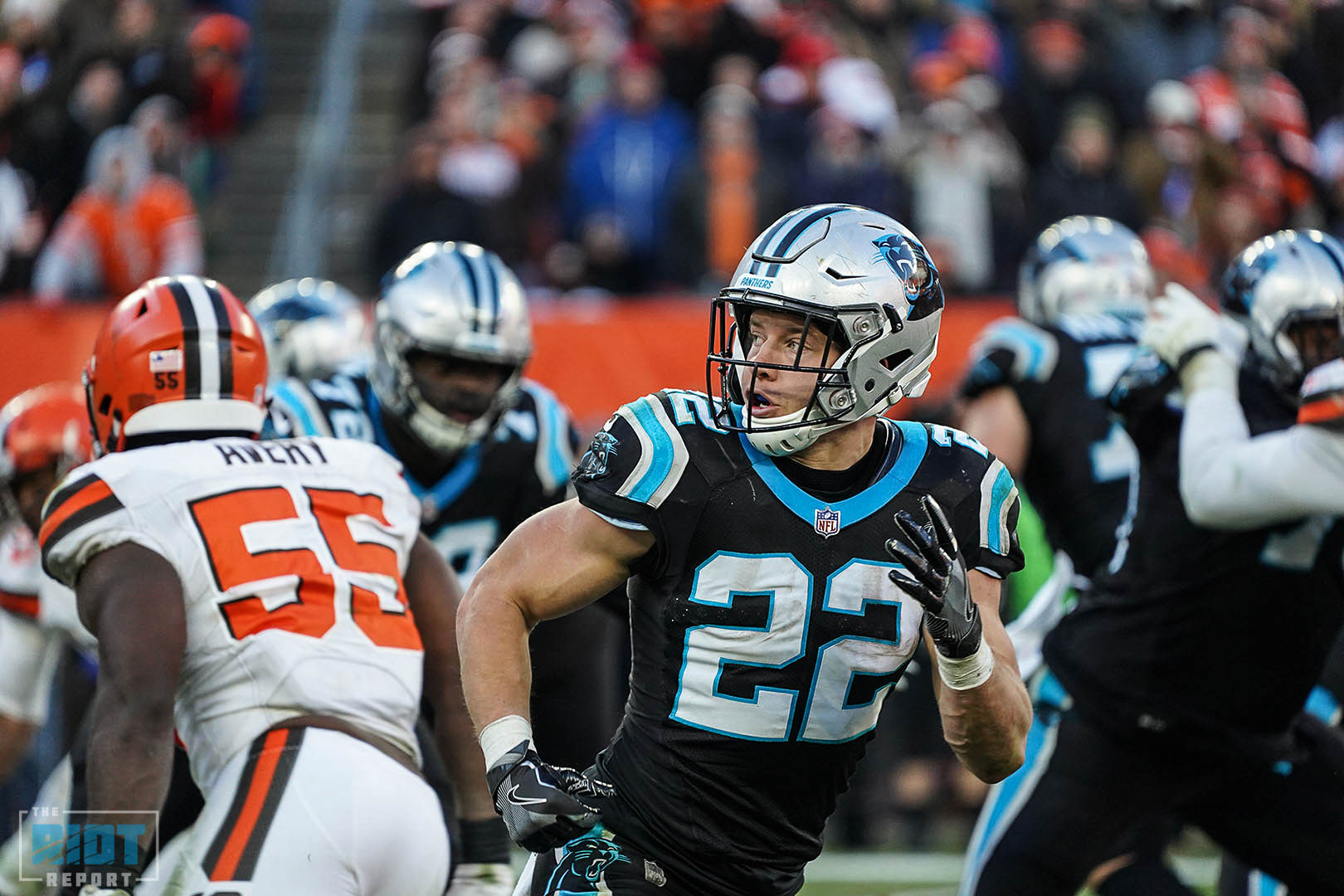 While he joked that he doesn't understand why the media keeps bringing it up, McCaffrey does look bigger – although he says he is about the same weight that he was a year ago. However, McCaffrey has gained a lot of muscle mass with the goal of getting bigger, stronger, and faster.
That's also why he's not worried about how many touches he gets – he wants them all.
"The goal every offseason is just to get as fast as you can, stay healthy," McCaffrey said. "I'm at the point now that I'm at a weight that I like. So [from] here on out, it is just staying healthy and continuing to be explosive with that. It was good to get a full offseason this year. Just working really hard, I'm still growing, 23 years old – when I came into the league, I was pretty young and underdeveloped. So I am trying to get strong – faster – and do all the things to prepare your body to take a bunch of reps during games."
Even with the 326 touches, he still had almost 50 to get to the 376 Ladanian Tomlinson had in the 2007 Norv Turner offense and even further to get to the 381 that Ezekiel Elliott led the league with in 2018.
So there's room for even more touches for the player that had 10 games with at least five receptions and 50+ rushing yards while setting the franchise record for all-purpose yardage in Carolina.

Last year at this time, McCaffrey and the Panthers offense were working to learn Norv Turner's new offense. With quarterback Cam Newton returning from a shoulder injury, McCaffrey believes the Panthers offense can be even better than they were last season when they finished 10th in the league in yards per game.
Especially if Cam is healthy.
"Experience, there's nothing like it," McCaffrey said. "And being able to continue to watch film with [Newton], being able to continue to pick his brain on stuff and watch certain defenses, it has been awesome."
"That's something that I love to do."
Another role McCaffrey has been working on this offseason is becoming a leader in the running back room. Not only did the Panthers draft Jordan Scarlett in the fifth round in this year's draft, but they also signed Elijah Holyfield as an undrafted free agent.
Instead of being a hands-on mentor, McCaffrey says he has been watching to see Scarlett and Holyfield's strengths and what they can improve on.
"They're great players, and they're great learners too," said McCaffrey about the two rookies competing to be his backup. "They ask a lot of questions and they're attentive during meetings. They do such a good job during practice too. So for me, it's just whenever they have questions, I'll answer them or show them a thing here and there. But the running back position is such an instinctive position and those guys have great instincts. They've had a lot of success. You can't overcoach the position."
"A lot of it is you just let them go out and play."
That's exactly what the Panthers are going to do with McCaffrey – let him go out and play.