After working for almost 11 months to rehab a torn rotator cuff, Kawann Short suffered another injury to his right shoulder and will miss the remainder of the 2020 season, Panthers Head Coach Matt Rhule announced Wednesday.
"Our hearts break for him," said Matt Rhule. "He worked so hard to come back this year – he's such an integral part of this team and he will continue to be an integral part of this team."
"I don't think you can replace him, you just have to have the next guys ready to step up."
The 31-year old Short, who had missed only two games in the previous six years of his career before missing 14 in 2019, was the lone captain held over from the previous regime when the team moved on from Ron Rivera, Cam Newton, Greg Olsen and other faces of the franchise.
The former second-round pick was embracing his role as mentor of young players like Derrick Brown, Bravvion Roy and Efe Obada early in the season; a foot injury kept him out of two of four games and in the third quarter of the Panthers 23-16 win over the Falcons – his first game since Week 2 – Short's right arm appeared to get trapped underneath Matt Ryan and Obada.
Can't be 100% sure, but this appears to be the play where KK Short suffers a season-ending injury to his right shoulder as his arm gets trapped under Matt Ryan and Efe Obada. pic.twitter.com/c53lksoH6D

— Josh Klein (@joshkleinrules) October 14, 2020
With Short sidelined, the Panthers will turn to Brown, Roy, Obada and perhaps practice squad defensive tackle Woodrow Hamilton, who played in the Panthers' Week 2 loss at Tampa, to fill the gap left by Short next to veteran Zach Kerr – that group of young players has 54 career tackles, one less than Short had in 2015, when he was named an All-Pro.
Kerr has 140 tackles and 7.5 sacks in 80 career games with three different teams.
While the loss of Short to a Panthers defense that was already struggling against the run – they've allowed over five yards per rush in four of their five games this season – is important, a larger storyline is that of a player who had pushed himself to the limit to get himself back to 100% and may ultimately end up being a cap casualty in 2021. Short has a cap hit of over $19m this season, the highest on the defense, and would grant the Panthers almost $9m in cap relief in 2021 (while counting for $11m in dead cap) if released.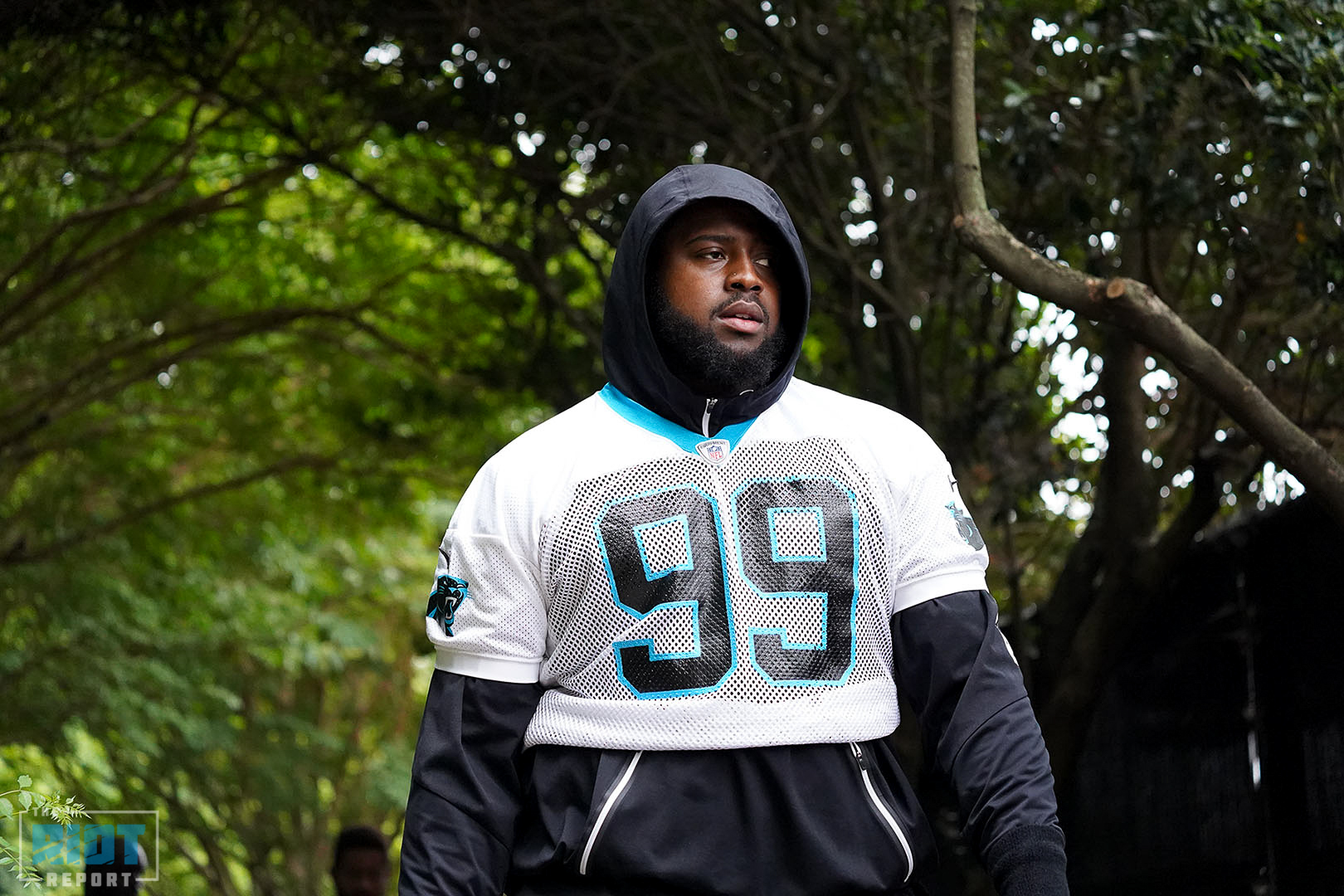 With Short out, the Panthers are missing a 3-tech on their defensive line, with Obada a hybrid edge/3-tech and Kerr, Roy and Brown best suited as a 0 or 1-tech, although all three can play multiple spots on the line; Rhule says the team has been confident with three tackles and Obada active on gamedays this season.
"I think we feel good about the guys we have," said Rhule.
Short signed a five-year, $80.5m contract in April of 2017 – the following season he was named to the Pro Bowl and had 42 tackles to go along with three sacks in 14 games. He injured his shoulder in the second game of 2019 – his first season as a captain – and was placed on injured reserve shortly thereafter before returning to camp this summer seemingly at 100%.
"I had some scares where I thought like my shoulder wasn't healing right. I felt like it wasn't in the right direction," Short said during training camp. "It wasn't at a certain percentage at a certain time, but I had to trust the doctors and trust our trainers. It was like alright, this is kind of how it's going to go, you're going to feel that you have setbacks, you're going to feel good one day and then the next day you feel like you went back."
"Just trusting in them and really realizing that they were right the whole time."
Now Short must face that same battle again – whether that battle will end in Carolina remains to be seen.