Good things come to those who wait.
Everyone has heard it – a mundane mantra usually fed to children who want candy at the grocery store, the latest video game or a new pair of sneakers. Whether it's something physical, emotional or a combination of both, if it's not available now, it can be had at an uncertain time in the future; a good reminder for children in the virtue of patience and a tantalizing carrot dangling from a stick for adults who slowly realize that just waiting may not be enough to secure that good thing.
In the NFL, waits can be imposed on you by coaches, by your situation, a twist of an ankle or a tangle of arms; sometimes the wait doesn't result in anything but a pink slip or another missed opportunity, or simply another chance pushed to a later date. Another chance to either succeed – or to wait again.
It seems like Kevon Seymour has been waiting his entire life.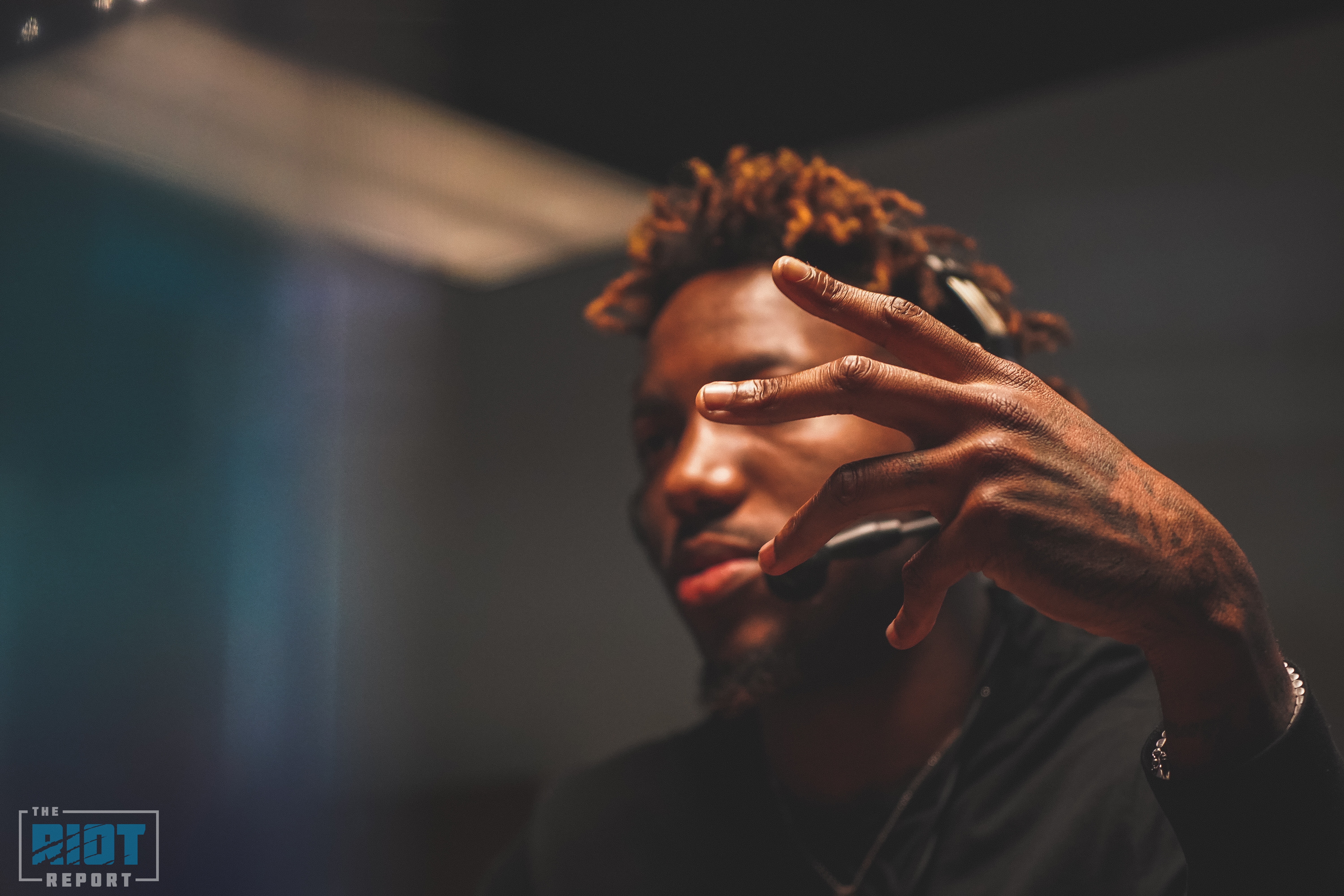 Waiting For His Turn To Play
Standing on the sidelines in elementary school football with his twin brother Keon, Seymour begged his coaches to put him in the game.
"Just wait, he said," recounted Seymour. "Just wait."
So they waited. And waited. For game after game – until finally their coach relented.
"Finally he put me in, and he was like, 'just go to receiver and run a go – just run a bomb,'" Seymour told us last week while recounting his path to football. "I ran a go – caught it, scored! Best feeling ever….so then he put my brother in and my brother scored."
"After that, we started playing more and it just went up from there."
The area where Seymour grew up in Pasadena, California is not far from the glitz and pageantry of the Rose Bowl parade and the vibrant, upscale community that echoes in the city nicknamed the "Crown of the Valley" sitting a few minutes from Los Angeles. The Community Arms neighborhood, where Seymour grew up, has a different nickname.
The Snake Pits.
130 units sit on the northwest side of the city, just over a mile from Old Pasadena where the Rose Bowl Parade begins, separated from Orange Grove Boulevard with gates installed to stop the bullets that could seemingly fly at any time through the complex that was run by the Pasadena Denver Lane Bloods, a gang that has been around since the 1980s and haunted Seymour and the rest of his family for their time at the Community Arms.
Police raids. Crackheads. Shootings. All a part of daily life for Seymour, his twin brother, his older sister and mother, Veronica Starling – Starling worked long hours as a nurse to provide for her family, to make their small apartment feel bigger than it was.
"Looking back on it, I never realized…all the things my mom sacrificed for us," said Seymour. "There was never a time where I felt like we were poor and living in poverty because my mom made us feel like we were living in a mansion."

It was no surprise that Starling encouraged Seymour and his brother to turn to sports to keep them busy – instead of the alternative that so many others in the neighborhood had turned. So Seymour and his brother played basketball, baseball and football; while Keon would excel at baseball, Kevon was made for football. Sports kept the boys busy while Veronica was working, sometimes leaving before the children would waken and come home after they had gone to bed.
"That used to kill me and my twin, waking up and going to elementary school – not waking up to a mom or a dad, that used to kill me. I just told myself I'm going to make a better way. My mom will never have to worry again or live this way – I always told myself and always made that promise to myself."
"When you come from nothing to something, you're coming from the bottom. You have completely nothing – I'm just trying to work my way up and do things the right way."
But first, he had to wait.
Waiting For His Chance
After excelling through high school – he was the first player from Muir High School to be invited to the Army All-American Bowl, where he was roommates with future teammate Shaq Thompson – and receiving offers from multiple colleges, from Alabama to Florida to the University of Washington, Seymour eventually chose to stay close to home at the University of Southern California, right down the street from his mother, sisters and brother.
If it hadn't been USC, it would have been Washington, where mentor, father figure and former cornerbacks coach Drew Pearson paid Seymour's way to their football camp and helped put together the highlight reel that landed Seymour the offers in the first place – but it was the lure of staying close to home that ultimately led Seymour to choose Lane Kiffin and USC.

"I can't [go] away from home," said Seymour. "I could have, but my mom would have been home by herself, I've got a twin brother, my baby sister, my older sister – there's no way my family would be able to come see me play. We didn't have no money like that, they can't just hop on a flight; if I needed something, they couldn't just come for me. I've just got to make the decision to stay close to home."
After two seasons of starting and producing like the top ten cornerback prospect he was expected to be, Seymour battled both ulcerative colitis that caused him to lose 15 pounds before his junior year – "It was the worst pain of my life; I didn't know what was going on," and vision issues that weren't discovered until the doctors at the scouting combine told him he was legally blind in one eye – "both of them were bad, but one of them was super bad. I didn't know, I just thought everybody had the same vision as me."
Even after a lackluster senior season, a team scout told him he was their #1 cornerback on the board during the draft process and teams were calling as soon as the second round to say they were angling to select him after a sub-4.40 40-yard dash at the combine, but ultimately he lasted until the 218th pick where he was selected by the Buffalo Bills.
"Everything was just out of my control," said Seymour. "I used to go home, back to my room and talk to my fiancee – what am I going to do now if I don't make it? I'm going to have my degree, but I wanted to keep going so I could give my mom help sooner [rather] than later."
Up Next: The Wait Is Almost Over