Terrell Owens stands aimlessly by a fence, looking at his phone and waiting patiently for the next game to start. Eventually, a fan calls out his name, "T.O! Can you sign this for me, bro?" The mercurial wide receiver obliges, and as he does, a stray kickball passes him by and he doesn't look up. It doesn't matter, because Jameis Winston happens to walk by at that moment and snares the foul ball, tossing it effortlessly back into the field of play like a wide open bomb to Mike Evans. Except it's not Mike Evans on the receiving end, it's Panthers defensive tackle Toby Johnson. Less than 100 feet away, dozens of screaming children play basketball with UNCC mascot Norm The Niner.
This is the scene at the 2017 Kicking It With Cam kickball tournament.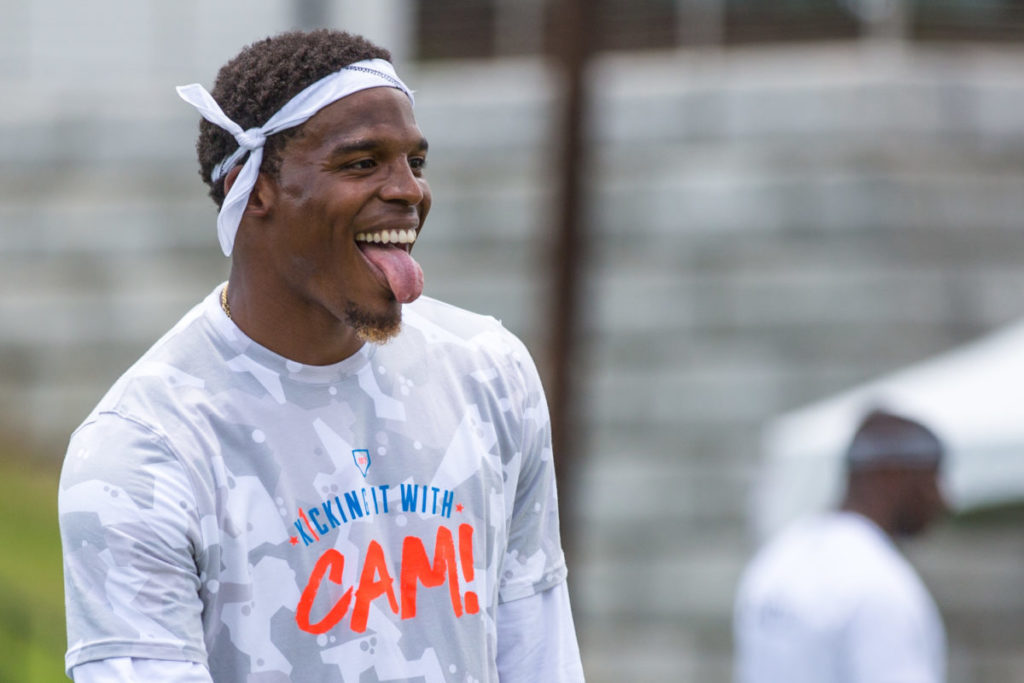 Cam Newton's 2017 iteration of the annual charity event was another huge success, with 18 teams, each representing a sponsor of the event, ranging from local breweries to huge corporations like Gatorade and American Airlines to fan groups like The Roaring Riot. Each squad was assigned at least two celebrity teammates, and the guest list was certainly star-studded: besides the obvious namesake of the event, there were Charlotte Hornets past and present stars Frank Kaminsky, Cody Zeller, and Muggsy Bogues; ESPN Host Marty Smith; NFC South rival Jameis Winston; former Panther Brandon LaFell, music icon Montell Jordan; and too many Panther players to name here, but a few of them include Devin Funchess, Jeremy Cash, Austin Duke, Taylor Moton, Alexander Armah, Damiere Byrd, Dean Marlowe,  Amini Silatolu, Charles Johnson, Eric Wallace, Luke Kuechly, Toby Johnson, Fozzy Whitaker, and Daryl Worley. Plus many more!
As if this wasn't enough, Josh Norman, Jonathan Stewart, and Terrell Owens sauntered onto the fields during the first game. Owens personally inserted himself into the lineup and immediately went head-to-head with Cam, both showmen yelling trash talk at each other before T.O. popped out to right field. Round one to the host.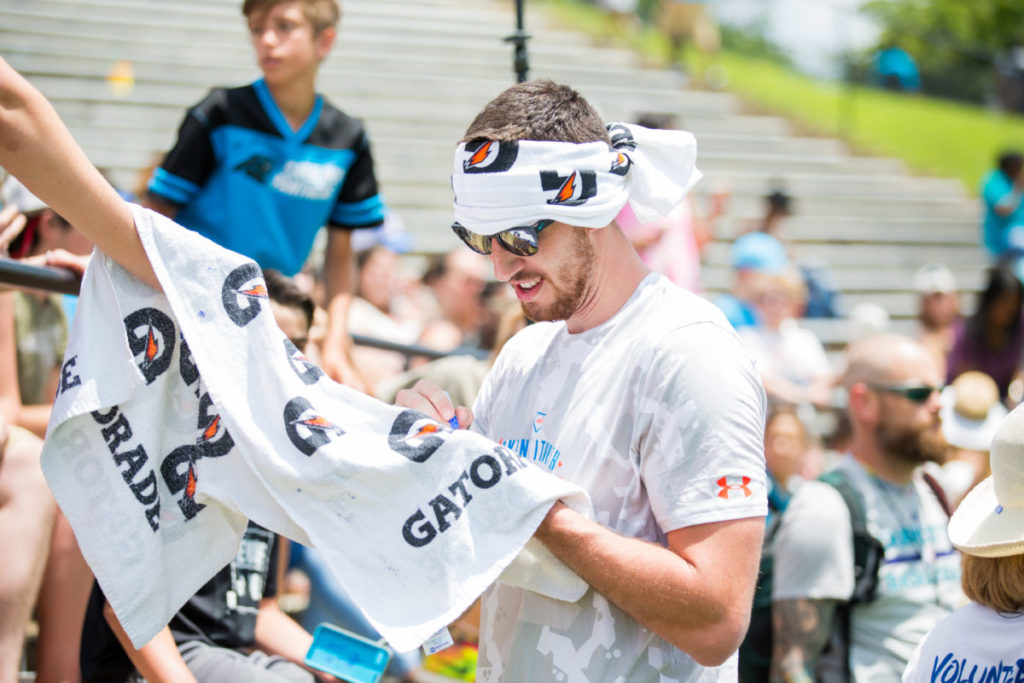 The great thing about this event is not watching grown men and women that you don't know play a sport designed for children, but getting to interact with the stars in an environment outside of football. Watching a huge man like Amini Silatolu give kickball advice to a diminutive millenial woman feels surreal. After a player on his team suffered an injury, Luke Kuechly offers to give the injured player's significant other a ride to the hospital to check on them. It's that kind of vibe. The food trucks (including Newton's own Smokn' Aces) between Memorial Stadium and the adjacent park housing the tournament are serving delicious food, the weather is fantastic, and everyone is in a great mood. Panther fans who started lining up at 8:30 AM for the doors to open just after noon are happy as Cam and the rest of the players don't mind signing autographs (especially for children), and were constantly interacting during their downtime.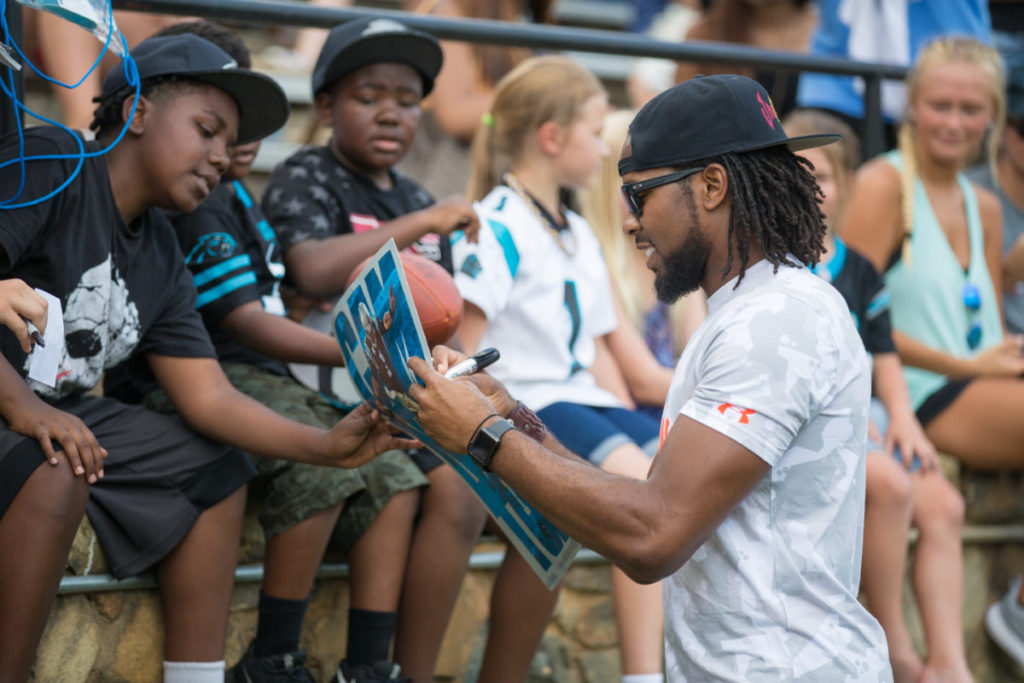 Don't let the laid-back vibe give you the impression that things are not extremely competitive, with all the competitors wanting to bring home the ultimate prize, a silver trophy but more importantly, bragging rights for the entire year. Brandon LaFell had an extremely heated argument with an umpire about whether an important ball was fair or foul, Toby Johnson went storming to the opposition's bench when he felt they had batted out of order, and Fozzy Whitaker sprinted across the field screaming to give his teammate a high five and embrace after a particularly fantastic defensive play. But Newton embraced the competitive spirit the most, refusing to give high fives to opposing teams until the end of games (always with a huge smile on his face) and constantly stretching singles into doubles, triples or even home runs as the other teams struggled to contain the laser-quick quarterback. While he couldn't throw overhand due to his recent surgery, he called pitching underhanded "a natural motion", and constantly sent people back to the bench after getting them out with a throat slash or an insult. An opposing player overran third base and as Newton tagged him out, he said "He's out!" before looking the man in the eyes and saying, "You dumb." Having an NFL MVP call you dumb is not something that happens every day.
The rosters were fluid when it came to the celebrities, with Newton's Lokai team inheriting various players as they rolled through the tournament, which led to Cam's ultimate tournament victory. Truly, who wins the tournament doesn't matter.
It's the experience that counts.
Be sure to check back on Monday for a Kicking It With Cam Photo Gallery with more highlights and snaps of the fun!