The 2018 Kicking it with Cam! Celebrity Kickball Tournament is coming up this Friday so I wanted to give you some quick info on the event and hopefully encourage you to attend if you're in the Charlotte area and able to make it uptown to Memorial Stadium. If you've never attended the tournament and are a Panthers fan, this should be your year.
First the whats:
Kicking it with Cam – Friday, June 1st , 2018
Doors open at 11:30a
$5 (cash only) general admission tickets available at the door
Proceeds benefit the Cam Newton Foundation 
Now the whys:
I was a volunteer for the tournament last year and I can tell you it's definitely a great event for not just Carolina Panthers fans, but anyone who enjoys a day outside watching your favorite celebrities having a great time and raising money for charity. First of all, the list of celebrity athletes is LOADED. Last year there were almost 20 kickball teams and each team had at least two celebrity players. Do the math and it equals…quite a few. And these aren't B-list athletes either. The Panthers will be finishing up OTAs, so most of the players are there and are on teams – off the top of my head I remember seeing Luke Kuechly, Damiere Byrd, Devin Funchess, Fozzy Whittaker, Charles Johnson, and Austin Duke all on teams last year.
Watching your favorite team's players on the kickball field is quite entertaining – these guys want to win (and beat Cam's team especially) in the worst way and they aren't afraid to get after it. There are plenty of home runs, pegs with the ball, and several over-the-fence dives for outs where you'll hear several people yelling the ESPN SportsCenter jingle – if you've ever wanted to see a 300 pound offensive lineman yelling at a 150 pound volunteer kickball referee because he thought he was safe, you'll want to spend some time at Memorial Stadium this year. In addition to most of the Panthers roster in attendance, last year we got to see Terrell Owens, Muggsy Bogues, Josh Norman, Cody Zeller, Jameis Winston and Montell Jordan – just to name a few. Cam brings out the stars, and this year will be no different. We've seen the list and trust us – there are some fun names on there.
Now for the obligatory "it's for a good cause" statement, and let's be honest, that's the most important part of the entire event. Events like this one are Cam's main sources of fundraising for his foundation – CNF focuses their programs on kids, promoting the mantra "Every1 Learns. Every1 Plays. Every1 Gives." And I hope that you all will visit their site to learn more about their initiatives, but just in case you don't have time for a click, let me break it down to you like this:
Remember the story about Cam visiting Elijah Hughes' Halloween party and bringing the ice cream truck? Or Cam flying out to Auburn to visit 10-year-old Austin Deckard in the hospital? His Un1ted As 1 Program that brings youths in the community together for social change? Maybe his annual "Santa Cam" event where he supplies local schools with backpacks of goods and Soup Kitchens with food? Tomorrow's event plays a major role in allowing him to have the resources to give back and do things like these. So come out – have a good time watching these stars play kickball, support CNF and be proud knowing that every time you see a story of Cam making our community better, you had a little help in making it happen.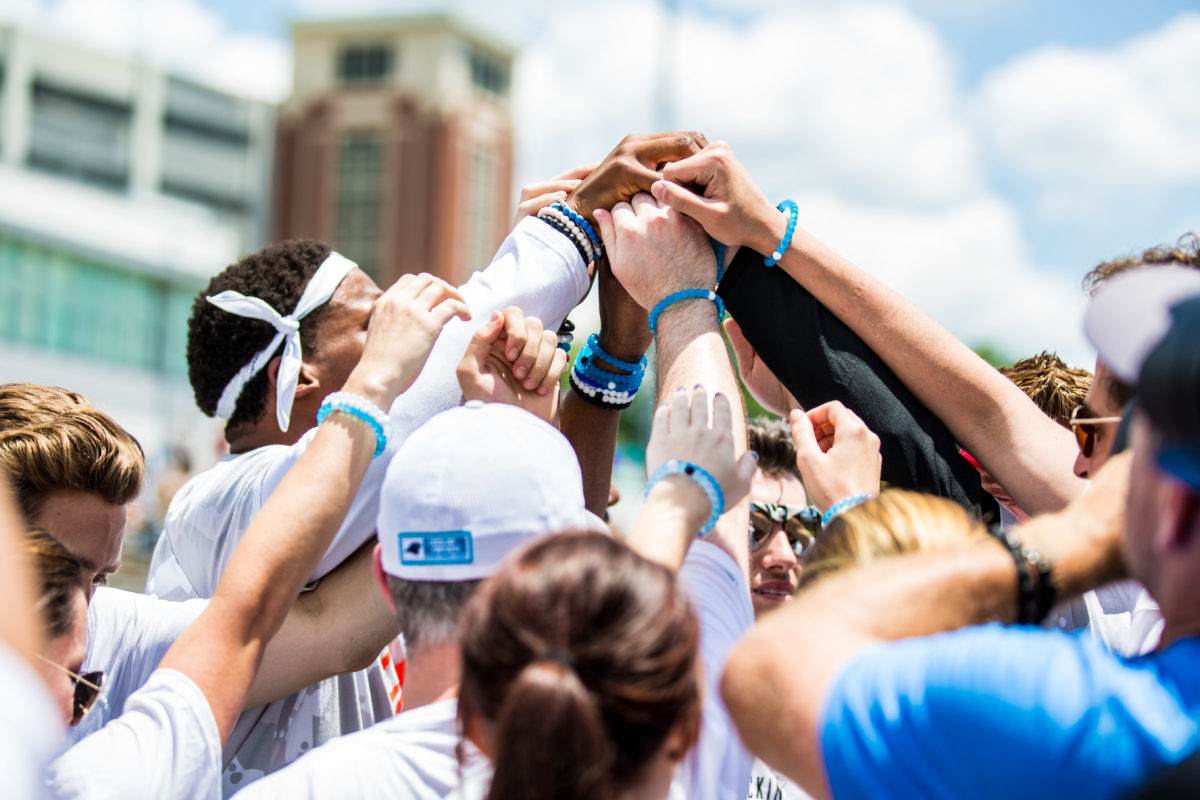 Some miscellaneous info to make your experience better:
If getting autographs or pictures is super important to you, then I suggest you get there early. The stands at Memorial Stadium have quite a bit of room, but you need to really be in the front couple of rows to have a good chance to get the players' attention – last year, fans at the front of the line arrived at 830a. You may not need to get there that early, but if you show up at 2p, the prime spots may already be taken. They will sign – I saw them do it quite a bit last year. The best spot is immediately to the side of the VIP tent that's at the ersatz 50-yard line; don't worry, you'll see it.
Cam will bounce between Memorial Stadium and Independence Park across the street. If you head over to the park, then you'll be able to get super close to him and the other celebs.
It's hot out there – be prepared. The weather doesn't look too bad on Friday, but dress accordingly – you can still get sunburned on a cloudy day.
There will be food and concessions available for purchase, plus some tailgate-type games.
The Championship game starts at 6:30p and has featured Cam's team in both of the previous years – it will likely always feature Cam's team – he doesn't like to lose.
If you can't make it, be sure to follow The Riot Report on Facebook, Twitter, and Instagram – we'll be doing as much live streaming as we can! If you are there, be sure to cheer on the Roaring Riot squad! We'll see you out there!