Kyle Allen had a homecoming last weekend in the Panthers' 38-20 victory over the Arizona Cardinals – that turned out pretty well.
In Week 4, Allen will once again return to a city he is familiar with – and match up against a quarterback he had a relationship with – and Allen's not changing a thing in the hopes that his success in his first two games accompanies him to Houston.
"Same preparation, same process – and hopefully the same result on Sunday," said Allen ahead of his third career start.
As one of the highly touted quarterbacks coming out of Desert Mountain High School in Scottsdale, Allen and current Texans signal caller Deshaun Watson met at the Elite 11 back 2013, in which the nation's premier quarterbacks out of high school compete in various events. Although Allen and Watson were two of the best quarterbacks that year, both players reached the NFL going two completely different routes.
Watson had a tremendously successful three seasons playing for the Clemson Tigers as he helped the team reach two National Championship games while winning one of them over Alabama in 2016. During his time at Clemson, Watson also set multiple school records and was selected 12th overall by the Texans while Allen went undrafted.
Despite their different paths, Allen said on Wednesday, he remained good friends with Watson after their Elite 11 experience – even working out together during the offseason this past summer.
"Me and Deshaun stay in contact," Allen said after Wednesday's practice. "Deshaun was [at Elite 11] my year, and I remember he was the highly touted guy out of Georgia – the number one guy, hell of a player. I remember seeing him at that camp, and that was the first time I remember seeing the best quarterbacks around the country at that camp."
"It was really cool to watch play, watch him develop, watch him play at Clemson. He's a great leader, great in crunch time, great when it matters the most and honestly, I look up to him as a quarterback."
Allen spent two seasons of his collegiate career at Texas A&M before transferring to Houston for his final year in 2017. During that time at A&M, Allen ascended to the starting role during his freshman season as he threw for 1,322 yards, 16 touchdowns, and seven interceptions.
However, Allen was benched during his sophomore season and that led to his transfer to Houston – where he only played in four games and was benched during the third game of the 2017 season. Instead of going the graduate transfer direction, Allen decided to enter the 2018 NFL Draft knowing there was a good chance he might not get drafted at all.
"I knew," said Allen. "I got benched the third week of the season. I'm self-aware. That was the plan – I was undrafted, I knew I just wanted to get my opportunities and take advantage of them and hopefully, someone bets on me, too."
After he wasn't chosen in the draft, the Panthers brought him into camp to compete with other young quarterbacks to back up Cam Newton.
"It just took a couple of weeks to think about it and really weigh all of these options out," Allen said. "For me, I was just ready to bet on myself because I thought I had the ability and I thought if I was given a chance like here in Carolina – even undrafted and just being signed – if I was given a chance to go show in practice, go and show in training camp, go and show during the preseason that I could play, someone would hold on to me, and I'm glad Carolina did."
Eventually.
First Allen was released and spent seven weeks without a job before returning to the Panthers in late October – first on the practice squad and then to the active roster on December 2nd. Three weeks later, he was getting his first game action – a week after that, he was getting his first start on the road in New Orleans.

Fast forward to 2019 and Watson has been the Texans' starting quarterback for three seasons now. Last year, Watson was named to his first Pro Bowl after helping the Texans win the AFC South with an 11-5 record. On the other side of that coin, Allen is just now getting an opportunity raise some eyebrows with his performance.
In the victory over Arizona last week, Allen finished with 261 yards, four touchdowns, zero interceptions and a passer rating of 144.4 – the second-highest in franchise history. Even with the win, Allen says there are some areas the Panthers offense can still improve on.
"I thought we really did a good job offensively in total, it was just executing and staying within the gameplan," Allen said. "Like I said to you guys after the game, I think that was our main focus coming into the game [was] we just wanted to execute, not do too much, do our jobs and eliminate mistakes as much as possible. So I think we really did a good job of that for most of the game."
"I think for me, obviously, that fumble on the first series is unacceptable in the red zone. But I'm happy with the way we bounced back from it. I think there's a lot of things we can clean up….with me and the whole team. But I think it is little things here and there, but the little things lead to the big things – so we're focused on that."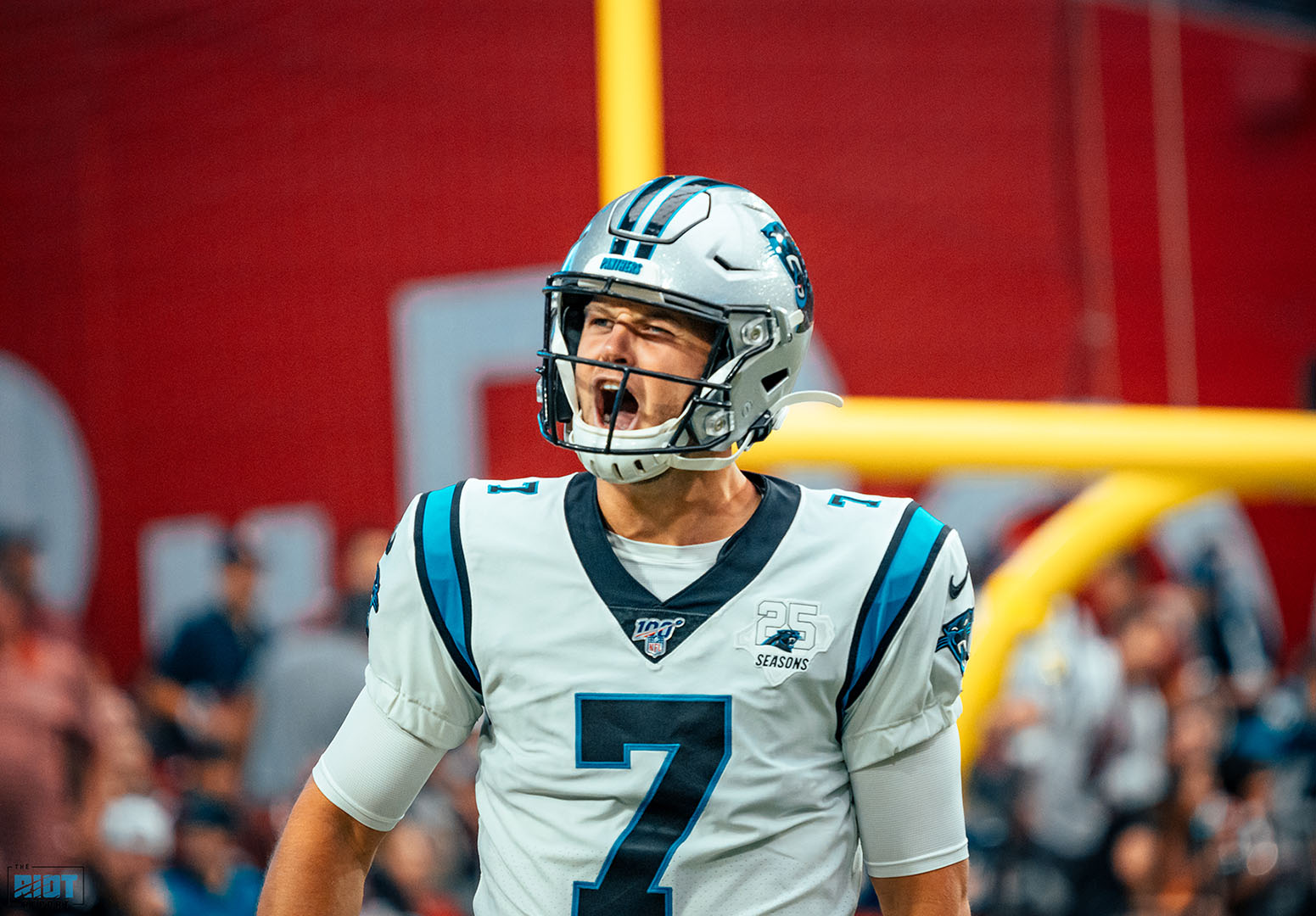 Panthers coach Ron Rivera says he sees a certain quality in Allen that makes several undrafted free agents successful in the NFL.
"The one thing I see in Kyle is [that] he has a tremendous amount of confidence in his own ability," Rivera said. "I think that is one of the things that helps set him apart from other guys when you watch him in practice. Just having watched him the last two training camps, you see it – he has a lot of confidence in his own ability. Guys that succeed as undrafted free agents are those guys that exude confidence."
The path to the NFL isn't probably what Allen envisioned when he was in college, but he has an excellent opportunity as it's currently unknown when Cam Newton will return under center. Allen knows he took a chance entering the 2018 draft – and he'll continue to believe in himself and his abilities.
"I think it's ingrained in who I am," said Allen as he spoke to a crowded media room. "I think as an undrafted quarterback in this league, you've got to keep betting on yourself because no one else is going to – you keep betting on yourself, you keep proving yourself, it's a week-to-week thing, you have to show up every single day because you are not going to get as many opportunities as everyone else."
"For me, it was just about betting on myself, coming in and playing as consistently as possible every single day."
That bet is starting to pay dividends.