Kyle Allen had been at home working out for Weeks two through seven – the weeks he didn't have a job – getting prepared for this day. The day that he would be more than just a practice squad quarterback, more than just a backup quarterback – the starter against the New Orleans Saints on the road in the season finale.
Allen had been preparing for this moment his entire life and when his number was called, he shined.
"My aspirations were never to be a practice squad quarterback all of my life," Allen said after the 33-14 victory over the Saints. "So, I prepared every week like I was going to play because you never know. I didn't want to show up two weeks ago and not have prepared all year for that opportunity."
Not letting the moment be bigger than him, Allen displayed the confidence of a veteran quarterback that has been doing this his entire life. In some respects, though this was his first start, he looked like a wily veteran as he escaped the Saints' pass rush time and again to either pick up first downs with his feet or find his pass-catchers – he targeted nine different men on the day; Allen said it was his confidence in himself that allow him to perform the way he did against New Orleans.
"It's just been built up for a long time," Allen said "I've been around a lot of great quarterbacks in this league, and I knew I can have success in this league. I think it's self-confidence. I just think that at the quarterback position, if you do not have confidence, you do not have anything."
Allen dominated the Saints the entire time he was on the field prior to leaving the game with a shoulder injury with his team ahead 30-0. He completed 16 of his 27 pass attempts for 228 yards and had two touchdowns. His poise and confidence was the talk of the locker room after the game, garnering high praises from his teammates and his head coach, Ron Rivera.
"He showed us that he is capable," Rivera said. "He is a young man that has some growing and has some things to learn, but I do think that he is a guy that is going to come in and compete and give us everything that he has."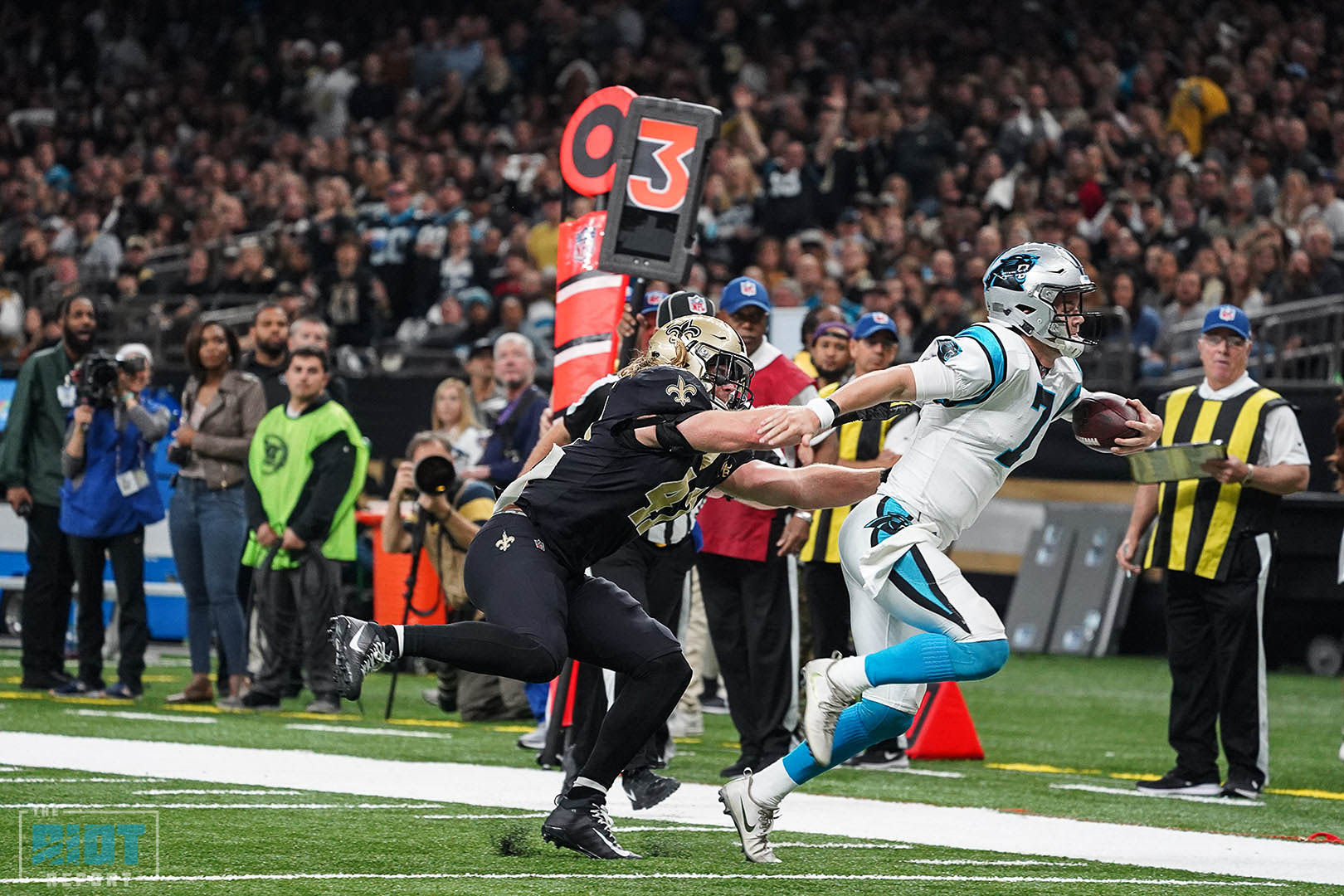 Though this was Allen's first time starting for the Panthers, he showed a steady approach, not allowing what was going on around him at the SuperDome – one of the toughest places in the NFL to play – to alter his approach at all. Rivera said he likes how Allen stays level-headed regardless of the circumstances.
"He is one of those guys that can take a moment and make it what it is," Rivera said. "Some guys get moments like that and seem to blow it out of proportion. Kyle always seems to have that same, steady approach, and I appreciate that."
The praise for the 22-year old didn't stop with the coach; when it was announced in the locker room that Allen would have his media availability at the podium – something usually reserved for star QB Cam Newton – DJ Moore and Curtis Samuel cheered and laughed.
"Wow, Kyle had a podium game," Moore grinned. "It was great just seeing him out there balling – he just let it rip from the get-go and never looked back."
On the opening drive, Allen led his team down the field in 11 plays spanning 75 yards with a one-yard touchdown run to conclude the scoring drive.  But it was the 53-yard bomb to Samuel that delighted the sidelines.
"We were all happy. When he threw that touchdown to Curtis, you just [saw] the entire sideline just light up, so that's probably a special moment for him," Moore said.
Samuel said he saw the play coming and just was glad to be in position to make the catch – the deep balls have been few and far between this season.
"Oh, I knew [when] the play was called, I knew the ball might [be] coming to me," Samuel said. "And I [saw] the safety sitting down right there. I was like, it's no way he's throwing the ball [but] I was like I'm not going to slow down because it is a chance he is going to throw it. I see the safety sitting and I ran pastthe safety and I looked up and the ball was right there."
"I was like holy moly let me go get this ball!"