After selecting Will Grier in the third round of the 2019 NFL Draft, many considered him the favorite to backup Cam Newton when the 2019 season began, but during training camp, the Panthers have split the second-team reps evenly between Grier and last year's Week 17 starter Kyle Allen.
In other words, not so fast.
After being signed as an undrafted free agent after the 2018 draft, Allen competed with Taylor Heinicke for the backup job before being assigned to the practice squad for the first week of the season only to be released eight days later and spend the bulk of the season training at home waiting for another chance – Allen got that chance when the Panthers brought him back to the practice squad after the team's Week 8 victory over the Ravens.
Injuries to both Newton and Heinicke forced Allen into the starting role against the Saints in Week 17 and in the 33-14 victory, Allen completed 16 of 27 passes for 228 yards and two touchdowns while also adding a rushing score. Allen said on Sunday after practice, that performance in a starting role proved that he belonged – not only to the coaching staff, but to himself.
"Coming out as an undrafted rookie, I [might] have never played in another game in my life," Allen said. "So being able to come in and play in that last game and play well and get us a win, it was a good confidence boost going into the offseason trying to carry it over."
"It's a new year, new people, new schemes and everything, so you just have to come every day."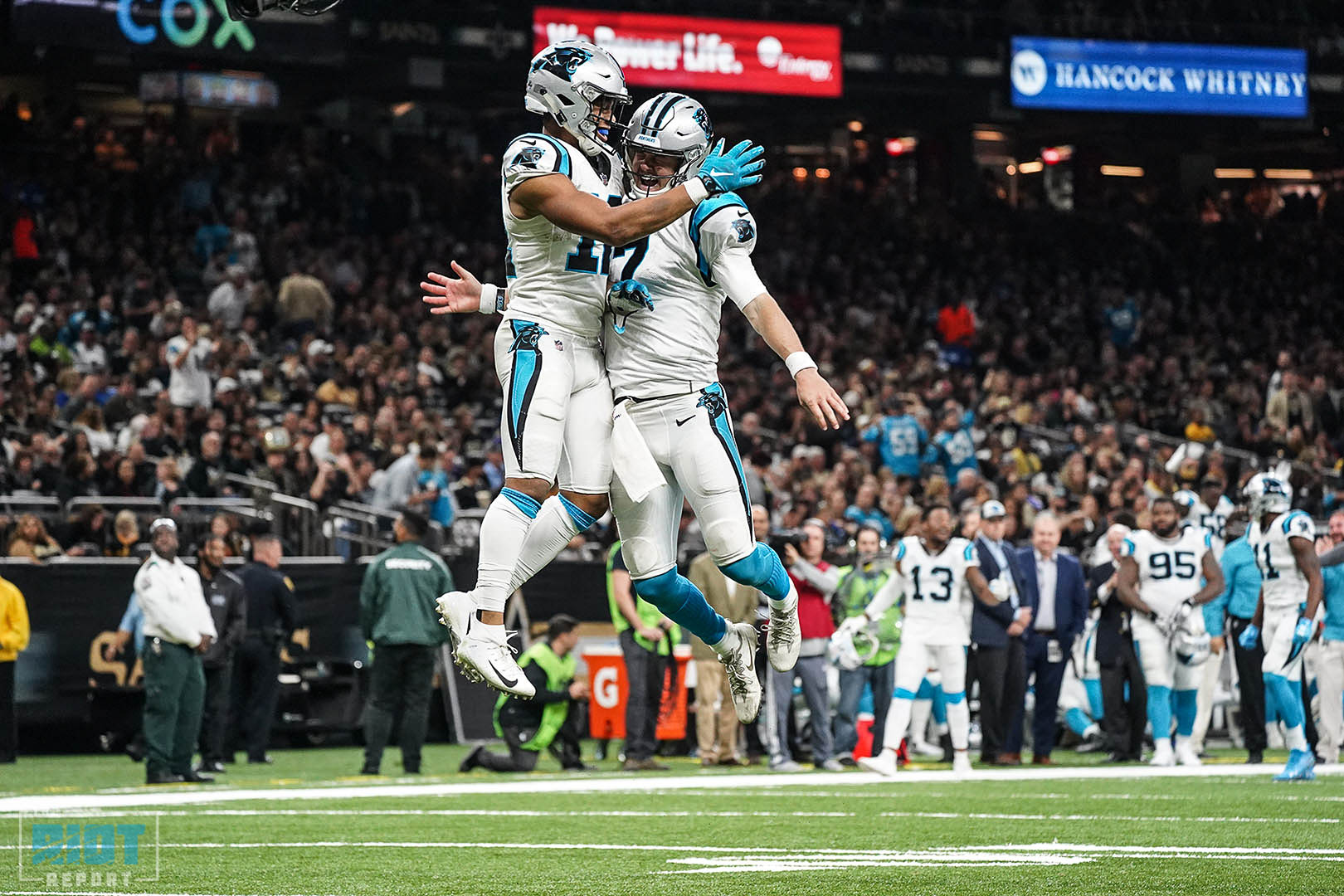 Now, as 2019 training camp wears on, Allen has an opportunity to make the Panthers 53-man roster. On Sunday afternoon, the Panthers released their first depth chart of the season and Allen was listed as the team's backup quarterback with Grier behind Allen.
Panthers head coach Ron Rivera has praised Allen's even-keel approach as an excellent attribute for the young quarterback.
"Kyle is really cool and calm, I love his poise under pressure," Rivera said. "You do see him starting to understand the concepts even better, you see him going under his progressions even better. It is kind of interesting, when Kyle takes what is being given to him, you see him move the team [down the field] systematically. When he gets a little carried away and wants to throw the deep throws, sometimes they're great throws and sometimes they're a little ill-advised. But you do see him understanding what we are trying to do and you do see that confidence."
Allen believes the ups and downs he experienced in college, transferring from Texas A&M to Houston, have shaped his personality.
"I think it comes from experience," Allen said. "I don't think it has always been that way. I think it has kind of been the person I've grown into, the man I've grown into. You have to experience the highs and the lows to really find yourself and find that even-keel personality. So I think, over the years, I've experienced those lows and those highs and I understand how to stay even through that stuff – especially at the quarterback position, you gotta be even."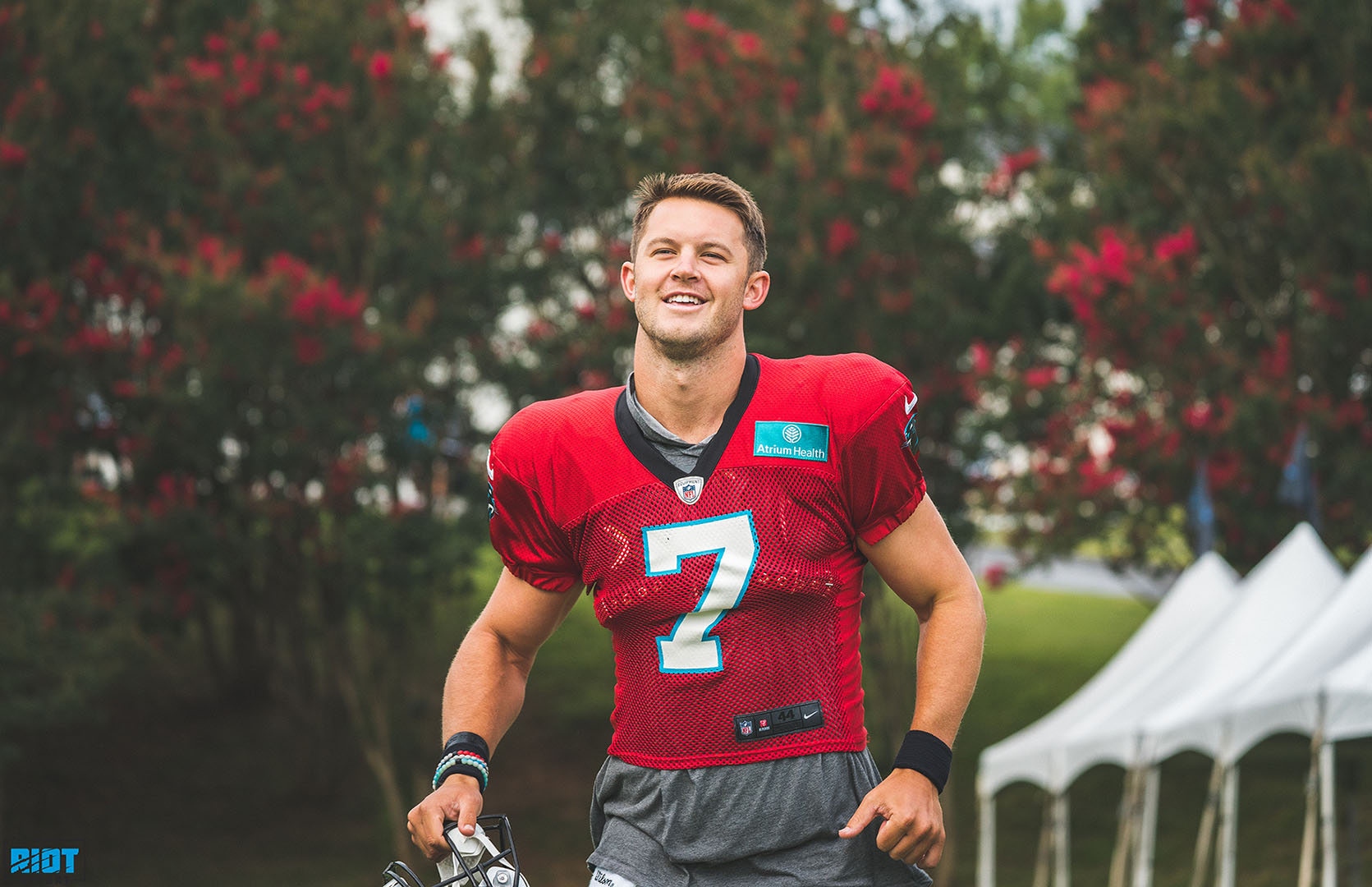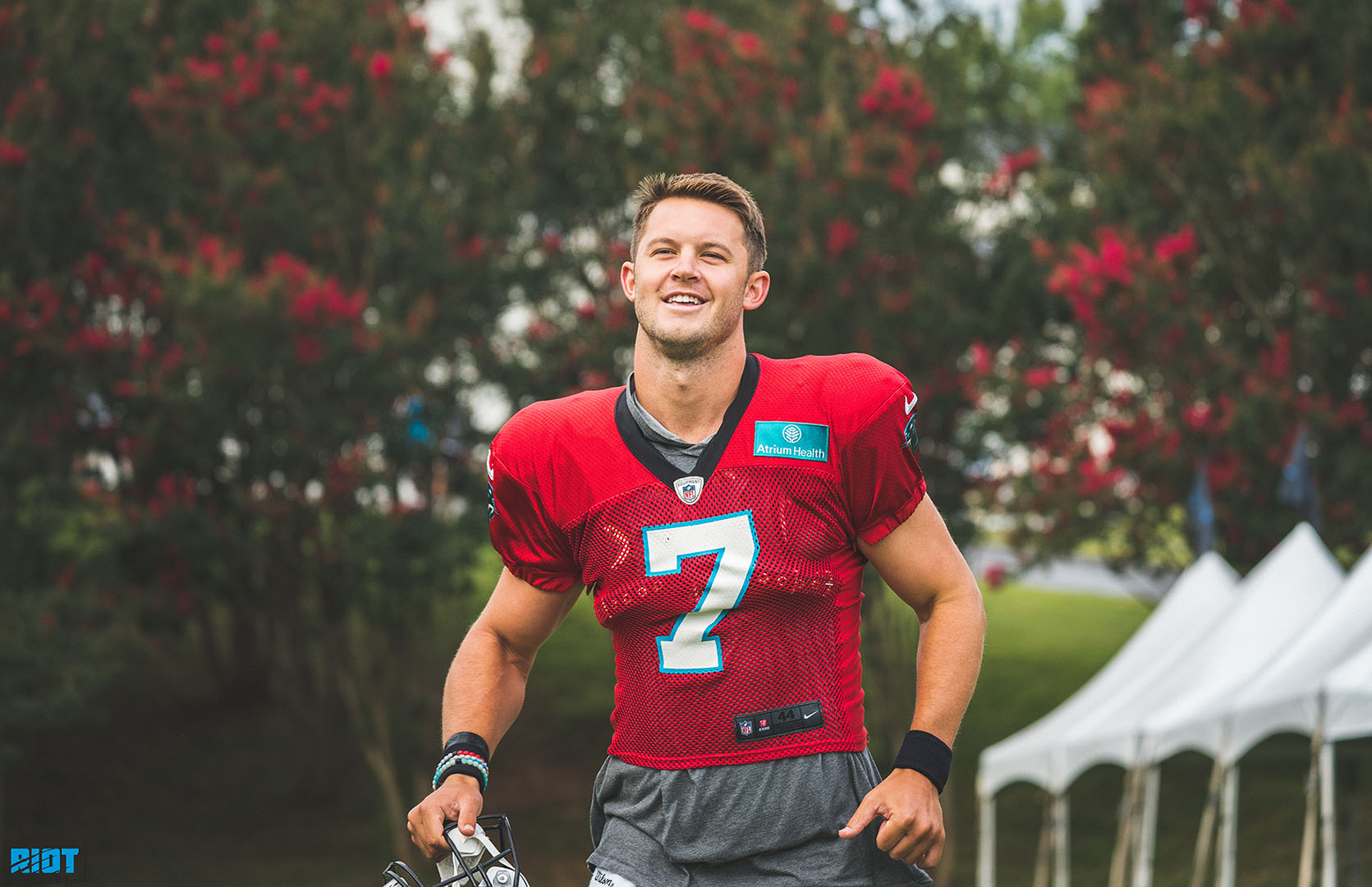 Throughout training camp, Allen and Grier have gotten equal reps, and that shouldn't change in the Panthers' preseason opener against the Chicago Bears this Thursday. Last season, the Bears surprised many by winning the NFC North with an 12-4 record. Depending on the team's plan, there's a chance Allen could start against the Bears – Rivera has not announced who will start, nor what the plan is for rotation between the QBs.
Although many starters won't likely play a ton on Thursday night, Allen says he is looking forward to the challenge of the Bears highly heralded defense.
"I think it is an awesome team for us to start out with," Allen said. "I think their success last year, obviously, it is preseason, so you won't see everything, it is a great challenge for us."
A challenge Allen knows he is up for.