After beginning his career 5-0 as a starter, Kyle Allen came back down to Earth last weekend in the Panthers 51-13 loss to the 49ers last week. Heading into this week's game against the Titans, there were questions if Allen's magic had run out.
While tales of Allen's start had him in the Hall of Fame after five weeks and last week's loss had Panthers fans cursing his name, Sunday's game – with a mix of both good and bad moments – was probably closer to the kind of quarterback and leader the Panthers quarterback can be.
Carolina defeated the Tennessee Titans 30-20 as Allen had another solid day in his sixth career win as a starting quarterback. He threw for 232 yards and two touchdowns as Allen was able to recover from an early first-quarter interception, at one point throwing nine consecutive completions and leading the Panthers to the most points scored against the Titans in a game this season.
In the first quarter, the Panthers offense appeared to be lacking consistency as Allen did what he was doing last week – pressing and throwing passes into tight coverage. But after a Donte Jackson interception, the Panthers offense had a short field to work with, beginning the drive at the Titans 15-yard line and using a fourth-down conversion to punch the ball in, sparking the Panthers to an early lead. The Panthers QB had produced a passer rating north of 110 when leading in games heading into Week 9, but played at a 57.2 rating when trailing thus far this season, so it was important for the Panthers to get started early.
Allen completed a seven-yard touchdown to McCaffrey off the play fake on fourth down and that gave the Panthers a 10-0 lead in the second quarter – that show of confidence by Ron Rivera and Norv Turner appeared to jump-start the Panthers offense.
"We had a lot of rhythm," Allen said. "They're a team that's going to rolodex their coverage and keep going to three, going to two, playing man. I just felt like as an offense we were in a rhythm that drive. We understood what coverages they were running and we got the ball out quick, which is huge for us."
"That was really big for us."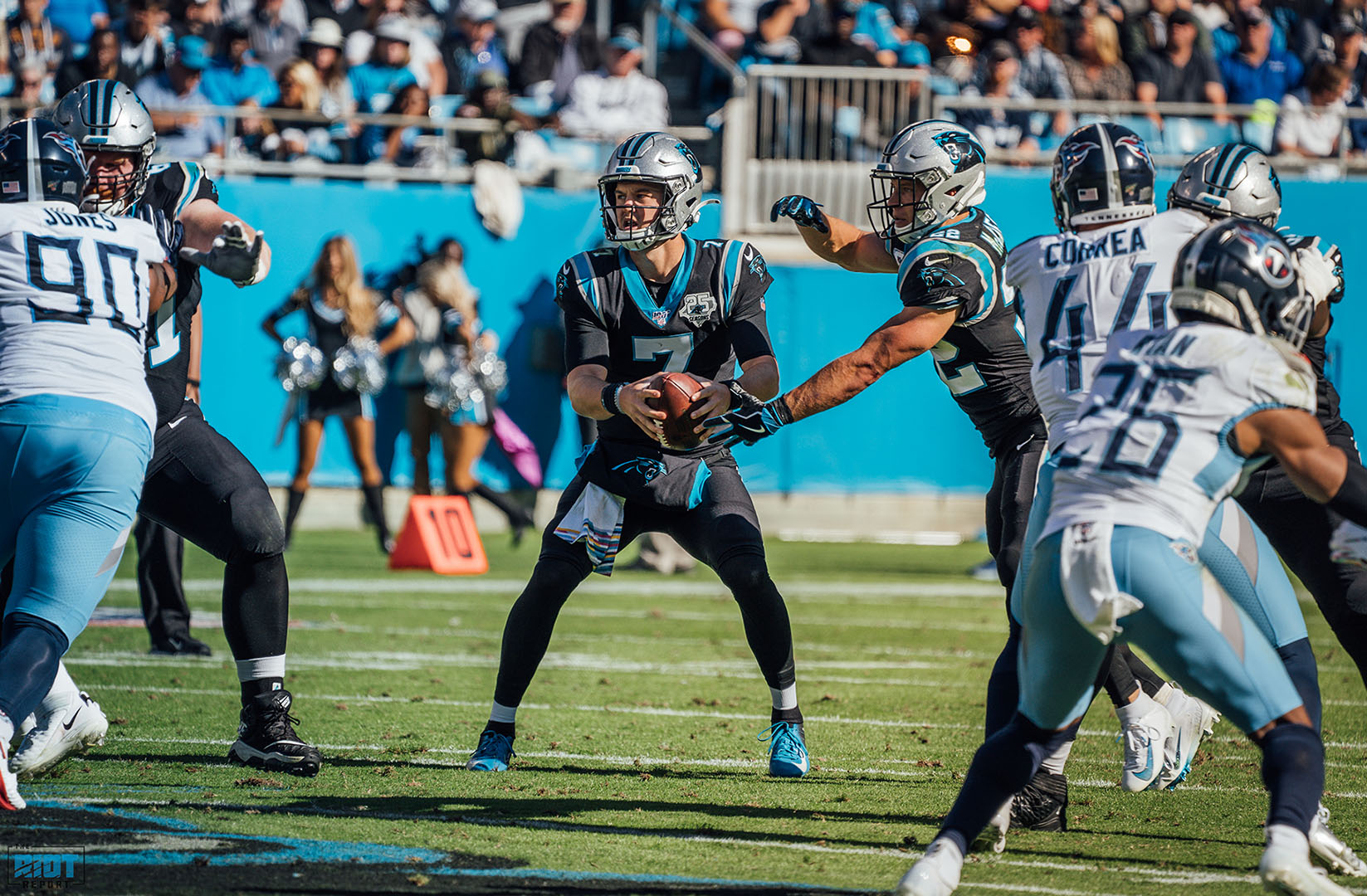 Sunday's victory against the Titans was a good bounce-back game for Allen as he said all the right things throughout the week after a difficult loss where he threw three interceptions and was sacked seven times – the pressing that caused him so much trouble last week reared it's ugly head early before Allen settled down in the second quarter.
"I just thought that he was a little anxious early on and then as he settled in and to the second quarter, you could really start to see him make good decisions," Rivera said.
Not only was Allen's ability to bounce back important from the standpoint of what happened last year when the Panthers had seven consecutive losses after starting the season at 6-2, but because it appears that Allen will be the Panthers starting quarterback for the foreseeable future.
Cam Newton went to visit foot specialist Dr. Robert Anderson in Green Bay on Friday and reports are swirling that Newton may be placed on injured reserve – despite his injury, Allen says Newton has been there to support him ever since he became the Panthers starting quarterback.
"He was around a lot," Allen said. "Like I tell you guys every week, he's always around and we're always talking. You can say a lot about Cam, but he is the heart and soul of this team, just like Christian [McCaffrey]. He's a leader in the locker room and he's there for me and Will [Grier] and he's there for this team as much as he can. We appreciate him."
At the halfway point of the season, the Panthers are 5-3 heading into a huge matchup against the Green Bay Packers (7-2) next weekend. In a tough NFC where division foe New Orleans Saints have just one loss on the year, Allen knows this is a critical game for him and the Panthers.
"To be playing Green Bay, against a great team, who is playing really well right now, is going to be an awesome challenge," Allen said. "We're going to watch this tape and see what it is and move to the next week, but I know we're excited."