Monday was a day for QB-Coach reunions, as far as the Panthers are concerned.
After reportedly agreeing to terms with former Temple QB PJ Walker on Monday morning, the Panthers have traded Kyle Allen to Washington in exchange for a fifth-round pick in next month's draft, a league source confirmed to The Riot Report – the trade re-unites Allen with former coach Ron Rivera, who consistently doubled down on his faith in the former undrafted free agent last season during his 12 starts in Carolina.
The trade also clears up the QB depth chart in Carolina, as with Cam Newton's expected release, the Panthers will have Teddy Bridgewater as their starter with Walker, who was in line to win the XFL MVP if the league hadn't ended it's season early, left to battle 2019 third-round pick Will Grier for the backup spot during training camp this summer.
The Panthers will now have two fifth-round picks after acquiring the 148th pick from Washington.
After signing as an undrafted free agent out of college in May of 2018, Allen originally spent a week on the Panthers' practice squad before spending almost two months working out for teams and trying to hook on with a franchise before being re-signed to Carolina's practice squad in late October and being elevated to the active roster when Newton sat out the final two games of the season due to a shoulder injury.
After Taylor Heinicke suffered an injury in Week 16, Allen made his NFL starting debut in New Orleans and led the Panthers to their first win in almost two months, a 33-14 win over the New Orleans Saints in which the UDFA's 228 yards passing and three total touchdowns impressed Ron Rivera's coaching staff and led to him competing with Grier, along with Heinicke, in 2019's training camp to be Newton's backup – a battle Allen would win in last year's training camp.
Allen was the seventh rookie quarterback with a start in Panthers history.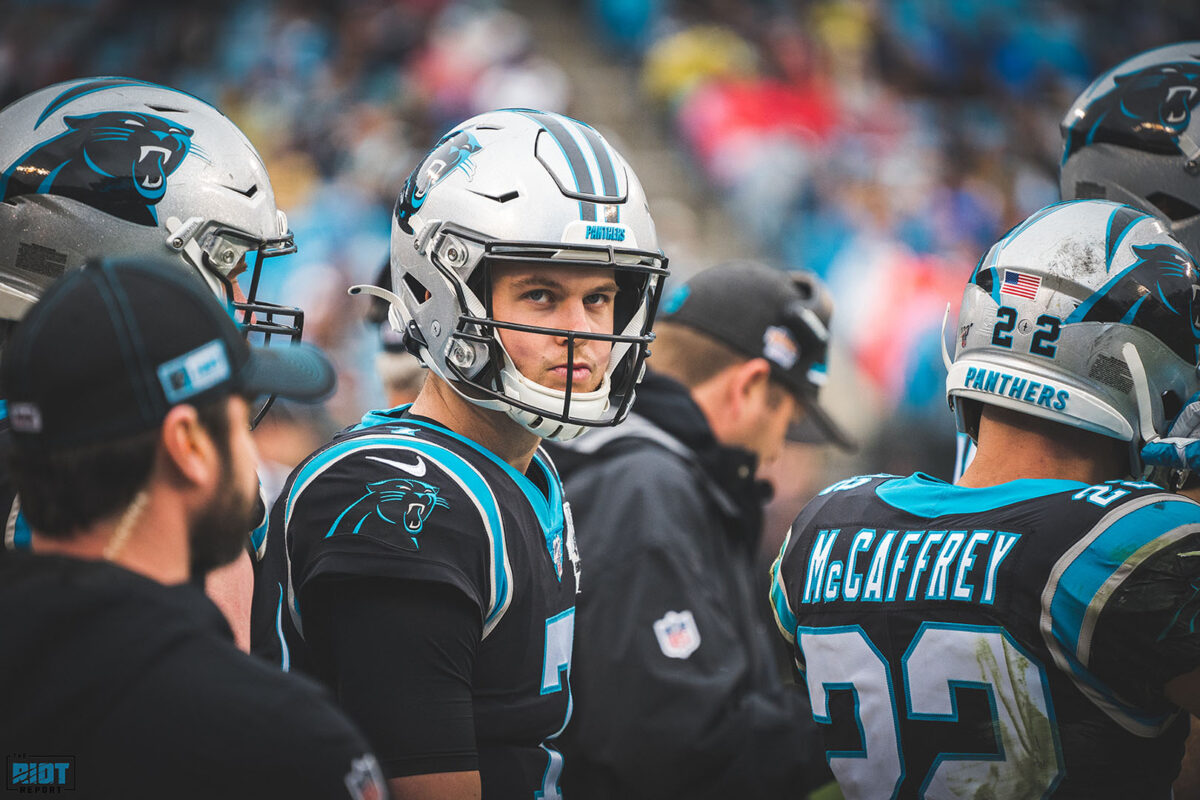 After throwing for nine touchdowns against four interceptions as the Panthers won five of his six starts, he would throw 12 interceptions and only eight scores as the Panthers dropped six consecutive games before Allen was eventually benched for Grier. Rivera, who insisted throughout the season that Allen gave his team the best chance to win once Newton was unavailable and continually talked about his growth throughout the season, was fired with four games left in the 2019 campaign and joined Washington soon after the season ended.
The Panthers are currently remaking their roster, adding multiple free agents since the league year began last week in addition to trading Trai Turner for left tackle Russell Okung – more draft picks will help to complete that roster transition. The Panthers now have eight draft picks in the draft.
Allen, who is 24 years old, was tendered a one-year contract as an exclusive free agent earlier this month – getting a fifth-round pick in exchange for a quarterback who the new coaching staff may not have seen as a part of the Panthers' future but has starting experience and is making the league minimum on a flexible one-year contract is an impressive use of assets by GM Marty Hurney.
Allen is expected to compete to be Dwayne Haskins' backup in Washington.