For four games, wins – the only statistic that ultimately matter in the NFL and unfairly is attributed to quarterbacks whether they deserve them or not – masked flaws in Kyle Allen's game.
While he came out hot in his first matchup against Arizona and led the Panthers to a win – he threw for four touchdowns and averaged over 10 yards per attempt against the worst pass defense in the league – the next three victories should have been attributed either to a defense that forced 12 turnovers in three games or Christian McCaffrey, who accounted for almost 500 total yards and seven scores as the Panthers went from 0-2 to 4-2. Kyle Allen didn't lose those games, but he didn't win them either.
But the past four games – really, every game since Arizona – have been a slow descent towards mediocrity; the penchant for turnovers Allen showed during the winning streak – while he famously didn't throw interceptions in his first four games, he fumbled six times and lost four of them – have now cost the Panthers three of the past four games.
The long passes that we saw last year in New Orleans and in his first start against Arizona have also regressed towards the mean as teams collect more and more tape on the undrafted free agent – remove his first start against Arizona and Allen has averaged only 6.49 yards per attempt, which would be fourth-worst in the NFL among passers with more than 100 attempts, ahead of only Josh Rosen, Mason Rudolph and Mitchell Trubisky.
Allen averaged 6.5 yards per attempt and was sacked five times in the Panthers 29-3 loss to Atlanta.
"He had his moments," said Ron Rivera. "He moved us down into the red zone three times; unfortunately, he made mistakes trying to make more things happen. We could have helped him, we could have protected him a little bit better and again, it comes down to doing our jobs."
"When you play young players, you're going to have growing pains."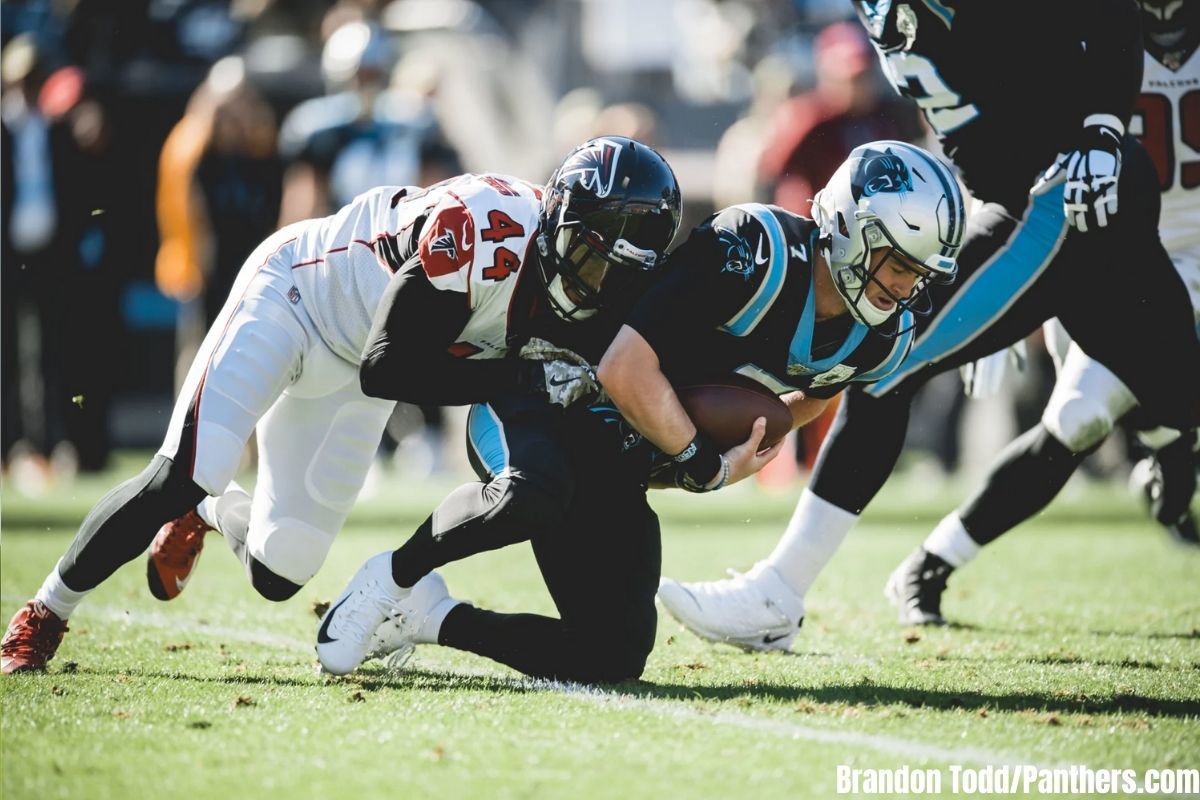 Allen was neither the second coming of Kurt Warner he was touted as by some, nor is he the worst quarterback in the NFL – the answer to who Kyle Allen is likely lies somewhere in the middle; a 23-year old quarterback is going to make mistakes in what is effectively his rookie season.
The fumbles in Allen's first four starts have morphed into interceptions over the past month and Allen now has turned the ball over 14 times in eight starts with nine picks in his past four games; the two turnovers against Green Bay last week nerfed the Panthers chances before Allen gave them a spark late with a long drive that came a yard short of tying the game.
The Falcons entered Sunday with two interceptions all season and snagged four from the arm of Allen, all of them coming on decision making that could be described as questionable if you were being polite, outright terrible if you're being honest.
"From the first quarter, three interceptions in the first half puts us in a horrible position," said Allen after the game on Sunday. "I think it's just poor decision making and I've talked about this before. Turnovers are not going to give us any chance to win."
"So my decision making has to be better."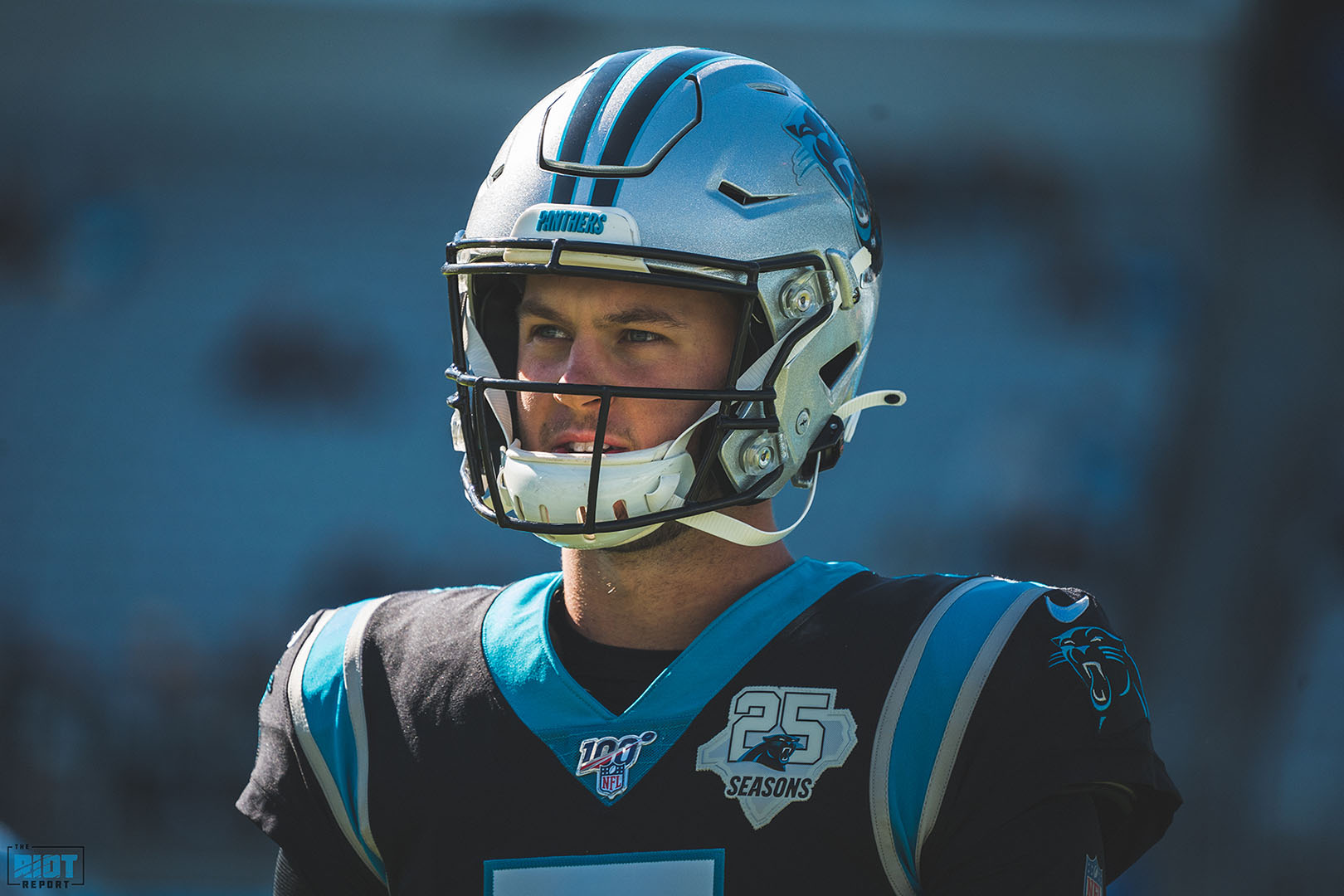 But the Panthers, who have built their roster to contend in 2019 with most of their defensive starters due to hit free agency after this season, can't wait for those growing pains to smooth out – Ron Rivera and Marty Hurney, who are undoubtedly sweating in their seats, can't either.
With the normally even keel Allen understandably down on himself after his worst game as a pro – especially one in a must-win game at home against a two-win Falcons team – both Rivera and offensive coordinator Norv Turner went out of their way to have a discussion with the young quarterback, who was starting only his ninth game Sunday – their overarching message to Allen:
Learn.
"He's a young guy, he's played a lot of football already [in] probably what amounts to his first season," said Rivera. "As he continues to grow and progress, I expect him to learn from this, take something from this and I expect him to come out and play well next week."
Allen still felt as if he let his teammates down.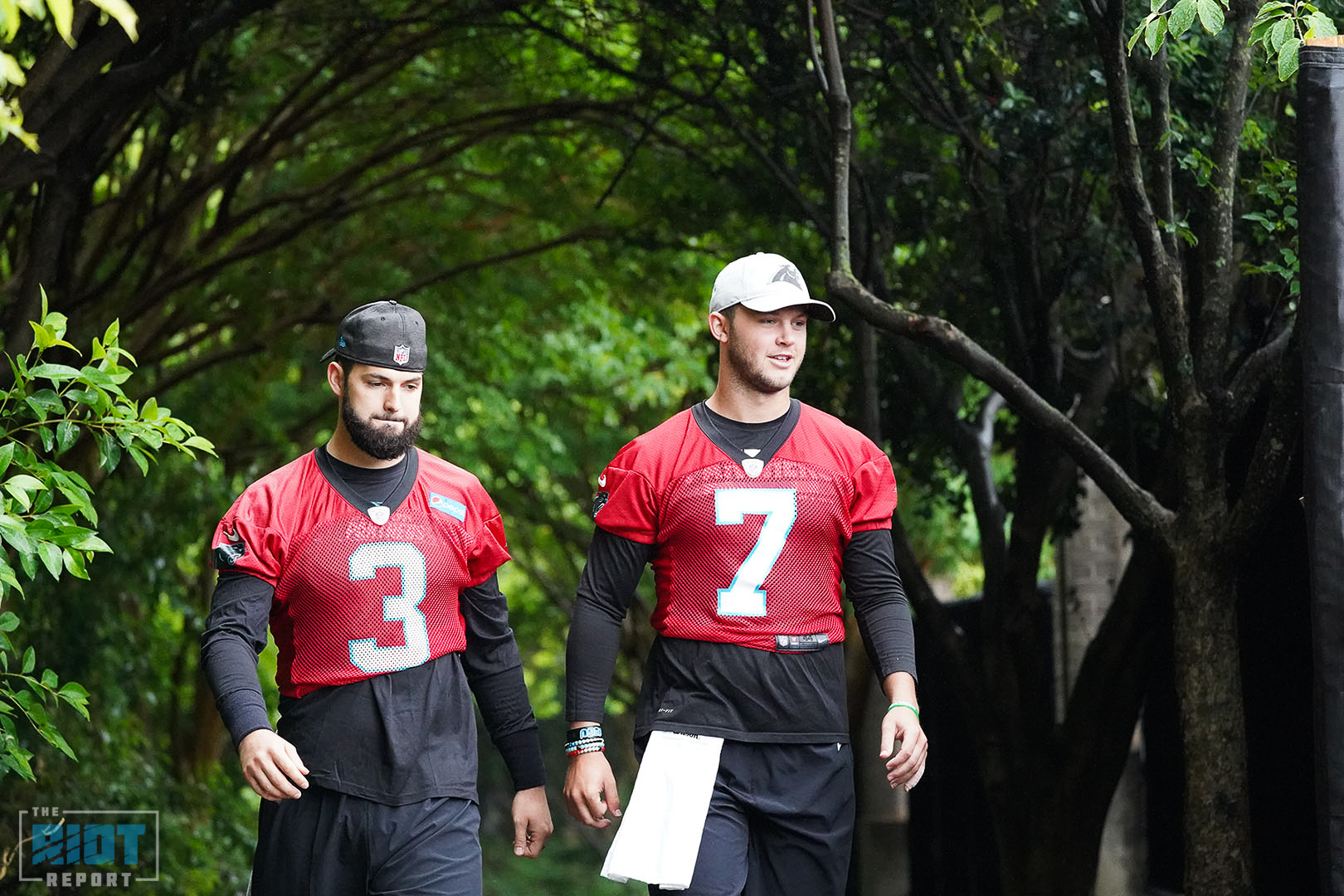 With Cam Newton on injured reserve, the Panthers have two young quarterbacks on the roster and while one of them carries a higher draft pedigree, third-round pick Will Grier is running the Panthers' scout team in practice – and while those reps will certainly help him develop, his growing pains will have to either come on the practice field or later in his career, even as both Norv and Scott Turner give him as much tutelage as possible on the practice fields.
"They watch him, they correct him, they're trying to coach him up, but it is hard," said Rivera. "Right now, we also have another young quarterback that we still have to develop in Kyle as much as we can. It's really all about Kyle right now, and it's one of those things that we appreciate all the work that Will does on the work and in the classroom, because that's really where you learn."
At some point, especially as the playoffs grow farther and
While no one in the locker room is ready to concede the 2019 season, even if they probably need five of their next six to have an outside chance at the playoffs, there will be rumblings about getting the player the Panthers invested the 100th pick in the draft some game reps – especially if Allen struggles again this weekend in New Orleans. But that's too far in the future if you're taking it one game at a time, which the Panthers insist that they are; Rivera said Monday he won't be making any changes to the starting lineup.
"We'll see if we can do it again," said Rivera. "We control it – it's one game at a time, it's one focus at a time. That's probably the biggest thing we have to do is focus in on the next opponent and that's just getting ready for New Orleans."
For Allen, that focus must be on making the right decisions.