"For better or worse, we're a herd leader. We're at the front of the pack, we are one of the first movers. First movers are interesting – you get to the good grass first, or sometimes the lion eats you."
That's a quote from David Tepper – and while it was in reference to his movements in the stock market, it might be just as apt in describing to the way the Carolina Panthers are practicing what they preach during the protests and movement for social change that have been at the forefront of every American's mind since the death of George Floyd at the hands of a Minneapolis Police Officer last month.
On Saturday evening, the Panthers – and by extension, Tepper himself – put their money where their mouth is, severing ties with long-term partner CPI Security in the wake of comments by company founder and CEO Ken Gill which downplayed police brutality against people of color.
Gill's response to an open letter to city leaders from Jorge Millares of Queen City Unity that demanded police reform was posted on the Queen City Unity Facebook page and was quickly shared throughout social media.
"Please spend your time in a more productive way. I challenge your statistics," Gill wrote. "A better use of time, would be to focus on the black on black crime and senseless killing of our young men by other young men."
Queen City Unity, a nonprofit whose mission is to drive equity and equality for all in Charlotte, called for a boycott of CPI and despite an apology issued from Gill, the Panthers sent out a statement Saturday evening announcing that they were severing ties with one of the team's most consistent sponsors.
"Last Saturday, we said we are committed to doing our part and we mean it. CPI has been a long-term partner but, upon reflection, we feel that it is right to end our relationship. We have informed Mr. Gill of our decision tonight."
Following the Panthers announcement that they had severed ties with the security firm, teams around the state followed suit, with the Hornets, Knights, North Carolina State University and the University of South Carolina all issuing statements that they would no longer be working with the Security firm that was founded in 1976 and headquartered in Charlotte.
Local minor league teams the Durham Bulls and Columbia Fireflies followed suit – although the Bulls were listed on the CPI website, the Durham AAA team's said in a statement that "CPI was not under contract to be a sponsor with us for the 2020 season, and we will not be pursuing partnership with them moving forward. All remaining signage from previous contracts is in the process of being removed."
The Panthers have long been a community leader, but to cancel a contract with a partner that almost certainly cost the team millions of dollars – and then to move other organizations to follow suit – is not something Carolina is used to. Previous owner Jerry Richardson was more of a follower – the Panthers were one of two teams to still display the NFL logo at midfield when Richardson was forced to sell in the midst of a scandal and when Tepper took over the team, he made no secret that the facilities, organization and business was still operating in the past.
Now, the Panthers are looking firmly towards the future – and they're taking everyone else with them.
Last Saturday, the Panthers were among the first professional sports team to issue a statement condemning racial and social injustice – almost two hours before the NFL released a similar, but less emphatic statement that failed to address race directly. The statement from the Panthers promised to do their part in helping to not only find answers to the problem, but be a big part of the solution.
"The Carolina Panthers send our deepest condolences to the Floyd family and all who have been impacted by the cruel and senseless death of George Floyd. The Floyd family has faced this tragedy with extraordinary grace and dignity. We must work together and take meaningful, sustained action to find solutions and enact change that is so desperately needed to end racial and social injustice. We are committed to doing our part."
Soon, the rest of the NFL – and seemingly every brand in the world – followed suit in making their stance on systemic oppression known.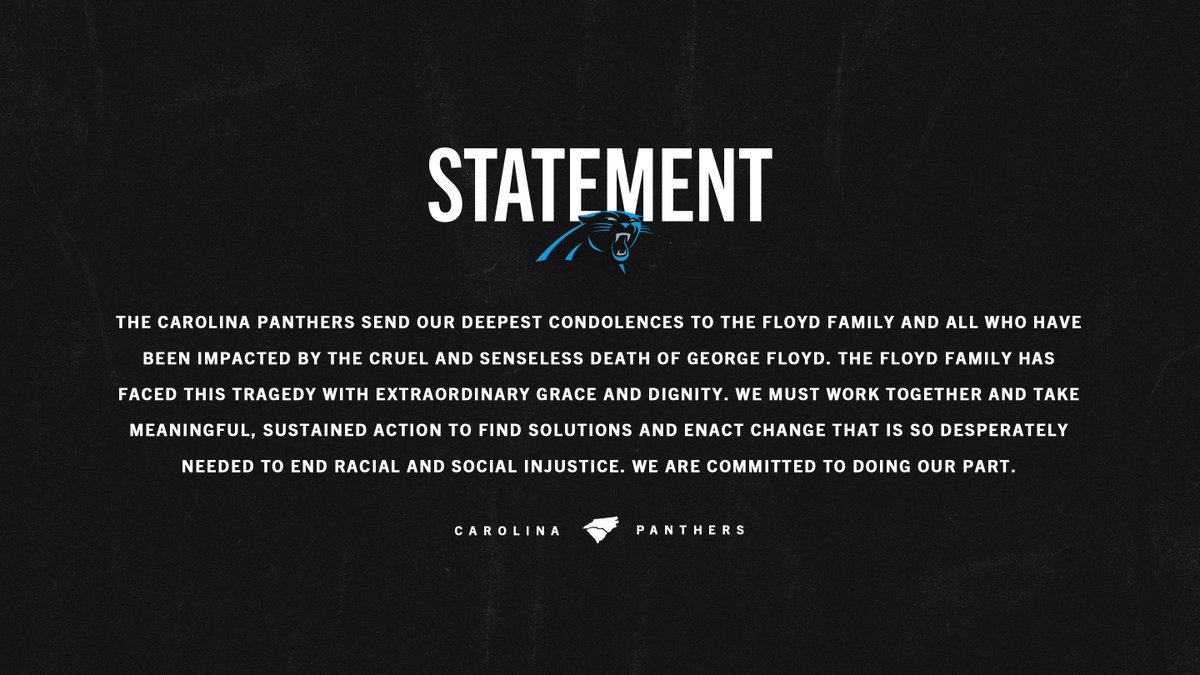 When Panthers players like Chris Manhertz and Andre Smith joined a protest in Charlotte a few days later, Tepper reached out personally to let them know that he supported them.
"[Tepper] pretty much offered support and pretty much emphasized and acknowledged that there's a lot of things that need to be fixed in the society that we live in," Manhertz said during a virtual press conference Thursday. "Having the owner of the organization personally call you and have a conversation about it, I think that speaks volumes to the person he is – and the organization that the Panthers are, as well."
Decisions like this are made at the top, but they affect not only everyone in the organization, they catch the eye of anyone paying attention. The statements that David Tepper has made about the way that the Carolina Panthers will operate moving forward have spoken louder than any actions he has taken in the past. Moves made on the football field have repercussions, but the waves made and steps taken during this period will have an impact for decades to come – not only on the Panthers, but on a larger scale.
It's not easy to be the first to act and even harder when you have to choose moral stance over the almighty dollar. It's not easy to do what you think is right, even if it may alienate a portion of those who support you and your team. It takes guts to stand up for what you believe in, but it may take even more when you're the head of a billion-dollar organization. That's exactly what David Tepper just did….and his actions inspired others – sometimes it takes sacrifice to lead.
If you don't want to follow, you may get left behind.