In the Panthers locker room, it's not unusual to see groups of players huddled together, looking at their phones, joking around, arguing about music or generally having a good time. But on this Tuesday, after what was perhaps the final full day of practice for Thomas Davis before he begins to serve his four-game suspension to start the 2018 season, Davis sat quietly with Julius Peppers, Mike Adams and Captain Munnerlyn – when the media gathered around him to ask questions, perhaps for the last time until October, he answered in monotone, his usual jokes and revelry perhaps tamped down by the growing realization that come Monday, he won't be allowed to set foot in the stadium he's called home for the past thirteen years.
"Early on, I thought it would be a situation where you understand the repercussions of the situation and deal with it," Davis said. "But as you get closer to the season starting, you go out and play the preseason games, it just makes everything that much harder…Even with the injuries, with the ACL stuff, I was still able to come over and be a part of everything. Not being able to walk through those doors to the building is going to be extremely tough."
Davis won't even be able to walk through the doors as a spectator – which was the plan for the first four games of the season as the Cam-dubbed "Mayor Of Charlotte" purchased PSLs and had planned to attend the games, three of which are played at home, but was informed by the NFL that prohibiting him from being in the stands is part of his suspension as well.
Instead, Davis plans to distribute the tickets to "deserving kids" through his Defending Dreams Foundation – the TDDF also partnered with the David Tepper Charitable Foundation among others to distribute 12,000 backpacks to area children over the next week – one of the most disappointing things about the terms of his suspension for Davis will be his inability to work with the team in any capacity, even regarding charitable organizations.
"When you think about the stuff that we've been able to do in the community [and] when you have an owner that comes in that's directly tied to some of the same things that you try to do, it's definitely a welcoming sight in knowing and understanding that he's coming in with the same mindset," said Davis. "One of the most disappointing things in this whole suspension thing – another rule that the league has is that I really can't work with the team throughout that process. I was looking forward to really utilizing that time to be able to help out and get involved, doing [charity work] more with the team but another NFL rule that's in place you've got to abide by it."
"A ton of rules I had no idea about."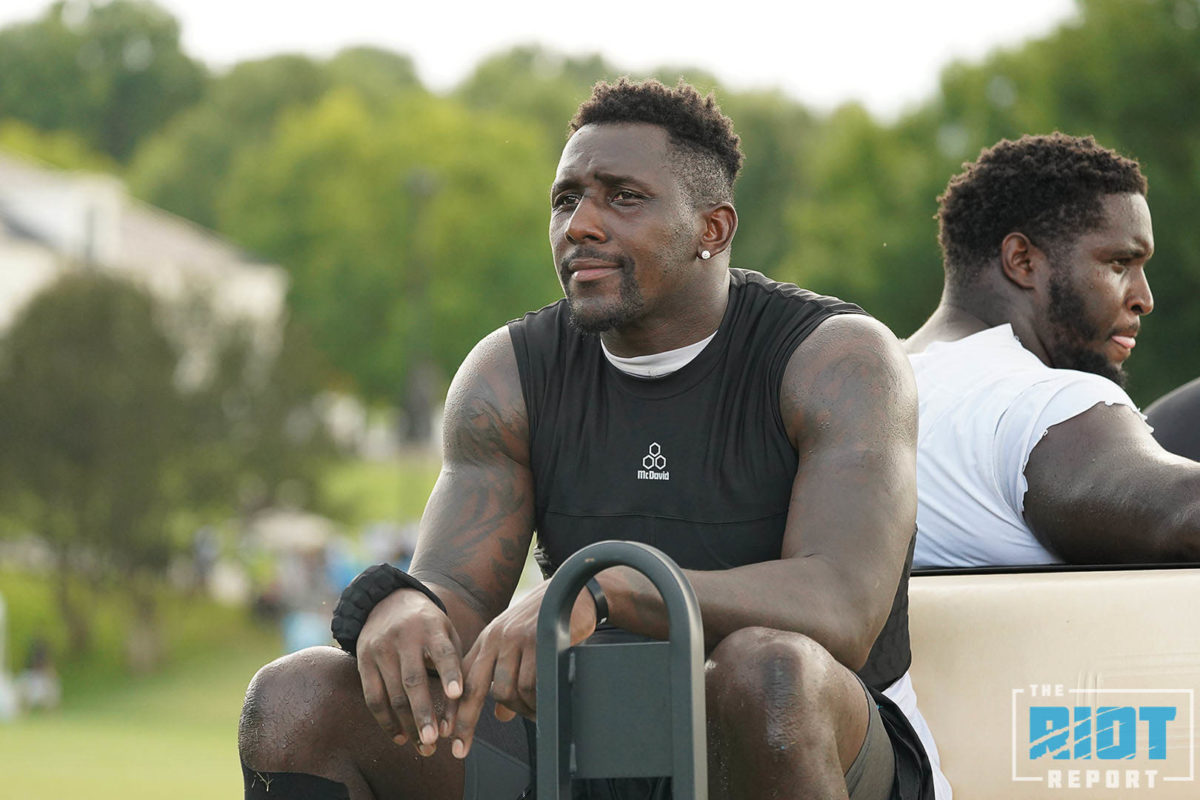 There's a big list of can'ts for Davis: can't set foot in team facilities; can't work with the team in any capacity, including charitably; can't even keep his playbook, but there are a couple of things Davis can do; they involve taking care of himself – the 35-year old says he'll return to the Panthers in "incredible shape" as he stays on top of his conditioning – last season Davis played every snap in eight games, and promises to return stronger and faster. He also plans to go down to Athens to visit his alma mater, the University of Georgia – specifically ensuring he visits September 8th when the Bulldogs play South Carolina in Week 2.
And you know that if Georgia or South Carolina get brought up in the locker room, Captain Munnerlyn, a former Gamecock himself, is going to chime in to let Davis know his thoughts on who he thinks will win that game – let's just say that Munnerlyn is a little biased.
"You gonna lose!" Munnerlyn said with a grin.
"You gonna lose some more hair," Davis retorted.
"Definitely, but I ain't got none!"
This time off to start the season again has Davis reiterating his feeling that he may not be quite ready to ride off into the sunset as he pronounced shortly after the season ended – the 13-year vet has been indicating all summer that he'd like to return to the Panthers for another year, although he's not going to pull a Julius Peppers and play until he's 38 – not that a lot of people could.
"I can tell you right now," Davis said about the prospect of being away from the team perhaps not just for four games, but for the rest of his life as he contemplates retirement. "As I sit and I think about not being able to come over here and me not being able to play the game, it makes me want to play even more – I can tell you that without a doubt."
"If this feeling that I have right now is any indication of what it's going to be like when I can't play no more, it's going to be a miserable life."