Imagine being from the Charlotte area – a child in the stands, watching and learning football from your father on Sundays at Bank of America Stadium – and then, years later, playing for the same franchise that you root for as a kid, wearing the jersey that you used to want for Christmas – only this time it will have your own last name on the back.
That will no longer be a fantasy for Will Grier this Sunday at Lucas Oil Stadium.
On Thursday afternoon, Panthers interim head coach Perry Fewell officially named Grier the team's starting quarterback for their Week 16 game against the Indianapolis Colts; Grier is no stranger to locals in the Charlotte area as he and his father Chad have both had a lot of success around the Queen City.
Grier, who was selected in the third round of the 2019 NFL Draft with the 100th pick overall, was born in Davidson and played high school football at Davidson Day School. There, under his father Chad, Grier threw for a national record 837 yards and 10 touchdowns in a single playoff game as a junior en route to being named All-American Player of the Year and Mr. Football USA in 2014.
Once he heard the news about getting his first start on  Monday, Grier had to tell his father.
"I told him, he was excited – excited to watch me play and he has a lot of confidence in me and told me to let it loose," Grier said Thursday at Bank of America Stadium.
Panthers head coach Perry Fewell made the move to start Grier after the team has lost six consecutive games with Kyle Allen at the helm. Usually, coaches like for first-year quarterbacks to begin their career at home, in friendlier confines. But in Grier's case, being on the road might be an added benefit for him – that's one of the reasons they earmarked this game against Indianapolis.
"I definitely think it is a different pressure," Fewell said on Thursday. "It's just human nature. You not only represent the Panthers organization, but your city and the surrounding Carolinas – that's definitely a different pressure. So for him, he's a talented young man, we want him to have success in what he does, that's why we wanted him to practice and get all the reps that he does and get with the starters this week and really take some of the pressure off his shoulders and let him play football and be Will."
After leaving the Carolinas for college, he began his college career at Florida where he started as a redshirt freshman. He helped lead the Gators to a 6-0 record before being suspended for failing a drug test; after Grier decided to transfer to West Virginia, he would put up big numbers in the Mountaineers spread offense.
As a senior, Grier threw for 3,864 yards and 37 touchdowns against eight interceptions. The year before that as a junior, Grier passed for 3,490 yards, 34 touchdowns, and 12 interceptions. After seeing him during the pre-draft process and the combine, the Panthers thought Grier was one of the best quarterbacks – the third-best, to be exact – available in the 2019 draft class.
Panthers offensive coordinator Scott Turner says Grier just needs to relax and be himself entering his first start.
"What I talk to these guys about all the time – it's just football. It's the game he has been playing his whole life," Turner said. "I want him to feel conformable and really just run our offense. There's going to be opportunities throughout the game for him to throw the ball down the field [and] he needs to take advantage of those opportunities. There are going to be times where he needs to get the ball out of his hands, check it down, whatever.
"The biggest thing for him is to run and execute our offense for four quarters."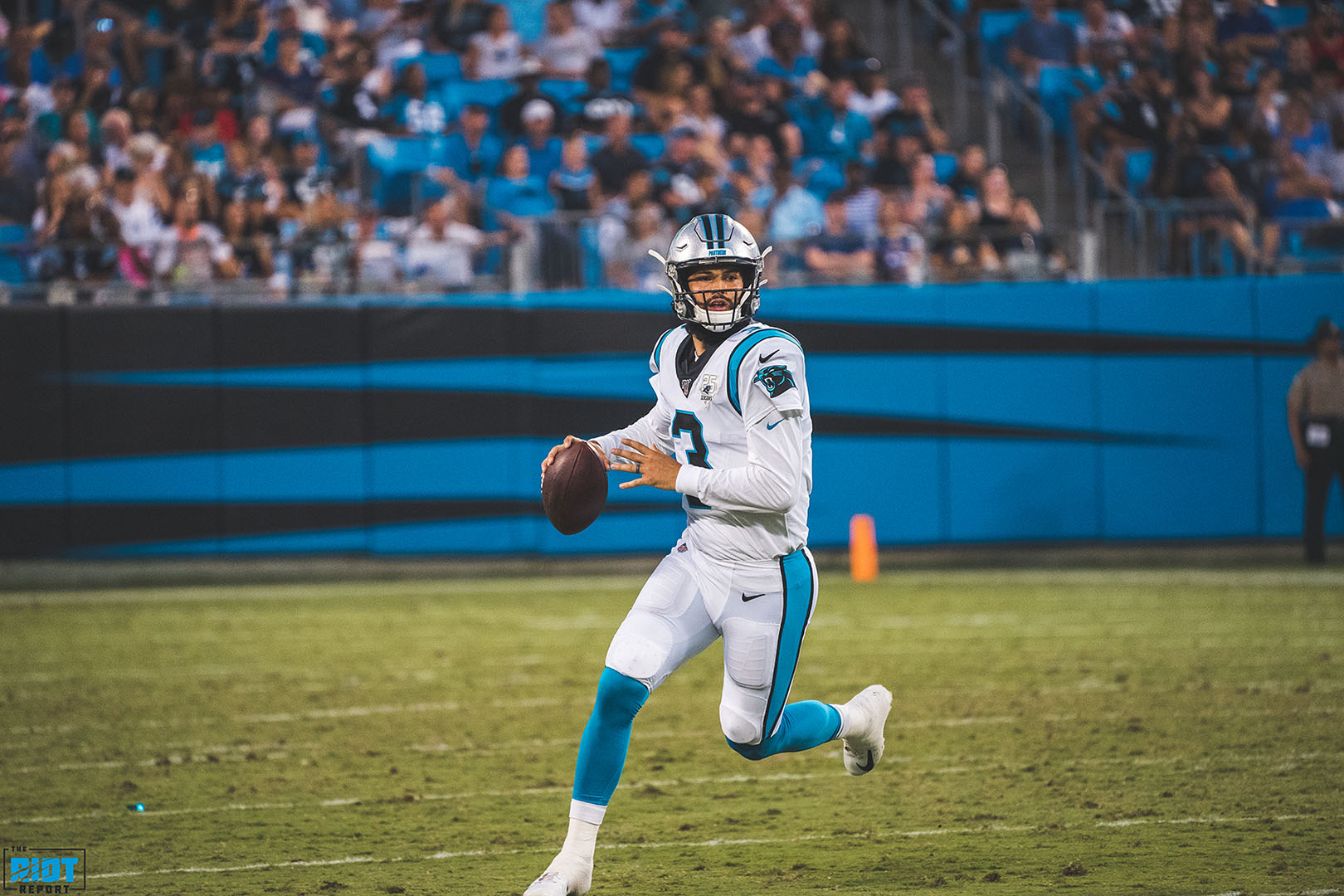 Grier did play some during the preseason, but his play was inconsistent. He completed 34-of-61 for 385 yards with two touchdown passes and three interceptions. One bright spot was Grier's final preseason action against the Pittsburgh Steelers; in that game, he finished 11-of-18 for 189 yards with one touchdown pass and one interception as Grier registered a 92.1 quarterback rating.
With having to learn a new offense, along with preparing for the grind of training camp, it was an adjustment for Grier – but he took a lot from it.
"At that time, with training camp and everything being so new, it was a lot going on – you have to try to go out there and perform your best, but you learn a lot from those experiences," Grier said. "From that, as the season goes on, you can see what you did in the preseason and how you can get better in a real game. Or how the gameplan kind of helps things that you didn't have during the preseason.
"So I just try to take the good and bad from preseason and translate it to what I can do in a real game."
This season has been a lot different than Grier has been used to. He went from being a starting quarterback in college to a third-stringer early on. When Cam Newton suffered a foot injury, Grier was elevated to being a snap away from getting in the game. While Grier wasn't the Panthers starter at the time, he prepared like he was, watching film and soliciting quarterback conversations between Turner and Allen during games.
"You're still preparing like you're going to play, but you're not taking hits," Grier said. "There's an opportunity for you to get better in a lot of areas that maybe you can't necessarily get better at when you're playing. So that's something I've kind of toyed with and tried to learn is 'how can I get better without taking these reps?'
"Throughout the course of this season, I've just tried to learn how can I continue to make myself better and I got to kind of try different things because I didn't have to get ready to play the next week."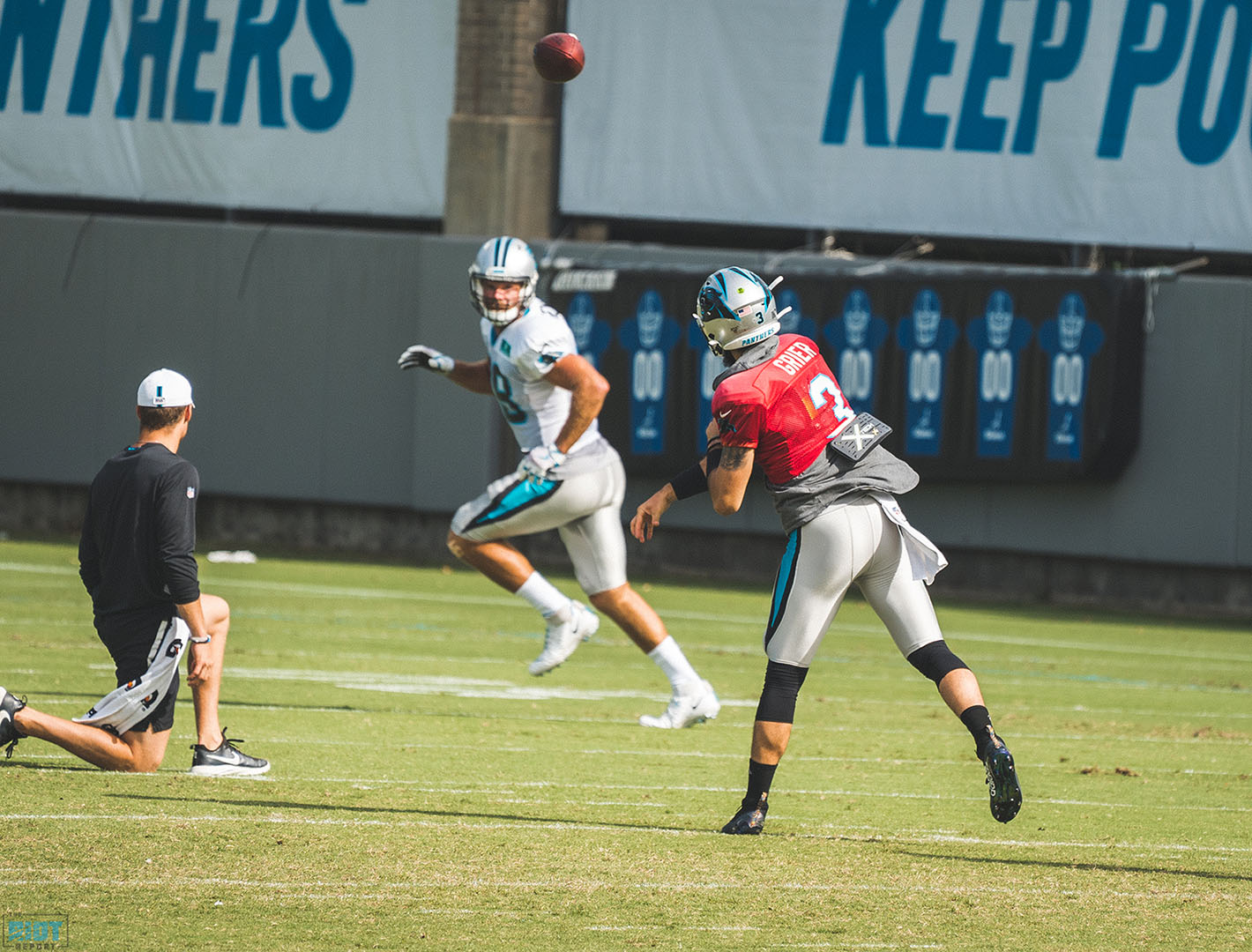 Grier's teammates have noticed the work he has put in this season, including one of the biggest leaders on the team, who has a lot of confidence in him
"He understands the game, understands what we are trying to do, what his responsibilities are within our system," tight end Greg Olsen said. "Obviously, he was highly successful, prolific in high school, college, so he has that pedigree and background. Now it's the real stuff. I think he is going to do well. I really like him, I think he is a good kid, he works hard, he has a good head on his shoulders and has a good perspective about everything. I think he handled the situation, the rest of the season really well for a guy that was a high draft pick. Obviously, we all know what unfolded, he didn't skip a beat.
"He came in here with a great approach, waited his time and now the opportunity is here and you've got to make the most of it."
But whatever comes on Sunday, it must come with a measured response – for a rookie quarterback making his first start, there will certainly be highs and almost certainly lows.
"I think we have to be careful about making too much of everything," continued Olsen. "Every play call is not an analysis of his future, every throw is not make or break. We just have to make sure we don't make this more than it is. It's his first start and there's all those circumstances, but it's also one game and he has a long future ahead of him, hopefully.
"This is just the beginning. We can't make this a referendum of every single thing he does is how he's always going to do it – both good and bad. We have to take this for what it is, support him, surround him with a good plan.
"And then let him do his job."