When they lace up and line up for the goalposts, NFL kickers sign on to perform a job that is volatile, thankless, and often outright merciless. Time and again, kickers are chewed up and spat out by a league that demands nothing less than perfection from them.
Make field goals, and you may earn some stable employment for a few weeks – or perhaps a year or two. Miss one — and you're jobless.
Which makes it remarkable that, by and large, the football has only sailed off the feet of two kickers in the quarter-century history of the Carolina Panthers: John Kasay, "The Original Panther" who became a franchise great – and Graham Gano.
Add up the number of the field goals made by Panthers not named Gano or Kasay and you'll get 107 – Gano made 165 in his time in Carolina.
On Thursday, Gano was released by the Panthers, bringing an end to the Carolina career of yet another fixture of the team during the 2010s. Compared to the other Panthers of his era – Cam Newton, Luke Kuechly, Thomas Davis, and Greg Olsen among them – Gano isn't the first player who comes to mind, nor is he the most decorated or the most celebrated.
But make no mistake: All the Panthers greats who played with Gano owe something to him. And for that, Graham Gano should be remembered as a great Panther in his own right.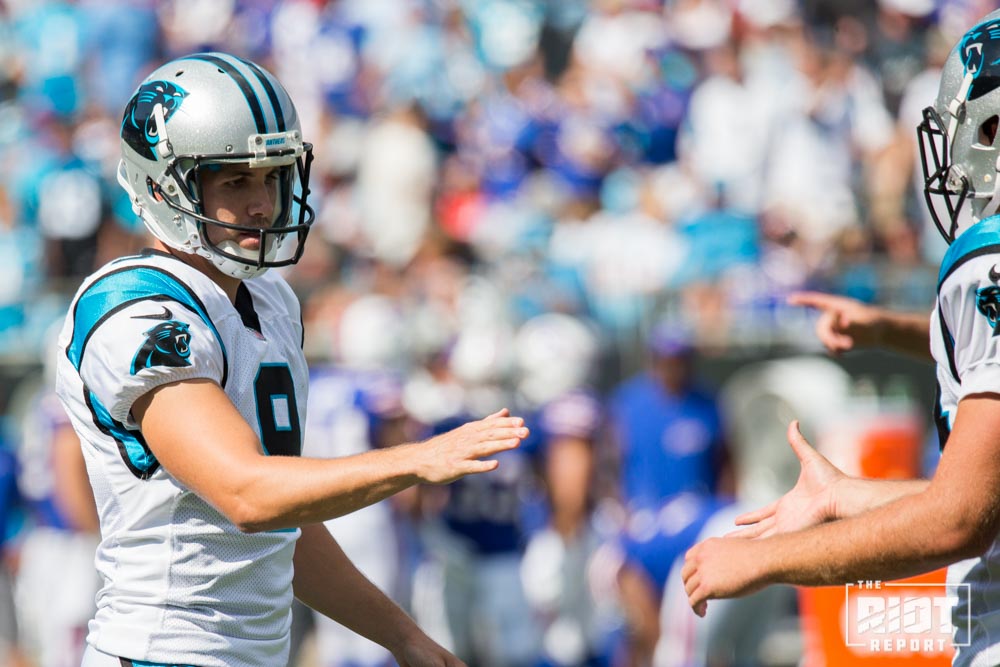 When Gano first arrived in the Carolinas in 2012, he was originally just another part of the kicking carousel that most of the NFL rides, and one that the Panthers weren't overtly enjoying. After being able to depend on John Kasay from their inaugural season all the way until 2010, Carolina had cycled through kickers Olindo Mare and Justin Medlock.
Both had too many misses to be tolerable as long-term options. And subsequently, both lost their place on the roster.
Although he had the benefit of two years' worth of experience on the soon-to-be Washington Football Club, Gano was hardly a sure thing to become the Panthers' franchise kicker: Though he had clutch game-winning kicks in Washington, he also had his fair share of misses, and had to compete for his job multiple times. At the end of the 2012 preseason, it seemed he had beat out Neil Rackers to keep the team's kicking job – only to lose it days later to Billy Cundiff.
But as Gano kept kicking, he ended up sticking on the Panthers' roster. And at that time, the Panthers began to emerge as one of the very best teams in all the NFL: Meaning that as the stakes rose for Carolina, there came times where Gano had to rise to the occasion and put his team over the top.
In the Panthers' Super Bowl season of 2015, Gano did just that.
During a Monday night game in Week Eight, with many still questioning whether the 6-0 Panthers were for real, Gano improved his team to 7-0 by making a 52-yard field goal to beat the Indianapolis Colts in overtime. Seven weeks later against the New York Giants, Gano saved the day again with a 43-yard game winner, bailing the 14-0 Panthers out after they blew a 35-7 lead.
2015: Graham
Gano's walk-off FG from 52y against the Colts is underrated. pic.twitter.com/OQgDeEBS6L

—
John Ellis (@OnePantherPlace) July
30, 2020
Granted, things weren't always perfect with Gano: He missed huge kicks during his Panthers career, with some much more maddening than others. There were the misses against the Denver Broncos, both in the Super Bowl and in Week 1 the next season. There were extra points and chip shots too that Gano flat out whiffed on – Including a game-changer in the 2017 Wild Card round against the New Orleans Saints.
There are probably as many fans in Carolina happy to see Gano's exit as there are those who will mourn the second-best kicker in franchise history – such is the life of the lonely kicker.
However, any moment that made the average Panther fan want to bang their head against the goalposts isn't what defines Gano's time with the franchise. Rather than a tale of taking the bad with the good, it was Gano's perseverance and response to the challenges of being a kicker that showed his worth and affirmed his staying power.
Take the 2017 offseason, for instance.
When the Panthers spent a draft pick on rookie kicker Harrison Butker, all optics were that the clock on Gano was about to tick down. But when general manager Dave Gettleman was fired shortly before training camp, Gano was given a second lease on life in black and blue: he performed at a high level in the preseason, prompting Marty Hurney to try and keep both Gano and Butker in the fold.
Butker would eventually be plucked off the Panthers' practice squad by the Kansas City Chiefs – something fans still haven't gotten over – but the season Gano would have would not make anyone lament keeping him.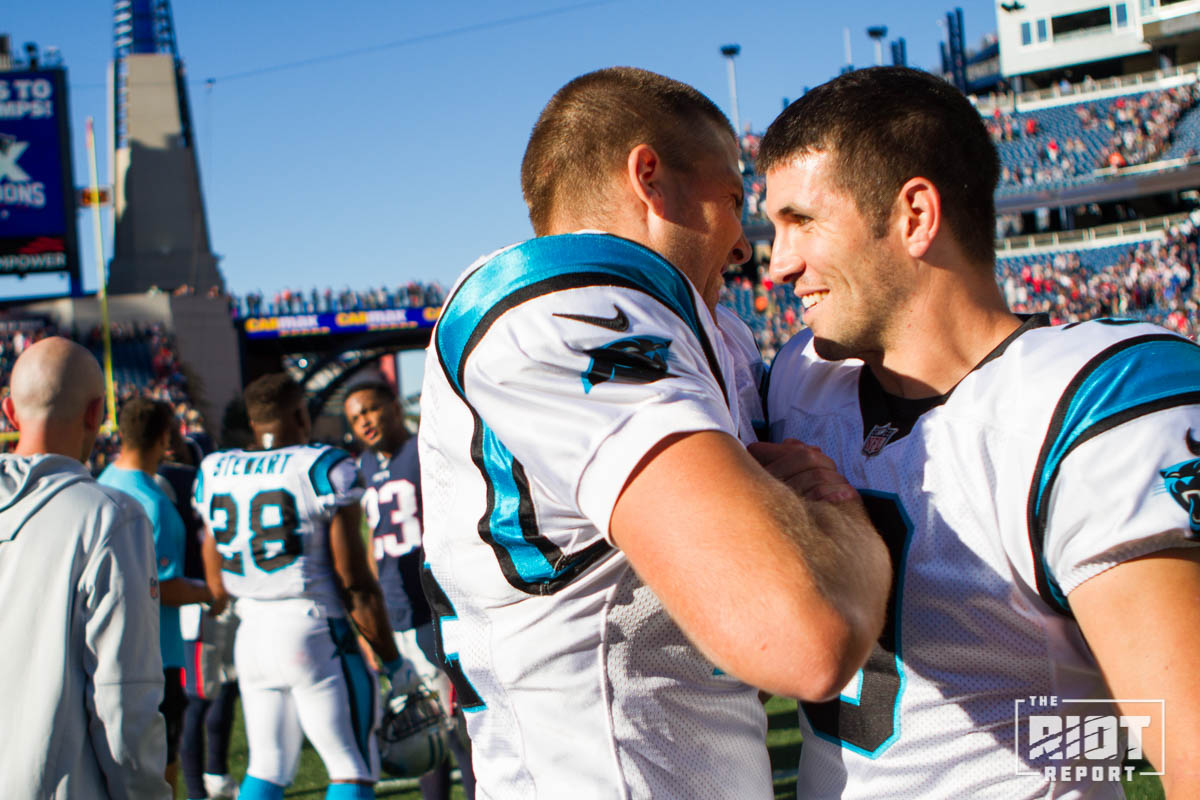 In a career year, Gano would make 34 out of 37 extra points and 29 of 30 field goals, with none more important than in Week 4 against the mighty New England Patriots. On the threshold of either going 3-1 and proving they were back or going 2-2 and showing they were who critics thought they were, Gano lined up for a 48-yard field goal against seemingly indomitable New England – in their own territory of Foxboro, no less.

The kick was true: The Panthers beat the Patriots for the second time in the Cam Newton-Ron Rivera era, giving them the distinction of going 2-0 against the mighty Brady-Belichick Patriots dynasty.
At year's end, Gano was named to his very first Pro Bowl.
The next season, Gano's finest moment would come in Week 5, as he earned a permanent place in both Panthers history and NFL kicking lore. Having blown a 17-3 lead and allowed a go-ahead touchdown with 1:08 to play, the Panthers were on the precipice of an inexcusable loss to a Giants team that had a barely-functioning offense. Only advancing to the Giants' 45-yard line, the Panthers' absolute last chance was to attempt a 63-yard field goal.
No kicker – not since the great Tom Dempsey, a boyhood hero of Gano's – had made a game-winning field goal from that distance. Staring down the barrel of a 31-30 loss, there was about to be absolute hell to pay.
And somehow, Gano drilled the single longest field goal in the history of the Carolina Panthers.
Deservedly, Gano was mobbed by his adoring teammates in post-game – and was celebrated for an entire week for who he was, what he had done, and what he had to overcome to get to that moment.
A wise man – Well, long snapper J.J. Jansen – put the day's sentiment best: "Thank God Graham Gano is our kicker."
Through all the highs and lows of his six full seasons as the Panthers' kicker, one of Graham Gano's most-endearing qualities was that he – like so many players of his era – conducted himself with the sort of earnestness, integrity, and character that made him easy to root for. When Gano succeeded, he was gracious and humble. When he missed, he faced the music and took responsibility. And in-between, he gave fans some charming moments like making a 76-yard field goal on the Fourth of July, getting winter kicking reps in with a snowman as his holder, and even showing up his own kids in kickball.
Fans still covet the elusive Gano Lo Gano tee that floated around the stadium.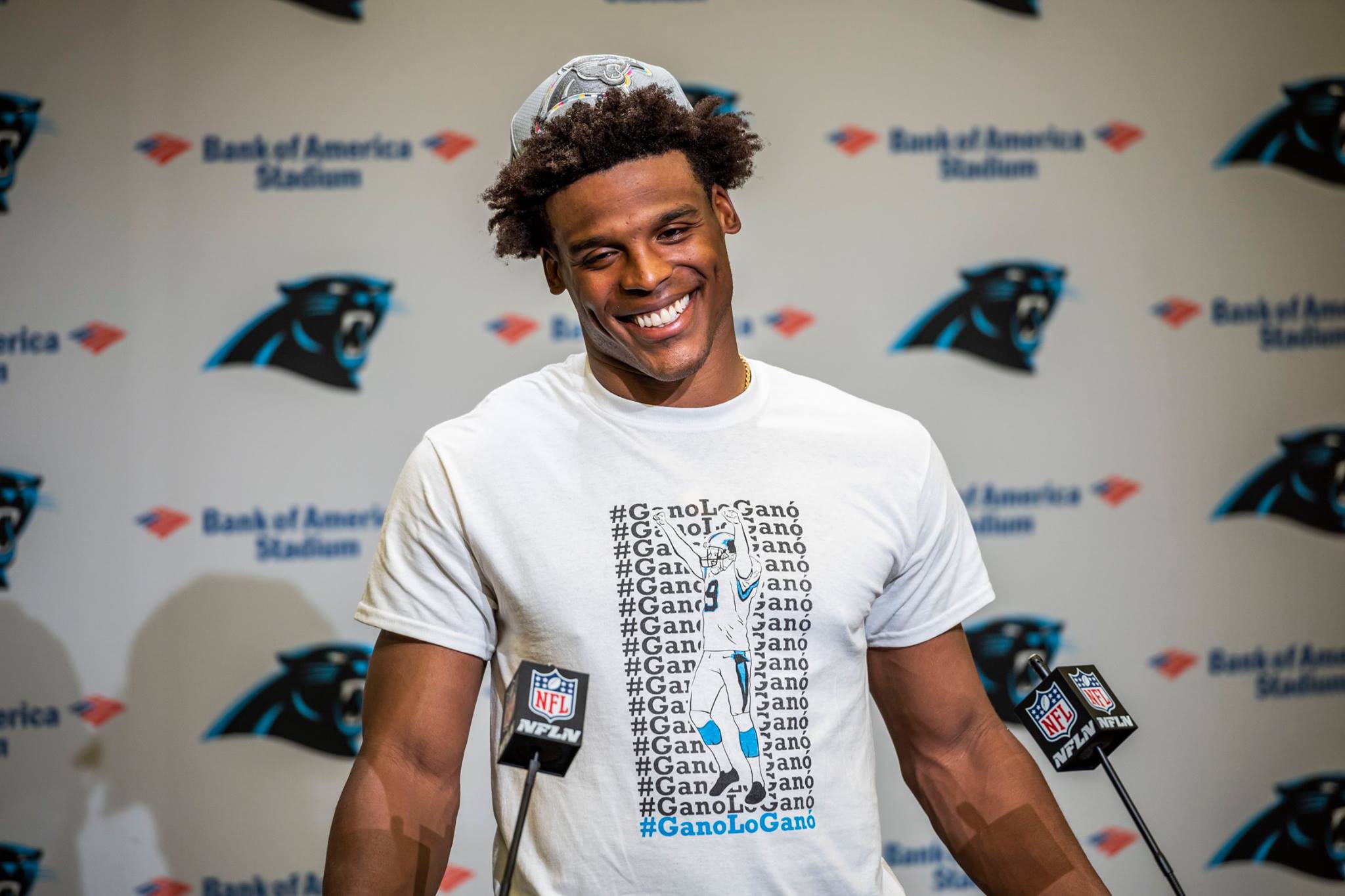 Although there is now a year's sample size for second-year kicker Joey Slye, finding a franchise kicker in the NFL – let alone replacing one – is a difficult task. There are no guarantees that the Panthers will find a kicker better than Gano, nor that they won't end up with the sort of kicker madness that they are so alien to compared to the rest of the league. Over nearly a decade of putting on his No. 9 uniform, Graham Gano ended up being as good a successor to John Kasay as Carolina could possibly have asked for.
And so, the Carolina Panthers and their fans should ultimately remember fondly the days when Graham Gano was their kicker. For in being a constant throughout the decade, the story of the great Panthers teams of the 2010s cannot be told without telling of Gano's contributions, escapades, and heroics.
Heroics which, perhaps, have earned him a place as a Panther great in his own right.