The New Orleans Saints have a lot of weapons – we know that.
You know how quickly Drew Brees gets the ball out of his hands, how shifty Alvin Kamara is, how scary Michael Thomas can be and how quickly Ted Ginn can matriculate down the field – but perhaps no player on the Panthers roster knows it better than Luke Kuechly, who has 129 tackles, seven TFLs, an interception and a fumble recovery against the Saints in 13 games over the past seven  seasons. Not only is Kuechly responsible for his position and ensuring he's in the right spot at the right time, he's responsible for quarterbacking the defense – and when he and Brees go back and forth, it can be fun to watch the pre-snap adjustments to ensure that every detail is in the right spot.
"It's a good matchup," said Eric Washington. "It's something where you see the best on their side, the leader on their side, competing against the leader on our side. And it's exciting to watch – Luke has an uncanny ability to anticipate and to put himself into a position and communicate to our defense."
Famous for his preparation, Kuechly has something to say about almost everyone on the Saints offense.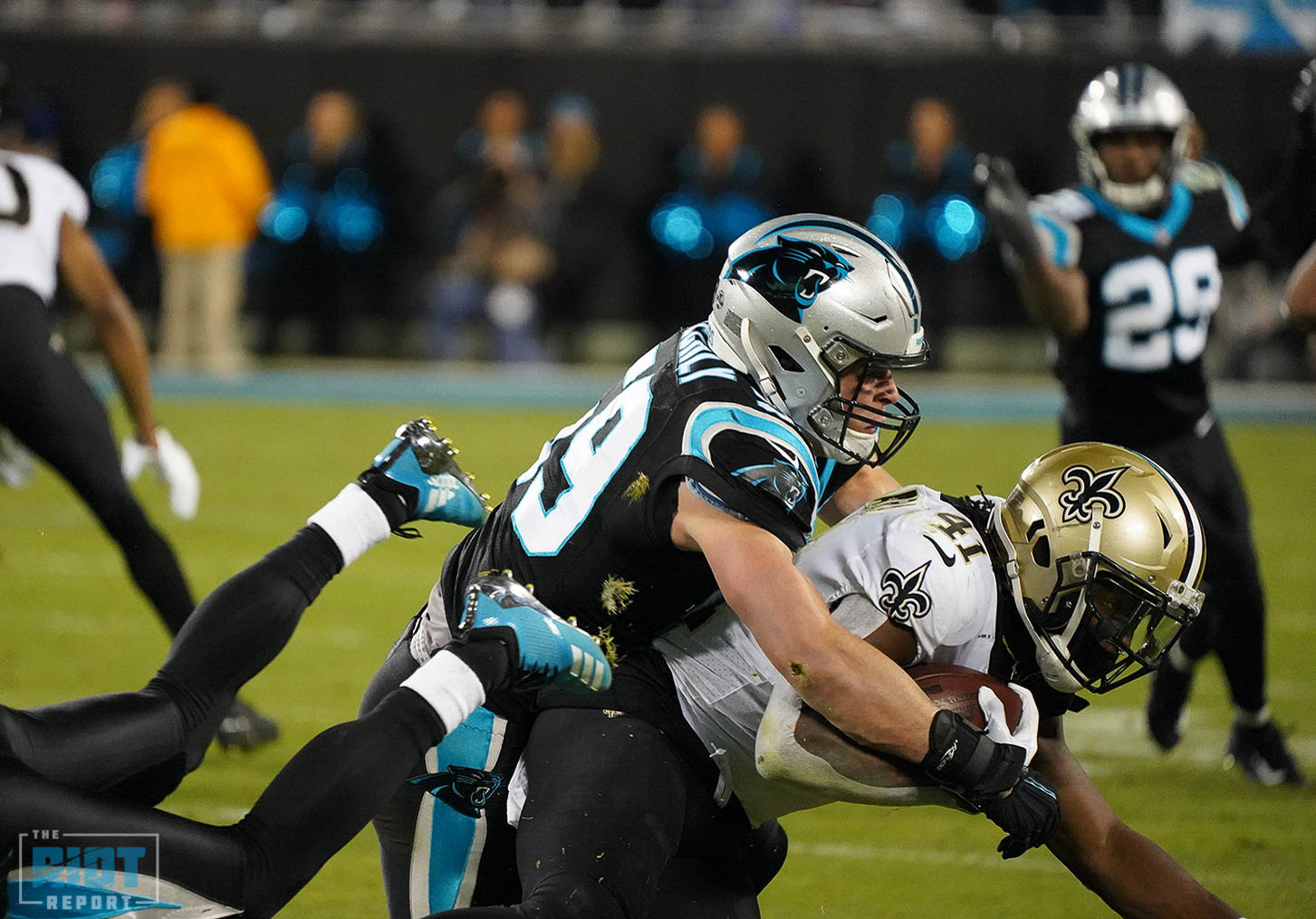 On Drew Brees: He's good with the ball. He's always been a guy throughout the years that's protected the ball really well. I think he understands where he's going with the ball early in the down and oftentimes, presnap. So making a play on the ball, [like] an interception, is very difficult and then it's difficult to get after him rushing wise, because the ball gets out so quick; he's got good guys that do a really good job of protecting him. He's a hard guy to take the ball away. ….He always makes the right throw and that's what makes him so difficult.
On the Saints guards Nick Easton and Larry Warford:  At guard, they've got some guys that have been around – we've played against [Larry] Warford a bunch and [Nick] Easton when he was in Minnesota and now he's there – guys that just understand football and have been around and those guys are all smart players – when you play with Drew, you have to be smart…Those guys have all played a lot of football and when you have guys like that, especially in an offense like that, they understand what they need to do and Drew does a good job of getting the ball out so it kind of works hand in hand.
On Michael Thomas: Big. Strong. Big hands. The ball – once it's in his hands, it's hard to get out. Kamara's the same way.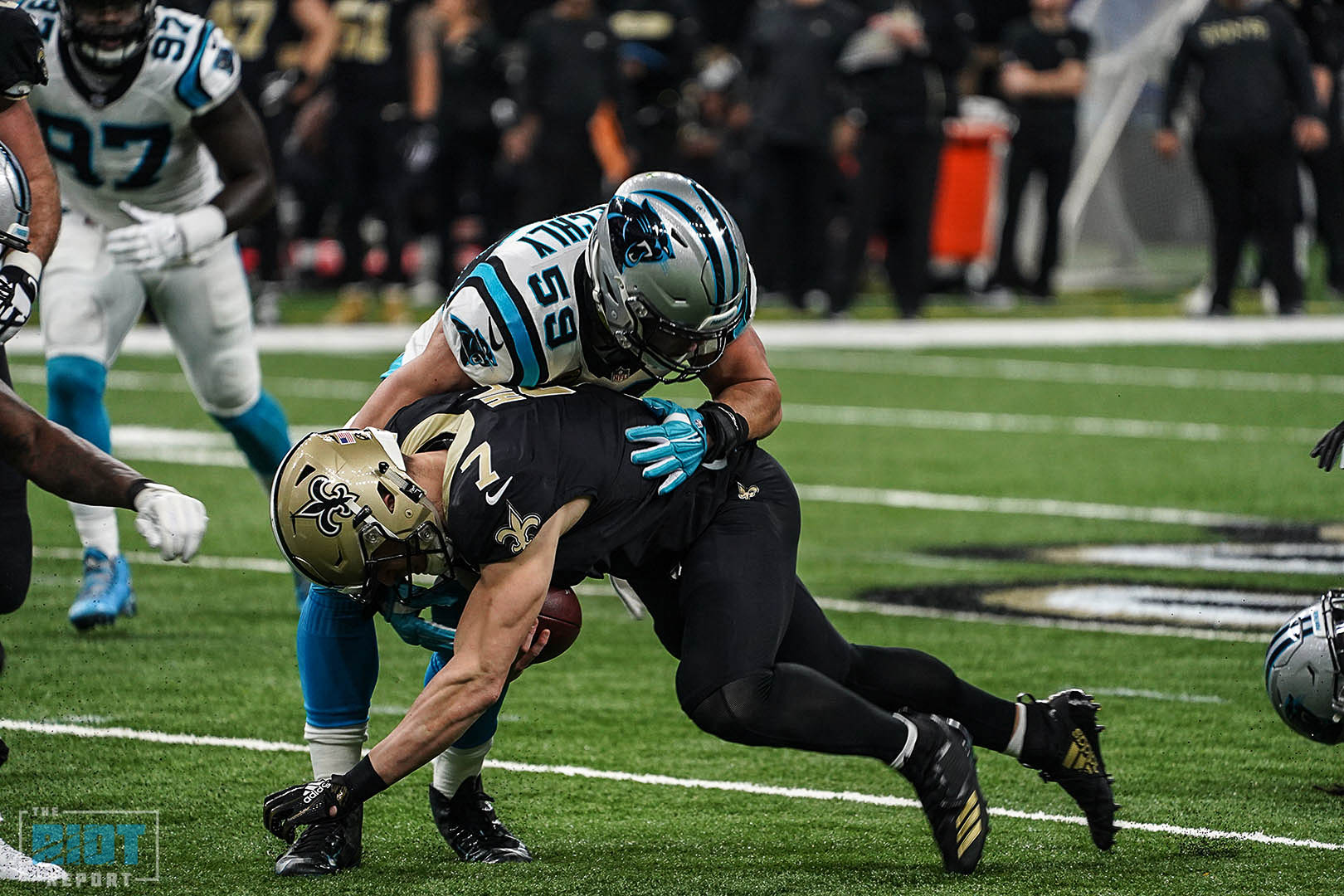 On the Saints Tackles Terron Armstead & Ryan Ramcyzk: They're big, they're long, they're physical, they understand stuff. 
On Taysom Hill: He does a lot of things well; he's big, he's physical – he runs the ball hard. I think he's really athletic, I think he's explosive and he can also throw the ball – sometimes, when teams line up in wildcat formation, the threat to throw the ball is not there as much as it is with Taysom. The guy played quarterback in college, he's got a big, strong arm and he can get the ball wherever he wants it, so there's a lot to think about when he's back there – but as long as we do our job, we're going to be alright.
On rookie center Erik McCoy: He's big. He's athletic. He's long – he's got really good size. That's one of the things that makes centers tough; a lot of times, they're not big, tall guys – they're usually shorter guys, but he's 6-4, long arms and takes a lot of space up and moves well. Those are the guys that are problems. All they have to do is just get in the way and this guy can do a little bit more than that. 
On Alvin Kamara: There's a certain way you have to tackle him. Sometimes guys try to go smack him and they just fall off. He's unique – he's like no one I've ever seen in the sense that guys crush him and they just kind of, he just kind of….rolls off, it's almost like he invites contact. He's super smooth, he's so smooth with the ball and moving that it doesn't look like he's trying real hard.
He's just real smooth and his feet are always moving, it's like he's never in a hurry.